JBL Pure Bass -ääni
Fiksusti suunnitellut 6.0 mm:n elementit ja niiden Stick-rakenne tuottavat JBL:n Pure Bass -äänen, minkä ansiosta voit tuntea jokaisen rytmin sykkeen.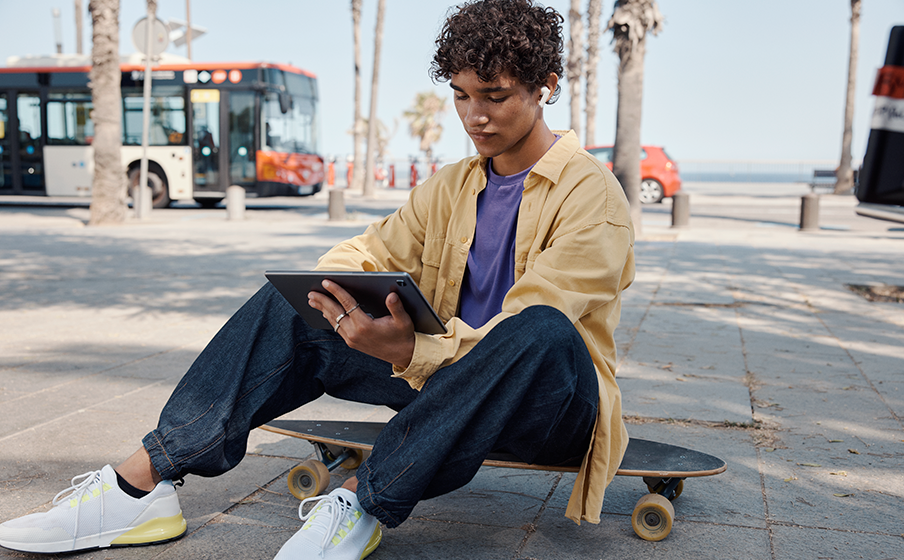 Aktiivinen melunvaimennus ja Smart Ambient -teknologia
Kuulet enemmän sitä, mitä haluat ja vähemmän sitä, mitä et halua. Aktiivisen melunvaimennusteknologian ja kahden mikrofonin ansiosta häiriötekijät voidaan minimoida. Ambient Aware -teknologian ansiosta voit virittäytyä oman ympäristösi taajuudelle milloin tahansa – näin voit tuntea olosi turvallisemmaksi ulkona ja liikkeellä ollessasi. TalkThru -ominaisuus puolestaan mahdollistaa nopeat juttutuokiot ilman tarvetta ottaa kuulokkeita pois.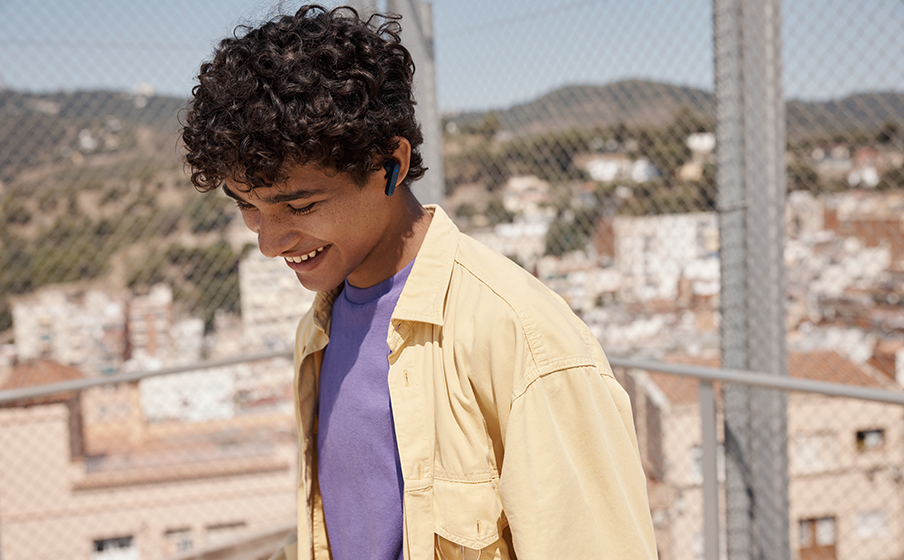 Neljä mikrofonia takaavat täydelliset äänipuhelut
Vaivattomia handsfree-puheluita stereona. Tune 230NC TWS -kuulokkeet on varustettu neljällä mikrofonilla, joten sanasi kuuluvat aina täydellisen selkeästi. Enää ei tarvitse miettiä, voiko puheluun vastata tai sellaisen soittaa. VoiceAwaren avulla voit hallita kuulokkeisiin ohjattua mikrofoniääntä ja valita, kuinka voimakkaana haluat kuulla omaa ääntäsi.
Ominaisuudet

Jopa 40 tunnin akunkesto
Et menetä sointuakaan – sen varmistaa pitkä akunkesto: 40 (10+30) tuntia tai 8 tuntia + 24 tuntia kotelossa melunvaimennuksen ollessa käytössä. Tarvetta lisätehoon? Vain kymmenen minuutin pikalatauksella saadaan vielä 2 tunnin verran toistoaikaa.

Vesitiivis ja hienkestävä
Huonon sään ei tarvitse olla este. IPX4-vesitiiviyden sekä hienkestävyyden ansiosta Tune 230NC TWS -kuulokkeet selviävät kaikenlaisista treeneistä ja sadekuuroista.

Istuvat hyvin ja ovat mukavat koko päivän ajan
Koskaan ei tarvitse jäädä ilman musiikkia. Stick-Closed-rakenne takaa mukavuuden ilman painetta. Muotoilun ansiosta kuulokkeet poistavat ympäristön häiriötekijät ja ovat niin kevyet, että niiden olemassaolon saattaa unohtaa.

JBL Headphones -sovellus
JBL Headphones -sovelluksella voit kuunnella musiikkiasi haluamallasi tavalla. Voit räätälöidä oman kuuntelukokemuksesi, etsiä itsellesi sopivimman istuvuuden ja valita mieleisesti korvanapit – ja jopa luoda äärimmäisen rauhallisuuden takaavan hiljaisuuskuplan.
Tuotevertailu
TUNE230NCTWS-
LIVE-PRO-2-TWS-
TUNE-FLEX
WAVE-BEAM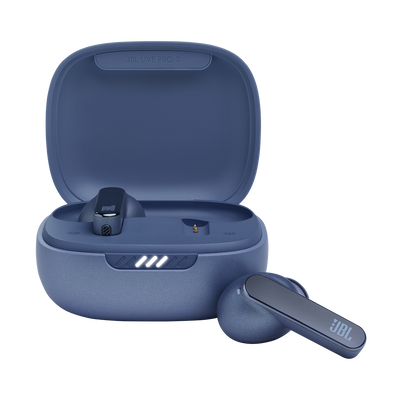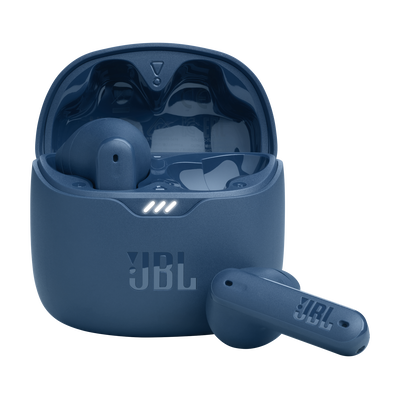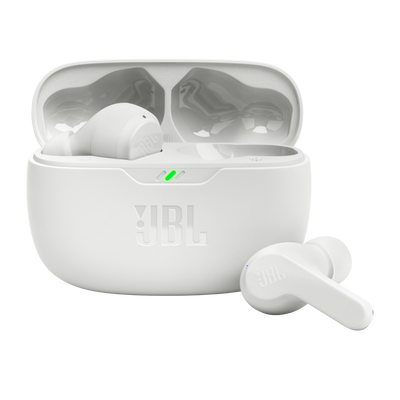 Akku
Maksimi toistoaika (tuntia)
40
Maksimi toistoaika (tuntia)
40
Maksimi toistoaika (tuntia)
Maksimi toistoaika (tuntia)
8
Ominaisuudet
Aktiivinen melunvaimennus
Aktiivinen melunvaimennus
Aktiivinen melunvaimennus
Aktiivinen melunvaimennus
Pikalataus (5 min = 1 tunnin soittoaika)
Pikalataus (5 min = 1 tunnin soittoaika)
Pikalataus (5 min = 1 tunnin soittoaika)
Pikalataus (5 min = 1 tunnin soittoaika)
Tiedot ja lataukset
Item# JBLT230NCTWSBLU
Kuvaus
Puhdas basso. Ei melua.

JBL Tune 230NC TWS -kuulokkeilla päivät voi elää kappale kerrallaan. Aidosti langattomilla nappikuulokkeilla saat 40 tuntia erinomaista JBL Pure Bass -äänentoistoa, ja ergonominen sekä vesitiivis rakenne varmistaa koko päivän kestävän mukavuuden kaikissa sääolosuhteissa. Puheluihin siirtyminen sujuu helposti ja saumattomasti neljällä mikrofonilla, jotka poistavat ympäristön äänet ja varmistavat täydelliset puhelut kaikkialla. Aktiivisen melunvaimennuksen ja Smart Ambient -teknologian ansiosta maailman voi sulkea ulkopuolelle tai päästää läpi haluamallasi tavalla. Kevyt tiukasti korvissa pysyvä muotoilu varmistaa koko päivän kestävän mukavuuden. Ja mikä parasta – kuuntelukokemusta voi muokata JBL Headphones -sovelluksella. Pysyt yhteydessä maailmaasi omalla tavallasi.
Tuotetiedot
Audiotiedot
Elementin herkkyys @ 1kHz/1mW (dB)

105

Dynaaminen taajuusvaste (Hz)

20 Hz – 20 kHz

Impedanssi (ohmia)

16
Mitat
Charging Case Weight (oz)

1.7

Earpiece Weight (oz)

0.4

Latauskotelon paino (g)

47.3

Kuulokekapselin paino (g)

10.2
Ohjaimet, kytkennät ja liitännät
Bluetooth profiilit

A2DP 1.3 , AVRCP 1.6 HFP 1.7

Bluetooth-taajuus

2.4 GHz - 2.4835 GHz

Bluetooth-lähettimen modulaatio

GFSK, π/4-DQPSK, 8-DPSK

Bluetooth-lähettimen teho

<12 dBm

Bluetooth-versio

5.2
Akku
Latausaika (tuntia, kun akku on tyhjä)

2

Maksimi musiikintoistoaika ANC pois päältä (tuntia)

10

Maksimi musiikintoistoaika ANC päällä (tuntia)

8

Maksimi toistoaika (tuntia)

40
Ominaisuudet
Charging cable

Kyllä

Päästää läpi ympäristön äänet

Kyllä

Sisäänrakennettu mikrofoni

Kyllä

Hands-free-puhelut

Kyllä

JBL Pure Bass -ääni

Kyllä

Hikeä hylkivä

Kyllä

TalkThru-monitoimipainike

Kyllä

Aidosti langaton

Kyllä

Langattomat

Kyllä

Aktiivinen melunvaimennus

Kyllä

Latauskotelo

Kyllä

Pikalataus (5 min = 1 tunnin soittoaika)

Kyllä

Ladattava akku

Kyllä

Bluetooth

Kyllä
Pakkauksen sisältö
1 x JBL Tune 230NC TWS -kuulokkeet
1 x latauskotelo
1 x C-tyypin USB-latauskaapeli
1 x 3 paria erikokoisia korvasovitteita
1 x takuu-/varoituskortti (W / !)
1 x QSG-/käyttöturvallisuustiedote (S / i)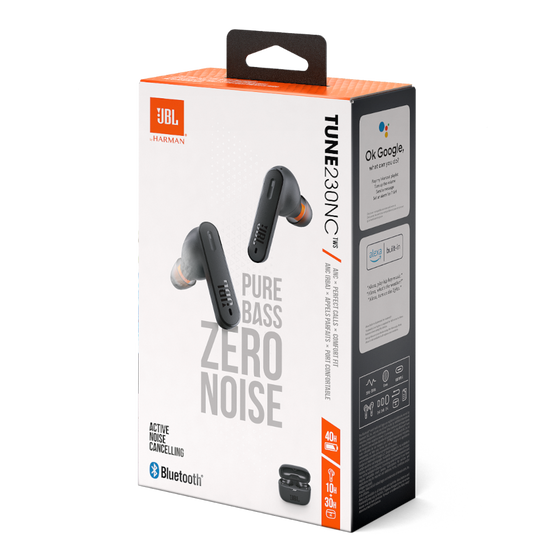 Asiakirjat ja lataukset
Arvostelut ja vastauksia kysymyksiin
Arvostelut
Rated

1

out of

5
by
Taigaemiilia
from
Kuulokkesta ei kuulu kunnolla ääntä?!
Hyvät kuulokkeethan nää on ei siinä MUTTA ostin nää hiihtolomalla eli siitä voi laskee kuinka kauan oon käyttäny näitä ja näähän on ollu kovas käytös nää kuulokkeet ja kaikki oli hyvin KUNNES nyt yhtäkkiä oikeesta kuulokkeesta ei kuulu ääntä?! Ollaan yritetty kaikkea mitä keksitään mutta mikään ei toimi ja nyt joudun tyytymään vaan yhen kuulokkeen käyttöön ja toi on kyllä ärsyttävää ELI jos jollain on jotain vinkkiä miten sais kuulokkeet toimimaan pliis kertokaa haluun saada taas kummanki kuulokkeen käyttöön
Date published: 2022-07-23
Rated

2

out of

5
by
Martina87
from
Good at first, developed problems & broke quickly
While the sound, noise cancelling and battery life on these earbuds is good, I have to leave a negative review as I pretty quickly started having problems with the two earbuds going out of sync with each other while listening to music or podcasts, and also an annoying drop out of sound of about a second that happened quite frequently. About 5 months after purchasing the earbuds, one side would stop connecting and charging. At first this could be resolved by "forgetting" them from my phone and reconnecting, but after a while even that did not work anymore. I ended up getting a refund from the store where I purchased them. A disappointing experience, as I have owned several JBL speakers which have never had problems, so I was expecting the same level of quality from the earbuds.
Date published: 2022-11-11
Rated

4

out of

5
by
chrisbatts
from
Excellent value
My 3rd gen AirPods had been faulty for some time (the microphone hasn't worked properly for as long as I can remember) and I needed to be able to use them for TEAMS meetings at work. So it was time to invest in new headphones but I couldn't warrant the cost again for an Apple product that quite frankly didn't last the test of time. Now now having bought a JBL product before I wasn't quite sure what to expect. But spec wise, aesthetically and cost wise this really ticks the boxes. The noise cancelling is ok. I don't have a point of reference but I suspect noise cancelling for in ear headphones isn't that good in general. The sound quality again is only ok. The AirPods certainly sound punchier but for £89.99 I think you're getting incredibly good value. There's no wireless charging on the case but USB-C is nice to have. Can you get better headphones? Yes definitely. Can you get better value headphones? I'm not so sure.
Date published: 2021-12-13
Rated

4

out of

5
by
Garveyals
from
Great price competitive ear buds!
Good pair of noise cancellation headphones, for the price and sound quality, it rivals the likes of Apple and Samsung ear pods, along with noise cancellation. Would be awesome if these featured the LIVE setting which other JBL headsets have that really makes your music pop in your headset. (Huge Industrial Music fan) The battery indicator would probably be more ideal if it was a litle lower on the the charging case. Love the fact that it's strictly USB type C. Very good quality taking phone calls since it has 4 built in mics, zoom meeting, teams, and other settings are well. The battery on these ear buds lasted me almost 40 hours! Pretty impressive! The ambient setting is cool, you can tune into your surroundings at any time. You can keep these ear buds firmware up to date using the JBL app, along with making your own equalizers either through Android or IOS. Normally I prefer over the ear headphones due to their comfort, but I was surprised how comfortable these ear buds fit in my ear. The ear buds have sweat protection so you don't have to worry about damaging these ear buds. Overally I would highly recommend these ear buds due to the serious bass sound they can crank out and long lasting battery, very impressive!.
Date published: 2021-12-09
Rated

1

out of

5
by
Mohemos
from
Bad connectivity between multiple devices
Don't buy this if you want to use it with Multiple devices. I was using Samsung bud that got missing before I bought this JBL. With samsung and apple you don't need to disconnect manually from one device to switch to another paired device but this JBL forces you to manually disconnect one to connect another. The mobile app on android is a total mess... it keeps flicking around, I expected a stable app from JBL than this MVP app. It's a total waste of my money.
Date published: 2022-11-26
Rated

5

out of

5
by
aniket11
from
Classy ear buds, with great sound quality
I have been using these headphones for a month now, and I have enjoyed them a lot. They are easy to pair, and get picked up immediately by my iPhone and laptop, and thus I need not go to bluetooth settings again and again to connect them. The build quality is good, and they work well during your workout session as well. They don't get slippery and fall from ears due to sweat. The sound quality is excellent and noise cancellation is top class as well.
Date published: 2021-12-15
Rated

5

out of

5
by
Maurice K
from
Great bass...fit well
Have used many ear buds and these are by far the best. Sound is clear with really strong un muddled bass. They fit I. My ears very well and don't fall out during b gym workouts. This has always been an issue with other ear buds. I like that you can skip songs by tapping the headset. Some ear buds don't support that. Battery life is good and they appear well built. Would definitely buy another set of I lost these. Better than Apple ear buds hands down.
Date published: 2021-11-24
Rated

2

out of

5
by
Arto T
from
Keskeneräinen toteutus
ostin kuulokeet elokuussa lentokentän (HKI) myymälästä ja olivat alkuun todella loistavat. Käytän lähinnä salilla, mutta muuallakin melunpoisto on toiminut todella loistavasti. Ainoa ongelma on, että kuulokkeet eivät meinaa saada kosketusta rasiassa ja niiden lataus sekä päälle kytkeytyminen on joskus todella työn takana. Miten parantaa tuota kontaktia? Tuotteen ylläpitoa ei taida ongelma kiinnostaa, kun eivät ole vastanneet viestiini asiasta.
Date published: 2022-12-14
Rated

3

out of

5
by
Rickyrick
from
Mixed
Product is fine, but don't expect to get ur item even remotely close to the date it says you'll get it. The tracking number didn't work till the day it said I'd receive the item, then didn't get it till 10 days after that. Took 2.5 weeks all in all. So if you getting it as an Xmas gift buy it from somewhere else cuz u ain't getting it by Xmas. Don't believe whatever date they give u. Add 2 weeks to that n that's when you'll actually get it
Date published: 2022-12-08
Rated

4

out of

5
by
Milo San
from
Great earbuds at a great price.
Love these earbuds, really comfortable and battery life is very good. The sound is really clean and clear. Bass is just right and the EQ on the app makes it better. My one complain is that I feel like it's not loud enough. But that's my personal preference. Other than that it's a very good pair of earbuds with many features. Sound quality is great but just not loud enough but the long life batteries make it a 4/5 a good solid buy.
Date published: 2022-03-08
Rated

5

out of

5
by
Rosalie95
from
Great earphones!
I was allowed to test these headphones for a few weeks. I was pleasantly surprised by the fit of the earphones. The ears stay put. In addition, as expected from JBL, the sound is very good. The earphones last a fairly long time before you have to charge them again. This is a definite plus. The price-quality ratio is also perfect! Overall, I was very happy with these earphones and will be using them a lot in the future!
Date published: 2022-04-14
Rated

2

out of

5
by
Ponto
from
Buy something else!
These were good... until they needed to be charged. The left earbud simply won't charge. The case is full charge, my left earbud is staying 0%. I've already followed all instructions to ensure proper connectivity. Full disclosure, this is actually the 2nd set. First set I returned to the store withing 15 days for this same issue. And here we are. 2nd set doing the same thing. For the price, this is theft.
Date published: 2023-01-16
Rated

1

out of

5
by
Anonymous
from
Poor quality
I purchased JBL 230NC TWS recently and to tell the truth I am really disappointed with its function. Noice canceling is not at all good because whenever I make a voice call the other person could hear all the external voices and less of my voice. And when the earphones are placed back to the charging case it won't get disconnected,it would still play on. Im really disappointed and regret on buying this.
Date published: 2022-07-19
Rated

3

out of

5
by
Anniina Puu
from
Hyvät peruskuulokkeet
Musiikkia kuunnellessa ääni välillä kaikuu niin, että toinen kuuloke on ikään kuin vähän jäljessä. Eron huomaa erityisesti hitaissa ja rauhallisemmissa kappaleissa. Yhteyden pätkimistä on ollut jonkin verran, mutta ei niin, että vielä häiritsisi liikaa kuuntelua. Puheiluissa kuulokkeet toimivat hyvin, mutta musiikin toistossa laatu ei ehkä ole kaikkein paras. Joka tapauksessa ihan hyvät peruskuulokkeet.
Date published: 2022-08-16
Rated

3

out of

5
by
Esbabes1
from
Great sound quality
Bought these earbuds around a month ago because my other pair of earbuds went missing. I do a lot of sports and was in need for a good pair of noice cancelling earbuds which would not fall out of my ears and could handle my heat. The quality of the sound of these earbuds is very good. I get completely closed off from the world when turning on the noise cancelling (easiest through the app) feature. This is perfect for not getting distracted. The only thing that bothers me is the size of the earbud that sticks out of the ear. I have small ears and it just feels like there are huge units sticking out of my ears. But this of course is a personal preference matter. In addition, I wear the smallest caps and these are fine but I cant have them in too long (+- 2 hours) before my ears start hurting. Overall I am happy with these airbuds but cosmetically they are not the nicest.
Date published: 2022-05-11
Rated

1

out of

5
by
ViniciusGil
from
This is my third Tune 230NC TWS, I have an issue with the previews 2 and I just give up now. The quality of the sound is ok but doesn't have high volume as other earbuds, the ZERO NOISE is a joke, if you are on public transport and have a call is not the best experience I can guarantee. Overall, the price and the famous JBL for your excellent products aren't worth it to buy, to be honest.
Date published: 2022-09-29
Rated

4

out of

5
by
Kadavis15
from
Great headphones for the price
I was in the market for noice cancelling true wireless earbuds. These checked all my boxes and at a reasonable price compared to other brands. They have excellent sound quality and good noice cancelling. My only complaint is that they sometimes make a random scratching noise for a brief moment. It never lasts and it's not a huge issue, but it can be startling or too loud at times.
Date published: 2022-03-02
Rated

4

out of

5
by
David K
from
Superb Sound Quality, Plus Noise Cancellation
If sound quality is your primary concern when shopping for portable audio, then look no further than these JBL Tune 230NC TWS earbuds. As expected with JBL, the sound quality is superb — full, clear and well balanced with crisp highs, natural mids and proportional bass at all volume levels. There's also no artificial "hyper" bass like some brands use to fake a big sound at the expense of true sound quality. Even better, use the companion JBL app to create a custom EQ profile that totally suits your listening preference! Added noise canceling really makes a difference in creating a pristine listening experience. When activated, my surroundings virtually disappear allowing me to more deeply experience my favorite music in minute detail. I find noise canceling is most effective at canceling steady droning sounds, like fans and engine noises. For times when sound isolation is not desired or would compromise safety, I can change modes to "Ambient Aware" and the earbuds will actively blend the environmental sound with my audio allowing me to stay connected with my surroundings. I find this useful for outdoor exercise or public shopping where ambient awareness is necessary for safety and courtesy. I found the pre-installed medium sized tips to be just right for my comfort and I have worn them for many hours at a time with no fatigue. They are surprisingly comfortable and stay in my ears better than other stem-type earbuds I have tried. Additional tip sizes are included for adaptation to different ear anatomy. Incoming phone call audio quality is excellent, but as with many similar type earbuds, the experience for the caller is somewhat compromised by the marginal quality of the microphone technology. People I call tell me that the outgoing audio is clear, but they can also tell I am calling through earbuds and the sound is a bit "off". One minor downside I have found is the controls are a bit difficult to navigate (-1 star) as there is a single active "tap" point on each bud that accepts single-tap, double-tap, triple-tap and long-tap gestures, each invoking a different command, and the other bud accepting the same gestures invoking yet another set of commands. I find I am very often missing the right number of taps or getting confused and tapping the wrong bud. This can be alleviated to some degree by the companion app which allows some customization of the gestures to suit your preferences. The printed "Getting Started" guide that documents the tap gestures is painfully small and difficult to decipher. I would rather see the command interface simplified with additional tap or squeeze points, such as on the stems, to not overload so many commands onto a single tap spot per bud. As stated, sound quality is where these earbuds shine, and overall, I'm thrilled with my new JBL Tune 230NC noise cancelling earbuds and find my music enjoyment has been taken to a new level. Highly recommended!
Date published: 2021-12-07
Rated

1

out of

5
by
Whyaretheseathing
from
Waste of $100, buyer beware
In all honesty, despite decent sound quality when you finally manage to connect these, these are on par with any other $5 Bluetooth headphones from the dollar store. Its should be illegal to sell these for $100 let alone advertise all the bogus features it has like "noise cancelation" which is doesn't actually have. The amount of problems these things have for the price tag is ridiculous. Despite no damage or misuse, one earpod will always disconnect or refuse to pair, or somehow pair as a separate device seperate from the other earpod (how is that even a thing), headphones always making random annoying noises every few minutes while in use despite full battery, audio randomly cuts off all the time and resumes, charging these things can be a nightmare with the cheap USB port on the case which doesn't grab the charger at all, you literally have to rest the case against something at an angle while its plugged in or the charger will easily fall out of the charging port. On top of this, most of time it will charge for only like 30 seconds when plugged in then stop charging unless you unplug it and plug it back in (really like how?) Oh and the most annoying thing, anytime you plug these these things in to charge, you literally have to jump start the headphones to get them to turn on again. By this, I mean that anytime you plug them in to charge, you cannot reconnect to them via Bluetooth unless the USB charger is plugged in while you're pairing them despite them having full charge already. If you charge them, take the charger out, then try to pair, the headphones will not even turn on when you open the case unless the charger is plugged in, even if you clearly just charged it to 100%. These things legitimately have a mind and personality of their own. Somedays they can be semi-normal, other days they will cycle through every problem i just mentioned. Yes, this happened all straight out of the box. JBL, your company should be ashamed to be selling such garbage, ill never buy a product from this mediocre company again. I knew I should've taken the same amount of money and just bought apple earpods instead which would have actually worked like regular Bluetooth headphones and lasted years, unlike this garbage. These things are good for if you feel like solving a puzzle everytime you want to listen to music, bc thats what these will feel like. Funniest part is everything I said has been said by others in reviews prior to me buying these. I wish I read reviews on these before buying. How these have over two stars for reviews is proof that these childish companies fake their reviews instead of making solid products. Big L, on this product and your company image JBL, ill personally never waste a single calorie of energy even making eye contact with a jbl product ever again. As soon as I buy actual functioning Bluetooth headphones I'm going to stomp on these until I feel like I got a $100 workout from a personal fitness trainer so I can atleast feel like I got some moneys worth out of it.
Date published: 2022-08-04
Rated

5

out of

5
by
Hugh
from
Freedom of movement alongside superb JBL quality
I love my JBL Tune. It has a fantastic JBL audio quality and the interchangeable earlobes make sure the EarPods are a perfect fit. The most amazing thing about these are the freedom they give you. It has made watching a movie on my laptop in my room, video calls and listening to music in the gym much more comfortable and enjoyable.
Date published: 2021-11-30
Rated

5

out of

5
by
baynes74
from
Not to be outdone
Outstanding Audio with Pure Bass and ANC. Took these out of the box and into my ears and WOW! The fit is better then other buds on the market. Easy to setup with Fast Pair. The music sound quality is the best. Calls also are clear to hear and be heard. Love the quick 10 minute charge will get you 2 hours of audio listening.
Date published: 2021-12-01
Rated

5

out of

5
by
parkem03
from
Excellent sound, worth every penny!
Fast delivery, very easy set-up of the product and am very pleased with the sound! Only issue was charging the case, as it was difficult at first to get the cable to go in but was quickly sorted out. Would recommend to anyone looking for a decent pair of ear-buds that are convenient and cheaper than your typical airpods!
Date published: 2022-05-19
Rated

2

out of

5
by
Harold_75
from
When it works, sounds good
MANY PROBLEMS I bought these headphones 4 months ago. This is actually my second one. The first one, after a week of use, gave me a problem with the left earphone, and it wouldn't turn on again at all. I thought it was bad luck and decided to exchange it. It took a month for the same problem to happen again. Only this time I found out that if I put oil in the connectors it gets better. Even so... I can't leave it connected to any device, laptop or cell phone. Even when I put the headphones in the box, it only disconnects the right one, the left one is still connected and it discharges. And even when disconnected from any device, I haven't found a pattern for the headset to charge properly. It is pure luck... Millions of times I have gone for a run, and in the middle of the run the left earphone disconnects. The sound quality is amazing when the headset works. I know that after this experience, I will never buy a JBL headset again. It is a very frustrating experience.
Date published: 2022-10-13
Rated

2

out of

5
by
Rick65
from
Good sound but don't plan on watching any videos
Good: Pairs easy, Decent sound quality, OK Noise Cancelling. Bad: BT Driver is not Low Latency causing Video to not be in sync with Audio on any platform, Notification sounds too loud. My wife got me these earbuds for Christmas this year. When I first paired them up I was pleased with the sound and the fit. I mix audio and video as a hobby. Then I watched some video to see how they worked. That's when the wheels fell off the wagon. The sound was always 1/2 to a full second off from the lips. At first I thought it might be my computer, so I tried another computer(same results) Phone(same results). Then I started researching to see if I could do anything about it and found that the BT driver is not designed for low latency and there is no way to get your sound to sync with the video properly. To sum up: If you want these only to LISTEN to podcasts or music. They're good and will work, BUT if you want to watch any video podcasts or on youtube, Vimeo, FB. You'll be very disappointed
Date published: 2023-01-10
Rated

1

out of

5
by
DaverH
from
Failed to meet basic expectations
Within 3 months the right earpiece started having trouble connecting to the charging port. Now it rarely holds a charge. Will connect to my phone while I'm driving and force the disconnect from my car. I imagine this all comes down to a faulty charging port. Losing faith in the brand.
Date published: 2022-11-06
Rated

5

out of

5
by
Chris D
from
Low cost alternative to airpods
Low cost alternative to AirPods. They have a similar look and size to apple AirPods, even charging case. Added bonus is that they come in colors- got mine in a matte blue! Can be used one at a time. Sound quality is good. Easy to use and link to phone. Highly recommend
Date published: 2021-12-01
Rated

5

out of

5
by
Reded
from
Sweet sounds, barely feel them in my ears
At first I thought these were going to fall out as they felt so loose/light in my ears....but they don't, they are just so comfortable. I love the sound, its really warm, nice controlled bass and twinkly highs. The App is useful for control as the buttons are a bit fiddly
Date published: 2021-11-24
Rated

4

out of

5
by
Gracia96
from
Great sound, easy to use
These are a great pair of earphones with an awesome relation price-quality. The noise cancellation and bass sound are great. The only thing is that none of the sizes for the earphones actually fit my ears perfectly so I have to keep adjusting them throughout my day,
Date published: 2022-06-04
Rated

1

out of

5
by
Kwest356
from
No sound and quiet after a while. Three pairs this
These ear buds are awful. I am on my third pair. They LwYs end up loosing sound in the right ear bud. And they lost sound on both ear buds on my third pair. I have loved Jbl Bluetooth speakers, but these ear buds are trash. I got a pair of PowerBeats pro by Dre.
Date published: 2023-02-10
Rated

5

out of

5
by
Dgcb
from
Fair price for a good product
The only feature I lament not having here is the seamless transition from one device to the other, or the song / video not pausing automatically when taking the earphones out. Aside from that the sound quality, noise cancelling, and battery life are all perfect
Date published: 2022-05-17
bvseo_sdk, dw_cartridge, 18.2.0, p_sdk_3.2.0
CLOUD, getReviews, 7ms
reviews, product
Kysymyksiä ja vastauksia
Kuulokkeet ei toimi samaan aikaan, joko vasen tai oikea yksittäin.
Hei, Kiitos kysymyksestänne. On harmillista kuulla, että kuulokkeesi toimivat vain yksi kerrallaan. Tässä sinulle yksikertaisia ohjeita, kuinka mahdollisesti ratkaista ongelma: Aseta kuulokkeet takaisin tehdasasetuksiin: Aseta kuulokkeet latauskoteloon. Paina jompaakumpaa korvanappia kahdesti ja pidä sitä sitten painettuna 5 sekunnin ajan. Kuulokkeet sammuvat ja käynnistyvät uudelleen tehdasasetuksiin. Sinun on ehkä "unohdettava" kuulokkeet puhelimen/tabletin Bluetooth-asetuksissa, jotta voit yhdistää ne uudelleen. Varmista myös, että olet yhdistänyt kuulokkeet oikeaan Bluetooth-yhteyteen. Tune 230NC TWS -kuulokkeita voidaan käyttää yksittäin tai stereona. Tämä tarkoittaa sitä, että voit nähdä jopa kolme eri Bluetooth-nimeä yhteyttä muodostaessa. Varmistathan, että valitset niistä oikean. Jos tämä toimenpide ei palauta kuulokkeiden toiminnallisuutta, ehdottaisin että olet yhteydessä JBL Asiakastukitiimiimme tarkempaa vianmääritystä varten. Voit ottaa yhteyttä JBL asiakastukitiimiimme tukisivustollamme: https://support.jbl.com/fi/fi/
Date published: 2023-01-09
What touch controls do these ear buds offer?
Thanks for reaching out. The left earbud gives you access to ANC, Ambient Aware, and TalkThru. The right earbud gives you control over Play, Pause, Skip Forward, and Rewind to the previous track. Both earbuds activate SIRI/BIXBI/ALEXA and Google Assistant.
Date published: 2023-03-03
Just received these and wondering if I should fully charge them before very first use? And is it good practice to let them drain completely and fully charge several times or always to keep batteries in good health? Cheers.
Hi there, You do not need to charge them staright away and I would highly suggest once needing charged, To charge them for 2 hours untill they are fully charged then take them off of charge.
Date published: 2022-06-22
Hello I use my 230NC paired with my Samsung Galaxy S8, and if I have the JBL app opened, when I try to watch a youtube video in full screen, the video always swap place with the JBL app. Is that ok? How can I solve that? Thanks
Mitä tulee tehdä kun toinen kuuloke ei pariudu?
Can I get just an earbud case charger burnt the case out ??
How I can fully disable voice assistant. I disable gesture control on both headphones, but on long tap google assistant still run. It very annoying on а run with wet hat.
bvseo_sdk, dw_cartridge, 18.2.0, p_sdk_3.2.0
CLOUD, getContent, 6ms
questions, product