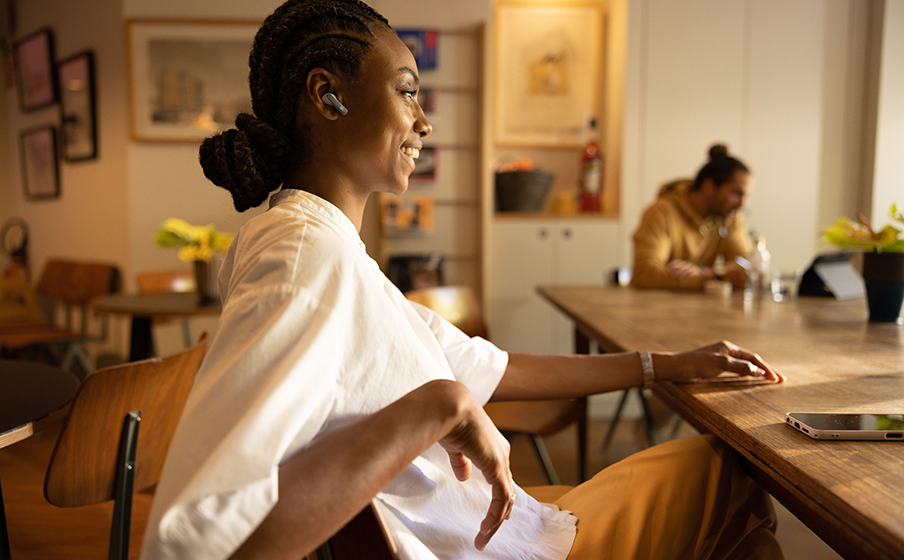 JBL:lle ominainen soundi
Mikään ei voita musiikin ja puheluiden kristallinkirkasta äänenlaatua, jonka taustalla on 11 mm:n dynaamiset elementit ja JBL:lle ominainen soundi.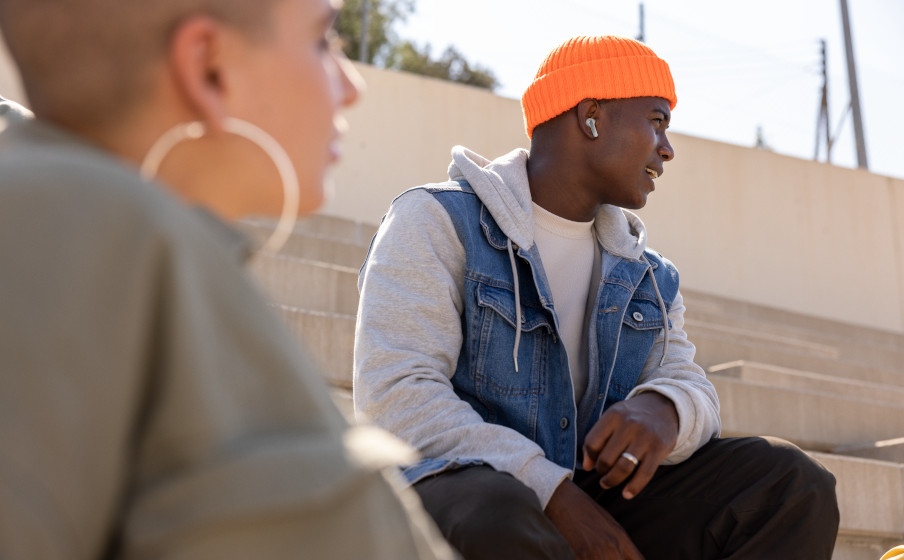 Mukautuva melunvaimennus ja Smart Ambient -tekniikka
Mukautuva melunvaimennus sopeutuu automaattisesti ympäristöön poistamalla häiriöt ja parantamalla ääntä, missä ikinä oletkin. Tai hyödynnä Smart Ambient -tekniikkaa, kun haluat keskittyä ympäristöösi – kaikki tämä kuulokkeita riisumatta.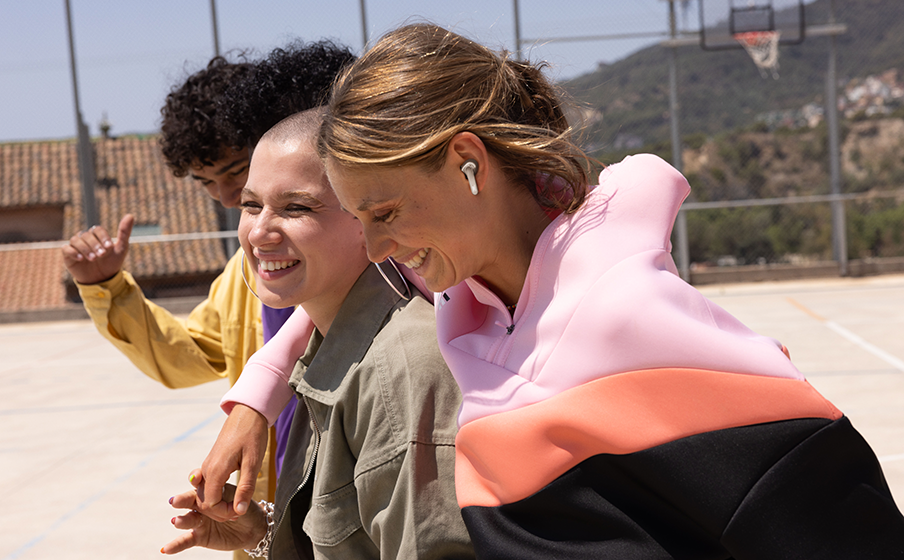 40 (10+30) tuntia toistoaikaa langattomalla latauksella
Et menetä koskaan hetkeäkään, sillä kuulokkeiden Qi-yhteensopivan akun kesto on 40 tuntia (10 tuntia kuulokkeissa + 30 tuntia kotelossa). Tarvetta lisäteholle? Vain 15 minuutin pikalatauksella saat vielä neljä tuntia lisäaikaa kuunteluun – nopeasti.
Ominaisuudet

Täydelliset puhelut kuudella mikrofonilla ilman melua
Kuusi beamforming-mikrofonia vähentävät tuulen ja melun aiheuttamia häiriöitä, joten sanasi kuuluvat aina voimakkaina ja kirkkaina. VoiceAware-ominaisuuden avulla voit säädellä mikin sisääntulosta takaisin kuulokkeisiin ohjatun äänen kuuluvuutta, valita näin, missä määrin kuulet oman äänesi.

Soikeat akustiset putket parantavat mukavuutta, äänieristystä ja bassoa
Parempi muoto, parempi ääni. Siksi JBL on suunnitellut kuulokkeisiin soikeat akustiset putket ja soikeat silikonisovitteet, jotka istuvat korviin täydellisesti. Korviin istuva muotoilu ja soikeat akustiset putket varmistavat tehokkaan melunvaimennuksen ja upean äänenlaadun.

Dual Connect ja synkronointi monipisteyhteydellä
Soiko puhelin kesken suosikkiohjelmasi? Ei hätää! Monipisteyhteyden avulla voit vaihtaa kuulokkeiden sisääntulon Bluetooth-laitteesta toiseen nopeasti ja helposti. Voit myös luoda pariliitoksen nopeasti ja vaivattomasti minkä tahansa Android-laitteen kanssa, kun vaihdat mono- ja stereoäänen välillä sekä vasemman, oikean tai molempien kuulokkeiden välillä.

Kosketus- ja puheohjaus
Aktivoi JBL Live Pro 2 -kuulokkeet helposti kosketusohjauksella. Tai puhu ja aktivoi Hey Google (*) tai Alexa (**). (*) Tuetaan vain Android-käyttöjärjestelmässä (**) Alexa-ominaisuuksien täysimääräinen käyttö edellyttää tätä laitetta käytettäessä Android 6.0- tai uudempaa käyttöjärjestelmää.

IPX5-tason veden- ja hienkestävyys
Kun sadekuuro yllättää matkalla kuntosalille, ei ole syytä huoleen. IPX5-sertifiointi tarkoittaa, että JBL Live Pro 2 -kuulokkeet ovat vedenkestävät.

JBL Headphones -sovellus
Kuulokkeiden oman sovelluksen avulla voit valita kuuntelutilan, säätää aktiivista melunvaimennusta tai Smart Ambient -tasoja, mukauttaa ohjaimia sekä säätää mukavuuden ja äänenlaadun optimaalisiksi – jotta voit aina kuunnella juuri omalla tavallasi. Voit myös optimoida EQ-käyrän, ja omalla kielelläsi lausutut äänikehotteet auttavat navigoimaan ominaisuuksien läpi.
Tuotevertailu
LIVE-PRO-2-TWS-
TUNE230NCTWS-
TUNE-FLEX
TUNE-FLEX-GHOST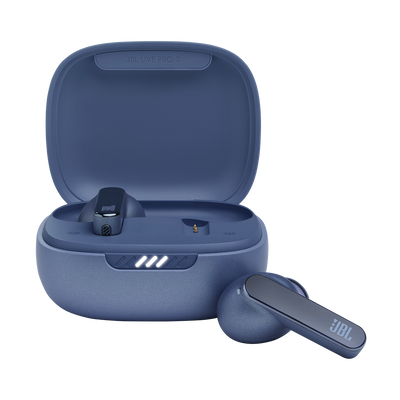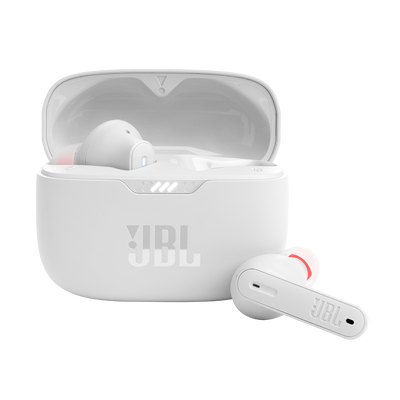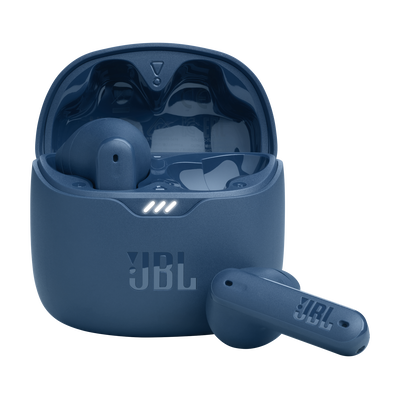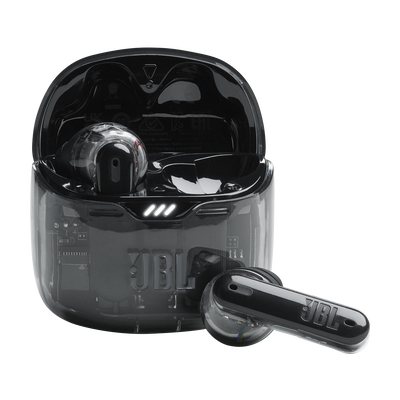 Akku
Maksimi musiikintoistoaika ANC pois päältä (tuntia)
10
Maksimi musiikintoistoaika ANC pois päältä (tuntia)
10
Maksimi musiikintoistoaika ANC pois päältä (tuntia)
8
Maksimi musiikintoistoaika ANC pois päältä (tuntia)
8
Ominaisuudet
Aktiivinen melunvaimennus
Aktiivinen melunvaimennus
Aktiivinen melunvaimennus
Aktiivinen melunvaimennus
Pikalataus (5 min = 1 tunnin soittoaika)
Pikalataus (5 min = 1 tunnin soittoaika)
Pikalataus (5 min = 1 tunnin soittoaika)
Pikalataus (5 min = 1 tunnin soittoaika)
Tiedot ja lataukset
Item# JBLLIVEPRO2TWSROS
Kuvaus
Kuuntele ja tule kuulluksi. Koko päivän, kaikkialla.

Pysy rytmissä koko päivä ja nauti tyylikkäistä kuulokkeista niin töissä kuin vapaa-ajallakin. JBL Live Pro 2 -kuulokkeet tarjoavat jopa 40 tuntia JBL:lle ominaista upeaa ääntä (10 tuntia kuulokkeilla + 30 tuntia kotelossa), pikalatauksen ja langattoman Qi-latauksen, kun akut tarvitsevat lisää virtaa. Mukautuva melunvaimennus poistaa häiriöt ja takaa kokonaisvaltaisen kuuntelukokemuksen. Smart Ambient -tekniikka puolestaan auttaa ympäristön tapahtumien havainnoinnissa. Korviin istuva muotoilu ja soikeat akustiset putket varmistavat tehokkaan melunvaimennuksen ja upean äänenlaadun. Onko sinulla asiaa? Soita kirkasäänisiä, täydellisiä puheluita kuuden beamforming-mikrofonin avulla tai käytä mieleistäsi puheavustajaa hallitaksesi kuulokkeita ja yhteyksiä saumattomasti hands-free-tilassa.
Tuotetiedot
Audiotiedot
Elementin herkkyys @ 1kHz/1mW (dB)

105

Dynaaminen taajuusvaste (Hz)

20 Hz - 20 kHz

Impedanssi (ohmia)

16
Mitat
Elementin koko

11 mm:n / 0,43":n dynaaminen elementti

Kuulokeosa

4,8 g/kuuloke (yhteensä 9,6 g)

Latauskotelo

48,4 g
Ohjaimet, kytkennät ja liitännät
Bluetooth profiilit

A2DP V1.3, AVRCP V1.6, HFP V1.7

Bluetooth-taajuus

2.4 GHz - 2.4835 GHz

Bluetooth-lähettimen modulaatio

GFSK, π/4 QPSK, 8DPSK

Bluetooth-lähettimen teho

< 12 dBm EIRP

Bluetooth-versio

5.2
Akku
Latausaika (tuntia, kun akku on tyhjä)

2

Maksimi musiikintoistoaika ANC pois päältä (tuntia)

10

Maksimi toistoaika (tuntia)

40
Ominaisuudet
Bluetooth

Kyllä

Charging cable

Kyllä

Puheääniavustaja

Kyllä

Mukautuva melunvaimennus

Kyllä

Päästää läpi ympäristön äänet

Kyllä

Sisäänrakennettu mikrofoni

Kyllä

Latauskotelo

Kyllä

Hands-free-puhelut

Kyllä

JBL Signature Sound

Kyllä

Multipoint-yhteys

Kyllä

Ladattava akku

Kyllä

Pikalataus (5 min = 1 tunnin soittoaika)

Kyllä

Hikeä hylkivä

Kyllä

TalkThru-monitoimipainike

Kyllä

Kosketusohjaimet

Kyllä

Aidosti langaton

Kyllä

Langattomat

Kyllä
Pakkauksen sisältö
1 x JBL Pro 2 -kuulokkeita
1 x 3 paria erikokoisia korvasovitteita
1 x C-tyypin USB-latauskaapeli
1 x latauskotelo
1 x takuu-/varoituskortti (W / !)
1 x tuotteen pikaopas/käyttöturvallisuustiedote (S / i)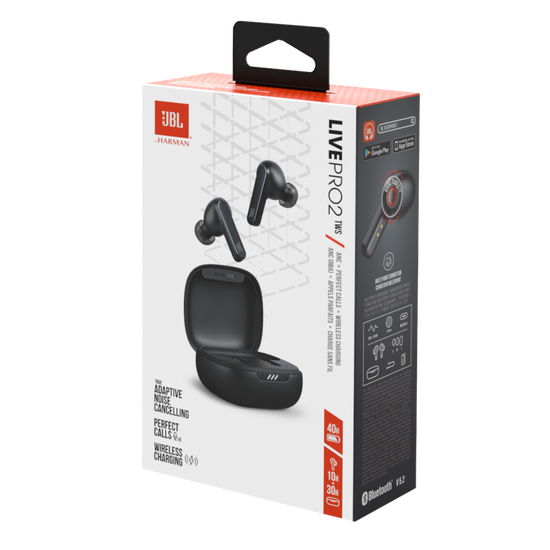 Asiakirjat ja lataukset
Arvostelut ja vastauksia kysymyksiin
Arvostelut
Rated

5

out of

5
by
TDTechOfficial
from
Outstanding All Around Product!
Strait out of the box, the setup is very strait forward and easy. Downloading the app to adjust settings with ease and creating a custom equalizer to achieve a perfect sound is super easy to do. The JBL Live Pro 2 provide a great, clean and crisp sound. The signature JBL sound is very alive with these earbuds. The sound signature of these earbuds is very enjoyable. Good low notes with crisp highs and prominent mids. Packaging is organized and give a great presentation. Overall these are one of the best sounding and most portable high quality earbuds out there. I highly recommend these.
Date published: 2022-06-14
Rated

5

out of

5
by
Kathy2812
from
Great sound, easy handling!
I use the headphones for over a week now as a testing product and I love them. They are my regularly companions at my dog walks. I love to hear audio books during my walks. The sound is brilliant. I live it that you can switch out ambient sounds, so that you just hear the audio book or the current song. Great quality. I'm very astonished about the good quality at phone calls. The microphone is very clearly and sensitive. So phone calls are can be made at good quality. The operation is very easy. Just on or two short clicks or a long Click at the headphones. The installation was also very simple by using the JBL App.
Date published: 2022-07-25
Rated

5

out of

5
by
Sabo 1
from
High quality of sound and hardware
Bought them yesterday and to be honest they're much better than I expected this is my first jbl product and I can absolutely recommend it to anybody who wants to buy it, the hardware quality is high and it fits perfect in the ears. I compared it to my other earbuds too and the jbl live pro 2 sounds much better.
Date published: 2022-09-23
Rated

4

out of

5
by
taro
from
Good sound quality and battery life
The sound quality has been the strength for me in the base response in different modes. Good to stay connected with exception of in phone calls over 30 minutes, there are intermittent half a second pause in audio (but the person on the app the other end of the phone call stated they perceive no pause in the microphone transmission.) The ANC is effective but not as good in filter out medium frequency hums than the Bose headset that I have to compare it to. The fit is adequate but for my ear cannel after 4 hours of wearing does give me some ear ache. This could be just a price to pay for a good seal for the ANC. To give the context I am using an iOS device with the Live Pro 2.
Date published: 2022-06-16
Rated

5

out of

5
by
ThatGuyYouKnow
from
Blown away by the improvements
So I have a pair of the JBL Live Pro + headphones. They have been my everyday earbuds since I got them and I was super happy with them minus a couple exceptions. When I saw the Live Pro 2, I knew I had to get a pair and try them out. I wanted to see what was changed. I loved the sound of the Pro + but the Pro 2 sound even better. Now switching between the two, I can hear much better mids and highs than the Pro+. Even the bass is better on the Pro2, which I honestly didn't expect since the Pro+ had very good bass. I was also pleasantly surprised how much better they fit in my ears. The Pro+ were fine and I didn't have any fit issues at all but the Pro2 seem to just stick in my ears. When I shake my head they don't move at all. Another improvement that I noticed and really love is when using a gesture to switch between Active Noise Canceling, Ambient Aware, and TalkThru. The Pro+ would just beep and you would have to know which one you switched to. While this isn't a huge issue it made it sometimes difficult to tell. Now with the Pro2 you get voice feedback after switching between the different settings. The voice prompts can all be changed in the app to a handful of different languages or just off if you don't want it. The gestures also were slightly updated, where now I can have my favorite assistant as a hold and still be able to skip, play/pause songs. This wasn't possible with the Pro+ as using an assistant used up all the gestures on the ear bud for the assistant. The JBL app also got a nice visual upgrade for these earbuds and some new features. There is now a VoiceAware slider so you can adjust the amount of your voice you hear on phone calls. There is also more settings to customize the ANC which is nice. The only thing I was hesitant on was the color. I usually get black but this time I got the blue. I'm happy I did, they look really sharp. Overall, I'm really happy with these. They fit great, have awesome sound and have an even longer battery life. I can finally use them for a full day of work. I tend to listen to music or I'm always in some meeting or call for work. So I tend to have these in for close to 8 hours on a work day. It's nice not having to charge them during my lunch break in order for them to last the rest of the day. I can't recommend these enough, Great Product.
Date published: 2022-06-15
Rated

1

out of

5
by
Snfv
from
Not nice
Was raining and they stop to work nor even a week since I bought them
Date published: 2022-08-18
Rated

5

out of

5
by
Jeremy22
from
Outer space tank
I've had these earbuds for about a year now and I think they deserve a review. I lost my left earbud for a month one time and had no idea where it went. Turns out I dropped it outside to my surprise I plug it back in and it works perfectly! With me mowing over it, rain and cold temps it kept all its high tech features. This is as about 3 months ago and it still works… Just an amazing product!
Date published: 2022-11-15
Rated

5

out of

5
by
Jaqueline87
from
Wow! Amazing sound and very nice look!
I was very suprised by unboxing my package. The In-Ears look very beautiful. The charging box has a very smooth touch, it lies well in the hand. The three lit bars indicate the battery status. So you can see very easiliy if you have to charge. The In-Ears fit perfectly in my ears. I'm not afraid to losing them. And now to the sound: WOW! Clear and great sound. Noice cancelling is working very good. You can adjust the sound in the app until you find the perfect sound for you. I've used samsung in-ears in the past. I have to say that these are significantly better. I love JBL.
Date published: 2022-07-26
Rated

3

out of

5
by
X27D
from
Good headphones but...
Headphones are good, audio fidelity is above average, not amazing. However, they are let down by a terrible accompanying app, which for some bizarre reason must be downloaded to use them with an android device. They also occasionally dropout for no reason on to resume a second latter, hopefully this will be resolved with a firmware update.
Date published: 2022-07-21
Rated

4

out of

5
by
barrayar1
from
Great Sounds
The JBL Live Pro 2 In Ears have a great sound. It can be scaled even better by downloading the JBL Headphone app. What is noticeable is that the bass portion is always too high - even in the vocal setting. The small charging case is nice and fits in any trouser pocket. The charging case is connected to a high-speed charging cable within 2 hours. The InEars are fully charged within a good 3 1/2 hours. The charging case still has 60% charge. The InEars adapt perfectly to the ear cups and the ANC is awesome - the JBL InEars are really only recommended.
Date published: 2022-07-31
Rated

4

out of

5
by
brandon687
from
Great vocals and sound clarity
Overall I would recommend these headphones to anyone that goes to the gym or is busy and on the go they are easy to use and the connectivity is some of the best I have seen and used. The sound quality is crystal clear and it's easy to hear and understand things or the vocals coming from the artist. The only reason I did not rate this as 5 stars is because the bass is lacking and I feel like the drivers could be bigger.
Date published: 2022-11-20
Rated

5

out of

5
by
TomppaL
from
Parhaimmat kuulokkeet hintaluokassaan!
Sain tuotteen kaksi viikkoa sitten testattavaksi ja olen sitä verrannut niin äänenlaadullisesti kuin vastamelullisesti apple airpods gen 2 ja beats studio pro kuulokkeisiin. Äänenlaadullisesti JBL:n tavaramerkkiäänentoisto on kohdallaan, bassot ovat tuhteja ja ylä-äänet rikkaita. Tietenkin omilla säädöillä saa juuri haluamaansa musiikkia ja kuulokkeissa onkin toiminto joka mukauttaa äänen juuri kuuntelijan korvakäytävään sopivaksi. Olen testannut nurmikonajossa, lenkillä ja kauppareissuilla vastamelutoimintoa ja se voittaa kilpailijansa selkeästi, jos haluan kuulla mitä minulle sanotaan, sipaisen vain nopeasti kuuloketta ja läpikuuntelu menee välittömästi päälle. Itse pidän myös siitä, että kuulokkeet istuvat hyvin ja pysyvät lenkillä erinomaisesti korvissani.
Date published: 2022-07-26
Rated

2

out of

5
by
Cheks
from
Very disappointed
I've had these for almost 6 months. They've never really been jaw dropping like the way a lot of people say. People cannot hear me properly when I'm on the phone, there's no noise cancellation on them and worst of all, I'd have my music on blast in my ears but the outside world is way louder! It sounds like the volume is on low constantly. The charge time definitely does not last as long as it says it does for me. I don't know if I got a bad batch but it's sub par quality. I should have just stuck with AirPods.
Date published: 2022-06-16
Rated

5

out of

5
by
Meghan
from
Amazing ear buds with minor draw backs!!
Overall I am loving these wireless ear buds! When I first received them I liked the compact design and case felt well built. The compact case is definitely a sleek design. But because the case is more flat instead of tall, I found opening the case was a bit tricky and a 2 handed operation. The sound quality is amazing with good bass and an overall clear sound. I did find that after extended use, the plastic portion (not the rubber changeable part) of the ear buds did seem a bit too big in my ear and felt slightly uncomfortable but they stayed in my ear better than other ear bud designs. The noise canceling from these are amazing. Standing next to my washing matching while it was running sounded completely silent with ear buds in and no music playing while connected to my phone.
Date published: 2022-06-17
Rated

5

out of

5
by
momof2
from
Sleek and mighty in a small package
Sleek and attractive right out of the box. I have the blue - which is a cool metallic color. Once inserted, could immediately sense the noise cancellation properties. Comfortable and lightweight in ear. The headphones linked easily to my iPhone - all to had to do was find it listed under Bluetooth and clicked on the link to connect. Controls were easy enough to figure out. Sounds quality was great - I'm not an audiophile but my music sounded great - a good mix of treble and bass.
Date published: 2022-06-30
Rated

4

out of

5
by
katsu22
from
Hyvät perusnapit
Jo pakkauslaatikko oli tyylikäs eikä se sisältänyt mitään turhaa. Itse kuulokkeiden suhteen olin vähän skeptinen, nappikuulokkeet sopivat yleensä tosi huonosti minulle, etenkin sellaiset joissa ei ole vaihdettavaa päätä. Nämä sopivat hyvin toiseen korvaan, toinen jäi vähän väljäksi. Musiikinlaatu oli ihan riittävä, vastamelutoiminto ei ollut ihan niin hyvä kuin mitä olisin toivonut. Plussaa usb-c-latauksesta ja tyylikkäästä latauskotelosta, miinusta JBL:n omasta sovellusesta.
Date published: 2022-08-09
Rated

5

out of

5
by
Drbll
from
Top quality earbuds
Not sure how they did it, but these are the nicest earbuds I have had. Of course the JBL sound is amazing, that is a given. The ease of use and the app make these my favorites. Using the check my fit feature, I changed the rubbers to the large size and they fit securely and sound great with a good seal. The black chrome accents look good and match my car nicely. The case is smaller than most, which I hope I don't loose it, but the app has a finder feature.
Date published: 2022-06-13
Rated

5

out of

5
by
fayhope
from
New Favorite
Oh my gosh! These are my new favorite! These earphones are so comfortable and do not fall out. They sound they put out is absolutely amazing. I don't have to worry if it's raining outside because thankfully they are water resistant which is really good because I live in an area when you never know if you will get caught in a storm. They were easy to switch from on device to another and that is so helpful. The charge seems to last forever.
Date published: 2022-06-22
Rated

5

out of

5
by
JD Ford
from
JBL got these right !
Wow JBL got these right! The Live Pro 2 ear buds are truly amazing. First the sound is incredibly full and has bass along with clarity. They are excellent in noise cancelling the outside world. I have used them mowing grass and I don't hear the mower just the music which is awesome. I have wore these for several hours at a time and they are very comfortable in the ear and sweat does not seem to bother them. They hold a charge well too for at least six hours at high volume. These connected quickly to my phone and stayed connected so no issues with bluetooth. I have owned many different ear buds and I have to say these are my favorite for sure. I highly recommend them to anyone looking for excellent fullness with bass and clarity in their music. These things do not disappoint so go ahead and buy you some they are a tremendous value for the sound quality.
Date published: 2022-06-14
Rated

5

out of

5
by
boudreaux
from
Better than expected! Great color!
The JBL Live Pro 2 TWS were even better than I expected and I always expect JBL to be fabulous! The color is amazing and the sound is crystal clear. These earphones stay charged 10 hours and get to a 2 hour charge in just 15 minutes so if you need a quick charge for a run it is just perfect. I use them for calls and listening to music and they work great for both. They are so comfortable to wear and stay put. I love these!
Date published: 2022-06-22
Rated

5

out of

5
by
Triinu
from
Erinomaiset kuulokkeet
Nämä kuulokkeet on ollut hetken aikaa kokeilussa. Musiikki kuuluu erinomaisesti, yhdistyy puhelimeen todella helposti ja nopeasti, ääni on hyvä. Kokonaisvaikutelma todella hyvä. Kovassa tuulessa pyöräillessä ja samanaikaisesti puhelussa ollessa tuulen kohina kuuluu vastapuolelle ja omissa korvissa, se kyllä kuuluu varmasti kaikissa kuulokkeissa. Kokonaisvaikutelma kuitenkin tosi hyvä ja akunkesto on ollut todella hyvä.
Date published: 2022-08-10
Rated

3

out of

5
by
tootoochan
from
its waterproof but cannot swim with them
disappointed. i am returning them. they are IPX8 waterproof but the sensors are too sensitive such that the ear pods connect and disconnect and connect and disconnect multiple times when the pods sense the pressure of the water / waves in the swimming pool. Maybe i should not have expected waterproof ear pods to be suitable for swimming. I was not diving. if you dont buy them for swimming, then they work fine.
Date published: 2022-09-12
Rated

5

out of

5
by
Top_Gear_Fanboy
from
Great quality and comfort
I really enjoyed this product. They are actually extremely comfortable in your ears and Ive worn them for a great deal of time and I don't really get any fatigue. The app is also pretty cool and allows you to change in between the different modes (basically whether it passes in outside sound or just uses noise canceling). Overall I really enjoyed them. I also liked how small their case was as it was very convenient.
Date published: 2022-06-25
Rated

5

out of

5
by
BlondeAzn
from
AMAZING!
I can't believe how amazing these earbuds are! This is the third set of JBL earbuds that I've been lucky enough to try and this by far is the best ones yet. The charging case is a little square. Sleek and not bulky. I absolutely love the interchangeable noise canceling feature. The quality of the sound is so clean and crisp. I wear these while I workout and I've had 0 issue with them falling out. They are very comfortable and fit my ears perfectly. They take about 15 mins to change and once charged, I can use them for a few days depending on how many hours I use em. There's a little light indicator on the case to let me know when I need to charge them. A nice feature is they can be charged wirelessly. The touch feature is perfect for working out so I don't have to reach for my phone, I can just tap the earbud to pause my music. I got the blue pair but I know them come in different colors.
Date published: 2022-06-12
Rated

4

out of

5
by
Intruder
from
Awesome Sound, Size and Style
Love the sound and the fit! I have issues with other ear pods to fit with these they come with different ear bud cones sizes so perfect. The sound is awesome and reason for the 4 star is I would have liked them to have more BASS. Touch controls amazing! Tap then double tap for operations. Easy set up with the app and the charging case very compact and stylish. Definitely recommend!
Date published: 2022-06-21
Rated

4

out of

5
by
prjio307
from
Great Buds, Lots of Features, Subpar Mic
These headphones are wonderful if you are someone looking for high quality sound for music and movies/videos. For content consumption, these are some of the best sounding earbuds in this price point, and they honestly punch above their price point in terms of sound quality. However, if you are someone looking for great call quality for business calls, these are not it. That's not to say that the mic is terrible, because it's not. It's just not up to par when it comes to blocking our background noise. Sound quality: excellent, 5/5 in my opinion here. Highly customizable with EQ and app features. You can really fine tune the EQ across a wide range of frequencies. Comfort: again, excellent, 5/5. These are the most comfortable earbuds that I've worn in a long time. I forget they are in! Noise cancellation: very good, 4/5. Excellent noise cancellation for this price point, but it's not the best of the best. The noise cancellation is also customizable via the app and tunes itself to your surroundings and your ear shape. Cool stuff! I found that this did make a difference once I did this in the app. Ambient mode: excellent, 5/5. Conversations sound natural, like you're not wearing anything. This is also customizable in the app as far as how much ambient sound you want to let in. Good stuff. Style: subjective. The buds speak for themselves but I find them to be very stylish! The color options are awesome and the blue color is stunning. Charging case & Battery life: this little case is awesome. 5/5 It packs 30 total hours of charge and charges FAST. Both the earbuds and the case charge very fast and last a LONG time. Much longer than other earbuds I have used. I can get through a whole workday just fine, with room to breathe. 5/5 for battery life. Features: oh boy - 5/5 for sure. Extensive EQ options, a video mode for lip syncing (not an issue for me, even in audio mode, but it's nice to have!), talk through, customizable ambient mode, noise cancellation tuning, the list just goes on. These are very feature rich and customizable. Connectivity: excellent 5/5. These paired up quickly and reconnect INSTANTLY when taking them out of the case. You can also use either earbuds independently of the other. The app: 5/5, very easy to use! Straightforward and easy to jump in and start tweaking to your liking. Call quality: here's where we run into some not so great. 2/5 here in my opinion. To be fair, folks I tested calls with told me they could hear me loudly, however I sounded a bit muffled and they could hear EVERYTHING in the background. They said it sounded like I was on speakerphone and they could hear all of my surroundings. In a quiet environment, it was fine, but in even a lightly noisy environment, these did not perform well. These are fine for calls when you are in a pinch, but I wouldn't buy them for this purpose. Overall, these are an awesome set of earbuds. I'm very happy to see how far we have come in terms of truly wireless earbuds. The future is bright and I would recommend these buds to anyone looking for excellent sound quality, great noise cancellation, comfort, style, and features!
Date published: 2022-06-10
Rated

5

out of

5
by
Angelina91
from
Just an amazing device
the headset is amazing. it fits easy and the sound is amazing. I used the earplugs while i was doing sport. you can wear them also for running and Kanga. The plugs are so tiny that my son can't grab them out of my ears while i carry him. The app is easy to use and very good for rookies. Last, but not least: A very good device that i will realy miss after the testting time:..(
Date published: 2022-08-05
Rated

5

out of

5
by
EricGCWI
from
My New Favorite buds
I love these ear buds. I wish I could go back and give a slightly lesser review to some other buds I've had lol. The sound on these is great, deep bass sound and a rich atmosphere altogether. I love the low profile of these to your head. I drive a scooter and have problems with either volume, or wind noise from resistance on previous ear buds, but not with these! The sound cancelling is phenomenal. Just try being next to something loud, then turn it on and off, you'll notice a significant difference. The functionality is the same as other JBL products, easy tapping on either side for the functions you require. They paired immediately without a hitch and continue to pair every time I turn them on, zero hassles. The battery hasn't died on me yet from the initial charge, I've used them for probably close to an hour so far on rides and runs. They stay in really well and I don't get anxious about them falling out during activities.
Date published: 2022-06-15
Rated

5

out of

5
by
Mandy80
from
Täydellinen paketti
Olen vuosia yrittänyt löytää itselleni kuulokkeet jotka sopisivat hektiseen elämänrytmiini niin arjessa kuin vapaalla ja nyt vihdoin olen ne löytänyt. Täydellinen paketti. Helppo ja nopea yhdistettävyys laitteesta toiseen varsinkin kun töissä joutuu eri laitteita käyttämään. Myös se että toisen kuulokkeen saa mykistettyä on ihan huippu ominaisuus.
Date published: 2022-07-26
Rated

4

out of

5
by
Upiet
from
Good earbuds
After testing the JBL Live Pro 2 TWS I have to say they are good the sound quality is good the ambient awerness functions perfectly, beeing able to have conversations while listening to music feels great. The earbuds fit snuggly into an ear and have exelent battery life.the only bad tink for me at least was that the sound was a bit quiet.
Date published: 2022-07-25
bvseo_sdk, dw_cartridge, 18.2.0, p_sdk_3.2.0
CLOUD, getReviews, 20ms
reviews, product
Kysymyksiä ja vastauksia
Can you control the volume levels via the headphones?
Our JBL Live Pro 2 TWS does not have a feature to adjust the volume using the earbuds. You may adjust the volume using the connected source device.
Date published: 2022-09-20
Does the JBL Live Pro 2 TWS support any codecs like Aptx or LDAC?
Our JBL Live Pro 2 have the standard SBC codecs. We don't recommend pairing our JBL Live Pro 2 to a T.V. because you may experience audio/video sync issues since the headphones don't support low latency and APTX codecs.
Date published: 2022-06-04
The charging case of the live pro 2 tws is the same size of the live pro + tws?
Yes, the charging case of our JBL Live Pro 2 and Pro+ has the same size.
Date published: 2022-12-19
JBL live pro 2 TWS. How waterproof are they? Can you swim with them?
Our JBL Live Pro 2 has an IPX5 rating which means that it has been deemed sweatproof and can offer protection from sweat on rigorous workouts. Submerging the units into the water can damage the unit.
Date published: 2022-12-03
Can you set it up so that you use one earphone only and it still works?
Thank you for your question. Yes, the JBL Live Pro 2 TWS can be used in stereo and mono mode. For mono mode, simple wear just one pod and the second one can remain in the charging case. Should you wish to receive further support, you may contact the Harman Customer Support team by telephone, email or chat in order to receive direct assistance. Please see https://uk.harmanaudio.com/support-contact.html#ns for further details. Thank you.
Date published: 2022-07-28
Can you just use one JBL ear bud instead of two?
Our JBL Live Pro 2 TWS has the Dual Connect feature in which you can use both earbuds (stereo mode) or just one (mono mode) while the other side is in the charging case.
Date published: 2022-12-20
Are there compatible memory foam tips for these? I like them for the most part, but have tried all 3 sizes of the silicone tips and they still gradually fall out of place which causes issues with the mic/my voice on calls.
Thanks for your inquiry. We don't sell any foam tips for our JBL Live Pro 2 TWS. You may search from third-party retailers online such as Amazon or eBay for compatible ear foam tips.
Date published: 2023-01-07
how do i find the charging case if i lost it but still have the earbuds
Our JBL Live Pro 2 has function to find missing earbuds but it does not have a function to look for the charging cases. For replacement part orders for the charging case of your live Pro 2, please reach out to our Customer Support team via our official website or toll-free hotline.
Date published: 2022-11-01
Do JBL Live Pro 2 TWS earbuds connect with AppleWatch?
What's the difference between these and Live Pro+ TWS
bvseo_sdk, dw_cartridge, 18.2.0, p_sdk_3.2.0
CLOUD, getContent, 132ms
questions, product