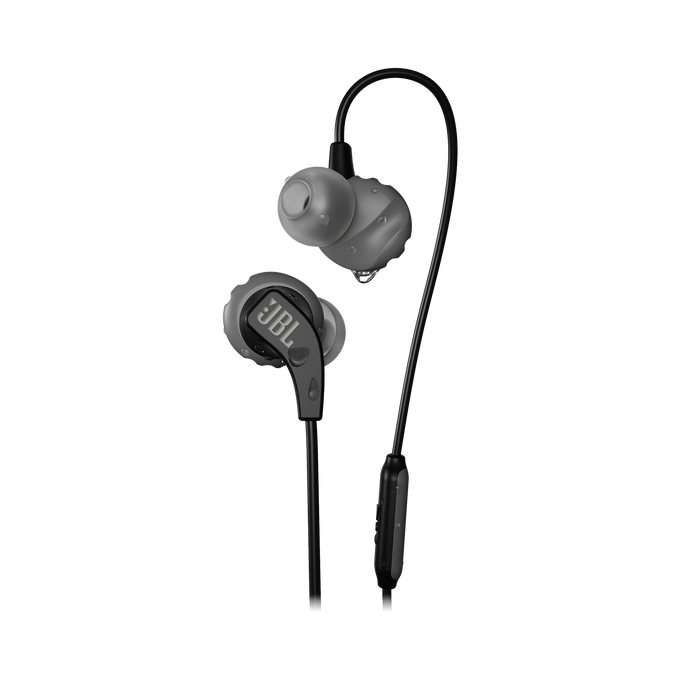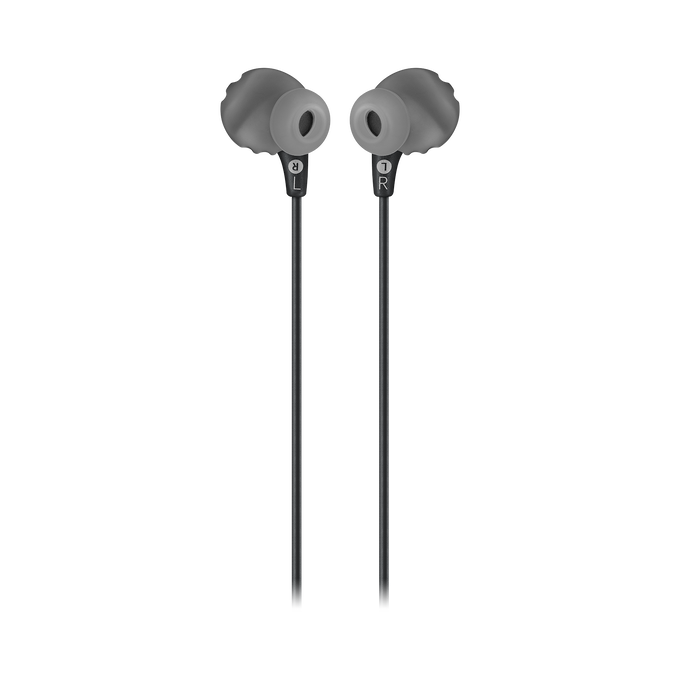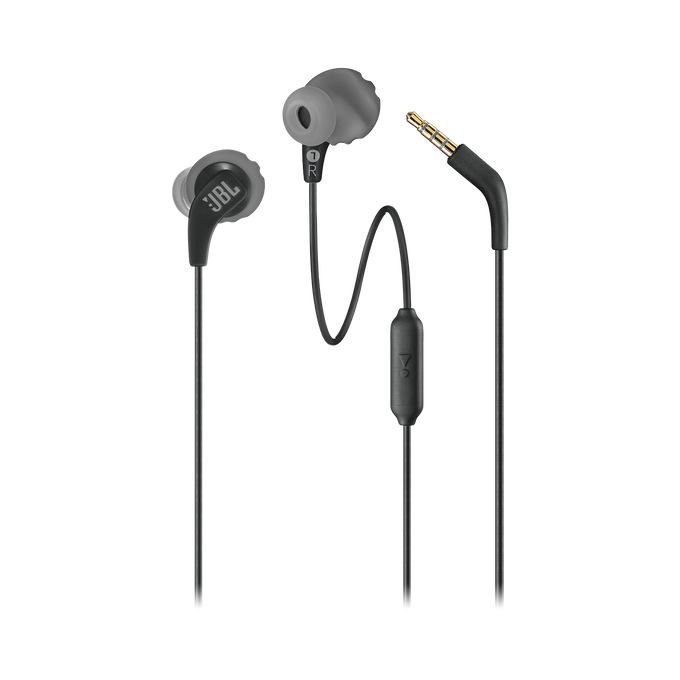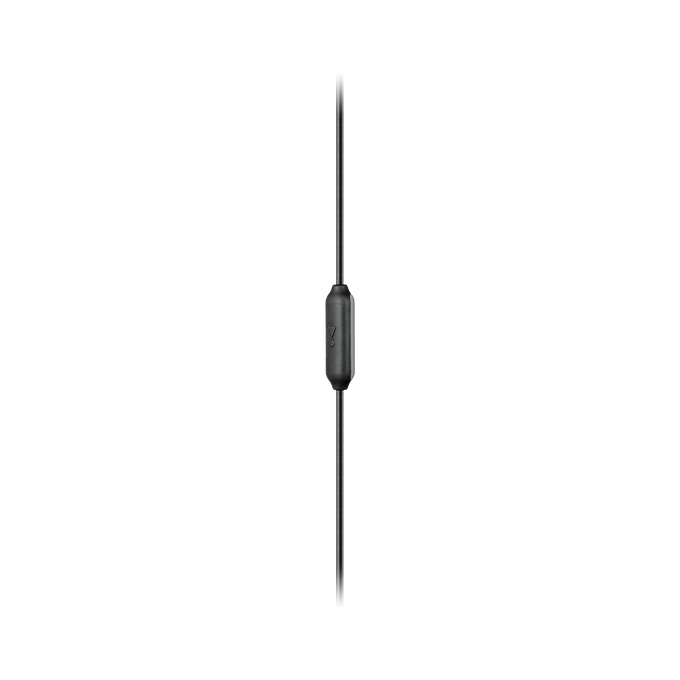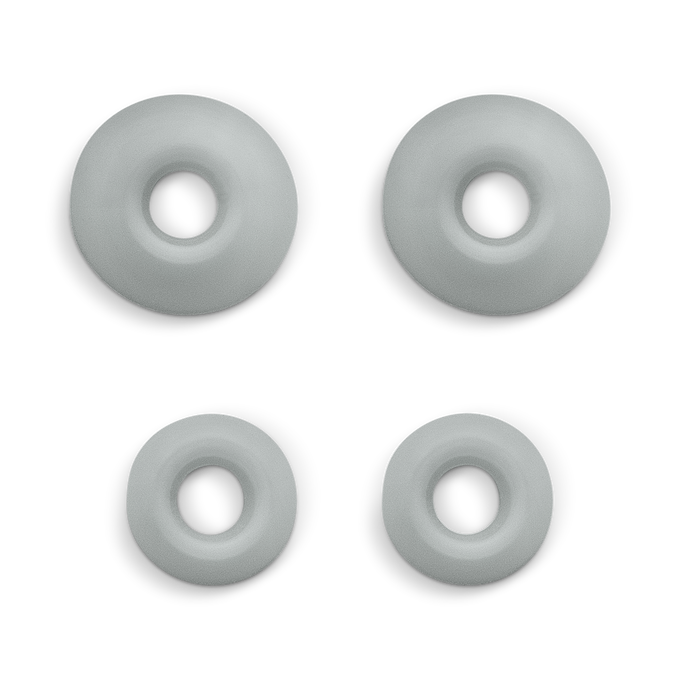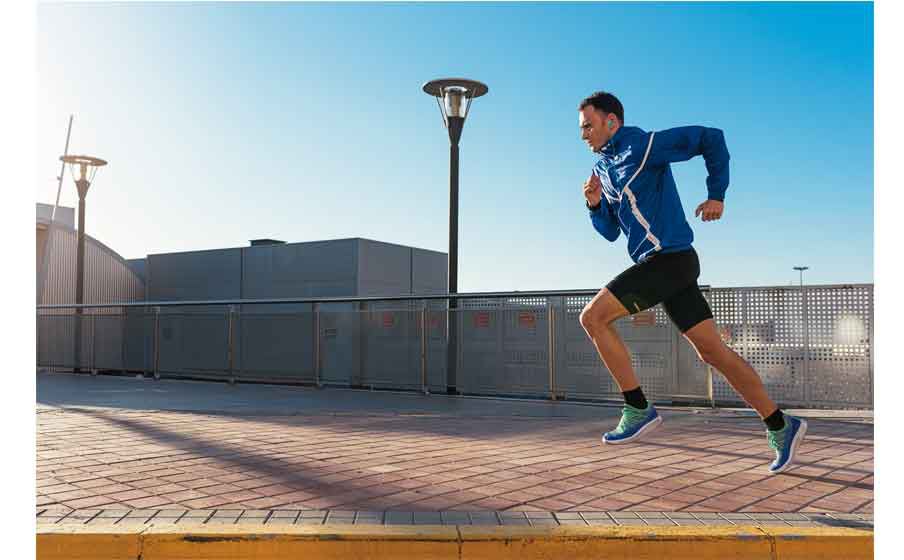 Fliphook™
Mukautettava kahden käyttötavan rakenne, joka mahdollistaa kuulokkeiden tulppa- ja sankakäytön.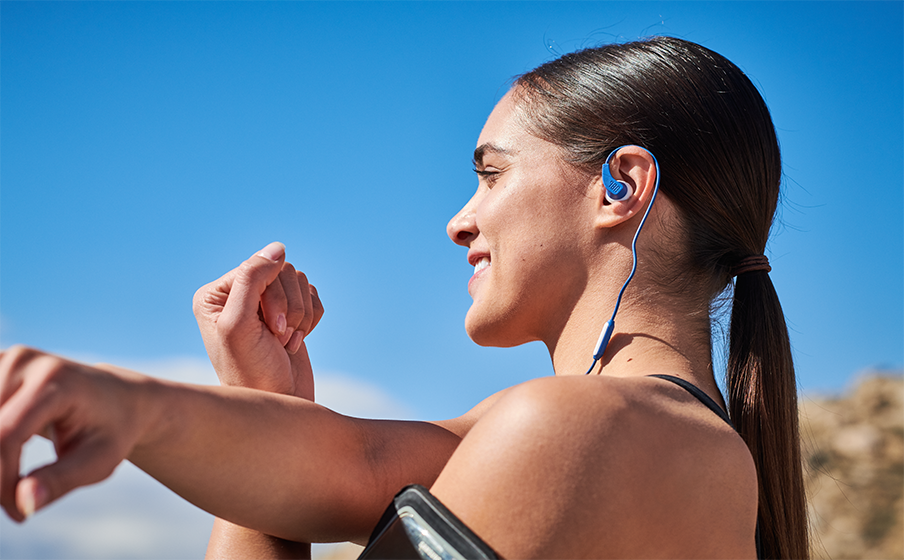 Eivät koskaan satuta korvia. Eivät putoa pois.
Kiitos TwistLock™- ja FlexSoft™-tekniikoiden, nämä kuulokkeet ovat kevyet ja ergonomiset, mikä takaa niiden tiukan istuvuuden ja pysymisen paikallaan treenistä riippumatta.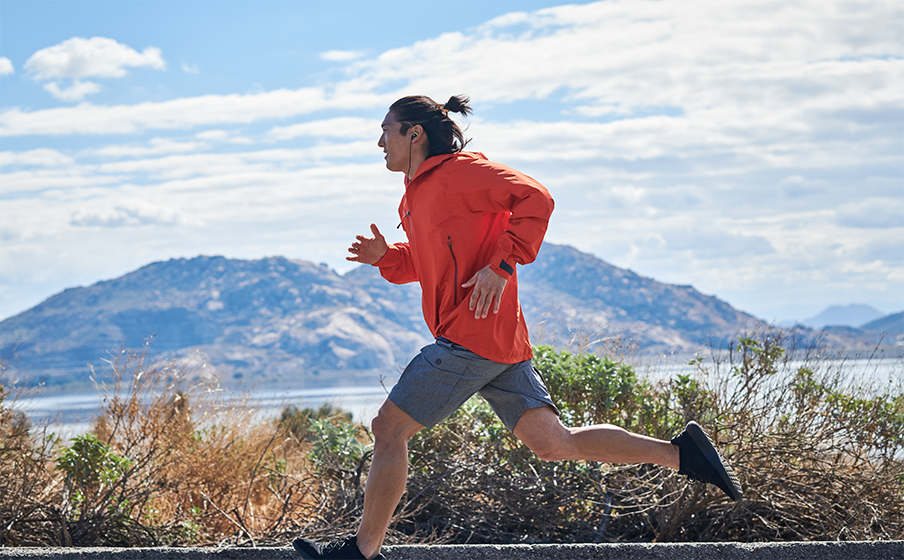 Hienkestävät
Suunniteltu kestämään raskaimmatkin sisä- ja ulkotreenit joka säällä.
Ominaisuudet

Hands-free-puhelut
Yhdysrakenteinen yksipainikkeinen kauko-ohjainmikrofoni tekee mahdolliseksi hands-free-puhelut, joten voit keskittyä treeniisi paremmin.

Magneettiset kuulokenapit
Magneettiset kuulokenapit, jotka helpottavat kuulokkeiden kaapelinhallintaa säilytyksen aikana.
Tiedot ja lataukset
Item# JBLENDURRUNBLK
Kuvaus
Eivät koskaan satuta korvia. Eivät putoa pois

Tuloksilla on väliä, ja voit keskittyä treeniisi täydellisillä kuulokkeilla. Kuulokkeet voi muuttaa tulppa- tai sankamallisiksi FlipHook™ -rakenteella. FlexSoft™-korvainserttien ja TwistLock™-tekniikan yhdistelmä takaa, että kuulokkeet eivät satuta korvia tai putoa kesken pois. Hikoilu tai sadekaan eivät estä kuulokkeiden käyttöä juostessa. IPX5-tason hienkestävän rakenteen ansiosta JBL Endurance RUN -kuulokkeet pysyvät mukanasi joka askeleella, ja yhdysrakenteisen kauko-ohjainmikrofonin ansiosta et joudu kaivamaan taskuasi puheluun vastaamiseksi.
Tuotetiedot
Kuulokeliittimen tyyppi

3.5 mm

Elementin koko (mm)

8.2
Audiotiedot
Dynaaminen taajuusvaste (Hz)

20Hz – 20kHz

Elementtien määrä per korva

1.0
Akku
Dynaaminen taajuusvaste (Hz)

20Hz – 20kHz
Ominaisuudet
Hands-free-puhelut

Kyllä

In-ear

Kyllä

Ladattava akku

Kyllä

Mukava ja varma istuvuus

Kyllä

Tukee sovelluksia Siri, Google Now

Kyllä

Hikeä hylkivä

Kyllä

TwistLock®-teknologia

Kyllä
Pakkauksen sisältö
Kuulokkeet
3 paria erikokoisia tulppia
1 sovitin
1 takuu-/varoituskortti
1 turvallisuustiedote/QSG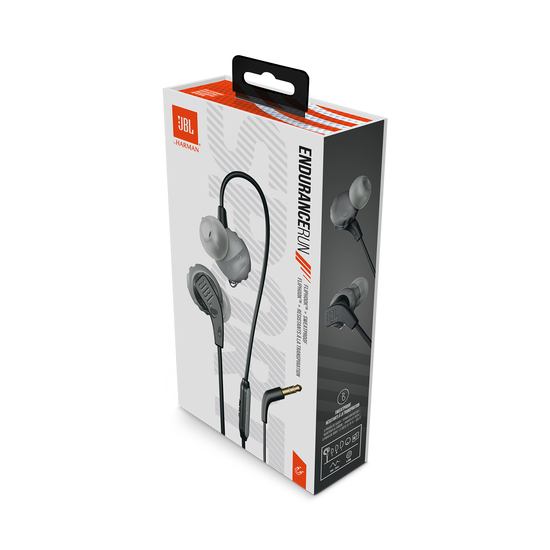 Asiakirjat ja lataukset
Arvostelut ja vastauksia kysymyksiin
Arvostelut
Rated

1

out of

5
by
Stevehatestheseearphones
from
Dissapointing..
Bought these a couple months ago and it stopped working from left side. The right side followed suit after a few days. Good audio quality, however i do not think they are durable enough.
Date published: 2021-08-16
Rated

5

out of

5
by
Ulson
from
Amazing
Since i get them I always have on my ears . There are incredible. You dont feel that you wear them . I will recoment to everyone good price aswell fast delivery .
Date published: 2020-07-14
Rated

5

out of

5
by
Dniagrcski
from
Great sounds
Second time i buy this the first my brother kept them because he also loved them also they don't get Tangled because of the magnets
Date published: 2019-01-04
Rated

5

out of

5
by
Almighty zay
from
AWESOME !
Highly recommend these, I was looking for available/high quality earbuds and I've found them here
Date published: 2019-06-13
Rated

2

out of

5
by
Louie767
from
Jbl runners
I bought these about month ago and the mic and button has stopped working
Date published: 2020-06-05
Rated

5

out of

5
by
Tfer
from
Great product!
Love these earphones! Sound is great and they are comfortable to wear.
Date published: 2020-08-11
Rated

5

out of

5
by
Spookarella
from
Awesome Earbuds... Excellent Durability...
Really Happy with Purchase... Just what I was looking for...
Date published: 2021-02-13
Rated

1

out of

5
by
Flipspark
from
It sucks
Fell out all the time and did not work with running
Date published: 2020-05-04
Rated

1

out of

5
by
HAS1
from
Only for cognoscenti
This product comes with two large sheets of warranty and legal warnings ... in 20 different languages. But, it has ABSOLUTELY NO user instructions. This product is completely useless — unless you are one of the cognoscenti who may have learned the secrets from from the 'in-crowd'. Even the on-line videos are not understandable. Maybe it has some fancy 'features', but I found this to be an exceedingly aggravating experience and a great waste of time!
Date published: 2020-08-12
Rated

5

out of

5
by
gwalk
from
Great fit and sound
I purchased this particular brand/model because I already own a set and enjoy them so much that I wanted a second just in case anything happens to these. They have great fit, do not fall out very easy and the sound is wonderful. I do not need to turn the volume all the way up to hear (unless it's a particularly great song). They block outside noise so well I started using them with my office laptop for online meetings.
Date published: 2020-11-06
Rated

5

out of

5
by
Anonymous
from
Great Pair! I bought thses in Hope of durability and sweat proof against my 2 hour workouts, inculding a 30 min run. I visit the gym 5 days a week.These have exceeded my expectations! The bass is great and they have outlasted any other headphones I have bought. I have had them for 5 months and would recommend them for anyone looking for heavy duty use. Great sound and the magnets give it an add benefit a good cost.
Date published: 2019-08-09
Rated

1

out of

5
by
Bartosz
from
Bad quality and horrible shipping.
Free, but long taking shipping. It took 2,5 month to get it (Norway), I had to call 3 times to JBL service, which is a huge joke trying to make me sure that the product is near and will be soon at my place... About the earphones, for sure Superlux HD681 which are a way cheaper are way better. Well, I understand that JBL Endurance RUN are on BT, but still the quality of bass and lower frequences are too low.
Date published: 2020-01-21
Rated

2

out of

5
by
RunmomMN
from
Misses the mark
I was an avid yurbud fan until JBL bought them out. When i saw this version with some of same features i decided to try them out. The sound quality is great if you can get them to stay in your ears. I've tried all three size buds and have tried wearing them both over the ear and regular. As soon as i start to sweat, i end up constantly fiddling with them to keep them in my ears. Definitely dissapointed.
Date published: 2020-04-29
Rated

4

out of

5
by
katman
from
Best everyday headphones so far!
I bought these headphones a couple of days before to replace an average earphones set. Since traditional in ears always fall off my ears i buy sports because they offer better grip and usually stay in place. I was a little skeptical at first about their ability to stay in place but the moment i wore them i knew that they would come off. They are the best i have ever tried and they offer great passive noise isolation. If you get into the music you can hardly listen to any of the city noise. Their sound experience is much better than any other budget sports in ears. They provide nice clear sound and also a satisfactory bass level. If you are looking for heavy bass they will not do the job. Overall I am very satisfied with my upgrade. I recommend them for anyone who is looking for a budget sports set but if they want to spend a little more they can also look the reflect mini series.
Date published: 2018-07-20
Rated

3

out of

5
by
luke33b
from
Grey sound but mic doesn't work
My jbl headphones (which I purchased a few days ago) sound amazing, but the mix does not work with my android phone. It doesnt pick up sound and the buttons dont work. Is this a headphone or a phone problem? I love the sound, but this was very disappointing.
Date published: 2018-07-05
Rated

4

out of

5
by
MissBNH
from
Don't fall out
I like these because they don't fall out and if they do the cord helps them stay on my neck. The earbuds are difficult especially when you're on a crammed flight and one falls on the floor. I used these on my 3 hour flight and they were comf6for the first 2 hours but then my ears started to ache and I had to take them out. Sound was decent and they've lasted awhile now
Date published: 2022-03-16
Rated

5

out of

5
by
Mukhlis
from
Nice bass and very smooth mids & highs
I bought this a few days ago and initially couldn't get it to fit properly in my ears. I had a pair of foam tips from my older jbl earphones and once I slipped these on they fit perfectly. I like that left and right can be swapped. I like the overall balanced sound and am enjoying them as well as getting used to them. For the price these are really great.
Date published: 2021-02-07
Rated

5

out of

5
by
mcvdawg3680
from
excellent performance
i brought those earbuds last week and they work the best way more than apple earbuds. they are also cheap somehow, thus, the cable never breaks. Most of the headphones i tried is that the cable breaks more often, including apple. the sound quality sounds very great as apple airpods!! i would actually really like to recommend this product!
Date published: 2020-03-08
Rated

4

out of

5
by
RoseA
from
Very comfortable
I have small ears and most headphones are uncomfortable after a long period of listening but I don't find that to be the case with these. They're comfy and sound great. The only thing I don't love is they don't have a volume rocker on the mic. That's why I gave 4/5 stars because I really miss that feature compared to my other headphones.
Date published: 2020-05-28
Rated

3

out of

5
by
JiveTurkey1979
from
Great sound but terrible controls
The first pair I bought began to decrease the volume by 2 clicks every time I advanced the song using the inline control. At times it would decrease the volume down to 0. I bought a second pair thinking I reached the end of the life on the first pair. Right out of the box the new pair did the exact same thing as the first pair.
Date published: 2020-08-02
Rated

2

out of

5
by
JasonC
from
Disappointing Headphones
Kinda disappointing. Whenever I run with the headphones the microphone button/play button bounces on my chest and starts and stops the music nonstop. When I cycle it doesn't happen just when I run. Also feels like my ears are plugged when I wear them so when I talk on the phone it sounds like I have my fingers in my ears.
Date published: 2021-02-15
Rated

2

out of

5
by
Retired1
from
Good sound but don't fit my ears
I was trying to replace my much-loved yurbuds, which I guess are no longer made. I like yurbuds twist-lock system and that you can hear sounds/talking around you. The endurance run headphones fell out repeatedly during my inaugural run with them and blocked out noise around me; didn't like either. I want my yurbuds back!
Date published: 2020-05-25
Rated

4

out of

5
by
Wiwi smiirkz
from
JBL Endurance Run
Other than the fact that I ordered these thinking they were wireless and they weren't. I did get the chance to test them out and they had great sound for the right price. Wish they had a volume button and skip button though. It only had play and pause. I returned them but am looking to purchase some wireless ones.
Date published: 2020-04-08
Rated

3

out of

5
by
Vitali
from
Good quality, but one annoying "feature"
The quality of a sound is quite good. What is really annoying- starting from certain battery level headset starts to produce "beep" sound every 5 minutes. If you're listening to podcast or something else, then the few seconds of information are lost. I did not find the way to disable it. Extremely annoying!
Date published: 2022-02-20
Rated

3

out of

5
by
Rachelcathor
from
They hurt
I bought these today and have been using them to listen to lecture videos. The box says that they don't hurt, but they do hurt. The sound quality is pretty nice for ear buds and do produce bass that is above average. In other words, you can feel the bass if it's a bass boosted song. But they do hurt.
Date published: 2020-02-18
Rated

5

out of

5
by
Shortstack86
from
Best earbuds I've ever owned. Hands down.
I've had this product for approximately 2 or 3 years. First year they did lots of travelling. Lots and lots of wrapping the wires around my fingers and tossing around. Now after about a year or so of using for gaming, I am completely in awe of the durability and quality. Totally worth every penny.
Date published: 2021-04-21
Rated

5

out of

5
by
Bqhajh
from
Best headphones for working out I have ever had!
These headphones don't fall out like all the other ones. Because they're so secure they insulate the sound better and make them sound great. The only negative is the rubber coating on the wire isn't smooth so they're hard to untangle. You won't find a better pair of headphones for under $20.
Date published: 2022-01-08
Rated

5

out of

5
by
J J J
from
Awesome earphones for a great price!
I have owned other JBL products, and I needed a cheaper pair of headphones that is wired (everything is wireless now a days) These JBL Endurance Runs are awesome. Great sound quality, look like their would definitely last, have had them about a month and definitely satisfied with my purchase.
Date published: 2020-11-04
Rated

2

out of

5
by
K8M8
from
Lasted 3 months : (
I was really happy with the price & they worked really well for 3 months. Sadly, it now randomly operates at 30% volume and so they are now useless. Makes me wonder why I didn't just go for an expensive/reliable brand if it's going to end up costing $10 per month anway.
Date published: 2020-03-30
Rated

5

out of

5
by
Phillys DooWop Priest
from
Great Feel and Sound!!!
I have not yet had the pleasure to have utilized the JBL Headphones, however, I sent a pair as a gift to a Dear Friend and Brother Broadcaster (FM&AM) and he told me he really likes the sound of these JBL's and likes the feel of them very much: Mike the DJ in NE PA
Date published: 2020-04-28
bvseo_sdk, dw_cartridge, 18.2.0, p_sdk_3.2.0
CLOUD, getReviews, 9ms
reviews, product
Kysymyksiä ja vastauksia
Is the magnetic buds safe enough to the ears / head; and is there any health related issues due to the embedded magnet within the headphone?
Your safety is our top priority. These materials do not cause any health related issues when being used.
Date published: 2021-06-06
What size are the enhancers that are included with the Endurance RUN? Also, what size enhancers does JBL offer? Lastly, are they available in yellow?
Upon checking, the enhancers have no listed numerical size, only in S, M, L. We offer the same sizes for replacements. And yes, the yellow version is still available.
Date published: 2021-06-06
Hi, i would like to ask if they are compatible with Garmin Forerunner 245 music and 645 music
We would like to get more information to help you out, please contact us so we can assist you:https://bit.ly/2zwFkYM
Date published: 2021-06-06
I'm looking for earphones or headphones paired with an app you can install on your phone, kinda like the Jabra Sports Sport Life App, does any of your JBL sport earphones of headphones have anything like that ?
JBL Endurance Run doesn't have an application. We have our JBL Headphones App which has select models that are compatible with. For more information, check out this link: https://www.jbl.com/everest-app.html
Date published: 2021-06-06
Hi i am having trouble charging my headphones, when plugging into power course to charge the light goes on red, has been on charge for a long time and will still not turn on. How do you fix this? They are less than 6 months old
We'd like to work with you directly to find out what's going on with your JBL Endurance RUN. Please contact us here: https://support.jbl.com/au/en/
Date published: 2021-06-06
While cleaning, the membrane on the speaker went off. Is there a spare part kit for replacing it ?
We'd like to work with you directly to troubleshoot the charging issue you're having with our JBL Endurance Run. If needed, we'd also like to get more information so we can check your options. Please contact customer support using this link. https://bit.ly/2WocMfi
Date published: 2021-09-12
How long is the cable?
The cable on our JBL Endurance RUN is 120cm.
Date published: 2021-06-06
How i will manage my jbl sound by app?
Our JBL Endurance Run is not supported by our JBL Headphones app. You could control the audio using a third-party EQ app.
Date published: 2022-08-12
I have a JBL endurance RUN headphone and all of sudden it has stopped working what should I do? Please help
Thank you for bringing this to our attention. We wish to work with you directly in an attempt to fix headphones issue. It's just that you've reached JBL USA so, I will forward this case to our counterparts in India.
Date published: 2021-06-06
JBL Endurance RUN won't charge.
Try out the steps in our Battery and Charging Guide to see if it helps. https://bit.ly/2N1GmTg
Date published: 2021-06-06
How would I know if it's fully charged?
Our JBL Endurance RUN BT has a red solid LED light while charging. The red LED light will turn off once the headphones is fully charged.
Date published: 2021-06-06
How I can ensure that the fliphook works correctly? I broke 3.5 connector and after replacement, it works correctly only in flipped position. Did the guys from the service do something wrong with the connector?
Thank you for your question. Would you be so kind as to contact our Customer Support Team on https://support.harmanaudio.com/no/no/customer-service/contact.html for further assistance. Thank you
Date published: 2022-02-04
Hi I see that in box this headphone has 1 x Enhancer. What is it ?
Its the regular sized enhancers.
Date published: 2021-06-06
Does the microphone works with apps like Skype (laptop)?
As long as the settings are right in your PC then it should work.
Date published: 2021-06-06
Impedance (ohms) ?
The Impedance of our JBL Endurance Run is 32ohms.
Date published: 2021-06-06
What sound technologies are used in these headphones? pure sound? sigtature sound ? or another technologies ?
Our JBL Endurance Run is a wired headphone that you can plug into your devices that have a 3.5 mm audio output.
Date published: 2021-06-06
Please write a full audio specification of the JBL endurance run headphones. Which Khz; ohms
Our JBL Endurance Run has a frequency response of 20Hz – 20kHz with an impedance of 32 ohms.
Date published: 2021-06-06
bvseo_sdk, dw_cartridge, 18.2.0, p_sdk_3.2.0
CLOUD, getContent, 33ms
questions, product