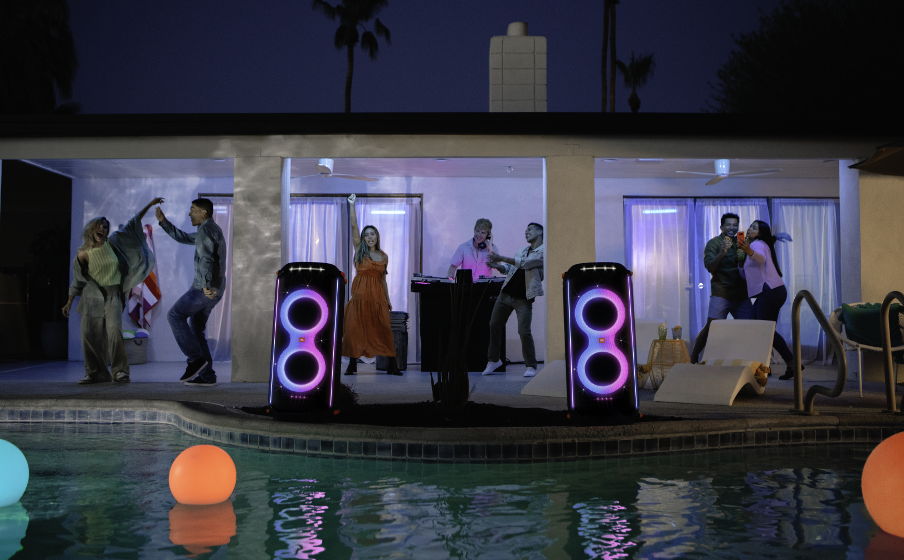 800 W:n RMS – jykevää JBL Original Pro -äänentoistoa
Välitön musiikkiyhteys luodaan voimallisella 800 watin upealla JBL Original Pro -äänentoistolla. Tarkka äänentoisto saadaan kahdella 2,75 tuuman diskanttielementillä ja kahdella 8 tuuman bassolla sekä viritetyllä bassorefleksiportilla – musiikki soi niin lujaa, että rytmin kirjaimellisesti tuntee.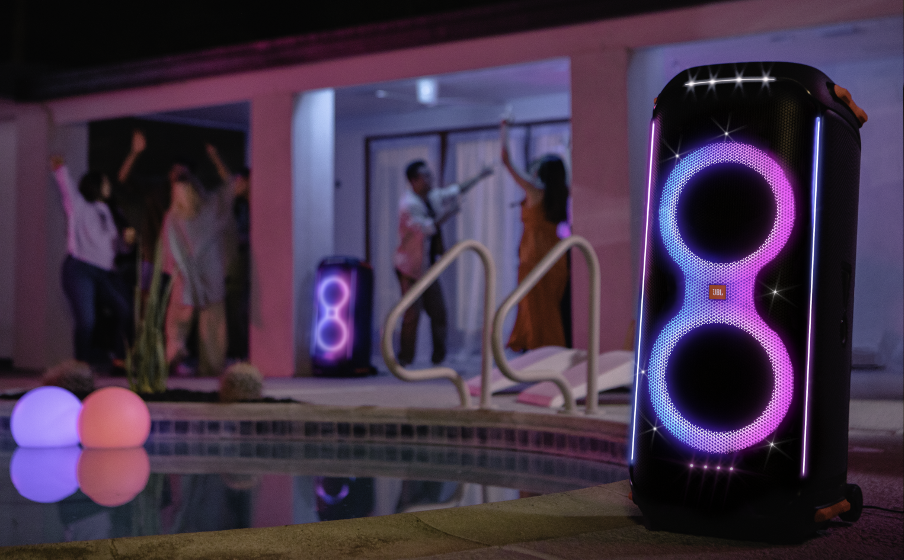 Dynaaminen, värikäs, räätälöitävissä oleva valoshow
Valot, värit, juhlat! Mikä tahansa tila voidaan muuttaa rockkonsertiksi, yökerhoksi ja karaokebaariksi – kaikki yhdistettyinä yhdeksi. Musiikki voidaan synkronoida dynaamisiin ja mukautettaviin stroboihin, ainutlaatuiseen tähtitaivastehosteeseen sekä edistyneemmän tason vilkkuviin klubikuvioihin, joita on helppo ohjata virtaviivaisilla ja käyttäjäystävällisillä yläpaneelivalitsimilla tai PartyBox-sovelluksella.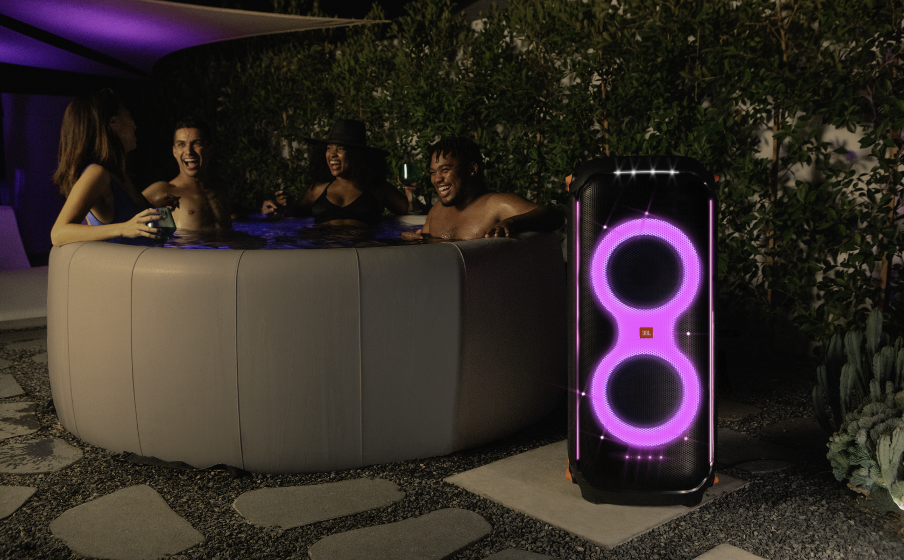 IPX4-luokituksen mukainen roiskeenkestävyys
JBL PartyBox 710 on IPX4-luokituksen mukaisesti roiskeenkestävä ja soveltuu juhliin, niin kavereiden kanssa takapihalla kuin altaan reunalla pidettäviin. Nyt ei tarvitse enää olla huolissaan, jos juhlista tulee liian kosteat tai villit.
Ominaisuudet

Yhdistä kaiuttimesi pariksi, niin saat soundista vielä suuremman
Eikö yksi JBL PartyBox riitä? Yhdistämällä kaksi kaiutinta kaapelilla tai langattomalla True Wireless Stereo (TWS) -tekniikalla saat vieläkin suuremman ja voimakkaamman äänen.

Vankat pyörät sekä kahva, johon on helppo tarttua
Bileet siirtyvät helposti uuteen paikkaan isoilla, vankoilla ja pehmeästi pyörivillä pyörillä sekä kahvalla, johon on helppo tarttua – JBL PartyBox 710 -kaiuttimen saa siirrettyä ja sijoitettua kätevästi kaikkialle, minne musiikki sinut viekin.

Kitara- ja mikrofoniliitännät
Kitaratulon sekä mikrofoneille tarkoitetun kaksoistulon ansiosta voit esitellä laulu- ja soittotaitojasi. Karaokelle viritetyn taajuuskorjauksen ansiosta hyvältä kuulostamisen lisäksi myös näytät hyvältä, sillä mukana tulee täydellinen valoshow kunnon rokkaamiseen!

PartyBox-sovellus
JBL PartyBox -sovelluksen avulla voit hallita musiikkiasi, päivittää asetuksia ja muokata valoshow'n värejä ja kuvioita entistäkin helpommin.
Tiedot ja lataukset
Item# JBLPARTYBOX710EU
Kuvaus
Kaikkien juhlien keskipiste

Roiskeenkestävä PartyBox 710 muuttaa seuraavan tapahtumasi todelliseksi juhlaksi, konsertiksi tai yökerhoksi. Ainutlaatuisella ja värikkäällä, JBL Original Pro Sound -ääneen synkronoidulla valoshow'lla. Minimalististen ja intuitiivisten yläpaneelin ohjainten sekä PartyBox-sovelluksen ansiosta voit luoda aivan uudentasoisia musiikillisia ja visuaalisia elämyksiä. Voit personoida sekä välkkyvät strobovalot että diskanttielementeistä ja bassontäyteisistä woofereista lähtevän uskomattoman äänen. Yhdellä painikkeella käytettävä True Wireless Sound -toiminto yhdistää kaksi PartyBox 710 -kaiutinta välittömästi entistä suurempaa joukkoa varten. Kaiuttimessa on vankat pyörät sekä kahva, johon on helppo tarttua – hauskanpito jatkuu siellä minne juhlat siirtyvät.
Tuotetiedot
Audiotiedot
Dynaaminen taajuusvaste (Hz)

35Hz – 20kHz (-6dB )
Mitat
Mitat (inch)

15.70 x 35.60 x 17.20

Mitat (cm)

39.9 x 90.5 x 43.6

Paino (kg)

27.8

Paino (lbs)

61.3
Ohjaimet, kytkennät ja liitännät
Bluetooth profiilit

A2DP V1.3, AVRCP V1.6

Bluetooth-taajuus

2400 MHz – 2483.5 MHz

Bluetooth-lähettimen modulaatio

GFSK, π/4 DQPSK, 8DPSK

Bluetooth-lähettimen teho

≤ 11dBm

Bluetooth-versio

5.1
Ominaisuudet
Valoesitys

Kyllä

Roiskevesitiivis

Kyllä

Charging cable

Kyllä

Wireless

Kyllä

Bluetooth

Kyllä
Pakkauksen sisältö
1 x JBL Party Speaker 710 -kaiutin
1 x pikaopas
1 x takuukortti
1 x turvallisuustiedote
1 x suorakulmainen vaihtovirtajohto (tyyppi vaihtelee alueittain)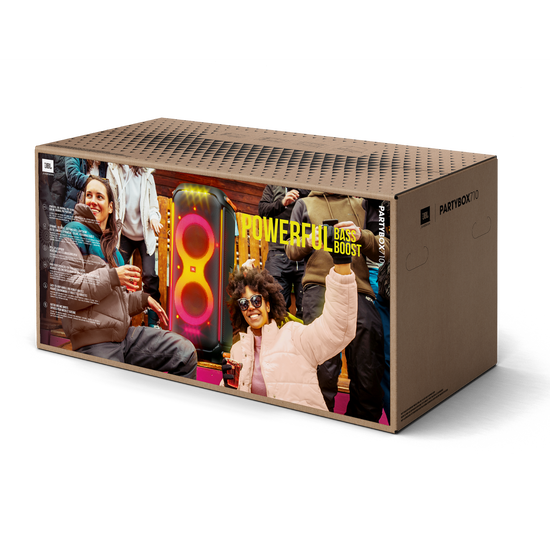 Asiakirjat ja lataukset
Arvostelut ja vastauksia kysymyksiin
Arvostelut
Rated

4

out of

5
by
JTG80
from
MASSIVE SOUND!!
Been waiting for the 310 to be back in stock, so I decided to try the 710 , and I'm glad I did, great sound quality and bass is awesome. Only downside it has to be plugged in. which is understandable for its power. I would highly recommend...
Date published: 2021-10-28
Rated

5

out of

5
by
Fitzmulligan
from
JBL does it again!
I received this animal of a speaker yesterday and let me tell you I was like a kid in a candy store! This thing is everything you could possibly want in a speaker. Within an hour it had rattled a cabinet apart. Whoops! My only complaint is that one of the small square lights to the left of the JBL logo only works with certain light modes. And for somebody like me that bothers me ALOT. But not enough to go through the hassle to return it. This thing will be the life of every party! I highly recommend!
Date published: 2021-11-30
Rated

1

out of

5
by
Joel8362
from
Needed an update asap !
Had the speaker for about a week until some how my neighbor was able to connect to it and now has partial control of the speaker which is just sad they need to add a passcode enabler which should be possible through the app especially if your able to change the name of the device. But over sounds amazing but if this doesn't get fixed soon it will be heading back where it came from…
Date published: 2022-03-06
Rated

5

out of

5
by
Jaybee
from
Another great JBL product
This baby! Which is literally the weight of a few large babies…looks, feels, and sounds amazing. Heck I like to just turn it on and off just for the mini light show and audio. Easy to use and sounds fantastic - really can't ask for much more. Packaging was awesome as usual with JBL products. Love the lighting! RGB lighting always makes things more fun, it's just a given. I'm not an audiophile so I can't elaborate on finer details but from all of my speaker systems experiences it sounds about what I would expect at the price point. When you get yours you may need some help to unbox it (I workout, bro) but don't feel bad!
Date published: 2021-09-25
Rated

5

out of

5
by
Lord Bizzness
from
Great sound! Monster unit!
Where to begin? This thing is very impressive. When I had friends over and I was playing music on it, most of them were dumbfounded at the sheer size of it. It's a monster unit! Weighs around 75lbs. The nice thing is, it has some pretty sturdy wheels on it to help move it around. It has a very awesome sound. You can keep it low and hear it well in a small setting if needed, but where this thing truly shines is in an outdoor/large area. It can get very loud and will carry sound a long ways. I had it out in my backyard, and had neighbors saying- "Oh that was you playing that music?" It has a bass boost button option on it which hammers the sound, but it has plenty of bass without it. The preset buttons are a rap horn, applause, and dj scratches. I HIGHLY recommend getting the JBL Partybox app to go along with this. You can customize what color the center lights are, the side rail lights, and the end flashing LED lights. Turn them all on/off or pick which ones you want on and the pattern. It also helps choose the colors for multiple color options at the same time. For example, if you were playing Christmas music, you can make the colors red and green and they mix and mash with each other. The LED's at the end are very bright, so at night it's nice to turn them off so they're not flashing in your eyes. Besides light controls, you can also play/pause and skip songs from the app also, which is nice so you don't have to switch apps back and forth when playing music. You can also program the preset noise buttons from the app. You can plug in a microphone, guitar, usb, aux cable and even pair this with another speaker if you wanted. I'd bet two of these bad boys together will bring the house down...
Date published: 2021-09-25
Rated

5

out of

5
by
Redddogg1
from
Great speaker, with high sound quality, and bass!!
Bought this beast a cpl weeks ago, i have several jbl products, a 300, 310, boombox 2, and the partybox 1000, this speaker out performs everything but the 1000 but is a close second, the speaker is great and u gotta hear it amazing sound and bass, only downside is u gotta plug it in,
Date published: 2021-11-24
Rated

5

out of

5
by
Andis876
from
JBL PartyBox 710
The new partybox 710 is furiously booming, loud, durable, portable and the bass will vibrate the roof. This may not be so suiatable for an aparrtment or townhome (because of neighborly etiquette) but it definitely rocks in your own space, At 50% volume the bass feels like I may loosen some screws in my house. Also the 710 is very portable with some sturdy wheels & a pull handle. Most of all the sound quality is breathtaking and even at max volume I can hear every word of the music & tunes without muffling. How can I forget about the lightshow, it syncs with the music and looks realistically with the beats. I have not try the Karaoke, TWN, guitar, or MIC feature as yet. This is one of the best party speaker I've ever own. I would definitely recommend getting this product for outdoors, large gathering and indoor activities.
Date published: 2021-09-21
Rated

4

out of

5
by
Bacon
from
This is a party box
This speaker has everything you need to get your party started, and keep it going. You can play music via bluetooth or usb drive. I found the usb drive option to have better sound quality, you can control you playlist with JBL Party Box app, or on the speaker itself. The light show is music activated so you can let it do it's thing, or control with the app. 2 - 1/4" inputs for mics, instruments or dj equipment, with separate volumes and gains. As far as the sound, quality JBL as usual. The 2.75" tweeters are probably overkill for this unit, they could cut glass. The 8" woofers were better than expected. There are 3 bass levels, the 1st sounds a little flat. The 2nd is perfect for me, nice rounded bass tones. The 3rd really expands and rattles when you need it. This speaker is a wall of sound.
Date published: 2021-09-28
Rated

5

out of

5
by
P_Glez
from
Best purchase EVER!
This Partybox 710 has been awesome ever since I had delivered since January of 2022. I have been utilizing it for my after school program at the elementary school I work during the 5days of week. I also use it for my Saturday Sports that I and my staff run every Saturday!! Family events it is also used too!!! This device has been used non stop and the sound quality has been crisp since the first time I used. Since I been using the partybox 710 outside for outdoor. I paired it with powering it with electric generator, that gives 6hours of great power.
Date published: 2022-08-19
Rated

5

out of

5
by
Caleb1
from
Awesome quality and price.
Amazing sound and clarity with plenty of Bass you won't be disappointed.
Date published: 2022-03-07
Rated

5

out of

5
by
Mason Barden
from
Amazing Quality and Amazing Power
This thing is amazing. The amount of power and sound it can put out is truly incredibly even when considering how big it is. It can easily fill a field or large room with its twin woofers and tweeters. I don't always have a use for something this big but when you do use it it will definitely bring a smile to your face. The light show it can provide is also pretty fun as it attempts to match the lighting to the music its playing. I will point out that its huge and weighs quite a lot but with a speaker this big I definitely understand why.
Date published: 2021-09-28
Rated

5

out of

5
by
Boudreaux
from
Beautiful Crystal Clear Sound!
Wow! This big boy is impressive! It has the absolutely beautiful crystal clear sound we have come to expect from JBL and it is LOUD. It was so easy to connect and use. My kids had no trouble and neither did we. The rollers and handle make it easy to move around and that is such a plus. The battery seems to last forever. I am quite sure it doesn't but we used it for over 6 hours and it kept on going. The bass is phenomenal. You feel it and that's important at any party. The speaker is also water resistant so that is a HUGE plus when using it outside. The PartyBox 710 allows you to plug in mics or a guitar. We did karaoke with it recently and had a blast. If you want big crystal clear sound, then this speaker is the one for you. You cannot go wrong with JBL.
Date published: 2021-09-28
Rated

4

out of

5
by
Boris B
from
Block Party with Studio-like sound
Pros: - Great for outdoor gatherings, as it's fairly easy to move around, even given it's size. - Connects to multiple devices seamlessly, as well switches between them. - Powerful bass with built-in Bass boost function. - Light show seems to be very well synchronized with the beat. - Overall great quality sound. Cons: - No built-in battery, at least a small one that would help keep the party going in case the speaker is moved to another source. - Too heavy for it's wheels, which makes it not as maneuverable.
Date published: 2021-09-23
Rated

4

out of

5
by
Pyro69
from
Good, but could be better
I think reading the reviews and watching them on YouTube gave me expectations that were too high. I cant find any rms numbers for this speaker is it 800 rms 800 "max" is it truly putting out 800 watts? I've been building speaker and subwoofer enclosures for the last 15 years, if I were to make a true 800 watt speaker it would without a doubt be louder than this that is why I question the 800 watt rating. I got lucky and there were a couple sales and discount codes so I picked it up for almost $200 under it's $800 price tag. I think that was a much more reasonable price considering what you are getting, I definitely would not pay almost $900 with tax for this. That being said I am not bashing this speaker it is without a doubt one of the loudest Bluetooth speakers I have heard with great bass response too. The different light show modes are nice as well. The mobility of this is amazing for what it is it's a 60+ lb speaker but the wheels make it quite easy to roll around the house and to the yard.
Date published: 2022-11-18
Rated

5

out of

5
by
Kali
from
I'm blown away.
I want to start off by saying... HOLY BASS, BATMAN. This speaker is loud! If there's one thing I love about this speaker, it's the bass. Personally, I think you need to hear and feel the music you're listening to. JBL didn't disappoint with the PartyBox 710. So, I listened to quite a few genres with this speaker. I prefer lots of electronic music, which tends to have plenty of bass. I also listened to some rock, hip hop, a few podcasts, and some zen music. This speaker is great for any type of music. The bass hits the hardest of course. For the music that doesn't have much bass, you can add extra bass if you want using the PartyBox app. Now to break down the unit. JBL advised to download their app for the partybox, which I did. The app allows you to customize the light show, add extra bass, manage karaoke, and sync to another PartyBox unit if you have one. The PartyBox also has manual adjustments on the unit for sound, lights, bass, treble, echo, and three DJ preset sound effects. The unit itself plugs into your outlet with the cable provided. On the back panel you also have the outlets for AUX, USB, guitar and microphone which are covered with a water resistant seal. The PartyBox has a handle on the back and also wheels below to maneuver the speaker. It also has little bumpers, I guess you'd call them, on the sides if needed to lie the PartyBox down without it rolling over. Now for my pros and cons. Pros: Aesthetically pleasing sleek design, with decent weight. Light show is very cool and the app works great to customize the light show. The sound kicks hard on this speaker. I only turned it up about halfway, which was pretty darn loud! The bass is excellent as well. I also love that they made it compatible to connect to another PartyBox. It also has a space to place your iPad, if that's what you're using to stream music from. You can also sync multiple devices to the PartyBox at once. I connected my iPhone and iPad to the PartyBox and was able to switch between them. Cons: This unit only has one handle. I think they should've designed it with another handle to make it easier to pick up. Depending on where you're going to lug this thing around, that may be helpful to some people. The wheels are useless if you are carrying it upstairs by yourself. Also, the charging cable is pretty short. Depending on where the outlet you're using is located, you will probably need an extension cable. JBL really should've made the cable double the length at least. Overall, this speaker is pretty amazing. I've been throughly enjoying listing to my music. I can't get over how amazing it sounds, and that BASS. I'm very pleased with this item and definitely recommend it if you're looking for a speaker of this size. I can't imagine how two of them would sound synced together. 10/10 would recommend.
Date published: 2021-09-27
Rated

5

out of

5
by
skyline0511
from
Wholesome sound
I bought this 2 weeks ago, upon testing compared to partybox100 , the sound in the low end goes even lower down to 30hz and you feel the bass. Highend is also good but the only problem is it's massive and doesn't have battery built it. Maybe this meant to lower the cost as to power this big speaker meant bigger battery packs compared to 100. I cannot wait for the summer time and have this blasting to 100% like what I did with partybox 100. Maybe neighbours will give us a warning.
Date published: 2021-12-25
Rated

4

out of

5
by
Tazzer
from
JBL 710
What a purchase amazing sound and lights .I have done 2 gigs and told both times to turn down the bass as the glasses behind the bar were rattling
Date published: 2022-02-03
Rated

5

out of

5
by
Darren
from
If Godzilla was a bluetooth Speaker
If Godzilla was a Bluetooth speaker this is what he would be. I had no idea how big this speaker was until it arrived at my door and it required both my wife and I to move it up our stairs into our house. We have owned several JBL bluetooth speakers, but wanted something we can use outside and entertain quests around our pool that is also waterproof. Its funny our other Bluetooth speakers have amazing sound, but when we listen to them and compare to the partybox they sound so cheap and tinny. The purity, clarity, and robust sound that comes from this speaker is on another level. Even though it is over kill, I will actually roll this speaker back into the house (it has built in wheels lol) and listen to over my other smaller Bluetooth speakers because the sound is that amazing and a pleasure to listen to. This speaker really has one purpose and that is to entertain. If you're a DJ or a musical performer this speaker is perfect for you. You can adjust the patterns and color of the lights on the front of the speaker. There are actually DJ sound FX to play and there are places to plug in a microphone and electric guitar if needed. You can and will be blown away by this speaker!!!
Date published: 2021-09-25
Rated

5

out of

5
by
BodyBoom9
from
Best of the best
Best sound, best design...I love JBL!!!I recommend this product
Date published: 2022-01-19
Rated

5

out of

5
by
Alex Baker
from
Beyond Karaoke
The JBL Party Box 710 in a word is "exquisite"! Most assuredly not your typical karaoke set up. All the bells and whistles one would possibly need to make this audio product the star of any gathering or event. Set up is quick and easy and it can be transported easily owing to the attached rear wheels. But...by far the overriding superlative,...it's extraordinary sound quality. The quality you would come to expect from a name like JBL. Enjoy.
Date published: 2021-10-13
Rated

5

out of

5
by
DBrandt
from
Big sound, Fun package! My favorite JBL product.
The sound out of this speaker is amazing! Tight and clean bass, the mid-tones and highs are clean and well defined. You can get loud without distortion The bluetooth is super easy to pair and manage multiple connections. The lights make the party fun, use the app to make the adjustments easy. I love the wheels, makes it easy for just about anybody to move around. Looking forward to adding a microphone for karaoke nights with friends.
Date published: 2021-09-21
Rated

5

out of

5
by
Pinaj
from
Ultimate Party Requirement
The first thought was as I opened this beast and set it up in my living room. "Where have you been all my life". What followed next was playing songs that set the place on fire. We danced on some of them, we sang along with some others. And had to stop with the fear that the neighbors would come knocking. Now, on to the technical aspects. Easy to plug in and start the system. The Bluetooth connection to your phone is intuitive and fast. Playing songs via Bluetooth is convenient. The volume control and the light control buttons make you feel like a DJ. The light show feature of this device can set the mood of the entire place. It is adaptive to the beats in the music and quite enchanting. Bass toggle is an option available as well. You can easily move it around on its wheels to wherever the party is. Overall, a great and versatile device for the ultimate party performance.
Date published: 2021-10-07
Rated

5

out of

5
by
baynes74
from
Incredible speaker for parties
My kids LOVE to dance to music and this speaker is an INCREDIBLE speaker for that. Not only are the lights a cool feature, but the DJ buttons (on top or in the app) allow you to pretend your a DJ! This speaker could work indoors/outdoors, and with its IPX4 splash proof design, you'll be ok anywhere (even poolside). Can be used for speaker to hook up a mic or a guitar although we didn't go that far with it.
Date published: 2021-09-28
Rated

4

out of

5
by
Kyle B
from
PartyBox 710, the Mammoth
The JBL PartyBox 710 is an impressive free-standing bluetooth speaker that really packs a punch. What I really like about the 710 is just how loud it can get. This thing can be the sole speaker at a block party and won't break a sweat. The great thing is even at loud volumes, there is no sound distortion that you get with smaller speakers. I also really enjoy the attention to detail that was put into the 710. For example, the lights around the 8" speakers indicate the current volume level as your adjusting it. The current firmware update percentage is also displayed using the lights around the speakers. The physical buttons on the top of the 710 feel great. They're substantial and are of high quality. I feel like the party lights on the front of the speaker are gimmicky. Fortunately, they are easily disabled with a button on the top of the speaker, or through the PartyBox App. I wish the PartyBox 710 included an internal battery. If this could be taken to somewhere remote where you don't have power, it would, in my opinion, be perfect. I understand why one wasn't included, since the 710 weighs a massive 68lbs, a battery would only increase its substantial weight. I really don't like the "DJ effect" sound effects that are played through the PartyBox App. It seems they are only played at maximum volume, and don't integrate into the music or the vibe at all. Unfortunately, I could only test the Bluetooth capabilities of the 710, I don't have an Aux cord, microphone, electric guitar, or another 710 to test its other functions. Overall, the PartyBox 710 is a purpose-built free-standing powerhouse that can invigorate any party. If you're looking for a speaker that can do it all while sacrificing mobility and small size, then look no further.
Date published: 2021-09-24
Rated

5

out of

5
by
djclarity
from
Big Sound! Fun Vibe!
TLDR: meter tall speaker with huge sound, deep bass, various connectivity methods. Perfect for providing sound for a bumping house party or outdoor event. Perfect rockin karaoke speaker as well with microphone plugins. First things first, this is a very large speaker!!! Sitting on the floor, it comes up to just below my waist. The sound is outstanding! It handles a wide range of music exceptionally. I listened to several sub-genres of electronic music (DnB, Dubstep, House, etc.) as well as some jam bands all the way to bluegrass. It has a powered PA speaker feel to it. This would provide huge sound for any rockin house party! Outside it performs excellent as well! The light show is pretty neat and mesmerizing. Bluetooth connectivity is excellent and easy to connect. DJ equipment can be plugged in using the AUX port providing excellent versatility! Music can be loaded on a USB Drive and plugged in, however there is no way to browse the songs on the USB Drive. It just plays them in order, however you can see what is playing (artist/title) in the associated app. It would be nice to be able to browse the files on the usb drive, but that isn't an option here. I really like the wheels for rolling it around. It definitely beats carrying it everywhere, because it weighs around 70lbs. I would have liked to see a handle molded into the bottom to assist in carrying it downstairs for the party, but it is reasonably easy to grab, so it works. I also wish there was a compartment to store the power cable in. All in all, though, I am very impressed with the sound quality! It has impressive frequency response. It handles sub-bass frequencies very well for bass you can feel. I absolutely recommend this speaker for anyone who throws parties and wants plenty of booming sound!
Date published: 2021-09-21
Rated

5

out of

5
by
Ceb3
from
The giant Box that Booms with a great light show!!
The JBL Party Box is definitely a must have to start any party, from playing music to having a karaoke night. The bass on that bad boy will shake the room off your house and the vibrant colors from the box will light up your neighborhood. I give this box a 9/10. The only things I would like to add to the box would be if the lights synced with the music and a way to adjust the bass and treble.
Date published: 2021-09-30
Rated

4

out of

5
by
Eric Berg
from
The JBL PARTYBOX 710 is the ultimate party animal
The JBL PARTYBOX 710 is everything you will ever need to get the party started and keep it going strong! With the fantastic party light show, along with the 800 watts of pure JBL PRO power, this baby fills even the largest venue with party sights and sounds. When it arrived, I was amazed at how big and heavy this thing is. Once out of the box I was relieved to find that it is easily moved around on the two built in wheels using the sturdy built in handle making it very portable. The PARTYBOX 710 plugs into 110-240v power with the included 6' cord. The only drawback is that there is no place to store the cord when not in use or while transporting the PARTYBOX which makes it easy to misplace. This thing is controlled by buttons on the box itself and with an app you can download to your phone that gives you more control. The app allows you to control the party box from a distance. The app also gives you more control with unlimited light shows and more sound effects. This PARTYBOX is totally versatile. You can plug in a microphone to use it for karaoke, as a DJ, or a public address system. You can also plug in a guitar to play along with the music. The PARTYBOX can play music in a number of ways. Bluetooth, an auxiliary cable, a USB cable from your phone, and a USB thumb drive that has music downloaded onto it in, .mp3, .wma, and .wav formats. One of my favorite things about this PARTYBOX is the dazzling light show that syncs with whatever music you are playing. JBL is known for their sound but they could soon be known for their light shows on this PARTYBOX. There are controls on the PARTYBOXC to change the light shows, and if that wasn't enough, with the PARTYBOX app, you can choose any color you can think of giving you an endless supply of different dazzling light shows. You can even daisy-chain more PARTYBOXES with yours or add up to two TWS, (true wireless speakers), to round out the sound. As always, the sound is pure JBL. In my opinion, nothing compares with this crystal clear sound with great bass. With 800 watts of pure JBL PRO sound, a dazzling light show, sound effects, and the many different ways to play your music, this JBL PARTYBOX 710 is definitely the ultimate party animal. This is a must have product and highly recommended for DJ's, anyone doing karaoke, or everyone who loves to party!
Date published: 2021-09-30
Rated

5

out of

5
by
LaRock_88
from
Only wish I could afford a second one!!!
Absolutely love this PartyBox 710. I only wish I could afford a second one to pair up with this one and really rock out!! Sounds great. APP is VERY easy to use and control all kinds of different light patterns, colors and more. Looking forward to really using this alot this summer with hopes of using the karaoke function. I would recommend this FOR SURE!!
Date published: 2023-05-08
Rated

5

out of

5
by
JoshuaG
from
Awesome bass machine
I have a samsung mx-t70 and 40, a sony xp700, and I've had the lg xboom and this thing out bumps them all. And it is extremely loud. The lights are awesome really does a great job in the garage when I'm working out. The wide and kids always come out laughing cause everything in the house rattles while it's playing
Date published: 2022-01-23
Rated

5

out of

5
by
BillyBoy
from
Bad To The Bone!..(feel it in your bones also!).
Ok.. I don't see any cons about this bad boy...if it's because it's ac only.. hahaha.. how long would a battery last with 800w rms!..This Fellow rules!!..and NO sub required..you will feel it in your chest..floors...couch.. doors..knock things off walls..hahahaha!! Get two for the ultimate Earthquake!...I did!
Date published: 2023-03-28
bvseo_sdk, dw_cartridge, 18.2.0, p_sdk_3.2.0
CLOUD, getReviews, 6ms
reviews, product
Kysymyksiä ja vastauksia
Are all the JBL Portable Series speakers designed to use indoors and all the JBL Partybox Series designed to use outdoors? Or they are both indoors or both outdoors? I want to know. Thank you!
This will depend on the IPX rating and the portability of the JBL device a some of our Partybox speakers does not have a built-in battery and is required to be plugged in a power source. With the IPX rating, some of our devices does not have an IPX rating which means that it is not splash and water proof.
Date published: 2022-10-05
Can the party box 300 sync with the party box 710?
It is possible to pair two of the same model of JBL PartyBox speakers together through TWS (True Wireless Stereo) mode. In order to achieve TWS mode, the speaker must be the same model with the exception of the PartyBox 200 and PartyBox 300 which can be paired together via TWS. You cannot achieve TWS with a PartyBox 1000 and a PartyBox 300. You cannot achieve TWS with a PartyBox 100 and PartyBox 200. However, it is possible to connect a maximum of two of either the Partybox 110, 310, or 710 (only) together in Party mode - the two speakers do not need to be the same model, but the Stereo mode will not be possible.
Date published: 2021-10-29
What is the power consumption of the Partybox 710?
Listed are the input power required and output power below: Input Power: 100-240V / 50/60Hz Output Power: 800W RMS
Date published: 2022-01-24
If the JBL partybox 710 is turned up to maximum volume will it hurt the speaker? Or can the speaker handle it?
Our JBL Partybox 710 has an output power of 800W RMS and can be used at maximum volume without any issues as long as there are no enhancers or third-party equalizers used when playing music at its highest peak.
Date published: 2023-02-08
Is this speaker rechargable?
Thanks for inquiry. Our JBL PartyBox 710 isn't rechargeable. It needs to be plugged into a power source for it to work.
Date published: 2022-11-20
I just ordered the 710 and I can't wait to receive it just have a wonder regarding attachments . Can I attach the speaker to a mixer ? 
Thank you for your question. Yes it should be possible, you need to make sure you have the correct output. However, the aux inputs on the JBL Partybox 710 are mainly for connecting audio source such as phone or tablet. Should you wish to receive further support, you may contact the Harman Customer Support team by telephone, email or chat in order to receive direct assistance. Please see https://uk.harmanaudio.com/support-contact.html#ns for further details. Thank you.
Date published: 2022-07-14
What kind of cable would I need to daisy chain the PB 300 with the PB 710?
To connect the Partybox 710 and 310 via daisy chain, you will need a 3.5mm auxillary cable.
Date published: 2023-05-06
Can you use a wireless mic with the speaker either by bluetooth or USB dongle?
Thank you for your question. Yes, it will be possible to connect a wireless microphone with a USB dongle to the JBL Partybox 710. Should you wish to receive further support, you may contact the Harman Customer Support team by telephone, email or chat in order to receive direct assistance. Please see https://uk.harmanaudio.com/support-contact.html#ns for further details. Thank you.
Date published: 2023-01-23
Can the Partybox 710 puts out those very low sub bass? Or it's mainly puts out strong mid bass? I like the bass that produced by JBL 18inch subwoofer like the VRX918S.
Our Partybox 710 has a frequency response of 35Hz–20kHz (-6dB), in which the lowest range of frequency is 35Hz.
Date published: 2022-09-07
I read another question here asking can you pair your 310 with the new 710 wirelessly and you said yes But without stereo. What is the maximum distance these two can be apart wirelessly while connected?
Thanks for reaching out. It is possible to connect a maximum of two of either the Partybox 110, 310, or 710 (only) together in Party mode through TWS - the two speakers do not need to be the same model, but the Stereo mode will not be possible. The maximum range of 10 meters, making sure that there is a clear line of sight between both speakers and the Bluetooth-enabled source for optimal results.
Date published: 2022-01-25
I have Party box 110, 310 & 710 and I want to connect all of them together. Can anyone suggest a solution? I am able to connect 710 and 110 through tws but not been abe to connect 310 and 710 through a wired connection. pls guide.
Hi there, thanks for your inquiry. Please note that you will not be able to connect a Partybox speaker via daisy chain when 2 Partybox speakers are connected via TWS. We suggest connecting all 3 Partybox speakers via a Daisy chain(wired) connection.
Date published: 2023-04-26
What is the power input?
The power input on our JBL PartyBox 710 is 100–240 VAC at 50–60 Hz.
Date published: 2022-12-19
Does it have a battery?
Our newest JBL PartyBox 710 doesn't have a battery. It is powered through 100 – 240 VAC ~50/60Hz.
Date published: 2022-07-14
Does it have inputs to be hooked to a tv to be used as a sound bar ? Is there anyway to rig it to do that ? Thx
You can connect a 3.5mm audio cable from the headphone out of your TV going to the Aux input of our JBL PartyBox 710.
Date published: 2022-09-30
With summer coming around i was curious if u could leave the speaker on my back porch (which is covered) but is not temp controlled area.
If it's covered and in the summertime I don't see a reason why not , but I wouldn't want my speaker out in the elements too long .
Date published: 2022-10-18
First turn on and play went great. Turned it off. Went to turn it back on and the LED lights simply blink and turn off. Nothing happens when its plugged in. It will not power on. What is going on? We literally just got it and this is the first use.
Thanks for reaching out. Please try using another right-angle AC Power cord (if available). Try to charge the speaker overnight for at least 8 hours. We would also like to discuss your support request directly with you and find a solution for you. Please reach out to JBL Customer Service for technical support and assistance. https://bit.ly/3DhYEHL
Date published: 2022-03-30
Has it battery?
Thanks for reaching out. Our JBL Partybox 710 comes with a right-angle AC power cable which you can plug into an electrical outlet. This speaker doesn't have a built-in rechargeable battery.
Date published: 2022-11-20
Does this have RCA jacks or any othe inputs ?
Our JBL PartyBox 710 has no RCA port. Here are the input ports our JBL PartyBox 710 has: -USB Port -Mic Port -Guitar Port -Daisy Chain Port -Aux Port
Date published: 2021-10-29
Is the partybox 710 wireless? Can It be charged?
Our JBL PartyBox 710 doesn't have a battery. It needs to be plugged in to a wall outlet in order to work. Its connection to a source device could be wireless through Bluetooth.
Date published: 2021-10-29
Hi, I have owned this speaker for about 6 months now, and as soon as I updated my 710 through the app, my speaker lost a WHOLE LOT of bass. Like there is no bass left, not even with bass boost 1 on, and the equalizer properly tuned to maximize the bass. ?
Please try to perform a reset on your JBL PartyBox 710. 1. While the speaker is on. Press and hold "Play" and "Light" buttons for more than 10 seconds. 2. The Partybox 710 will power off and back on and is now reset. If the issue persists, please reach out to our Customer Support team.
Date published: 2022-09-30
Do you make a storage case for this unit?
We don't have storage boxes/cases for our PartyBox 710.
Date published: 2022-05-30
Can you turn off the lights on the JBL 710?
Yes. Our Partybox 710's lights can be turned off or adjusted by using the user-friendly top panel dials or the PartyBox app.
Date published: 2021-11-23
Can you connect a partybox 300 to the partybox 710 via wired connection and retain stereo sound?
Our JBL PartyBox 300 could only connect to another PartyBox 300/200 using the TWS feature. It is possible to connect the Partybox 300 to the Partybox 710 via the daisy chain feature but the audio output will not be in stereo mode.
Date published: 2022-03-09
My top led ligh it's not working, I just receive it 1 week ago. Help please!
Thank you for bringing this to our attention. You may try to do a reset by pressing and holding the "Play/Pause" and "Light" buttons for > 10 seconds. The Partybox will power off and back on and is now reset. If the issue persists after the reset procedure, contact JBL Customer Service for technical support and assistance. https://bit.ly/3jsV8mC
Date published: 2021-11-14
Is there built in amplifier
Yes, our JBL Partybox 710 has a built-in amplifier that brings 800 powerful watts of high-performance JBL Original Pro Sound. Dual 2.75" tweeters and 8" woofers paired with its tuned bass reflex port deliver detailed audio perfection for music so loud you can literally feel the beat.
Date published: 2023-01-02
How do I use the TWS feature on my 2 JBL 710s
To activate the TWS feature of the JBL Partybox 710, press the buttons labeled TWS on both speakers to connect the speakers in TWS mode. TWS can also be activated and deactivated remotely in the JBL Partybox app, in addition to assigning the left and right channels to the correct speakers.
Date published: 2023-01-27
How far can you be away from the speaker while bluetoothing?
I bought this speaker a week ago and I have a problem with the Bluetooth connection when I access the Partybox application (the music is partially interrupted). How can I solve this problem?
bvseo_sdk, dw_cartridge, 18.2.0, p_sdk_3.2.0
CLOUD, getContent, 160ms
questions, product