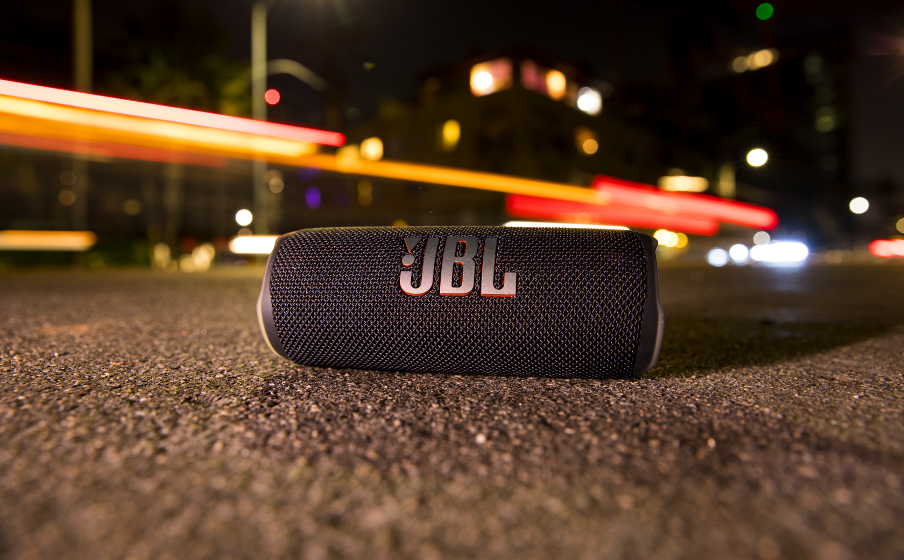 Voimakkaampi ja kuuluvampi ääni
Rytmin syke jatkuu JBL Flip 6 -kaksitiekaiutinjärjestelmän kanssa, joka on suunniteltu tuottamaan voimakasta, kristallinkirkasta ja voimakasta ääntä. Sen ovaalin muotoinen bassoelementti tuottaa poikkeuksellisen matalat taajuudet ja keskialueen, kun taas erillinen diskanttielementti tarjoaa kirkkaan ja raikkaan ylärekisterin. Flip 6 -mallissa on lisäksi optimoidut kaksi passiivisäteilijää syvään bassotoistoon, joka on hienosäädetty Harmanin edistyneellä algoritmilla.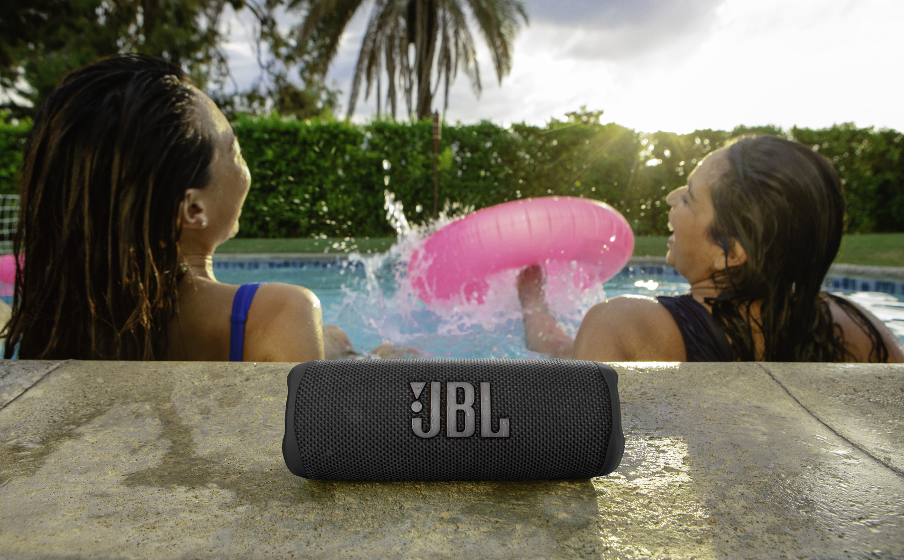 IP67-luokituksen mukaisesti vesitiivis ja pölytiivis
Uima-altaan reunalle. Puistoon. JBL Flip 6 on luokitukseltaan IP67, joten se on vesitiivis ja pölytiivis. Voit siis ottaa kaiuttimesi mukaan minne vain.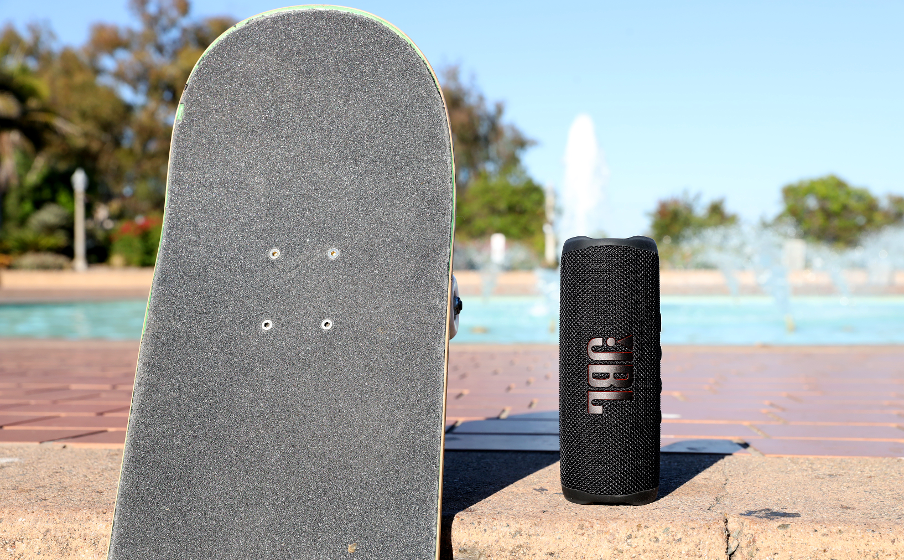 12 tunnin toistoaika
Älä stressaa pikkujutuista, kuten akun lataamisesta. JBL Flip 6 tarjoaa jopa 12 tunnin toistoajan yhdellä latauksella.
Ominaisuudet

Rohkea muotoilu
Rohkea ääni kohtaa rohkean muotoilun. Isolta kuulostava, mutta helposti kannettava malli sopii mihin tahansa henkilökohtaiseen tyyliin. Sen voi asettaa pysty- tai vaaka-asentoon, ja voit valita erilaisia eloisia värejä.

Pidä hauskaa PartyBoost-toiminnon avulla
PartyBoost-toiminnon ansiosta voit käyttää kahta JBL PartyBoost -yhteensopivaa kaiutinta stereoäänen tuottamiseen. Lisäksi voit piristää bileitä entisestään yhdistämällä useita JBL PartyBoost -yhteensopivia kaiuttimia.

JBL Portable -sovellus
Maksimoi äänentoistokokemuksesi JBL Portable -sovelluksella. Saat päivityksiä ja tuotetukea suoraan puhelimestasi. Sen jälkeen voit avata ominaisuuksia vahvistaa ääntä tai säätää bassoa, jolloin voit hallita äänentoistoasi täydellisesti.

USB-lataussuojaus
Lataa vailla huolta. JBL Flip 6 tarjoaa USB-C-lataussuojan. Tämä tarkoittaa sitä, että varoitusääni kehottaa sinua irrottamaan laitteen pistorasiasta, jos liitin havaitsee vettä, suolaa tai mitä tahansa muita kemikaaleja.
Langaton Bluetooth-suoratoisto
Kytke kaiuttimeen langattomasti jopa 2 älypuhelinta tai tablettia ja kuuntele niitä vuorotellen nauttien upeasta JBL Pro Sound -äänentoistosta.

Ympäristöystävällinen pakkaus
JBL on sitoutunut ympäristöystävällisempään ja kestävämpään pakkaukseen. Flip 6 on pakattu kierrätettävään paperiseen pakkaukseen, joka sisältää sisälokeron. Muovinen ripustuslappu on yli 90 % kierrätettyä muovia, ja ulkopinta on painettu soijamusteella.
Tiedot ja lataukset
Item# JBLFLIP6PINK
Kuvaus
Rohkea ääni kaikkiin seikkailuihin

Sinun seikkailusi. Sinun soundtrackisi. Rohkea JBL Flip 6 tarjoaa tehokkaan JBL Original Pro Sound -äänentoiston poikkeuksellisella kirkkaudella. Sen 2-tie-kaiutinjärjestelmä koostuu optimoidusta ovaalielementistä, erillisestä diskanttielementistä ja kahdesta bassosäteilijästä. Tämä suuren äänialueen omaava, mutta silti helposti kannettava kaiutin on vesitiivis ja pölytiivis, joten voit ottaa sen mukaasi mihin tahansa säähän. 12 tunnin akunkeston ansiosta voit juhlia, kunnes aurinko laskee tai nousee siellä, missä ikinä musiikki sinua koskettaa. Linkitä useita yhteensopivia kaiuttimia PartyBoost-toiminnolla. Flip 6 on saatavana useissa eri väreissä.
Tuotetiedot
Audiotiedot
Dynaaminen taajuusvaste (Hz)

63 Hz - 20k Hz
Mitat
Mitat (inch)

7 x 2.6 x 2.8

Mitat (cm)

17.8 x 6.8 x 7.2

Paino (kg)

0.55

Paino (lbs)

1.21
Ohjaimet, kytkennät ja liitännät
Bluetooth profiilit

A2DP 1.3, AVRCP 1.6

Bluetooth-taajuus

2400 MHz - 2483.5 MHz

Bluetooth-lähettimen modulaatio

GFSK, π/4 DQPSK, 8DPSK

Bluetooth-lähettimen teho

< 10dBm (EIRP)

Bluetooth-versio

5.1
Akku
Latausaika (t)

2.5

Musiikin toistoaika (t)

12
Ominaisuudet
JBL PartyBoost

Kyllä

Charging cable

Kyllä

Vedenpitävä

Kyllä

Wireless

Kyllä

Ladattava akku

Kyllä

Bluetooth

Kyllä
Pakkauksen sisältö
1 x JBL Flip 6
1 x USB-C-kaapeli
1 x pikaopas
1 x Takuukortti | Turvallisuustiedot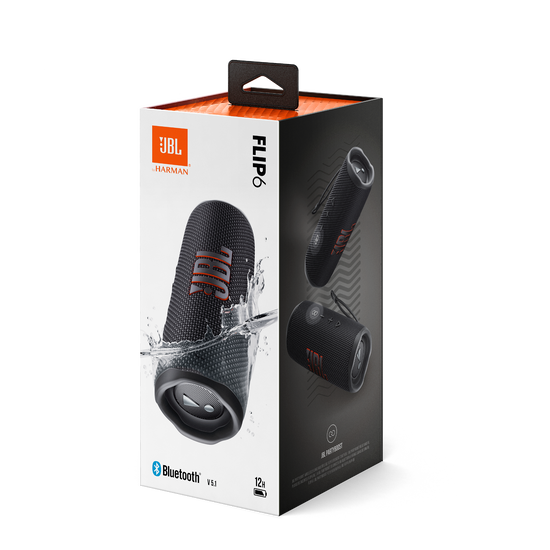 Asiakirjat ja lataukset
Arvostelut ja vastauksia kysymyksiin
Arvostelut
Rated

5

out of

5
by
Matty Coult
from
Beyond my expectations
I bought the flip 6 after loosing my flip 3. Which had itself been incredibly durable with surprisingly good sound quality. So I looked to get the latest model in the same line. The bass for such a small speaker took me by surprise. It seems to have greater Bluetooth range and this one no longer rolls away when on its side thanks to a little strip. Which is another thing, the attention to detail shows. Even down to the embossed logo within the speaker face.
Date published: 2022-05-16
Rated

5

out of

5
by
bykfixer
from
Well done JBL
After about 90 days of use I am still estatic about this wonderful sounding speaker. Sounds way more natural than those from that brand that rhymes with nose. Pretty decent low end at low volume without sounding muddy or drowning out the mids and highs. It's a mono speaker so don't expect sound stage. Coupled with a second one, using the app can get you stereo, but for background music this one gets the job done very well. Battery holds up well too.
Date published: 2023-01-07
Rated

5

out of

5
by
Daddys Earth Angel
from
I flipped for the new flip 6!
I absolutely love, love my new flip 6 JBL speaker! The new improved upgraded woofer.. Makes my music and my podcasts sound more crystal clear than ever before! I highly recommend getting one to enhance your listing experience!! I absolutely love the color of the blue speaker too. I was expecting a dark dull color. Wrong!! It is a darker color. But, not really the blue color I was expecting. It's more of a darker teal color. My favorite color!!
Date published: 2022-01-19
Rated

5

out of

5
by
Genessis
from
Crisp sound
Just recently ordered the JBL flip6 speaker and I'm definitely not disappointed. Its a small speaker with a load punch! The bass sounds pretty good for its size, the music comes out sounding crisp, its also a cute small speaker, unlike other ones that are bulky. I definitely use this one with all my everyday activities.
Date published: 2021-11-25
Rated

5

out of

5
by
Daniel stegall
from
Jbl flip 6
This little speaker suprised me !! It has clear highs and good lows ! The battery life is amazing and last a long time on one charge ! It's small and portable with lots of sound ! If you want a decently priced speaker with great sound and great battery life this speaker is for you 100%
Date published: 2021-11-24
Rated

5

out of

5
by
djteddymac
from
JBL Flip enthusiast approved!
Ever since the first iteration of the JBL flip, I've always found the each version to be one of the best Bluetooth speakers available. They just keep getting better and better. I was a bit hesitant to purchase the 6, because some reviewers online said there wasn't a big difference between the 5 and the 6. Trying the speakers out on the display at the store, I couldn't really tell. The 'Black Friday' deal enticed me to try out the Flip 6. Boy are the other reviewers wrong, and the in store display/demo's don't do it justice. I'm so glad JBL evolved this into a 2 way speaker. The sound is so much clearer thanks to the addition of the tweeter! This was the only change I had mentioned on my review of the Flip 5, add a tweeter! .... and they did. Now this thing is complete, and with the addition of the EQ feature on the 'JBL Portable' app, I have no idea how they're going to one-up this version. There isn't anything I would change regarding the sound/technology. Only minor complaint is the giant JBL logo on the grill, I miss the discreet orange square. But, I get it branding is key and it's important to distinguish between the models (which have been pretty much visually unchanged since the beginning) If I were to guess as to the changes on the FLIP 7 (not that the 6 needs anything changed); I'd say either more power, or a bigger battery. A change in the quantity or size of drivers would most likely result in a form factor change, which wouldn't fit within the product line. So I really have no idea.
Date published: 2022-11-25
Rated

5

out of

5
by
Anonymous
from
Flip 6
Great new product. Great sound quality and addition to the JBL Bluetooth family. It was very easy to pair it with my older Flip to give me a surround sound. The Flip 6 has a new design and it looks as good as it sounds.
Date published: 2021-11-23
Rated

5

out of

5
by
Pete1
from
Powerful little speaker!
Read many reviews when looking for a portable speaker & JBL Flip 6 came out tops. Purchased a blue one & wasn't disappointed! The sound quality is amazing- very clear & very powerful when the volume is turned up whilst still maintaining a crisp sound. Brilliant portable speaker for when your on the go. Love the metallic colour of the blue one I bought. Would highly recommend this product.
Date published: 2022-08-07
Rated

5

out of

5
by
RogerH
from
The best JBL Flip bluetooth speaker yet.
I can't put in words how much I love this speaker! The sound is loud , crisp and the bass is awesome ! 12 hours of playback, waterproof and dustproof. I have a different brand speaker and I put it away amd JBL Flip 6 took it's place. Do not look at other products Trust me , you will absolutely love it !
Date published: 2021-12-01
Rated

5

out of

5
by
rhdad42
from
Fantastic Speaker; The Best Flip Yet
I've been a big fan of the Flip series since the first model, which was eventually upgraded to a Flip 4. Now I have the Flip 6 and I'm simply amazed at the performance. The Flip 6 is a tiny bit larger than it's older brother, and there have been some really nice cosmetic changes. Mine is black, and the JBL logo that's replaced the smaller badge is the same color as the speaker, with an orange highlight behind. It looks great. The controls are essentially the same, but the 6 is missing the auxiliary in port and charges with USB-C. So the 4 and the 6 may look like family (from what I've seen the 6 has more in common with the Flip 5) but that's where it ends. Bluetooth has been upgraded to version 5.1, increasing range and reception. Every JBL product I own, from headphones to my Flips, connect to my phone automatically, and this one is no exception. JBL added a tweeter under the covers, bringing forth a whole new sound experience. I really enjoyed the sound of my first Flip, liked my Flip 4 even more, but the addition of the tweeter cleans up the mids and brings a tightness to the music that just wasn't present with the single driver. The dual passive radiators really extend the soundstage, making all kinds of music sound wonderful. JBL also added a three-band EQ that can be accessed via the JBL Portable app. It allows you to tailor your sound a little bit, such as boosting bass at low levels or dropping the highs at louder volume. I found this very useful. Battery life is exceptional, falling just under the specified 12-hours for me. I really like the white LED on the unit to tell what the battery charge status is. There's also the PartyBoost button that can link the Flip 6 to other compatible PartyBoost speakers so you can set up a stereo pair. I don't have another so I didn't get to test this. Water and dust ratings have been upgraded, though I'm not going to dunk mine for a review. The Flip 6 is now rated IPX67, meaning it can resist being underwater for up to 30 minutes. This will definitely be a good beach speaker. Also, for those using it in the woodshop it's completely dustproof. When it comes to music, I was thrilled. This little speaker packs a big punch. Sound is tight, full, and focused, mainly due to the addition of the tweeter. It'll play as loud as you need it to, and it'll play for a long time. I played several of my "speaker test" tracks and was never disappointed. Michael Jackson's Beat It was incredible, and Dire Straits' Money for Nothing was super tight with fantastic clarity. The EQ helped, but I would have been happy with the performance "out of the box." The bottom line for me is simple: I think this is one of the best portable speakers JBL has put out to date. Highly Recommended.
Date published: 2021-12-04
Rated

1

out of

5
by
David Edouli
from
Useless warranty
The warranty is useless me and my friend bought a JBL flip 6 since we thought it was the most durable speaker out there we were riding our bikes and his speaker falls out of his backpack the bass radiator popps off we tried to look for it but we can't find it we tried warranty but they said the don't cover accidentally damage or damage on a speaker .
Date published: 2023-02-22
Rated

5

out of

5
by
Venkataram
from
Awesome waterproof portable speaker from JBL
I've received this product recently and I really loved it. It works great during campings, family gatherings, while at pool and small parties. The sound quality is great as always from JBL. Charging lasts for almost 10plus hours as promised. Quality of the product is premium. Overall another great product from JBL - Just Buy and you'll Love it.
Date published: 2021-11-24
Rated

5

out of

5
by
Lukas H
from
Best Portable Speaker On The Market
I bought this speaker, First of all an amazing speaker, Honestly the best portable speaker I've ever had/listened to! The support team is also incredible, I bought a flip 5 and after a while it didnt sound the same. I contacted the support team and they had a replacement at my doorstep in 4 days! Now talk about great service! Beyond impressed.
Date published: 2022-10-26
Rated

5

out of

5
by
Philthy
from
What's better than 1 Flip 6? 2 of them in stereo!!
I actually received a flip 6 very early on to review and let me tell you I was blown away, I've always used Bose but not now. The flip 6 is incredible, great bass, mids are clear and well balanced and the treble is a lovely glassy compliment on top.. vocals are pronounced drums and bass are punchy .. just a delight to listen to.. anyway fast forward to July 2022 and curiosity has got the better of me and I've bought a second one to use them as a stereo pair.. oh my days mind blown. The separation and imagery is fantastic, something I had forgotten existed having only been listening on one speaker for so long. I feel like I'm rediscovering my music collection again... the app and set up was super easy too.. The IP rating of these is also a fantastic addition having kids that are proud to spilling drinks.. poking about with stuff and dropping things.. we spend a lot of time camping too so these just fit right in with the British weather!!
Date published: 2022-07-22
Rated

4

out of

5
by
BeeDee
from
Small but Impressive Sound
I bought two of these direct from JBL to be able to pair up together. I also have a Boombox 2 to Partyboost all three. These little speakers together in stereo mode may be my preferred indoor listening mode. Great sound. Set up is easy if you do it right. The trick is to pair only one speaker to Bluetooth and press the Partyboost button on the others to get them to join in. Then use the app to get it all going. If I had a wish, I would wish for stereo mode no matter how many speakers are hooked together. Currently you can only do stereo mode with two of the same speakers. They seem to have more depth and range in stereo mode. Partyboost is great for multiple rooms or outdoors but the sound to me is more flat. Still not bad for parties. They crank up without distortion. Very impressive. And they do sound just as good whether placed vertically or horizontally. I'll definitely be jumping on the Boombox 3 to use with these when it becomes available.
Date published: 2022-07-26
Rated

3

out of

5
by
Pri3
from
Disappointed
I have a flip 2 and am looking to get a new one so I can pass mine to my daughter. I am sooo disappointed to see the speakerphone feature gone and a degradation in play hours and amp. This used to be a much better quality product. I will be looking at other options.
Date published: 2022-01-03
Rated

1

out of

5
by
VadimVP
from
bad sound!!!
i bought it and hate this boombox!!! It has very bad sound!!!
Date published: 2022-12-30
Rated

5

out of

5
by
KennethC
from
Unbelievable
I've had dozens of speakers all my life and this one stands out as the best whatever size or price. Absolutely amazing, including bass even at low volume. Incredible at all volume levels. I can't turn it off! Bought on the basis of five star review from What HiFi. Better than I could ever dream of. Worth three times the price!
Date published: 2023-03-08
Rated

5

out of

5
by
RDub83
from
Amazing Sound
Switched over from a Bose MiniSoundlink after several years and have been blown away by the sound quality. I use this as a speaker for pregame music in a men's beer league locker room so obviously I needed it to be loud and it does not disappoint. The compact design fits comfortably in my bag. 10/10 Would highly recommend.
Date published: 2022-03-15
Rated

1

out of

5
by
Bill242
from
I will never buy another JBL speaker!
The first JBL Flip 6 speaker I purchased just died after a few hours. Would not recharge. Would not connect. Returned to T-Mobile store for exchange. Second one has worked great for a few months, but now has so much static that it is unbearable to listen. Sounds like it's playing an extremely scratched vinyl album!
Date published: 2022-12-25
Rated

5

out of

5
by
SaveMoneyStayTrue
from
Cool portable speaker. JBL continues to impress.
Cool portable speaker. I'm a long-term user of JBL portable audio products and will continue to be as long they continue to build quality units like this. One note I had to turn off battery saver on my Android phone to avoid lag interruption. I didn't have that issue when using my iPad.
Date published: 2021-11-23
Rated

5

out of

5
by
Amber C
from
Flip 6 perfection
We've been buying JBL speakers since they came out. My Husband wanted to upgrade to the Flip 6 and glad we did. You can sync your speakers together and it seemingly gives each speaker a boost. We love having one speaker in the kitchen and one wherever we are at the moment
Date published: 2021-12-26
Rated

1

out of

5
by
Anonymous
from
Delivery late
Delivery late 4 days the gift por a person chrismas
Date published: 2022-01-01
Rated

5

out of

5
by
Anonymous
from
The new JBL Flip 6 is a slam dunk
JBL Flip 6 is back with a brand new sound with similar looks. Comes packed with longer battery life up to 12 hours. Connects to your phone snappy. A lot more color ways and water proof. Great gift to give and affordable enough to grab a couple for yourself
Date published: 2021-12-08
Rated

5

out of

5
by
HollyA
from
Awesome speaker !
This speaker is a game changer for listening to music from my iPhone , this company is great excellent customer service . Always purchase from their direct site , as Amazon and other sites are prone to have knock offs . Very please with this purchase.
Date published: 2022-03-24
Rated

5

out of

5
by
Byron C
from
Big Sound
Big fan of the speaker, great sound and deep bass sound. Sound is great even when you turn it up extremely loud. This is great for outdoor activities with it's big bold sound. Will definitely be my go to travel speaker as it's a great size.
Date published: 2021-11-23
Rated

5

out of

5
by
Smitty
from
Great Portable Speaker!
Great Portable Speaker! For a small speaker, this JBL really does a great job. It's bass is stronger than I would have expected. It also has good volume for the footprint. It was very easy to connect to my phone via Bluetooth.
Date published: 2021-11-24
Rated

5

out of

5
by
Tyler5555
from
Perfect Compact Speaker
This continues the trend from JBL on delivering huge, clear sound in a small and convenient package. What truly stands out is the construction. You can tell it's incredibly well made and designed. Would recommend to anyone.
Date published: 2021-12-31
Rated

5

out of

5
by
BigJohn D
from
Great speaker
Bought this to have some music with some bass while I work around the yard or hang out. This speaker is just what I was looking for. I would recommend this to anyone looking for good quality sound all around.
Date published: 2022-01-19
Rated

3

out of

5
by
TODDYPOOH
from
JBL Flip 5 vs the flip 6
The sound quality is good but the battery life sucks the JBL flip 6 versus the flip 5 the flip 5 battery life last a lot longer than the flip 6 so I think the JBL flip 5 is better because of the battery life
Date published: 2023-05-09
bvseo_sdk, dw_cartridge, 18.2.0, p_sdk_3.2.0
CLOUD, getReviews, 6ms
reviews, product
Kysymyksiä ja vastauksia
bvseo_sdk, dw_cartridge, 18.2.0, p_sdk_3.2.0
CLOUD, getContent, 5ms
questions, product
bvseo-msg: Unsuccessful GET. status = 'ERROR', msg = 'Not Found.';