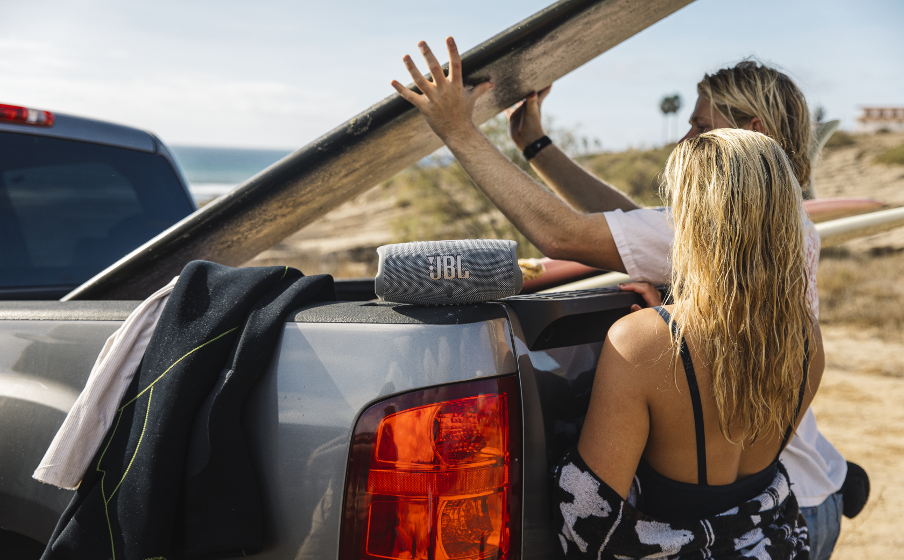 Jämäkkä JBL Original Pro Sound -ääni
Ota JBL Pro Sound -äänen uskomaton teho mukaan. JBL Charge 5 -kaiuttimessa on optimoitu pitkäiskuinen elementti, erillinen diskanttielementti sekä kaksi JBL-kaksoisbassosäteilijää – näiden ansiosta ääni on vaikuttavan runsas ja selkeä. Suuren tilan ääni ulkonakin.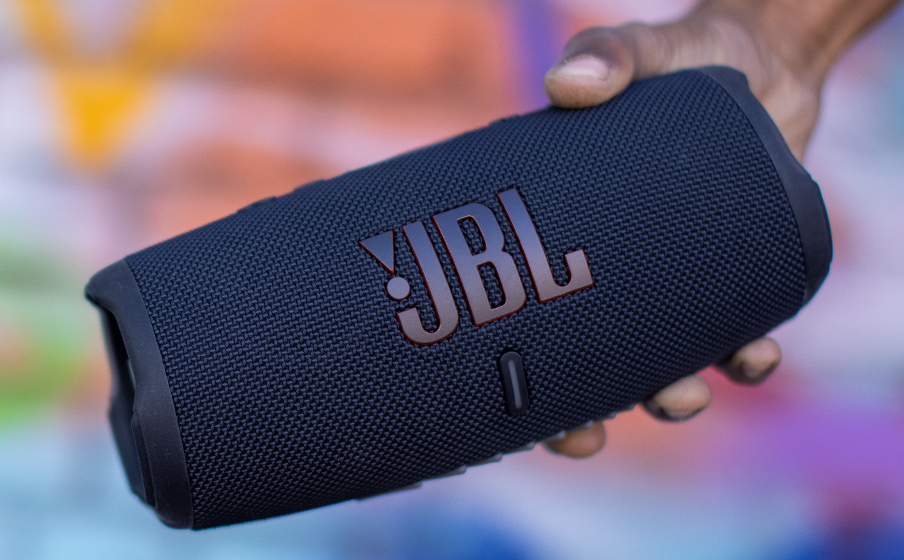 20 tunnin toistoaika
Hauskuuden ei tarvitse loppua. JBL Charge 5 -kaiuttimen uskomattoman 20 tunnin akunkeston ansiosta voit bilettää aamusta iltaan.
IP67-luokituksen mukaisesti vesitiivis ja pölytiivis
Uima-altaan reunalle. Puistoon. JBL Charge 5 on luokitukseltaan IP67, joten se on vesitiivis ja pölynkestävä – kaiuttimen voi siis ottaa mukaan minne vain.
Ominaisuudet
Langaton Bluetooth-suoratoisto
Kytke kaiuttimeen langattomasti jopa 2 älypuhelinta tai tablettia ja kuuntele niitä vuorotellen nauttien upeasta JBL Pro Sound -äänentoistosta.

Pidä hauskaa PartyBoost-toiminnon avulla
PartyBoost-toiminnon ansiosta voit käyttää kahta JBL PartyBoost -yhteensopivaa kaiutinta stereoäänen tuottamiseen. Lisäksi voit piristää bileitä entisestään yhdistämällä useita JBL PartyBoost -yhteensopivia kaiuttimia.

Sisäänrakennettu varavirtalähde takaa, että virtaa riittää mobiililaitteillesi
Älä keskeytä bileitä. Sisäänrakennetun varavirtalähteen avulla voit ladata mobiililaitteitasi ilman, että musiikki katkeaa.
Tuotevertailu
Löydä kannettava bluetooth-kaiutin, joka sopii sinulle parhaiten
CHARGE5-
XTREME-3-
BOOMBOX-3-
FLIP-6-
JBL CHARGE 4
CHARGE-ESSENTIAL-2-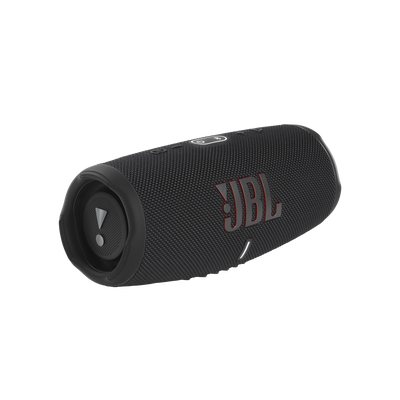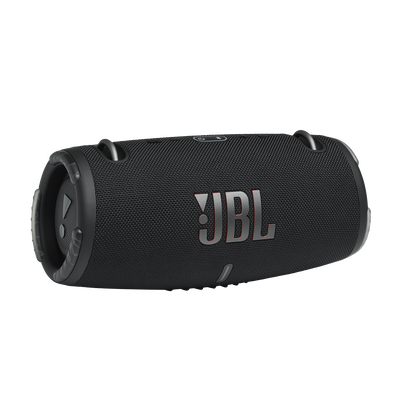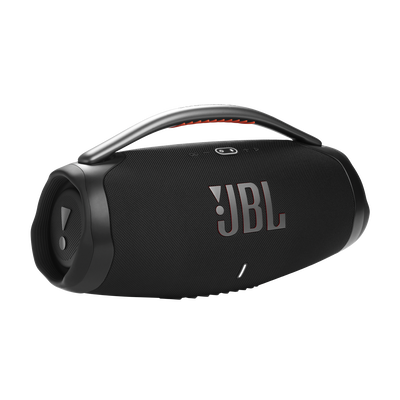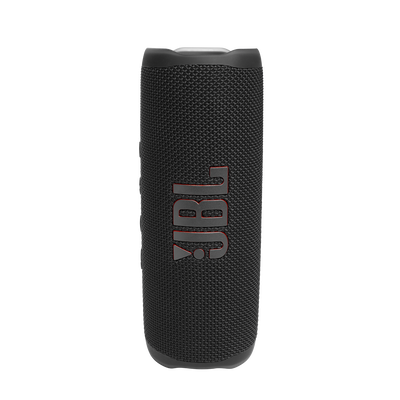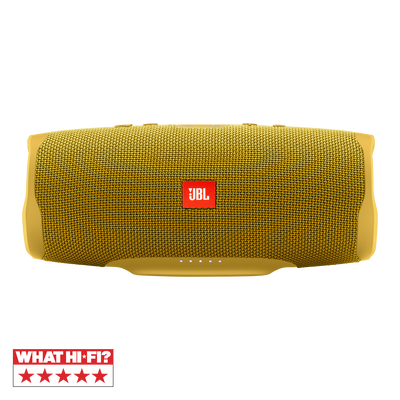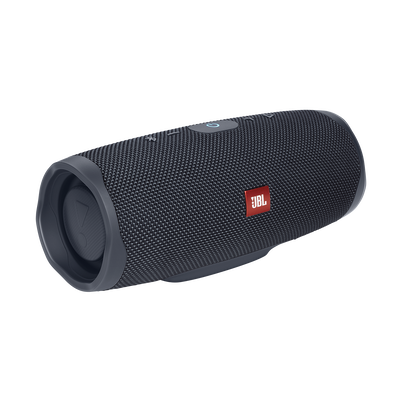 Yleiset tekniset tiedot
Lähtöteho (W)
2 x 25W RMS woofer + 2 x 25W RMS tweeter
Lähtöteho (W)
1x80W RMS-subwoofer + 2x40W RMS-midrange + 2x10W RMS-tweeter (AC mode) 1x60W RMS-subwoofer + 2x30W RMS-midrange + 2x8W RMS-tweeter (Battery mode)
Mitat
Mitat (cm)
22 x 9.6 x 9.3
Mitat (cm)
29.8 x 13.6 x 13.4
Mitat (cm)
48.2 x 25.7 x 20.0
Mitat (cm)
17.8 x 6.8 x 7.2
Mitat (cm)
22.1 x 9.4 x 9.4
Mitat (cm)
22.0 x 9.60 x 9.34
Tiedot ja lataukset
Item# JBLCHARGE5SQUAD
Kuvaus
Voit toistaa ja ladata loputtomiin

Bileet messissä säästä riippumatta. JBL Charge 5 -kaiuttimesta lähtee jämäkkä JBL Original Pro Sound -ääni optimoidun pitkäiskuisen elementin, erillisen diskanttielementin sekä kahden JBL-bassosäteilijän ansiosta. Jopa 20 tuntia toistoaikaa ja kätevä virtapankki pitävät laitteet ladattuina ja bileet käynnissä koko yön. Yllättikö sade? Läikkyivätkö juomat? Pöllysikö rantahiekka? IP67-tason vedenpitävä ja pölytiivis Charge 5 selviytyy kaikesta, mitä vastaan tulee. PartyBoost-toiminnon ansiosta kaiuttimeen voidaan liittää useita PartyBoost-valmiuksisia JBL-kaiuttimia – ja ääntä riittää mille tahansa väkijoukolle. Uusimpien katumuotitrendien innoittamissa väreissä kaiutin näyttää yhtä hyvältä kuin miltä se kuulostaakin.
Tuotetiedot
Audiotiedot
Dynaaminen taajuusvaste (Hz)

60 Hz - 20k Hz
Mitat
Mitat (inch)

8.7 x 3.76 x 3.67

Mitat (cm)

22 x 9.6 x 9.3

Paino (kg)

0.96

Paino (lbs)

2.11
Ohjaimet, kytkennät ja liitännät
Bluetooth profiilit

A2DP 1.3, AVRCP 1.6

Bluetooth-taajuus

2400 MHz - 2483.5 MHz

Bluetooth-lähettimen modulaatio

GFSK, π/4 DQPSK, 8DPSK

Bluetooth-lähettimen teho

≤ 20 dBm (EIRP)

Bluetooth-versio

5.1
Akku
Musiikin toistoaika (t)

20

Latausaika (t)

4
Ominaisuudet
JBL PartyBoost

Kyllä

Charging cable

Kyllä

Powerbank

Kyllä

Vedenpitävä

Kyllä

Wireless

Kyllä

Ladattava akku

Kyllä

Bluetooth

Kyllä
Pakkauksen sisältö
1 x JBL Charge 5
1 x USB-C-kaapeli
1 x turvallisuustiedote
1 x Pikaopas
1 x takuukortti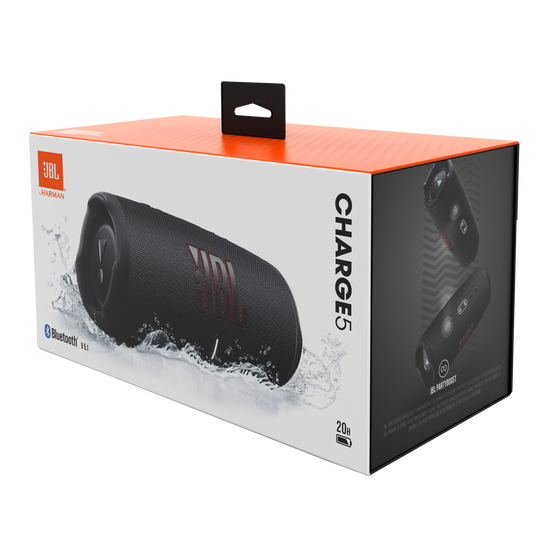 Asiakirjat ja lataukset
Arvostelut ja vastauksia kysymyksiin
Arvostelut
Rated

5

out of

5
by
68eight
from
Durable for Outdoor use
I needed a new speaker for work but needed something durable.I was hesitant to get this because looked too sexy to take to industrial environment.I took a chance and glad i did.Not only is this a beauty its a beast.The build quality is top notch the rubber sides and grill make me feel confident it will hold its own out here.Battery life is great i currently work 12 hours due to being short handed during pandemic and it has about 25% battery at end of shift while playing at about 75% volume.The type C charging port charges it up real quick about 1 hour or so.I haven't got it wet but i have got it dirty.Overall im happy and recommed if looking for something rugged yet pretty.
Date published: 2021-04-21
Rated

3

out of

5
by
ghelgi
from
Good speaker except that it has no microphone
I bought the Charge 5 to replace a Boom 2 that i lost. I was told by a saleman how awesome this speaker is. It works well. I use it mostly for Podcasts and youtubes etc. It's a decent replacement except that this speaker has no Microphone! I can't do any bluetooth calls with it which is very very very annoying and unexpected! Now i have to figure out a backup plan or switch out speakers.
Date published: 2023-03-25
Rated

5

out of

5
by
Isa85testet
from
Excellent battery performance , rich sound
I have been the proud owner of the JBL Charge 5 for 1 week. The coupling with the box was completed within seconds and I was able to enjox the great sound of the box. The tone is already full and can convince in highs and lows. The battery life is terrific , it feels like you don`t get the battery empty and recharging is also quick. The JBL Charge 5 also leaves nothing to be desired in terms of processing. JBL is also following the current trend towards sustanability and only supplies the charging cable without a plug, exemplary! I have to say that with the Charge 5 ,JBL has really succeeded in creating a very successfil bluetooth soundbox that really leaves nothing to be desired.
Date published: 2021-04-13
Rated

5

out of

5
by
SouthportOwl
from
Great Upgrade to a favourite!
Received my new JBL charge 5 in blue (great colour). I'm really impressed with the update it's almost the same size as my old JBL Charge 4 but the design is just fantastic a bit like a mini JBL Xtreme 3 which I also own in black. Now to the sound. First there is not a Huge difference between the new charge 4 and 5 but because of the edition of a tweeter there is more clarity and it seems to hold on to more bass at higher volumes than the charge 4. Bass is slightly stronger to my ears even if the specs say different. Charge 4 plays down to 60Hz charge 5 65Hz thou there various videos around showing the Charge 5 playing down a lot lower than that. All in all it's a decent upgrade. Lovely design superb crisp sound and crazy powerful if you need it. I rarely go above 50% volume indoors because that's more than loud enough. well done JBL yet another cracker!
Date published: 2021-03-12
Rated

5

out of

5
by
theballer24
from
Best Purchase Ever!
I have never written a review for anything before, but I've always said I would for this speaker so I'm finally getting around to it. I bought the JBL Charge 3 a long time ago when it first came out. I didn't know what to expect, but I have been absolutely blown away. I love this speaker and I bring it to nearly everything I do. It's been at the pool, on the beach, on a kayak, and so much more. The sound is incredible, and it blows my mind how long the battery lasts. My friends and family have gotten on board and gotten themselves one too. If this Charge 5 is anything like my Charge 3, I will no doubt be getting one if my 3 ever goes out on me.
Date published: 2021-05-03
bvseo_sdk, dw_cartridge, 18.2.0, p_sdk_3.2.0
CLOUD, getReviews, 8ms
reviews, product
Kysymyksiä ja vastauksia
Can you charge the speaker with the power bank
There are not two batteries in the device. The power bank feature is just accessing the battery you use to power the speaker when playing music.
Date published: 2023-02-01
Can you play music while this device is charging? My pulse 3 needs to be off with no music playing in order to charge. I want to keep the party going!
Yes, however as with many speakers with usually 5v 3a inputs, playing music above 60-70% volume while plugged in will consume more power than the unit can charge itself.
Date published: 2022-09-16
I updated the firmware in my two JBL Charge 5s. Since the update, it is almost impossible to connect the two JBL Charge 5s together, using the PartyBoost Button or JPL App. When I try to connect the second one, the first one disconnects.
Thank you for bringing this to our attention. We'd like to work with you directly to address the issues you're experiencing with your JBL Charge 5. If needed, we'd also like to get more information so we can check your options. Please contact our customer support via our official website or toll free number.
Date published: 2023-01-01
I cannot get phone call rings, text message notifications or other notification sounds to come thru speaker. Have tried with iPad Pro, iPhone 8 & iPhone 11 all with newest iOS software. But all work fine with Charge 4. 
I understand it does not have a mic.  I'm not trying to talk thru the speaker.  I never said anything about talking thru it.  I said NOTIFICATION SOUNDS from my device do not come thru the speaker. Sounds like text messages and social media notification sounds.  Using an iPad, an iPhone 8, and an iPhone 11 (all with the newest iOS software, you cannot hear these notifications on an updated Charge 5, or a updated Charge 3,  BUT I CAN hear these sounds on a JBL LIVE 500.  But a JBL representative told me that the newest software my Charge 5 and Charge 3 were update to, does not support the newest iOS software yet. 
Date published: 2022-03-25
I just bought the JBL Charge 5. On JBL website, under Tech Specs, Dynamic range is 60Hz - to 20 kHZ. On the Tech Spec paper I received with the product, The frequency response is listed as 65Hz to 20 kHZ. Which is correct? Is this false advertising?
Our JBL Charge 5 has a Dynamic frequency response range of 60 Hz - 20k Hz. We're always looking for ways to improve. We'll make sure to submit your feedback to the appropriate department. If you have any questions or concerns with your device, please contact our customer support service via our official website or toll-free hotline.
Date published: 2022-09-18
What is the difference in bt connectivity from partybox 310 and charge 5 i have one bt device she can connect to pb 310 and play music but on charge 5 it is connect but he dont play music, thx
Our JBL PartyBox 310 and Charge 5 have the same Bluetooth specifications: Bluetooth version: 5.1 Bluetooth profile: A2DP 1.3, AVRCP Please make sure that other Bluetooth devices are turned off. Also, check the BT menu of your phone if the media audio is enabled.
Date published: 2021-06-06
Why is my brand new JBL charge 5 not charging? Software is updated and I have used different cables etc. Please Help! 
Thank you for bringing this to our attention. Please follow the troubleshooting steps outlined in our ' Battery and Charging Issues' guide using this link. https://bit.ly/3blwbWY
Date published: 2022-11-29
What's the estimated "standby" time, assuming it's connected to my iPhone or other BT source but not playing any music? Are there any auto-shut-off or power-save features to conserve battery power when not in active use?
We appreciate the feedback you've provided to us. Our JBL Charge 5 has an auto-shut-off feature that disconnects the device after 10-15 minutes when not in use. This is mainly to save battery power and cannot be disabled. You will need to keep on playing music on your source device if you don't want it to shut off. We're always looking for ways to improve so we'll make sure to submit your feedback to the right department. If you have other questions or concerns, feel free to contact us here: hhttps://support.jbl.com/us/en/
Date published: 2021-10-10
bvseo_sdk, dw_cartridge, 18.2.0, p_sdk_3.2.0
CLOUD, getContent, 108ms
questions, product