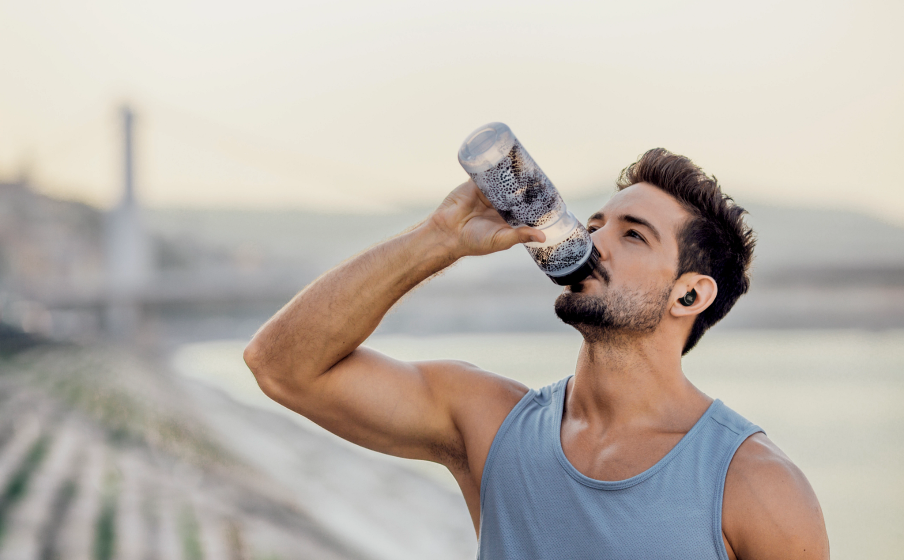 21 tunnin toistoaika (7 tuntia kuulokkeissa/14 tuntia latauskotelossa)
Pitkä akkukesto mahdollistaa pitkäaikaisemman käytön, jotta voit ponnistaa entistä pidemmälle joutumatta pysähtymään lataamista varten.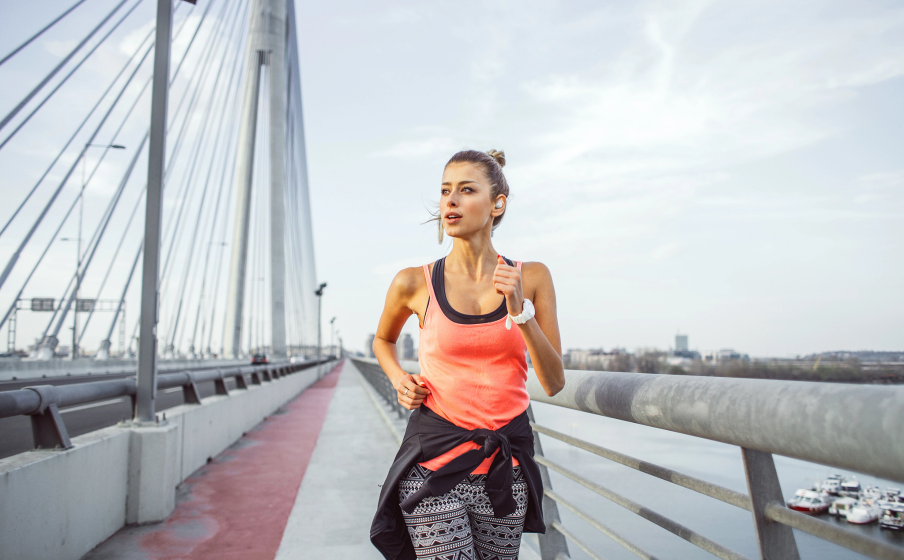 Aktiivinen melunvaimennus ja Smart Ambient -tekniikka
Estä turhat äänet, tai kuuntele tarkemmin. Smart Ambient -tekniikan ansiosta voit lenkkeillä turvallisesti taajama-alueella ja jutella ystäviesi kanssa treenin aikana.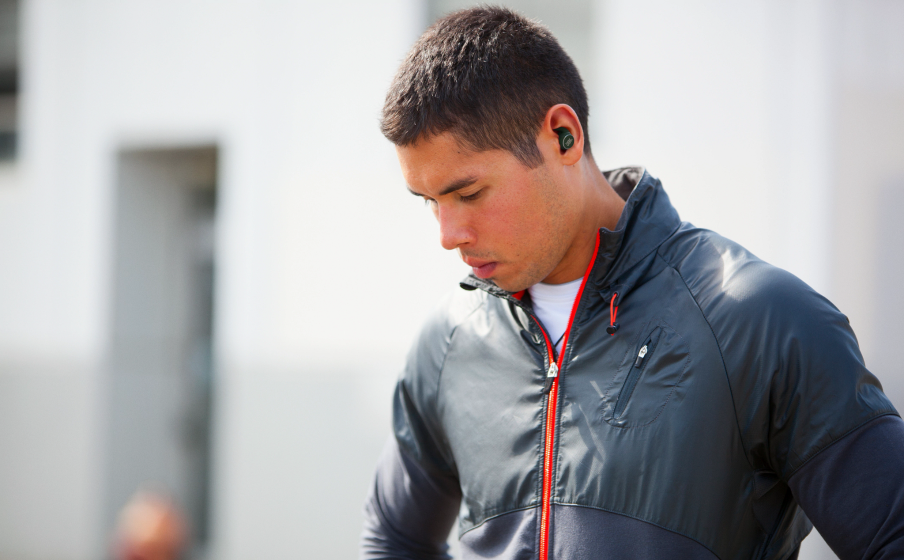 Tukeva istuvuus evämallisilla pidikkeillä
Käytä kuulokkeita mukavasti ja vakaasti valitsemalla yksi kolmesta evämallisesta korvapidikkeestä.
Ominaisuudet

JBL:lle ominainen sointi
Mainio äänenlaatu sekä ulko- että sisäkuunteluun, jotta voit keskittyä ja motivoitua kaikissa tilanteissa sisällä ja ulkona.

Sisäänrakennettu Multi AI
Yksinkertainen käyttö. Google-avustaja ja Amazon Alexa ovat vain äänikomennon päässä, jotta käyttö on nopeaa ja vaivatonta. (*) Tukee vain Androidia. (**) Alexa-ominaisuudet edellyttävät tätä laitetta käytettäessä Android 6.0 -käyttöjärjestelmää tai uudempaa.

Vedenpitävä ja pölytiivis heijastavilla koristekuvioilla
Älä epäröi lisätä treenisi tehoa. IP67-luokituksen ansiosta JBL Reflect Mini NC ei ole pelkästään hien- ja vedenpitävä. Se on suunniteltu erittäin kestäväksi sietämään myös kovia harjoittelu- ja sääolosuhteita. Voit jopa huuhdella kuulokkeet käytön jälkeen! Upeasta värivalikoimasta löydät helposti sopivan vaihtoehdon ja heijastavan JBL-logon ansiosta voit olla tyylikäs ja näkyvä samanaikaisesti.

Dual Connect + Sync -tekniikka
Ei ole väliä, kumman kuulokkeen otat ensin ulos kotelosta. Voit puhua puheluita, säätää äänenvoimakkuutta ja käyttää puheavustajaa kummassa korvassa tahansa, jotta voit pysyä liikkeessä ja pitää vauhtia yllä.

Hands-free-stereopuhelut ja automaattinen toiston keskeytys
In-ear-kuulokkeesi ovat valmiina palvelemaan. Vasen ja oikea mikrofoni mahdollistavat stereopuhelut. Kun riisut kuulokkeet, musiikintoisto keskeytyy automaattisesti. Sinun ei tarvitse edes ajatella asiaa.

My JBL Headphones
Tällä ilmaisella sovelluksella voit hallita kuuntelukokemustasi entistäkin paremmin ja muokata siitä henkilökohtaisemman.
Tuotevertailu
REFLECT-MINI-NC
LIVE-PRO-2-TWS-
REFLECT-FLOW-PRO-
REFLECT-AERO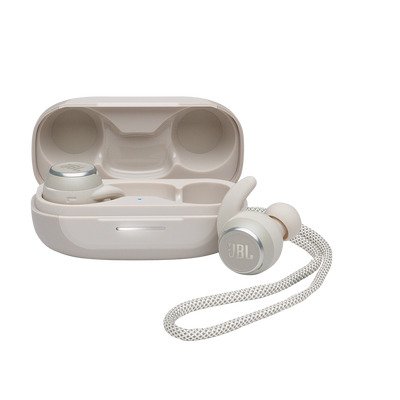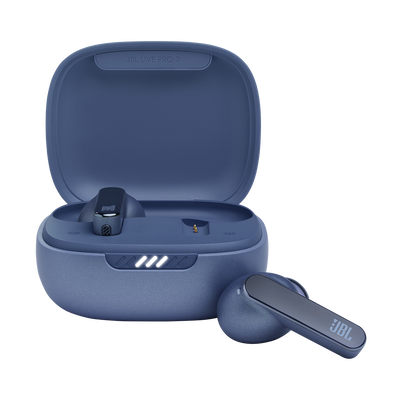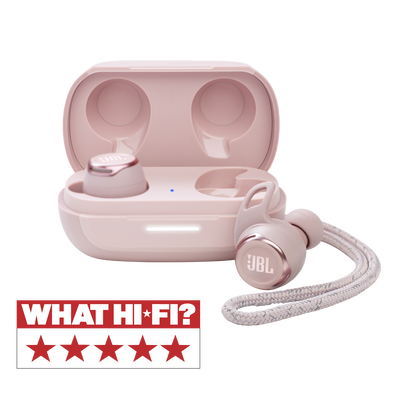 Ominaisuudet
Aktiivinen melunvaimennus
Aktiivinen melunvaimennus
Aktiivinen melunvaimennus
Aktiivinen melunvaimennus
Sisäänrakennettu Google Assistant
Sisäänrakennettu Google Assistant
Sisäänrakennettu Google Assistant
Sisäänrakennettu Google Assistant
Pikalataus (5 min = 1 tunnin soittoaika)
Pikalataus (5 min = 1 tunnin soittoaika)
Pikalataus (5 min = 1 tunnin soittoaika)
Pikalataus (5 min = 1 tunnin soittoaika)
Tiedot ja lataukset
Item# JBLREFLMININCBLK
Kuvaus
Suunniteltu sopeutumaan liikkumiseesi

Olipa harrastuksesi sitten jooga, juokseminen tai barre, melunvaimennuksella varustetut JBL Reflect Mini -in-ear-urheilukuulokkeet ovat täydellinen lisävaruste aktiiviseen elämäntyyliin. Aktiivisen melunvaimennuksen ansiosta voit keskittyä kuntoilutavoitteisiisi ilman häiriöitä, ja Smart Ambient -tekniikan avulla pysyt tietoisena ympäristöstäsi ja voit jutella ystäviesi kanssa. Kumpikin in-ear-kuuloke muodostaa yhteyden välittömästi ja itsenäisesti, jotta voit puhua puheluita kummalla tahansa ja määrittää erillisiä toimintoja vasemmalle ja oikealle. 21 tunnin toistoaika, eri heijastavat värivaihtoehdot, IPX7-tason vedenkestävyys ja aidosti langaton toiminta tekevät niistä ylivertaiset in-ear-urheilukuulokkeet.
Tuotetiedot
Audiotiedot
Elementtien määrä per korva

1

Elementin herkkyys @ 1kHz/1mW (dB)

97

Dynaaminen taajuusvaste (Hz)

20 Hz – 20 kHz

Impedanssi (ohmia)

16
Mitat
Charging Case Weight (oz)

1.6

Earpiece Weight (oz)

0.5

Latauskotelon paino (g)

46

Kuulokekapselin paino (g)

13.5
Ohjaimet, kytkennät ja liitännät
Bluetooth-versio

5.1

Bluetooth profiilit

A2DP V1.3, AVRCP V1.6, HFP V1.7

Bluetooth-taajuus

2.4 GHz – 2.4835 GHz

Bluetooth-lähettimen modulaatio

GFSK, π/4DQPSK, 8DPSK

Bluetooth-lähettimen teho

0 - 10dbm
Akku
Latausaika (tuntia, kun akku on tyhjä)

2

Maksimi musiikintoistoaika ANC päällä (tuntia)

6

Maksimi toistoaika (tuntia)

7
Ominaisuudet
Sisäänrakennettu Google Assistant

Kyllä

Hands-free-puhelut

Kyllä

JBL Signature Sound

Kyllä

Aidosti langaton

Kyllä

Aktiivinen melunvaimennus

Kyllä

Amazon Alexa -äänituki

Kyllä

Vedenkestävät

Kyllä

Latauskotelo

Kyllä

In-ear

Kyllä

IPX-luokitus

IP67

Sisäänrakennettu mikrofoni

Kyllä

Langattomat

Kyllä

Ladattava akku

Kyllä
Pakkauksen sisältö
1 pari REFLECT Mini -melunvaimennuskuulokkeita
3 paria erikokoisia korvasovitteita
3 erikokoista evämallista korvapidikettä
1 latauskotelo
1 C-tyypin latauskaapeli
1 takuu-/varoituskortti (W/!)
1 pikaopas/turvallisuustiedote (S/i)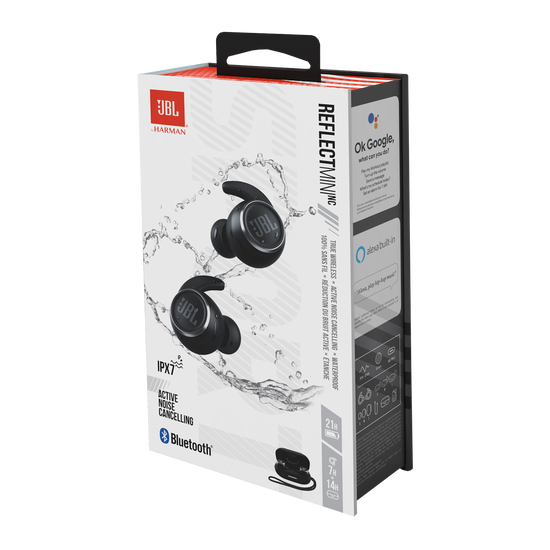 Asiakirjat ja lataukset
Arvostelut ja vastauksia kysymyksiin
Arvostelut
Rated

3

out of

5
by
SERK
from
Lags All the time
I love sound quality. But Every 10-15 secs connection lost for 1-2 secs than again continue. I mean connection is not stable between my phone and even between two earbuds. For example, I am running and listening music, after 30 secs music stops(connection probs) 1 sec later it continues after 10 secs right earbud stops working but then 1-2 secs later it starts to work again and it continues like this. I dont know what to do? I cant use like this. I hope JBL support team can help me. I have just bought these earbuds was it was a nightmare week for a new purchased product for me. Really disappointed. I was so sure that BLE 5.1 would be flawless.
Date published: 2021-01-11
Rated

2

out of

5
by
Scarlettlynxx
from
Extremely uncomfortable
I love JBL, I've owned almost every brand under the sun and JBL has surpassed Beats by a landslide BUT I HATE these buds. I bought this pair from best buy after my previous JBLs got stepped on and we're no longer in stock. Within an hour with the smallest fins, my ears were sore and aching so badly I had to take them off completely. After only three hours one was at 10% and the other at 5% so I put them on to charge only for me to later find out they have to be placed ever so perfectly or they won't charge. Sound is amazing, touch control is also on point but the fit and the hassle of getting them go charge ruin them for me. Definitely not worth the money in my opinion
Date published: 2021-07-13
Rated

5

out of

5
by
Pav2396
from
Great wireless earphones
These are great little things! I've been using them for a while and I am very happy with how they are. To begin with I have not had to charge them for over a week which in comparison to other wireless earphones I found is particularly good. The sound quality is great on these and what I would generally expect JBL they look sleek and not too big or clunky. The fit was nice I didn't need to change anything as soon as I got them I was ready to go within minutes no issues with connectivity and when I was not using them they're back in the charging case geared up for the next use which is great!
Date published: 2020-12-06
Rated

4

out of

5
by
Carrieann
from
Sound quality is amazing.
I've had these for approx 1 week now and I have to say, from the moment I first used them, I loved the sound quality! However, they do make my ears hurt like they're stretching my ears. I love that you get 3 different sizes of the war inserts and horns but even on the smallest size, they hurt my ears so badly after approx 30-40 minutes. After an hour, the pain was unbearable and I had to take them out which is a real shame as I really do love the sound quality from them. They're definitely noise cancelling for sure and I can confirm that even with volume on the highest, someone sitting next to me couldn't hear my music at all from them. I love the little charging case and the fact it has a wrist band on it too.
Date published: 2020-12-04
Rated

1

out of

5
by
Manders1234566
from
Would never buy again
I purchased these because I originally had the JBL mini reflects and I loved them. These are by far the worst headphones I've ever purchased. I have changed the ear pieces several times trying to find a good fit, and cannot get them to stay in my ears with the smaller options, with the mediums, they hurt so badly I can hardly bare to wear them for an hour workout. They disconnect from my Bluetooth constantly and I'm having difficulty getting both headphones to charge consistently, while they're both in the charger. I would absolutely not recommend anyone buy these headphones.
Date published: 2022-02-05
bvseo_sdk, dw_cartridge, 18.2.0, p_sdk_3.2.0
CLOUD, getReviews, 5ms
reviews, product
Kysymyksiä ja vastauksia
I want to buy these headphones so bad. But I want to know if they will fit securely and comfortably in my ear without falling out while running?.
I have these and they fit wonderfully! I wear them while working and unlike others I've used they've never come close to falling out. U can't imagine they would do so even while running.
Date published: 2021-08-02
How to get JBL drivers for Window 7? The connection wont be establishment since some drivers are missing. How to get bluetooth's pincode ? I have not found this code from anywhere Why ANC enabled/disabled does't have any difference?
Hello, Thank you for your question. In most cases when a Computer/PC/Laptop has issues connecting to a Bluetooth device, it's caused by your Computer/PC/Laptop's Bluetooth driver (software). The driver (software) should support the following Bluetooth protocols, to be able to play music/sounds from your Computer/PC/Laptop: A2DP (Advanced Audio Distribution Profile) driver for your Computer/PC/Headphones to transfer music. AVRCP (Audio/Video Remote Control Profile) driver to send skip/forward/pause/play music to your device. To download the correct driver (software), visit the manufacturer's website of your Computer/PC/Laptop. They usually have a "Support/Download" section where you can find the correct driver. Otherwise, contact their support. The standard drivers provided by Microsoft/Windows systems are often not correct, and will result in error messages (such as having to enter a PIN code), or pairing not working. You can also control the active noise cancelling function further in the JBL Headphones app.  Should you wish to receive further support, you may contact the Harman Customer Support team by telephone, email or chat in order to receive direct assistance. Please see https://fi.harmanaudio.com/support-contact.html#ns for further details. Thank you.
Date published: 2021-11-26
Can you control the volume from the earbuds? Is there a way to activate volume control through the My Headphones App?
The earbuds can be configured in the app to control volume on either the right or left earbud. This is at the sacrifice of playback controls (right earbud) or ANC/Ambient Aware controls (left earbud)
Date published: 2022-11-19
Are these actually smaller than the Reflect Flow headphones? If so how? The dimensions provided on this site are not comparable so I cannot work this out myself.
Dear emmajanehornsby, Thank you for your request. Yes, the JBL Reflect Mini NC are just a little bit smaller than the Reflect Flow so if you are struggling with the fit of True Wireless in-ear headphones, I would recommend this product to you. Best, Jakob
Date published: 2021-06-06
JBL Mini NC is set up correctly however left earbud is not responding/does not respond to commands, sound is fine and it is fully charged. commands like one tap, two tap, three tap, etc. Right earbud works fine, responds to commands perfectly. thanks
Thank you for your question. 1. Place ear-buds in charging case 2. Connet to power supply 3. Press and hold Reset Button > 5s Should you wish to receive further support, you may contact the Harman Customer Support team by telephone, email or chat in order to receive direct assistance. Please see https://uk.harmanaudio.com/support-contact.html#ns for further details. Thank you.
Date published: 2022-08-09
HI. I bought this headphones a few day ago and in the jbl app i cant access to the battery percent or change modes for movies or music why is that?????
Thank you for bringing this to our attention. We'd like to work with you directly to troubleshoot the issues you're experiencing with our JBL Reflect Mini NC and the JBL Headphone App. Please contact customer service at https://bit.ly/3BekPON
Date published: 2021-10-05
Is it possible to buy the charging case seperately? I have lost mine.
Thank you for your question, please contact us directly, so we can solve your problem as fast as we can. https://support.jbl.com/no/no/customer-service/contact.html
Date published: 2021-06-06
How do I get my earbuds repaired
We'd like to work with you directly to address the issues you're experiencing with your JBL Reflect Mini NC. If needed, we'd also like to get more information so we can check your options. Please contact our customer support service via our official website or toll-free hotline.
Date published: 2023-02-09
bvseo_sdk, dw_cartridge, 18.2.0, p_sdk_3.2.0
CLOUD, getContent, 115ms
questions, product