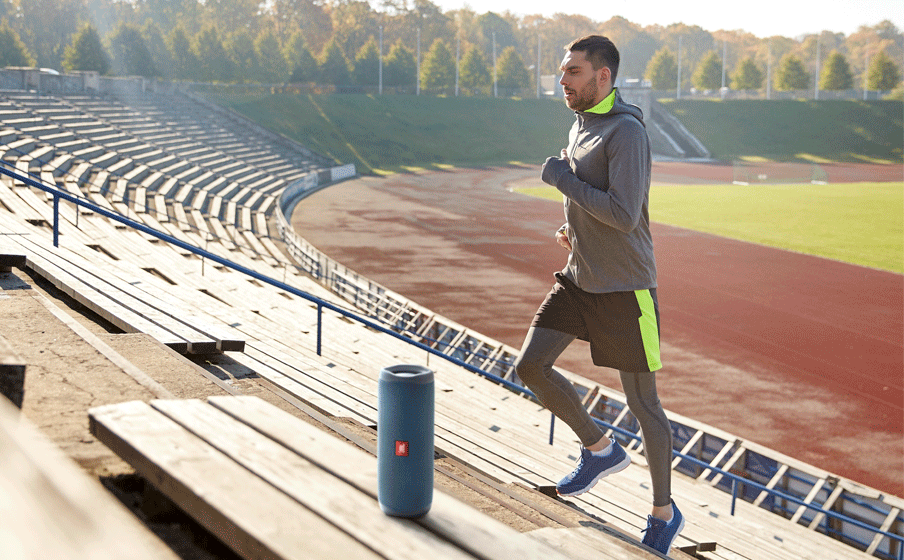 Kuulostaa paremmalta kuin koskaan aiemmin
Tunne musiikki kehossasi. Flip 5:n uudenlainen, kilparataa muistuttava elementti toistaa musiikin tehokkaasti. Nauti jykevästä bassoäänestä kompaktissa paketissa.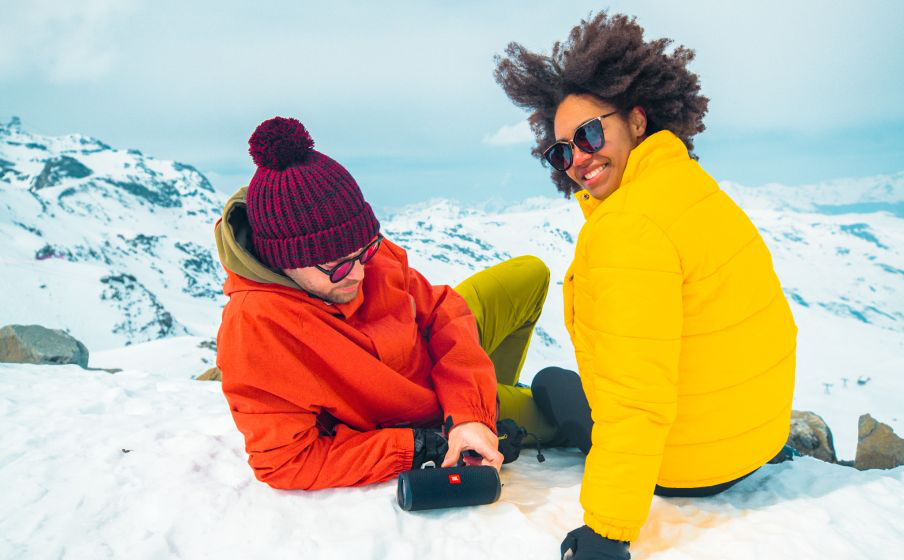 12 tunnin soittoaika
Älä stressaa pikkujutuista, kuten akun lataamisesta. Flip 5 tarjoaa yli 12 tuntia kuunteluaikaa. Musiikki soi pitkään, kuuluvasti ja JBL:lle ominaisella äänenlaadulla.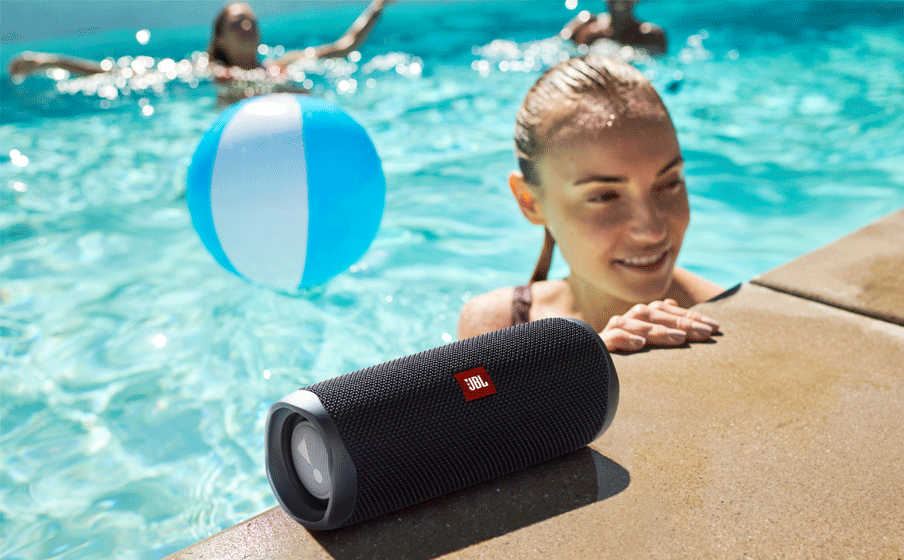 Vesitiivis IPX7-rakenne suojaa kaiutinta kastumiselta
Ota kaiuttimesi mukaan minne tahansa. Bileet uima-altaalla? Täydellistä. Äkillinen kaatosade? Ei haittaa. Päivä rannalla? IPX7-vesitiivis Flip 5 kestää upottamisen veteen jopa metrin syvyyteen, joten voit nauttia musiikista ulkona huoletta.
Ominaisuudet

Pidä hauskaa PartyBoost-toiminnon avulla
PartyBoost-toiminnon ansiosta voit käyttää kahta JBL PartyBoost -yhteensopivaa kaiutinta stereoäänen tuottamiseen. Lisäksi voit piristää bileitä yhdistämällä useita JBL PartyBoost -yhteensopivia kaiuttimia.

Säkenöivä värivalikoima
11 erilaista värivaihtoehtoa takaavat, että Flip 5 on kaikkea muuta kuin tylsä. Anna JBL:lle ominaisen äänenlaadun tuoda väriä elämääsi.

Kestävä ja kätevä
Sujauta tämä tehopakkaus ranteeseesi ja anna mennä. Kestävä kangas ja kotelon vahva kumimateriaali suojaavat Flip 5:tä, joten sinun ei tarvitse antaa minkään hidastaa sinua.
Tuotevertailu
Löydä kannettava bluetooth-kaiutin, joka sopii sinulle parhaiten
JBL FLIP 5-
FLIP-6-
CHARGE5-
CLIP 4-
GO 3-
JBL CHARGE 4
XTREME-3-
JBL BOOMBOX 2-
JBL GO 2
JBL CLIP 3
JBL PULSE 4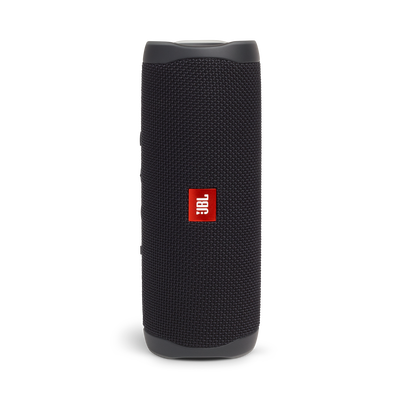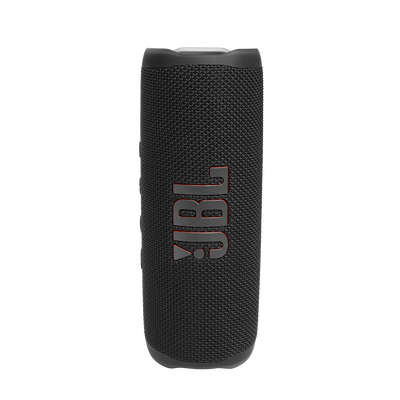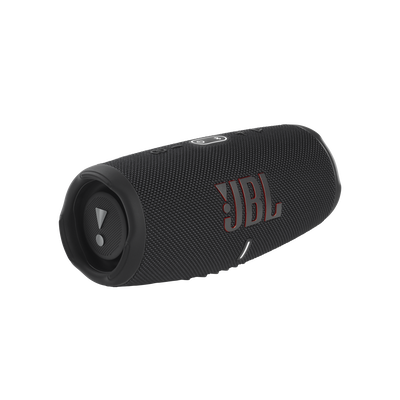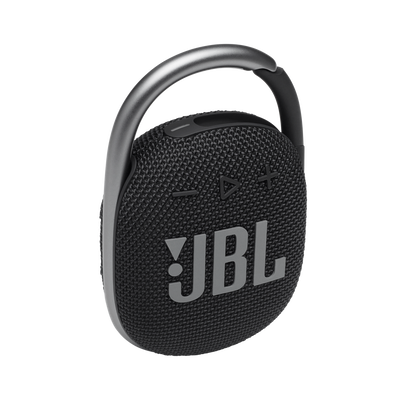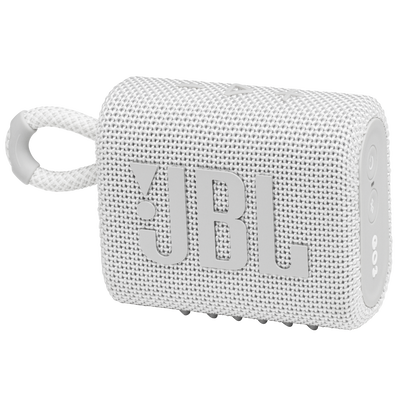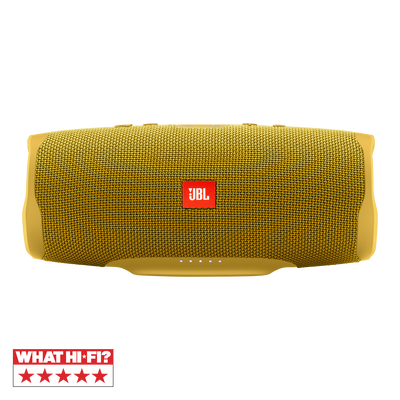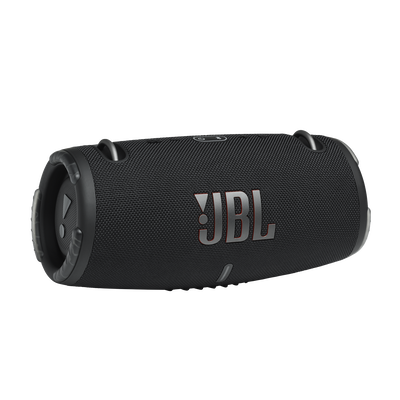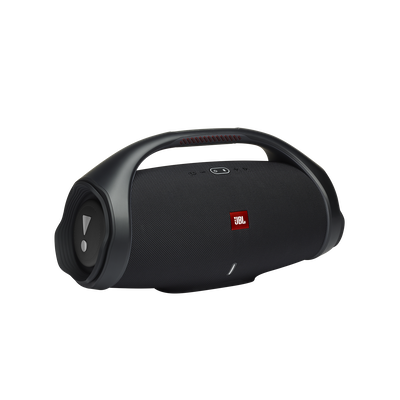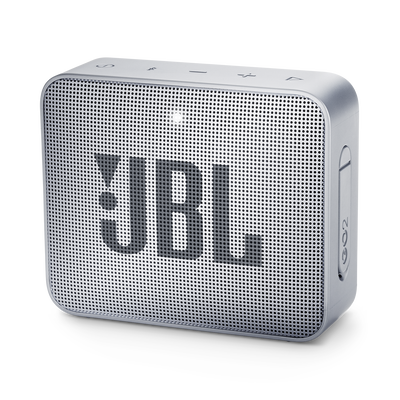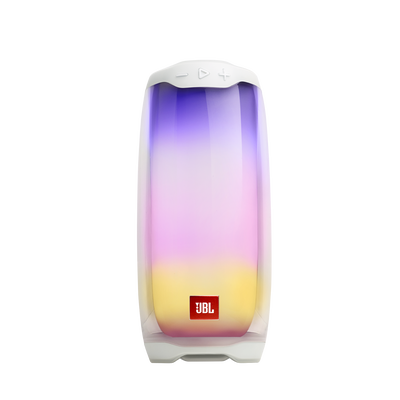 Yleiset tekniset tiedot
Lähtöteho (W)
2 x 25W RMS woofer + 2 x 25W RMS tweeter
Lähtöteho (W)
2 x 40 W RMS-woofer + 2 x 40 W RMS-tweeter
Mitat
Mitat (cm)
18 x 7.4 x 6.9
Mitat (cm)
17.8 x 6.8 x 7.2
Mitat (cm)
22 x 9.6 x 9.3
Mitat (cm)
8.6 x 13.5 x 4.6
Mitat (cm)
8.6 x 6.9 x 4.0
Mitat (cm)
22.1 x 9.4 x 9.4
Mitat (cm)
29.8 x 13.6 x 13.4
Mitat (cm)
48.5 x 20.1 x 25.7
Mitat (cm)
8.6 x 7.1 x 3.2
Mitat (cm)
9.7 x 13.7 x 4.6
Mitat (cm)
9.6 x 20.7 x 9.6
Tiedot ja lataukset
Item# JBLFLIP5GRY
Kuvaus
Rohkea ääni jokaiseen seikkailuun

Tehokas JBL Flip 5 tuo musiikin kaikkialle. Kevyt Bluetooth-kaiutin kulkee kätevästi mukana minne vain. Näyttääkö sääennuste pahalta? Ei hätää. Kiitos kaiuttimen vesitiiviin rakenteen, voit nauttia JBL:lle ominaisesta äänenlaadusta niin sateella kuin helteellä. Liiku enemmän. Kuuntele stereona käyttämällä kahta JBL PartyBoost -yhteensopivaa kaiutinta tai nostata bileiden tunnelmaa yhdistämällä useita JBL PartyBoost -yhteensopivia kaiuttimia. Kuuntele suosikkimusiikkiasi yli 12 tunnin ajan. Aseta kaiutin pysty- tai vaaka-asentoon ja valitse tyyliisi sopiva väri 11:stä näyttävästä vaihtoehdosta.
Tuotetiedot
Audiotiedot
Dynaaminen taajuusvaste (Hz)

65 Hz - 20k Hz
Mitat
Mitat (inch)

7.12 x 2.91 x 2.71

Mitat (cm)

18 x 7.4 x 6.9

Paino (kg)

0.54

Paino (lbs)

1.2
Ohjaimet, kytkennät ja liitännät
Bluetooth profiilit

A2DP V1.3, AVRCP V1.6

Bluetooth-taajuus

2.402 – 2.480GHz

Bluetooth-lähettimen modulaatio

GFSK, π/4 DQPSK, 8DPSK

Bluetooth-lähettimen teho

0-11dBm

Bluetooth-versio

4.2
Akku
Latausaika (t)

2.5

Musiikin toistoaika (t)

12
Ominaisuudet
JBL PartyBoost

Kyllä

Charging cable

Kyllä

Vedenpitävä

Kyllä

Wireless

Kyllä

Ladattava akku

Kyllä

Bluetooth

Kyllä
Pakkauksen sisältö
1 x JBL Flip 5
1 x USB-C-kaapeli
1 x Pikaopas
1 x Takuukortti
1 x Turvallisuustiedote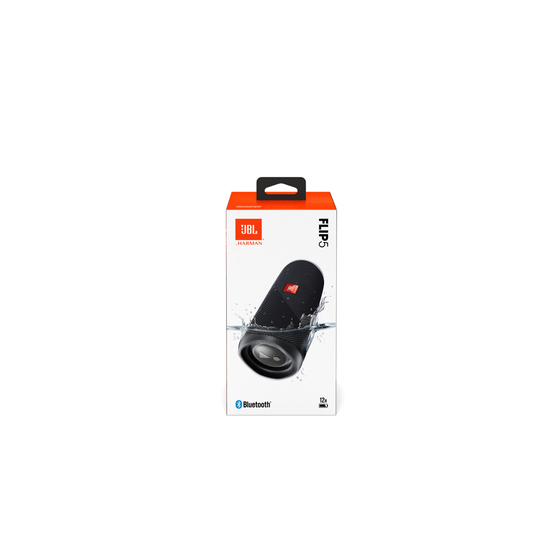 Asiakirjat ja lataukset
Arvostelut ja vastauksia kysymyksiin
Arvostelut
Rated

5

out of

5
by
Whatareview
from
Solid Sound from Small Package
I have been reviewing this speaker for about a week and a half. This speaker has a great sound which last all 8 hrs I was playing it and still had battery left. The speaker is really loud but does distort at top volume depending on music style. I really like the look of the red speaker as you can see in pictures. I was unable to try the waterproofing but sure it works just as all other features do. I feature I can't wait to try and most interesting is the Party Boost. To connect and stream to several speakers. I can't wait to hear that sound. Overall a great speaker with really good features and sound.
Date published: 2019-08-30
Rated

5

out of

5
by
DonH
from
Pint sized powerhouse
I've had this thing for a couple weeks now and so far I love it! It charges up fairly quickly and the charge lasts almost all day. A round of golf and a barbecue after and it was still running strong. At low volume the sound is nice and full. At high volume some of the deep bass drops out but it still sounds great. This little speaker is louder than it looks too. It's small enough to put right in a cup holder or there's a lanyard on one end. I wish they'd put a lanyard fitting on each end at 90 degrees so you could hang it and it would face you like they do with the Extreme. And it's waterproof! Now I need at least one more so I can link them in stereo with the JBL app. Well done JBL!
Date published: 2019-09-03
Rated

1

out of

5
by
Ex JBL enthusiast
from
Not impressed
Have bought a total of 4 of JBL's flip speakers and a set of wireless headphones while the sound is good the fact is that they dont last very long they all stopped charging within 6 months and at 100 bucks a shot it's quite irritating to say the least my headphones quit charging in less than 3 months and were unreturnable so I was stuck with headphones that would show full charge only to be dead in less than 10 min. All of the flip speakers I purchased will show full charge and be dead in 15 min for the amount of money you pay for these things you would think they would last longer it's quite ridiculous!
Date published: 2019-09-13
Rated

4

out of

5
by
JBL party house
from
Flip 5 vs flip 4
This newer JBL flip 5 is much louder then the flip 4 when I compared them. It also has more bass. And now it's a little bigger then the 4. The flip 5 also now has a usb type C port vs the older model not having this type. What I don't like that made me give 4 stars is the fact they took away the speaker feature that let's you use it as a speaker phone and the alexa feature. It also looks tougher then the 4 if you was to drop it. This one has a waterproof of IPX7 and a battery life of 12 hours playtime which is great. But besides that I think it's a nice Improvement over the flip 4.
Date published: 2019-08-22
Rated

1

out of

5
by
TeddyG
from
Don't even know where to begin
I purchased my first JBL Flip 5 black TL a while back. Had no complaints, loved it. One day it decides not to turn on and that was the end for that. So I decide to purchase a JBL Flip 5 white CS speaker. Not as great sounding and so I'm returning it. Then I purchase a JBL Flip 5 pink GG and it works for a few hours and dies on me like the black TL. Number 1, why would JBL make different versions of the same model affecting sound quality and durability which can be clearly heard and seen and Number 2, why have 2 out of 3 JBL Flip 5's died on me. I demand an explanation and a refund. I used to love JBL and now they are giving me reasons to not purchase any of their products again.
Date published: 2020-08-07
bvseo_sdk, dw_cartridge, 18.2.0, p_sdk_3.2.0
CLOUD, getReviews, 3ms
reviews, product
Kysymyksiä ja vastauksia
Hello, why does my jbl flip 5 turns off itself after few seconds of turning on. What can I do to solve this? It started a month after I bought it 
There are 2 reason for your stated issue 1- Battery is low , So it gets turnoff 2- It has a auto power off feature inbuilt , that is if not used for sometime it get turn off all by itself so that battery is saved for the time when u need it
Date published: 2021-06-06
Does the white get dirty?
Yes. It will get a yellow/gray'ish tint over time. In my opinion it makes it look cheap/fake. Stick to darker colors.
Date published: 2022-07-20
Can the JBL FLIP5 connect to a laptop computer?
You can play ONE Flip 5 speaker, but if there is a way to play two in either Party Boost or Stereo from a PC, I sure cannot figure it out. Have tried quite a few things. I DO NOT understand why JBL does not provide instructions on how to do this. Unless you can't do it and they want you to buy two speakers and find that out later.
Date published: 2022-02-22
Is JBL PartyBoost compatible with JBL Connect+?
No, it's not ☹️.
Date published: 2022-07-16
My brand new JBL Flip 5 connects easily to my mobile phone, but we just simply can not pair with any computers (PC, Mac), it is being recognized, it says it is being connected and then it just fails to be paired. Any ideas, please?
I took it to a service and they solved the problem :) It seemed that somehow my PC asked for a pin code (as it didn't recognize my JBL Flip 5 as a Bluetooth loudspeaker but rather as a smart device, e.g. a smartphone). The service technician pressed the Bluetooth button on the speaker to override this and then it could simply connect.
Date published: 2021-09-02
Will PartyBoost work with Connect+?
Hi, Contacted Harman and they've said partyboost is not compatible with connect +. Was waiting for the Flip 5, however now purchased another Flip 4. Not sure if they will have an "over the air" update like the charge 3 (connect to connect +) at a later date?
Date published: 2021-06-06
Why does my JBL FLip 5 Waterproof's usb wire that is supposed to charge it not fit into any regular usb ports
Because the Flip 5 uses a different USB cable than the flip 4 .The Flip 5 uses a USB type C cable 
Date published: 2022-12-25
I am a cyclist and like to listen to music while riding my bike. Does the Flip 5 fit in a bicycle water bottle holder? If not, what is a good option?
Thanks for your question. The dimensions of our JBL Flip 5 are as follows: Dimensions (cm) - 18.1 x 6.9 x 7.4 Dimensions (in) - 7.1 x 2.7 x 2.9. You may check from other sellers and retailers for bottle holders that may fit the Flip 5. We can also recommend our JBL Wind 2 which is designed to be mounted on bicycles.
Date published: 2022-02-02
bvseo_sdk, dw_cartridge, 18.2.0, p_sdk_3.2.0
CLOUD, getContent, 4ms
questions, product