Aktiivinen melunvaimennus
Eristä taustamelu ja nauti musiikista.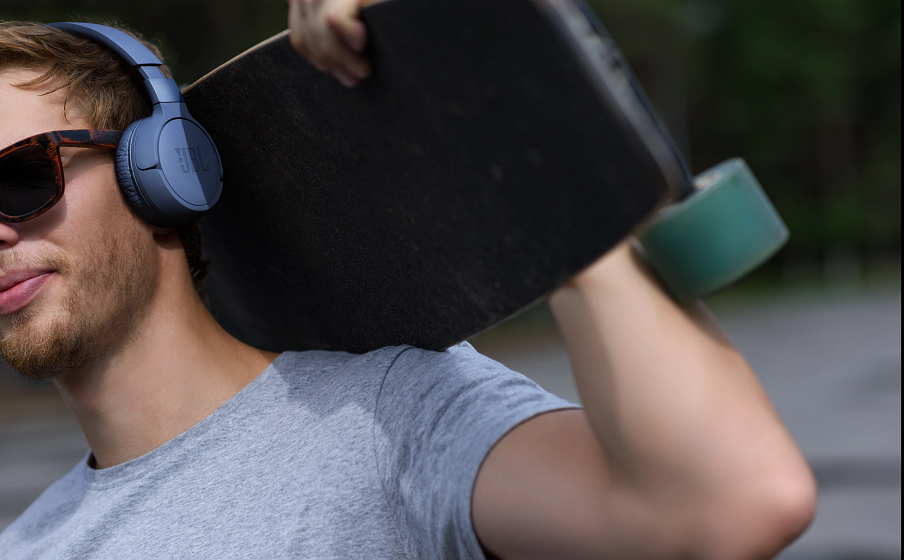 JBL Pure Bass -ääni
Yli 70 vuoden ajan JBL on kehittänyt tarkkoja ja vaikuttavia äänentoistoratkaisuja suuriin tilaisuuksiin ympäri maailmaa. Näillä kuulokkeilla saat tuon saman JBL-äänen, jossa basson tehoa ja syvyyttä ei ole säästelty.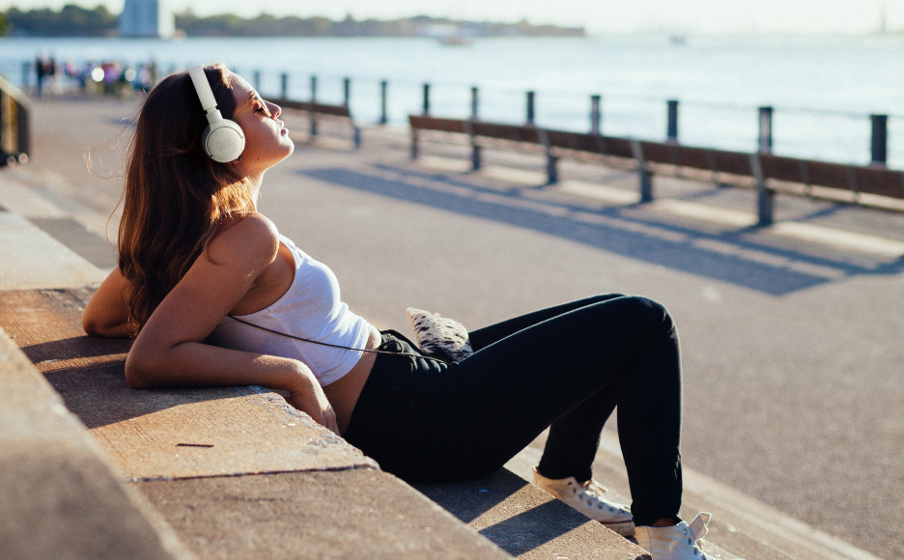 Jopa 44 tunnin akkukesto aktiivisen melunvaimennuksen ollessa päällä
Kuuntele musiikkia langattomasti 44 tunnin ajan aktiivisella melunvaimennuksella. Tai jopa 55 tunnin ajan pelkällä Bluetooth-toiminnolla. Saat 2 tuntia lisää kuunteluaikaa vain 5 minuutin latauksella C-tyypin USB-kaapelilla. Nauti musiikista loputtomiin langallisessa tilassa käyttäen mukana tullutta irrotettavaa kaapelia.
Ominaisuudet

Hands-free-puhelut ja puheavustajan tuki
Kuulokekupin painikkeilla ja mikrofonilla hallitset kätevästi musiikkia ja puheluita Tai käytä kuulokekupin painiketta saadaksesi nopeasti yhteyden laitteesi ääniavustajaan.

Langaton Bluetooth-suoratoisto
Suoratoista ääntä langattomasti älypuhelimestasi tai tabletistasi ilman johtosotkua Bluetooth 5.0:n avulla.

Kevyt ja taittuva rakenne
Kevyet materiaalit tekevät kuulokkeista mukavat, ja kestävä rakenne takaa, että kuulokkeiden taittomekanismi toimii vuosienkin kuluttua.

Nopea liittäminen, jonka mahdollistaa Google
Google Fast Pair -liitännän ansiosta JBL Tune 660NC muodostaa välittömästi yhteyden Android-laitteeseesi, kun siihen on kytketty virta. l.
Tiedot ja lataukset
Item# JBLT660NCBLK
Kuvaus
Musiikkisi ilman taustahälyä

Tune 660NC -vastamelukuulokkeiden avulla voit nauttia upeasta äänentoistosta ilman melua! Nauti JBL Pure Bass -äänestä jopa 44 tunnin ajan ja lataa sitten hetkessä (vain 5 minuuttia riittää akun keston pidentämiseen 2 tunnilla). Puhti lopussa? Liitä vain mukana tullut irrotettava kaapeli, ja meno voi jatkua. JBL Tune 660NC muodostaa välittömästi yhteyden Android-laitteeseesi, kiitos Googlen mahdollistaman nopean liitännän. Sen jälkeen voit säädellä äänentoistoa ja puheluita kuulokekupin kätevillä painikkeilla ja sujauttaa laitteen taskuusi. Valitse väri mielialasi mukaan. Superkevyinä ja kokoontaitettavina ne mahtuvat mihin tahansa ja ovat aina valmiit tuomaan valoa päivääsi.
Tuotetiedot
Audiotiedot
Elementin herkkyys @ 1kHz/1mW (dB)

100

Dynaaminen taajuusvaste (Hz)

20Hz-20kHz

Impedanssi (ohmia)

32
Mitat
Paino (g)

166

Paino (oz)

5.9

Kuulokejohdon pituus (m)

0.2

Headphone Cable Length (ft)

0.7

Ear Cup External Height (in)

2.9

Ear Cup External Width (in)

2.9

Ear Cup Internal Height (in)

1.3

Ear Cup Internal Width (in)

1.3

Ear Cup Depth (in)

0.7

Korkeus (cm)

7.3

Leveys (cm)

7.3

Sisäinen Leveys (cm)

3.2

Sisäinen korkeus (cm)

3.2

Syvyys (cm)

1.7
Ohjaimet, kytkennät ja liitännät
Bluetooth profiilit

A2DP v1.3, AVRCP v1.5, HFP v1.6

Bluetooth-taajuus

2.402 GHz-2.480 GH

Bluetooth-versio

5.0
Akku
Latausaika (tuntia, kun akku on tyhjä)

2

Maksimi musiikintoistoaika ANC päällä (tuntia)

44

Maksimi toistoaika (tuntia)

55
Ominaisuudet
Bluetooth

Kyllä

Taitettava

Kyllä

Puheääniavustaja

Kyllä

Aktiivinen melunvaimennus

Kyllä

Mukautuva melunvaimennus

Kyllä

Sisäänrakennettu mikrofoni

Kyllä

Irrotettava johto

Kyllä

Hands-free-puhelut

Kyllä

JBL Pure Bass -ääni

Kyllä

On-ear

Kyllä

Ladattava akku

Kyllä

Kauko-ohjain korvakupeissa?

Kyllä

Langattomat

Kyllä
Pakkauksen sisältö
1 x Tune 660NC
1 x C-tyypin USB-latauskaapeli
1 × audiokaapeli
1 x takuu-/varoituskortti (W / !)
1 x QSG-/turvallisuustiedote (S / i)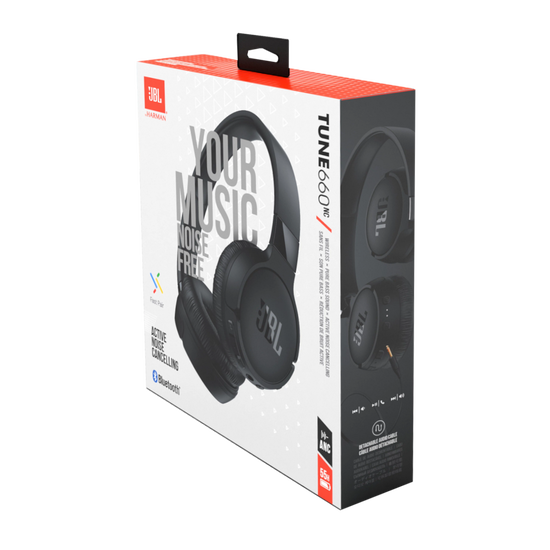 Asiakirjat ja lataukset
Arvostelut ja vastauksia kysymyksiin
Arvostelut
Rated

5

out of

5
by
SantiagoG6
from
All In One Excellent Headphones For Google Phones
Trust my review I am very picky when it comes to headphones. I definitely recommend these JBL Tune 660NC. These on ear headphones will surprise you for the price. Here is my rating and a couple of feedback for each category for them so that you know how they will work for you like they worked for me and my rating for them. I do have a full review below that though. Overall for Google Phones they connect fast, work hand in hand with the features of Google such as Voice Assistant and for me the active noise cancelling feature works awesome for me to where I don't have to take them off if I want to talk to someone or when I don't want to hear anything else around me when playing music or taking a call. >Fit 4/5 Covers my ears almost completely and a little snug though but with anyone with bigger ears will get that on ear headphone feel and fit. Can use it for active use such as in the Gym for like walking, running and weightlifting but would not recommend for crossfit or high intensity workouts when I tried it they would slip off or would not stay on. No upside down either. >Connectivity/Use 5/5 Paired fast with Google Pair and worked seamlessly with music, phone calls and voice assistant app Google Assistant >Battery 5/5 Have not had to charge it yet and its been 5 days! Sound 4/5 Clear crisp JBL sound I love. Could be a little louder though. Used it with different genres so you can def hear the individual highs, mid and lows. Can use your equalizer in your app to adjust it Also people around you cannot hear you turn it up so great to use on airplane and library. >Noise Cancelling Feature 4/5 Only cancels completely when playing music which that what JBL means by Active Noise Cancelling. But love it cause I don't have to take them off when having a conversation with people. Cancels Noise when I need them too. Only 4 because if someone is looking for noise cancelling completely you wont get that with these. Full Review Below!! Fit: They fit really well and are really comfortable. They seem built pretty sturdy. They sit on my ear pretty well. For everyday use they are comfortable and even work well while wearing glasses and a football hat. For active use they work well with sweat and your normal cardio like running and weightlifting. I wouldn't recommend them for like crossfit though cause for too much movement they kind of slip off. Connectivity: So I used my Samsung Galaxy S21 Plus for this test. When opening them out of the box my google used Google Fast Pair and automatically detected them and connected them without me having to go to settings which was pretty cool so if you do not know how to connect headphones that will eliminate stress. Did not lose connection with them. From being upstairs with them and forgot to leave my phone downstairs I was able to take a phone call and listen to music without interruption. Taking phone calls was pretty easy. The buttons on the headphones even let you mute, accept and even hang up on your calls. You can even use Google Assistant with and any other voice apps such as siri with apple phones and bixby with Samsung. With music can pause a song, go to previous and next song and of course adjust volume. Battery: Opened it up since last saturday and since a full charge has been a week of being off and on them and have not had to charge them and battery is only at 50%. So I would say the battery is definitely impressive. They do pretty well conserving battery they turn off after a while of not being used which never had that before with previous bluetooth headphones. Sound: The sound of the headphones were pretty clear and crisp and was even able to use the equalizer of my amazon music player to adjust it to different pre sets which really allowed me to watch the headphones adjust to jazz to rock to pop and really experience the headphones true range which they did not disappoint. I can turn them all the way up and people around me don't hear them so its great if you want to jam and not worry about disturbing anybody so feel free to turn them up in a library or airplane! lol Noise Cancelling Feature: So I gave them a 4/5 cause the Noise cancelling does not completely cancel the noise, I can still talk to someone with them on except they sound muffled whenever I am not playing music. Now when I play music I definitely cannot hear anyone or anything. I think that's where the active part of noise cancelling comes in they activate whenever you are playing music or on a phone call which I think is a really helpful feature to use most noise cancelling headphones you have to take off if you want to have a conversation with someone especially when working out in the gym but with these you will not have that problem.
Date published: 2021-04-18
Rated

4

out of

5
by
summer82
from
JBL Tune 660NC
Miellyttävät kevyet pehmeät päässä. Erittäin hyvä äänenlaatu. Nopeasti yhdistettävissä Android laitteeseen ensimmäisen asennus kerran jälkeen. Akun kesto se mitä luvattukin ja jos pääsee loppumaan saa näppärästi lisä virtaa mukana tulevalla johdolla, johto hyvän pituinen ei liian lyhyt. Pieni miinus sammutus ja vastamelunappi liian lähekkäin ne tulee herkkään sotkettua keskenään. Kantavuus kuulokkeissa kyllä todella hyvä puhelunkaan aikaan ei tarvitse kannella puhelinta mukana ja puheluiden ääni ihan uskomattoman selkeä. Vastamelutoiminto toimii isommassakin melussa, plussaa saa säädettyä päälle ja pois päältä toiminnon. Hinta laatu suhde erittäin hyvin kohdillaan.
Date published: 2021-04-22
Rated

5

out of

5
by
ANdru613
from
Great Noise Cancelling and Well Built!
After using these headphones for now quite some time, they are fantastic. The best parts about them is how durable and strongly built they are, in addition to being also lightweight. They really seem to quite handle any sort of situation. They also fold up and the ear cups do twist, making them super portable. I have used the headphones on a flight and they were perfect for the airport, on and off the plane, and simple connectivity to my phone. The noise cancelling is one of the most impressive things about the JBL Tune 660's! They took out the outside sound with no problems. I couldn't even hear people talking, and I hardly heard the typical airplane engine sound. In my opinion, they match almost equal to over ear style headphones noise cancellation (I have JBL E65btnc for reference). That's super impressive for on ear style headphones! That really took me for surprise! As for button controls are basic for what they are. Volume up, down, play, pause all worked fine with my phone. (I just find it easier to use my phone to adjust play/pause volume up/down.) As for sound quality, they are great, but not amazing. The Bass is definitely there. Mid's, Hi's Low's are pretty clear. I do think a lot of sound does go missing since they're on ear and not over ear. So you're kind of missing that "3D surround sound" that you'll get from over ear. To sum it up, for middle class style headphones they're great! If you're a type of person who's very on the move, and while in a car, train, plane, etc. wants to jam up some nice sounding music, then these are the right headphones for you. If you're more of a Sound guy or studio who cares a lot about the sound quality, go with the over ear to get the full experience. Highly recommended for the average buyer!
Date published: 2021-04-09
Rated

4

out of

5
by
Frank42
from
JBL Tune 660NC
Jeg har brukt JBL Tune 660NC nå i ca 6 uker. Jeg bruker de mye i jobb da jeg har hjemme kontor. Bruker de til møter og hører på musikk og radio via app ellers mens jeg jobber. Mikrofonen er god og kan brukes til møter. Jeg har ikke hatt noen problemer med den. De er gode å ha på over lenger tid og man merker nesten ikke at man har de på. Har de på stort sett ca 6 timer om dagen. Batteri mener jeg er veldig bra og holder lenge. Den lades med USB type C og går veldig fort. Spesifikasjonene sier at den lades fra tom til full på under 2 timer. Jeg har ikke tatt tiden men merker det går fort. I tillegg er det som forventet god lyd, som det er fra alt det jeg har av JBL.
Date published: 2021-05-15
Rated

4

out of

5
by
JBlongz
from
Great sound and noise cancellation.
The sound quality is always great with JBL headphones. I have a few pairs for professional audio work and this set is just as good. I like that it includes a wired port and cable to use when you don't want bluetooth connectivity. It's easy to pair with my computer and iPad. Switching between them is easy. The fit is lightweight easy on the ears. A good buy in my opinion.
Date published: 2021-04-15
Rated

4

out of

5
by
Bmanbill55
from
Great noise canceling and Sound Quality
If you prefer on ear headphones that sound great and include the noise canceling feature, these will be great for you. The battery life was impressive and the recharging was fast. The headphones fold allowing easy storage and they're lightweight so they stay comfortable for hours. If I had to nit pick I'd say the area where the ear makes contact is prone to tear if you're not careful. Overall these headphones are great and anyone who purchases them will be happy with their performance.
Date published: 2021-04-26
Rated

5

out of

5
by
1983star
from
Perfect for home office
I have been using this headset for some weeks, overall the sound quality and noice canceling is great. I have other wireless headsets, but this has over the best battery life, even with ANC turned on. Other thing I can mention is that is worked in conjunction with my laptop and Android phone connected together. So if I am listening, lets say a youtube video on my computer and the phone rings. The video will be paused and I am able to answer with my headset. Extra bonuspoints for also having the option for wired connection to PC/mobile when you are out of of just want to save the battery.
Date published: 2021-04-25
Rated

3

out of

5
by
wlimperis
from
Good Value Headphones
These headphones have lots of technological advancements for their size and price point. They provide good sound quality while being able to turn on noise cancelation, and can actually be connected to various devices simultaneously. Personally, I didn't enjoy the headphones' fit, as they tended to make my ears very hot after about 45 mins of use, but this may be a specific problem for me. For their price, these headphones are a solid pickup if you want some wireless headphones to last a solid amount of time.
Date published: 2021-04-26
Rated

4

out of

5
by
Kopjek
from
Very decent headphones!
I first started with a search to charge the headphone. I couldn't find it in the first place, it took me a while. Once I found out I thought it was a very smart place for charging. Clean and invisible! Very cool design. Even after wearing them for a long time i did not had painfull ears which I did had with other headphone because they were pressing to much on to my ears. I really liked the sound, but I like a bit more bass. A bit more vibration! But the sounds with voices or violin was amazing!
Date published: 2021-05-09
Rated

4

out of

5
by
Robk123
from
JBL Tune 660nc
The synthetic memory foam ear pads are deep enough to prevent rubbing against the outer ear, What's more, the padding makes listening comfortable for hours at a time and is moderately comfortable with glasses. The charging cable that comes with the headphone is way too short, most of my chargers are located under my desk but if you have one close to your computer it does make it relatively easy. They have Google Assistant and Amazon Alexa and serve as a great option for anyone wanting a fair priced alternative. All of the controls reside on the lateral edge of the right ear cup. Unfortunately, the playback and volume controls are nearly impossible to find on the first try, Further down is the conjoined noise cancelling/Bluetooth pairing button, neither of which functions I needed. Battery life is quite good. The headphones provided 18.5 hours of playback with noise cancelling on. While this is 1.5 hours shy of JBL's listed 20 hours of performance, the fact of the matter is that 18.5 hours is plenty. Playback controls are small and hardly differentiated from one another. If you're wanting to get the best audio quality from the headphones, use the included 3.5mm cable. One of the more functional features is multipoint connectivity. This allows you to simultaneously connect to two devices and alternate between them. In order to do so, pause media on the primary device and play it on the secondary one. This bass-heavy pair of headphones is great for the average consumer. Where passive isolation falls short, active noise cancelling makes up for lessening low-frequency noise. Isolation is just ok, but when noise cancelling is activated, the outside world fades into the background. Active noise cancelling is turned on by default. The headphones may fold flat or upward to become more compact for transport. If you want great noise cancelling for less, yes. They might not be the clearest sounding headphones, but they are comfortable, portable, and effectively filter out external noise with ANC toggled on. Aside from that, Google Assistant and Alexa integration is a wonderful convenience: having texts read aloud and being able to immediately reply without touching my phone is a joy. That said, if the poor microphone quality is impossible to overlook, They're lightweight, easy to operate, and have a significantly better microphone.
Date published: 2021-04-11
Rated

5

out of

5
by
MeesAngel
from
The best headphone I've owned
I've been using this headphone for about 3 weeks now and it is by far the best one I ever had. Before I bought the JBL 660 I was using the JBL tune 600 btnc. And I cannot expres how big the difference is between the two. The tune 660 has a superior fitment around the head, you can really feel it canceling out sounds from the outside. When the noise canceling is on you almost hear nothing. The sound quality is amazing for the price.
Date published: 2021-05-04
Rated

5

out of

5
by
trfields76
from
Great noise cancelling!
I've had these for a couple weeks now. Really love the sound quality and have them both my iPhone and iPad paired to them at the same time. The noise cancelling is awesome. My wife could be watching a TV show with the surround sound on in the same room and I don't hear a thing with these headsets on.
Date published: 2021-04-15
Rated

5

out of

5
by
Rikk81
from
Surprisingly good sound and fit
Been testing the JBL Tune 660NC for approx. 14 days. Been using them while running and watching video/TV on the phone and Ipad on travel. When running they fit nicely and are stable. Not moving around sliding out of position. This is a huge benefit. They feel light to wear and the sound is great and they work perfectly for this purpose. I been running 3-4 times a week, for ~1 hour each time. Have not charged them since I got them. So the battery capacity is great. When using them while streaming on a mobile unit the active noise cancelling is very good. It takes out the surroundings great. I'm only disappointed the model is not supported by the JBL Audio app, since I also have some earplugs from JBL. And they should have included this model to that app as well. All over. Very happy with this product.
Date published: 2021-04-26
Rated

5

out of

5
by
franswami truebaddoor
from
These Headphones Have It All
These headphones have so many features, it has taken me a while to figure them all out. The bass is clear and undistorted, even at high volume. The noise canceling feature didn't seem to do much for loud noises, but I couldn't hear softer noises in the room. I am impressed with the long battery life, I find I only have to charge them once a week when using them a few hours every day. The style is awesome, and they sit comfortably over my head and on my ears. The connection to my iPhone is always instantaneous.
Date published: 2021-08-22
Rated

4

out of

5
by
Top_Gear_Fanboy
from
Overall, I really do enjoy these headphones. The earcups don't really cup your ears as much as they do sit on them but some people really like this style and if you do I say go for them. The sound quality is top tier and the anc is actually surprisingly good for how lightweight they are. It really helps out since you don't have any of the traditional padding to block out the noise. Overall I really like them and would highly recommend them if you are looking for some lightweight headphones to wear on the go.
Date published: 2021-04-10
Rated

4

out of

5
by
JennieRC
from
Great sound and long lasting battery
I've had these earphones now for a couple of week and I haven't charged them at all yet, which is impressive. The sound is also very good. The comfort isn't the best for me, the earphones are quite tight around my head and I'm worried I'll get a headache if I wear them for longer periods of time. However, since they are so tight the sound is also very good. When connecting to my iPhone I always have to go into the bluetooth setting which is annoying. My other bluetooth earphones always connect right away.
Date published: 2021-04-20
Rated

4

out of

5
by
Daniel N
from
Lite og greit headset for de som er på farten
Lite å greit headset for de som er ute og reiser. Har nå brukt dette headsettet i noen uker, og var litt tvilsom til det i starten, da jeg følte at det ikke var nok trøkk i det. Etter litt bruk ble jeg jeg vant til dette, og syntes det var fantastisk å kunne gå fritt rundt på kontoret uten kabel hengende etter. Headsettet er også et av de letteste jeg har prøvd, så man merket ikke noe ubehag av å bruke det. Kan også fortelle at støyreduksjonen fungerer som bare det den også, da jeg ikke merker at mine kolleger har stått i døra og ropt på meg i de siste 3-4 minuttene. Alt i alt føler jeg at det er et greit headset til en billig penge for dem som farter rundt, enten på kontoret, offentlig transport eller trening. Men til vanlig bruk foretrekker jeg nok et studio headset da jeg ønsker litt mer trøkk.
Date published: 2021-04-21
Rated

4

out of

5
by
RBK123
from
Best value NC headphones!
I'm not a big fan of on ear headphones as I tried few earlier and was not comfortable to wear long time presses the ears. This one I felt bit comfortable. NC feature works fine. Do not expect the sound will blow your mind. it's decent enough feels some bass and good quality audio. As it's on ear headphones and no seal around the punch will miss in audio quality. But over all from the price point these are basic NC headphones can add to the list of headphones you have. give a try
Date published: 2021-04-08
Rated

4

out of

5
by
Lotje
from
Fits nicely
Very happy to find out that if you adjust the headphone to the smallest size it fils me perfectly. And also very happy with the noice cancelling :)
Date published: 2021-04-26
Rated

5

out of

5
by
MisterO
from
Great value
I brought these as I needed a wireless headset for work. They work well on calls and for wireless headphones, the sound quality for music is good.
Date published: 2022-04-13
Rated

1

out of

5
by
Matthewrad
from
JBL wireless headphones. Very disappointed
Received in good time, however the product is faulty, it sounds like one of the earpieces has blown on the 2nd day of using them, not impressed
Date published: 2022-05-19
Rated

4

out of

5
by
Shika
from
Nice!
Headphones fit comfortably! Has an ok look... Pretty good noise counseling and it stays charged for a decent length of the time.
Date published: 2021-04-12
Rated

3

out of

5
by
Annika21
from
Hyvät perus kuulokkeet
Kuulokkeet ovat ihan ok laatua ja äänen toisto on kelvollinen, jos ei hae mitään maailmaa mullistavaa elämystä. Hyvät niille, jotka tykkäävät että kuulokkeet ovat korvien päällä. Itselle tuli 8h/pvä musiikin kuuntelulla korvat kipeiksi. Vastamelutomintoa en voi kehua, esimerkiksi sairaalassa kuuli selvästi mitä viereisessä puhutaan. Helppo yhdistää android- ja applen laitteisiin, tietokoneeseen yhdistäessä oli enemmän ongelmia. Kaiken kaikkiaan ihan kelpo perus kuulokkeet.
Date published: 2021-04-20
Rated

5

out of

5
by
Boney Terry
from
Great sound
Bought them as an alternative to ear buds, so glad I did the sound clarity is so much better and they are sooo comfortable.
Date published: 2022-04-22
Rated

1

out of

5
by
Michal Krzemieniewski
from
Bad
When noise cancelling is on quality of bass is terrible when im turning it off theres nearly No bass at all
Date published: 2022-07-08
Rated

5

out of

5
by
Palm50
from
Great headphones
I've had my new headphones a month now and I look forward to listening to music everyday.
Date published: 2022-02-22
Rated

4

out of

5
by
Owen G
from
Good all rounder
Bought and enjoying these. Good sound blocking and quality sound
Date published: 2021-11-24
Rated

3

out of

5
by
KenF
from
NC headphones that are fine when they connect
A birthday present for my wife. She listens to a 'Walkman' in bed and falls asleep with buds in her ears. The sound is brilliant, the battery life exceptional, no wires to get wrapped around her neck. Unfortunately it doesn't want to pair with the Walkman. The headphones find everything else, just not what I wanted it to connect to. Don't understand why as guessed (wrongly) that WiFi and Bluetooth devices designed to pair - would pair.
Date published: 2022-11-16
Rated

2

out of

5
by
Mattys21
from
Not the best...
It seems to be confusing which application this would be for. The ear cups are too small, and uncomfortable to serve as airplane headphones...sound is not that good either. Just don't know where the desire would come from.
Date published: 2021-05-02
Rated

4

out of

5
by
Ruuhkavuosimama
from
Vihdoin omaa rauhaa lapsiperhearjessa
Nämä olivat ensimmäiset kokeilemani aktiivisella melunvaimennuksella varustetut kuulokkeet. Bluetooth-yhteyden muodostaminen omaan Android-puhelimeeni ei käynyt ihan käden käänteessä, mutta muiden perheenjäsenten puhelimet löysivät yhteyden muutamassa sekunnissa. Melunvaimennus toimii, basso soi pehmeästi ja muutenkin äänenlaatu on hyvä. Mukava ottaa pieni oma aika ilman, että lasten jokainen ääni kuuluu musiikin läpi.
Date published: 2021-04-23
bvseo_sdk, dw_cartridge, 18.2.0, p_sdk_3.2.0
CLOUD, getReviews, 8ms
reviews, product
Kysymyksiä ja vastauksia
These can be both wired and wireless?
Thank you for your interest in our products. Yes, our JBL Tune 660NC can be used wireless and also wired via the 3.5m audio cable.
Date published: 2022-08-11
Is it possible to disable the alert sounds somehow? E.g. low battery alert?
Thank you for your question. Unfortunately it is not possible to disable the signature sounds. Should you wish to receive further support, you may contact the Harman Customer Support team by telephone, email or chat in order to receive direct assistance. Please see harmanaudio.com/support-contact.html for further details.  Thank you. 
Date published: 2021-06-06
My headphones started making a beeping sound when noise cancelling is turned on. Is there a way to resolve this? I do not see JBL Tune 660 NC as a part of the JBL app to update the firmware.
Thank you for your question. Could you please be so kind as to open a case on https://uk.harmanaudio.com/support-contact.html#ns so we can assist you further with your JBL T660NC? Thank you.
Date published: 2022-07-26
Where I work at someone left there headset does this have a tracker in system so if I turn it on they can find it?
Thanks for your inquiry. Our JBL Tune 660NC doesn't have GPS technology which would allow you to locate the device if it became lost.
Date published: 2022-07-29
Are the Tune 660NC compatible for connecting to a TV to listen? Also do you have a list of which ones are most compatible for connecting to a TV. Thank you
Our JBL Tune 660NC will pair and connect with TVs. However, you may experience audio-video delays as these headphones don't have low-latency codecs. Currently, we have no headphones which are optimized for TVs.
Date published: 2022-11-23
Can I use the active noise cancellation when not connected to a device. e.g. for working in a noisy environment?
Thank you for your question. Unfortunately it is not possible to use active noise cancelling with JBL Tune 660NC without being connected to a device.  For further support, we welcome you to contact our Harman Customer Support team: https://support.jbl.com/gb/en/ https://support.harmanaudio.com/gb/en/ Thank you.
Date published: 2022-09-28
Toimiiko mikrofoni myös silloin kun akku on lopussa ja kuulokkeita käyttää "langallisena"?
Thank you for your question. At the moment our Customer Support does not support Finnish, but I will happily assist you in English. The microphone of these headphones is not located in the cable, which means it can only be used via Blutooth. It is however possible to buy a cable with microphone in it, like the cables used for our headphones in the Live range. Should you wish to receive further support, you may contact the Harman Customer Support team by telephone, email or chat in order to receive direct assistance. Please see harmanaudio.com/support-contact.html for further details.  Thank you. 
Date published: 2021-06-06
Do these headphones connect to Apple iPhone through Bluetooth? 
Thank you for your question. Yes, the JBL T660NC will connect via Bluetooth with an iPhone. Should you wish to receive further support, you may contact the Harman Customer Support team by telephone, email or chat in order to receive direct assistance. Please see https://uk.harmanaudio.com/support-contact.html#ns for further details. Thank you.
Date published: 2022-03-21
Do the earpieces flip backwards for ease of single-ear use?
Our JBL Tune 660NC can only rotate at around 90 degrees.
Date published: 2022-05-07
Can a charging block from iPhone be used to connect charging to wall outlet?
You could use you phone's USB charging adapter to charge our JBL Tune 660NC. Charging times may vary on current rating.
Date published: 2021-10-28
Does the ANC mode work whilst listening via wired connection? Also, what is the warranty length?
Thank you for your question. The noise cancelling feature only works when the unit is powered on, therefore, if your JBL T660NC are turned off to be used with the AUX cable then the noise cancelling function will not work. In regards to the warranty, is of two years in the UK. Should you wish to receive further support, you may contact the Harman Customer Support team by telephone, email or chat in order to receive direct assistance. Please see https://uk.harmanaudio.com/support-contact.html#ns for further details. Thank you.
Date published: 2022-09-05
Why doesn't the Tune 660nc headphones show up in the JbL headphones app for android?
Thank you for your question. Please note that none of the Tune series headphones have the technology to be recognised through the JBL Headphones app.
Date published: 2022-08-04
Hi , i want to know if it's available to be used through laptop or not.  Thank you, 
Thank you for your question. Yes, you can paired the JBL Tune660NC to a laptop to listen to music. However, it will not work with communications apps such as MSTeams, Zoom, etc. Should you wish to receive further support, you may contact the Harman Customer Support team by telephone, email or chat in order to receive direct assistance. Please see https://uk.harmanaudio.com/support-contact.html#ns for further details. Thank you.
Date published: 2022-08-15
HOW TO STRETCH THE HEADPHONE OUT BECAUSE TOO TIGHT ON MY HEAD
We'd like to work with you directly to troubleshoot the issues you're experiencing with the JBL Tune 660NC. If needed, we'd also like to get more information so we can check your options. Please contact our customer support service via our official website or toll-free hotline
Date published: 2022-06-06
Can you choose to include surround sound or disabling it?
bvseo_sdk, dw_cartridge, 18.2.0, p_sdk_3.2.0
CLOUD, getContent, 15ms
questions, product