Aktiivinen melunvaimennus
Eristä taustamelu ja nauti musiikista.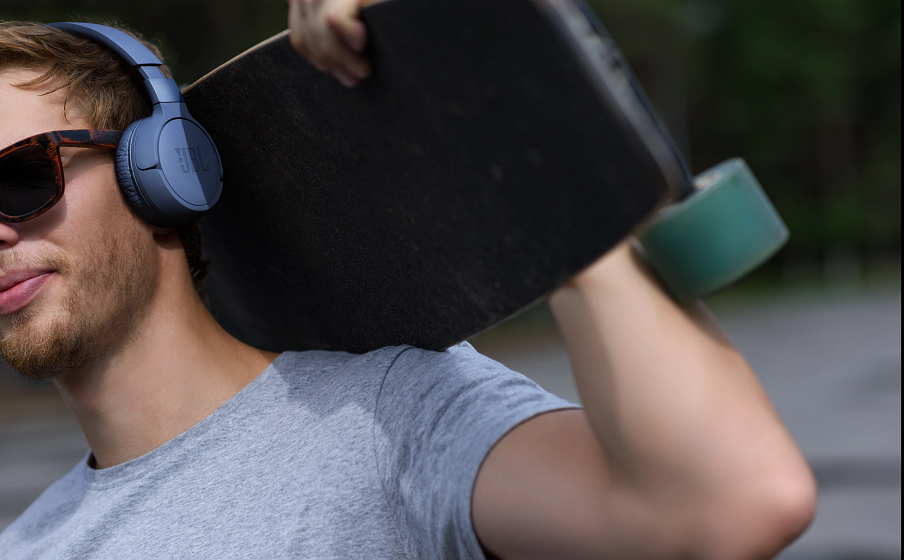 JBL Pure Bass -ääni
Yli 70 vuoden ajan JBL on kehittänyt tarkkoja ja vaikuttavia äänentoistoratkaisuja suuriin tilaisuuksiin ympäri maailmaa. Näillä kuulokkeilla saat tuon saman JBL-äänen, jossa basson tehoa ja syvyyttä ei ole säästelty.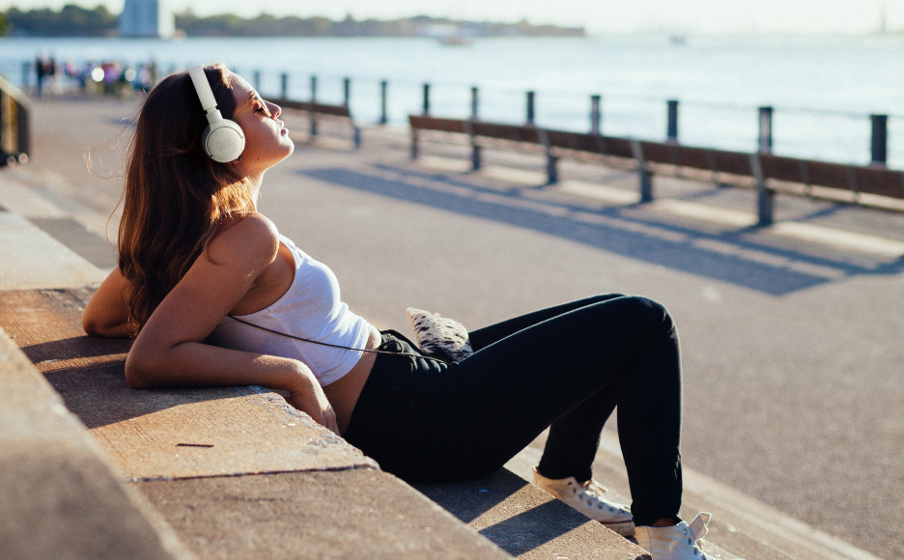 Jopa 44 tunnin akkukesto aktiivisen melunvaimennuksen ollessa päällä
Kuuntele musiikkia langattomasti 44 tunnin ajan aktiivisella melunvaimennuksella. Tai jopa 55 tunnin ajan pelkällä Bluetooth-toiminnolla. Saat 2 tuntia lisää kuunteluaikaa vain 5 minuutin latauksella C-tyypin USB-kaapelilla. Nauti musiikista loputtomiin langallisessa tilassa käyttäen mukana tullutta irrotettavaa kaapelia.
Ominaisuudet

Hands-free-puhelut ja puheavustajan tuki
Kuulokekupin painikkeilla ja mikrofonilla hallitset kätevästi musiikkia ja puheluita Tai käytä kuulokekupin painiketta saadaksesi nopeasti yhteyden laitteesi ääniavustajaan.

Langaton Bluetooth-suoratoisto
Suoratoista ääntä langattomasti älypuhelimestasi tai tabletistasi ilman johtosotkua Bluetooth 5.0:n avulla.

Kevyt ja taittuva rakenne
Kevyet materiaalit tekevät kuulokkeista mukavat, ja kestävä rakenne takaa, että kuulokkeiden taittomekanismi toimii vuosienkin kuluttua.

Nopea liittäminen, jonka mahdollistaa Google
Google Fast Pair -liitännän ansiosta JBL Tune 660NC muodostaa välittömästi yhteyden Android-laitteeseesi, kun siihen on kytketty virta. l.
Tiedot ja lataukset
Item# JBLT660NCBLK
Kuvaus
Musiikkisi ilman taustahälyä

Tune 660NC -vastamelukuulokkeiden avulla voit nauttia upeasta äänentoistosta ilman melua! Nauti JBL Pure Bass -äänestä jopa 44 tunnin ajan ja lataa sitten hetkessä (vain 5 minuuttia riittää akun keston pidentämiseen 2 tunnilla). Puhti lopussa? Liitä vain mukana tullut irrotettava kaapeli, ja meno voi jatkua. JBL Tune 660NC muodostaa välittömästi yhteyden Android-laitteeseesi, kiitos Googlen mahdollistaman nopean liitännän. Sen jälkeen voit säädellä äänentoistoa ja puheluita kuulokekupin kätevillä painikkeilla ja sujauttaa laitteen taskuusi. Valitse väri mielialasi mukaan. Superkevyinä ja kokoontaitettavina ne mahtuvat mihin tahansa ja ovat aina valmiit tuomaan valoa päivääsi.
Tuotetiedot
Audiotiedot
Elementin herkkyys @ 1kHz/1mW (dB)

100

Dynaaminen taajuusvaste (Hz)

20Hz-20kHz

Impedanssi (ohmia)

32
Mitat
Paino (g)

166

Paino (oz)

5.9

Kuulokejohdon pituus (m)

0.2

Headphone Cable Length (ft)

0.7

Ear Cup External Height (in)

2.9

Ear Cup External Width (in)

2.9

Ear Cup Internal Height (in)

1.3

Ear Cup Internal Width (in)

1.3

Ear Cup Depth (in)

0.7

Korkeus (cm)

7.3

Leveys (cm)

7.3

Sisäinen Leveys (cm)

3.2

Sisäinen korkeus (cm)

3.2

Syvyys (cm)

1.7
Ohjaimet, kytkennät ja liitännät
Bluetooth profiilit

A2DP v1.3, AVRCP v1.5, HFP v1.6

Bluetooth-taajuus

2.402 GHz-2.480 GH

Bluetooth-versio

5.0
Akku
Latausaika (tuntia, kun akku on tyhjä)

2

Maksimi musiikintoistoaika ANC päällä (tuntia)

44

Maksimi toistoaika (tuntia)

55
Ominaisuudet
On-ear

Kyllä

Taitettava

Kyllä

Puheääniavustaja

Kyllä

Aktiivinen melunvaimennus

Kyllä

Mukautuva melunvaimennus

Kyllä

Sisäänrakennettu mikrofoni

Kyllä

Irrotettava johto

Kyllä

Hands-free-puhelut

Kyllä

JBL Pure Bass -ääni

Kyllä

Langattomat

Kyllä

Ladattava akku

Kyllä

Kauko-ohjain korvakupeissa?

Kyllä

Bluetooth

Kyllä
Pakkauksen sisältö
1 x Tune 660NC
1 x C-tyypin USB-latauskaapeli
1 × audiokaapeli
1 x takuu-/varoituskortti (W / !)
1 x QSG-/turvallisuustiedote (S / i)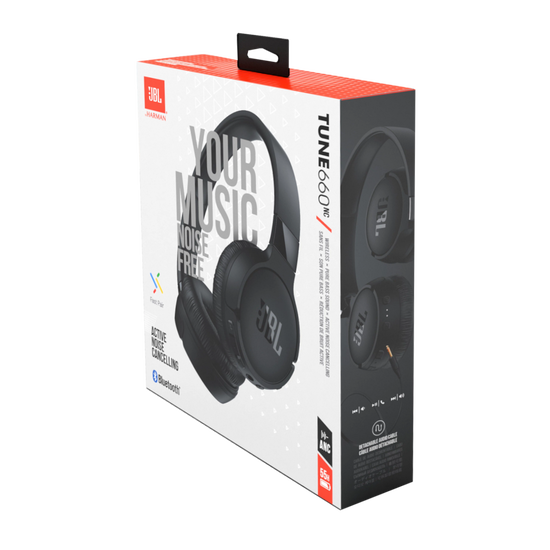 Asiakirjat ja lataukset
Arvostelut ja vastauksia kysymyksiin
Arvostelut
Rated

1

out of

5
by
Haswin
from
Waste of money product.
I bought this today out of Three store. It says Active Noise Cancelling feature on here but it doesn't work at all. There is no change in switching the ANC on and off. There is literally no point in spending 70/80 GBP on these. I would return it immediately if I could. But sadly I cant.
Date published: 2022-05-23
Rated

4

out of

5
by
Kdn83
from
Oikein hyvät oman hintaluokan kuulokkeet
Oikein hyvät oman hintaluokan kuulokkeet. Kuulokkeiden äänen laatu on oikein hyvä. Liittämisprosessi on vaivaton ja sujuva(looginen prosessi etenee ilman tarvetta kurkkia ohjekirjaan). Kuulokkeett ovat oikein pehmeät ja hyvin ulkoisia ääniä eristävät. Miinus puolena on se, että kun kuulokkeita pitää oikein pitkään korvilla (esim. pidempi palaveri) korvia rupee jonkin verran painaa.
Date published: 2021-05-06
Rated

5

out of

5
by
Chris 87
from
Amazing Value For Money!
This is my second set of JBL headphones, the first being JBL E65BTNC which I bought in June 2020. They are still as good as the day I bought them except for the ear cushions looking very tatty. Rather than replace the ear cushions it made more sense to buy a new set. At this price they offer amazing value for money and I recommend them without hesitation.
Date published: 2022-03-29
Rated

3

out of

5
by
Fyre47
from
Ei sopineet
En ollut tyytyväinen käyttömukavuuteen. Jouduin antamaan kuulokkeet lapselleni, koska kuulokkeet painoivat ja aiheuttivat minulle kipua ja epämukavuutta. Myös ihmettelin painikkeiden sijaintia, koska ne tuntuivat sijaitsevan vääräl puolella. Äänentoisto oli parasta. Ääni kuului virheettömänä ja puhtaana ilman särinöitä. Vastamelutoiminto oli superhyvä.
Date published: 2021-04-28
Rated

5

out of

5
by
TattedLthrSpike
from
Awesome headphones
I received a pair of headphones from Marlboro for promotion. I love these headphones I received them about a month ago and they have been charged until today Thanksgiving where I have to put them back on a charger to recharge them. They're excellent and now I know what to get from now on when I need them and that's going to be from JBL
Date published: 2022-11-24
Rated

5

out of

5
by
Jwill_n
from
Great sound quality and comfortable
These headphones have great sound quality with rich highs and deep lows. They are very light and the ear cups and padding on the top provided me comfortably even after a few hours and battery life is amazing even with the awesome noise cancellation on. I highly recommend these headphones another great jbl product.
Date published: 2021-04-11
Rated

5

out of

5
by
J123j
from
Comfortable headphones w/ great sound quality
These are great overall headphones. They're lightweight, comfortable, and have great sound quality. I'm definitely satisfied with these. First, in the area of comfort, it's important to note that these are on-the-ear headphones, not over-the-ear headphones. If that's an issue for you please just make sure you are aware. That being said, they are quite comfortable in my experience using them. They feel lightweight and stay secure without applying too much pressure on my ears. So wearing for a period of time won't be bothersome. Much of this is based on personal preference though. And just as important as comfort is sound quality. The sound quality is great. You can hear highs and lows well, they have great bass, plenty of volume, and the clarity is excellent. These are great for music, podcasts, or whatever you want to listen to. The noise cancelling works well in the situations I've tried it in, such as with a space heater running next to me and in a busy room with an active family around me. I'm not traveling much these days, so there's no way for me to try them in a plane or any really noisy environments like that. I expect they would work well though and give the noise cancelling you would need to comfortably listen to music or just to drown out the annoyance of plane noise. The connection was easy once I figured out what I was doing. The instructions advertised an automatic connection, but that didn't pop up until after I had manually connected. Then it tied the headphones to my Google account which is supposed to help in the future. I also tried connecting to the JBL Headphones app to figure out what that would add to the experience, but that part didn't work for some reason. It's not necessary really, as the bluetooth connection on it's own is easy enough and gets the job done well. The connection is strong, it didn't drop off and it stayed connected as I walked away from my phone and sound quality stayed great. The build quality of these headphones is great. They're amazingly sturdy despite how lightweight they are. There is nothing cheap about these things at all. I wouldn't want to go throwing them in the bottom of a backpack or gym back without a case, but if you don't mistreat them they should last for years. So in conclusion, the sound quality is great, the headphones are lightweight, and they are sturdy as anything. I highly recommend these headphones.
Date published: 2021-04-09
Rated

4

out of

5
by
Diana90
from
Light and good quality
I have been using these headphones for a while now and I must say I am very impressed. I like the design of these headphones, its very light and the battery lasts a long time (a day with workout and calls) Impressive noice cancellation! I would recommend these for someone who needs headphones for average use.
Date published: 2021-04-20
Rated

5

out of

5
by
Madz
from
Great headphones for gym
I love these headphones great colour (I got the pink) and really comfortable. The sound is great, noise cancellation is great if you go to gyms with loud music completely blocks it out while you are listening. They also compact down so not hard to pack.Highly recommend great value for price!
Date published: 2022-03-17
Rated

4

out of

5
by
Liisbet81
from
Hyvät ja kätevät kuullokkeet
Sain mahdollisuuden kokeilla näitä jbl kuulokkeita reviewclubin kautta. Näissä on hyvä ja selkeä ääni. Basso on kuuluu kanssa aika hyvin. Mukavat päässä ja helppo kuljettaa mukana. Olisi ollu kiva jos olisi ollut mukana joku pussukka tai rasia, missä näitä olisi ollut helppo kantaa mukana.
Date published: 2021-04-24
Rated

5

out of

5
by
wildhoney
from
great headphone
I have this headphone now approx 2 weeks. And it is just great. The sound is perfect. And easy to adjust sound and volume on my connected phone. It fits nice and gives high comfort wearing for a longer time. I love this headphone and started using it immediately frequently
Date published: 2021-04-28
Rated

5

out of

5
by
Tino__
from
Great features, very satisfied
I brought these headphones on the 31st of August and received them on the 5th of September and was very happy. I wanted to receive them before college and I did. Perfect and they are kosher cancelling and the battery last a long time. Really Satisfied especially for the price
Date published: 2022-09-15
Rated

4

out of

5
by
Human
from
Nice headphones, but awful cable
I got these headphones for Christmas and love them! I use them every day. Aux cable included is a bit thin and cheap but they're nice. A minor issue I have with them is that the JBL Headphones app doesn't recognize them, but otherwise they're really nice headphones.
Date published: 2022-12-23
Rated

4

out of

5
by
DianeR
from
Great headphones
The NC is good. With the battery you can do a long time before you have to recharge it. The sound is perfect. It is easy to operate. Only I think it is too tight. That makes him uncomfortable with me. It is small to fold, so you can easily take it with you.
Date published: 2021-04-24
Rated

5

out of

5
by
Bctorp
from
Super light, but heavy sound
I have tested these for a week now and im impressed, they're very light but the sound quality is super. Even the noise cancelling is working great. Easy to pair with up to two devices at the same time and they also have a great battery that will last long.
Date published: 2021-04-21
Rated

5

out of

5
by
Sickwit1611
from
Unbelievable sound quality
WORDS CAN'T DESCRIBE HOW GREAT THESE ARE!!!!!!!!!!! I was blown away by the crisp sound and deep base . They are light weight and even fold up for easy storage. The Bluetooth pairing was as easy as the directions said. GREAT JOB YOU GUYS !!
Date published: 2021-04-09
Rated

4

out of

5
by
Vet27
from
Great sound at any price point
The sound is all one could hope for at this price point. Excellent sound separation and sound sonic balance. These are a solid set of headphones that bring jazz to life. The noise cancelation does a great job in keeping you in the moment.
Date published: 2021-04-07
Rated

5

out of

5
by
Anonymous
from
Pure bass and the battery life
I bought this headphones for few weeks now and still very good like bass, I can hear or than the previous headphones and the battery is wonderful it's better than my two previous headphones combined so I would recommend these headphones
Date published: 2022-04-20
Rated

5

out of

5
by
Tuija1
from
Mahtavat kuulokkeet!
Olen ollut kuulokkeisiin erittäin tyytyväinen. Ovat hienot ja kestävät. Ja helposti menevät kokoon ja pystyy mm. kantamaan hyvin. Parhaat ominaisuudet: Akku: Todella hyvä akunkesto, olen käyttänyt jo useamman päivän ja ei ole vielä tarvinnut ladata ollenkaan. Ja pikalataus on kiva asia, jos vaikka pitää saada äkkiä virtaa, niin on kiva että jo viidessä minuutissa tulee 2 tunnin akunkesto. Taustamelun vaimennus: Joskus olen omistanut sellaisia kuulokkeita, joissa esim. tv:n ääni kuuluu kuulokkeiden äänen "läpi". Mutta ei kuulu näissä kuulokkeissa! Ei kuulu mitään läpi, vain se äänilähde, mikä on yhdistetty. Erittäin nopea Bluetooth-yhdistäminen: Vain muutama sekunti ja sitten jo kuulokkeet onkin yhdistetty tietokoneeseen. Se on minusta hyvä, ettei tarvitse odotella että löytääkö yhteyden vaiko ei. Yhteenveto: Olen ollut tyytyväinen. Kannatti hakea mukaan testaukseen. Vaikka alussa olikin paketin toimituksen kanssa vähän ongelmia, mutta sain lopulta kuulokkeet suoraan kotiovelle ja pääsin aloittamaan testauksen. Hienosti on sujunut.
Date published: 2021-04-21
Rated

5

out of

5
by
nickname required
from
Excellent Comfort and Quality
Very comfortable and compact. Noise cancelling features work well, excellent to zone out on the commute home. Charge lasts quite a while, I use them fairly often throughout the week, and only need to charge it a few hours per week.
Date published: 2022-01-20
Rated

5

out of

5
by
Hana_0987
from
Really good sound.
I have been using these every day since I got them. Really good sound and bass. Really impressed. Really good for making calls too. Battery last really well. All and all very happy indeed.
Date published: 2022-04-08
Rated

2

out of

5
by
Nihat
from
Disappointment!
JBL was a brand I trusted a lot. That's why I bought it without trying it. But it's a disappointment in terms of sound quality and ease of use. I really felt sorry for the money I paid.
Date published: 2022-04-07
Rated

5

out of

5
by
WavyBacon
from
Worked Great!
I played some slipknot on these bad boys while my parents were yelling and I couldn't hear them at all! -I was in the back seat of the car they were in the front seats.
Date published: 2022-09-03
Rated

5

out of

5
by
Wiiksara
from
Great battery
I really love these! The battery time is amazing. And you can charge for a very short time and have power a loooong time! The sound is good both in music and in podcast.
Date published: 2021-04-19
Rated

5

out of

5
by
Anonymous
from
Well worth the money
Got these around a month ago for the gym and I am delighted. Unsure how they wpuld be for cardio or running but very comfy when lifting. Sound quality is great too
Date published: 2022-01-18
Rated

5

out of

5
by
Beatrice O
from
Amazing Sound
These headphones provide an amazing noise canceling experience. The sound quality is outstanding, I would highly recommend these headphones to anyone!
Date published: 2021-04-11
Rated

5

out of

5
by
Mark H
from
Great headphones for the price!
I've sent back a few different brands headphones at this price point. These JBL's were by far the sounding and great noise canceling on ear headphones.
Date published: 2021-12-24
Rated

5

out of

5
by
Ammi
from
Great sound
I love the sound quality especially the great base and the noise canceling of the headphones! Makes traveling a lot nicer :)
Date published: 2022-04-08
Rated

4

out of

5
by
Pooko
from
Hyvät kuulokkeet
Hyvin istuu omaan päähän ja TV katseluun hyvä ääni. Onnettoman lyhyt latausjohto ja ei voi käyttää kun latauksessa.
Date published: 2021-04-27
Rated

5

out of

5
by
Astonchristy
from
Excellent for noise cancelling
I'm happy I purchased the headphones from JBL. Best sound quality. I will be buying more products from JBL
Date published: 2021-06-18
bvseo_sdk, dw_cartridge, 18.2.0, p_sdk_3.2.0
CLOUD, getReviews, 9ms
reviews, product
Kysymyksiä ja vastauksia
bvseo_sdk, dw_cartridge, 18.2.0, p_sdk_3.2.0
CLOUD, getContent, 117ms
questions, product
bvseo-msg: Unsuccessful GET. status = 'ERROR', msg = 'Not Found.';