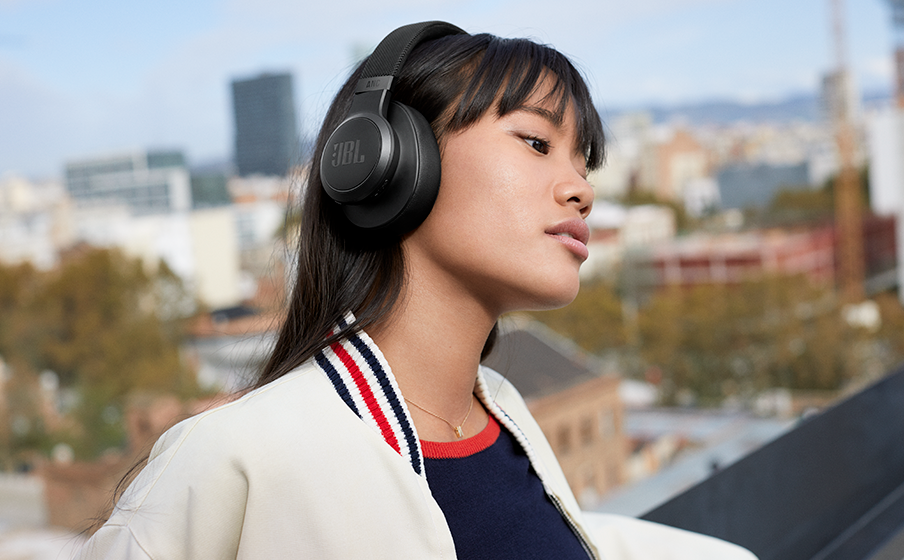 JBL:lle ominainen sointi
40 mm:n elementit ja sointi, joka on tuttu maailman kuuluisimmilta konserttiareenoilta.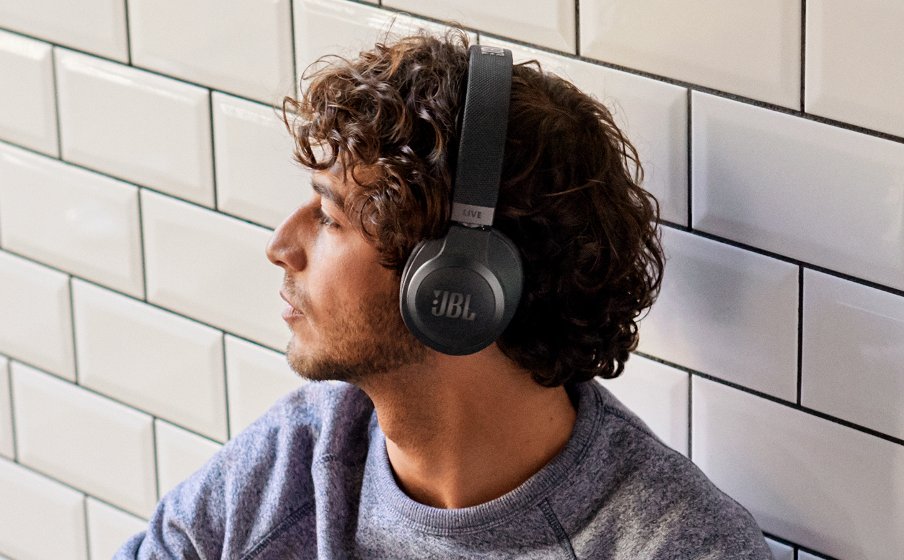 Eristä melu tai salli taustaäänet. Valinta on sinun.
Mukautuvan melunvaimennuksen ansiosta voit eristäytyä melulta ja keskittyä musiikkiin. Ambient Aware -tekniikan avulla voit kävellä turvallisesti vilkkailla kaduilla voimistamalla taustaääniä. TalkThru-tekniikka taas vaimentaa musiikkia ja vahvistaa puhetta, jotta voit helposti jutella kuulokkeet päässä.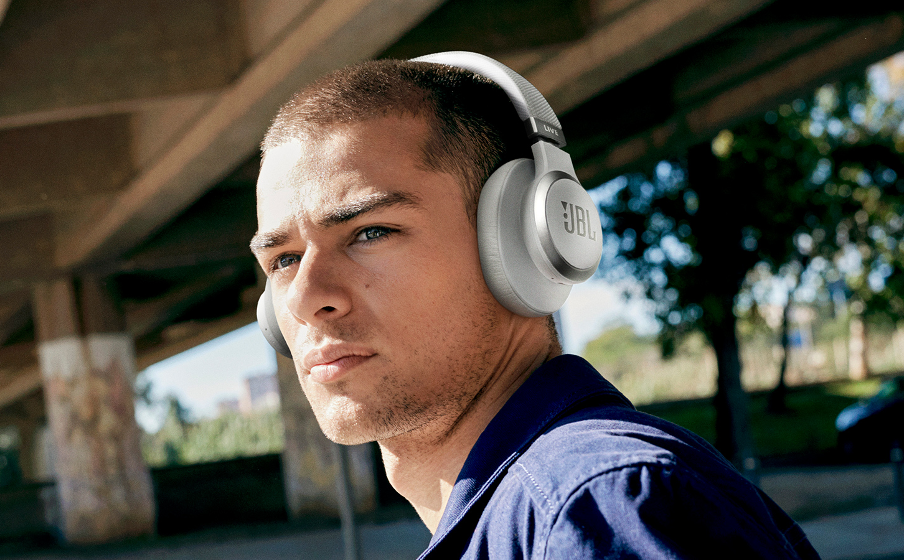 Kysy neuvoa käyttäen vain omaa ääntäsi.
Kysy neuvoa valitsemaltasi puheavustajalta käyttäen omaa ääntäsi tai napauttamalla kuulokkeen kupua. Ota käyttöön ANC tai Ambiet Aware, tarkista akkukesto tai katkaise virta JBL Live 660NC -kuulokkeistasi helposti omalla äänelläsi Hei Google -komennon avulla. Uudessa JBL-sovelluksessa voit valita käyttöön haluamasi puheavustajan. (*) Tukee vain Androidia. (**) Alexa-ominaisuudet edellyttävät tätä laitetta käytettäessä Android 6.0 -käyttöjärjestelmää tai uudempaa.
Ominaisuudet

Täydellisiä hands-free-stereopuheluita
Pysy yhteyksissä ja hallitse puheluita korvakupissa olevien painikkeiden avulla. Mikrofonitekniikka mahdollistaa täydelliset stereopuhelut. VoiceAwaren avulla voit hallita kuulokkeisiin ohjattua mikrofoniääntä ja valita, kuinka voimakkaana haluat kuulla omaa ääntäsi.

Jopa 50 tunnin akkukesto ja pikalataus
Rokkaa jopa 50 tunnin (tai jopa 40 tunnin ajan melunvaimennus ja Bluetooth kytkettyinä)! Sen jälkeen saat 10 minuutin pikalatauksella 4 tuntia lisää hauskanpitoa. Kuulokkeiden pitäisi sopeutua sinuun, ei päin vastoin. JBL Live 660NC -kuulokkeiden äänentoistoa ja ominaisuuksia voi muokata maksuttomalla My JBL Headphones -sovelluksella: voit muuttaa taajuuskorjausasetuksia, valita haluamasi puheavustajan, määrittää Smart Ambient -asetuksesi ja paljon muuta.

Mukavasti istuva kangaspäällysteinen sanka ja kantopussi​​
Live 660NC -kuulokkeet ovat erittäin mukavat tekstiilipäällysteisen sangan ja korvapehmusteiden ansiosta. Pehmeä pussi suojaa kuulokkeita matkoilla.

Automaattinen toisto ja tauko
Musiikin toisto keskeytyy automaattisesti, kun riisut kuulokkeet, ja jatkuu taas, kun asetat ne takaisin korvillesi. Sinun ei tarvitse edes ajatella asiaa.

Monipisteyhteys
Mahdollistaa lähteen vaivattoman vaihtamisen Bluetooth®-laitteesta toiseen. Voit vaihtaa helposti lähteen tabletillasi pyörivästä videosta matkapuhelimeesi puhelun puhumista varten, eikä yksikään puhelu jää kuulematta.

Google Fast Pair -pariliitos
Googlen mahdollistaman nopean liittämisen ansiosta JBL Live 660NC -kuulokkeet muodostavat heti yhteyden Android-laitteeseesi. Voit myös muodostaa laiteparin useiden laitteiden kanssa napauttamalla laitteen näyttöä.

My JBL Headphones -sovellus
Tiedot ja lataukset
Item# JBLLIVE660NCBLU
Kuvaus
Aloita toisto, vaimenna häiriöäänet.

Musiikki on sinulle tärkeää, joten aseta JBL Live 660NC -kuulokkeet korvillesi ja piristä päivääsi. Tehokkaasti toistavilla 40 mm:n elementeillä varustetut JBL Live 660NC -kuulokkeet tarjoavat JBL-ominaissoinnin ja korostetun basson, joka pistää tehoa soittolistaasi. Kun haluat keskittyä musiikkiin, mukautuva melunvaimennus estää ympäristön äänien aiheuttamat häiriöt. Ambient Aware -tekniikka antaa turvaa kävellessäsi kaduilla musiikkia kuunnellen, ja TalkThru-tekniikan avulla voit vaihtaa pikaiset kuulumiset ottamatta JBL Live 660NC -kuulokkeita korvilta. Tarvitsetko apua päivän askareisiin? Kysy neuvoa valitsemaltasi puheavustajalta omaa ääntäsi käyttäen tai napauttamalla kuulokekuppia.​​ Ja jos otat käyttöön Hei Google -komennon, voit aktivoida JBL Live 660NC -kuulokkeiden toimintoja pelkällä äänelläsi. Taikaa! Kuulokkeet ovat kevyet, ja pehmustettu sanka tekee niistä mukavat käyttää. Niiden toistoaika on jopa 50 tuntia ilman aktiivista melunvaimennusta. Niillä nautit täydellisistä stereopuheluista, minkä lisäksi niiden mukana toimitetaan irrotettava kaapeli, jonka avulla voit jatkaa musiikin toistoa myös akun loputtua. Kun et käytä Live 660NC -kuulokkeitasi, ne katkaisevat musiikin toiston automaattisesti ja jatkavat taas toistoa, kun laitat ne korvillesi. JBL Live 660 NC -kuulokkeiden avulla voit rokata ja pysyä yhteyksissä. (*) Tukee vain Androidia. (**) Alexa-ominaisuudet edellyttävät tätä laitetta käytettäessä Android 6.0 -käyttöjärjestelmää tai uudempaa.
Tuotetiedot
Audiotiedot
Elementin herkkyys @ 1kHz/1mW (dB)

97 dB SPL@1 kHz/1 mW

Dynaaminen taajuusvaste (Hz)

16 Hz – 20 kHz

Impedanssi (ohmia)

32
Mitat
Paino (g)

265

Kuulokejohdon pituus (m)

0.2

Headphone Cable Length (ft)

0.7

Ear Cup External Height (in)

3.7

Ear Cup External Width (in)

3

Ear Cup Internal Height (in)

2.5

Ear Cup Internal Width (in)

1.9

Ear Cup Depth (in)

0.8

Korkeus (cm)

9.3

Leveys (cm)

7.6

Sisäinen Leveys (cm)

6.4

Sisäinen korkeus (cm)

4.7

Syvyys (cm)

2.1
Ohjaimet, kytkennät ja liitännät
Bluetooth profiilit

HFP V1.7, A2DP V1.3, AVRCP V1.6

Bluetooth-taajuus

2.4 GHz – 2.4835 GHz

Bluetooth-lähettimen modulaatio

GFSK, π/4 DQPSK, 8DPSK

Bluetooth-lähettimen teho

< 10 dBm

Bluetooth-versio

5.0
Akku
Latausaika (tuntia, kun akku on tyhjä)

2

Maksimi musiikintoistoaika ANC pois päältä (tuntia)

50

Maksimi musiikintoistoaika ANC päällä (tuntia)

40

Maksimi toistoaika (tuntia)

50
Ominaisuudet
Charging cable

Kyllä

Päästää läpi ympäristön äänet

Kyllä

Sisäänrakennettu mikrofoni

Kyllä

Kantopussi

Kyllä

Pehmustettu sanka

Kyllä

Hands-free-puhelut

Kyllä

JBL Signature Sound

Kyllä

Multipoint-yhteys

Kyllä

TalkThru-monitoimipainike

Kyllä

Langattomat

Kyllä

Mukautuva melunvaimennus

Kyllä

Pikalataus (5 min = 1 tunnin soittoaika)

Kyllä

Over-ear

Kyllä

Ladattava akku

Kyllä

Kauko-ohjain korvakupeissa?

Kyllä

Bluetooth

Kyllä
Pakkauksen sisältö
Live 660NC
Audiokaapeli
C-tyypin latauskaapeli
Säilytyspussi
1 takuu-/varoituskortti
1 pikaopas/turvallisuustiedote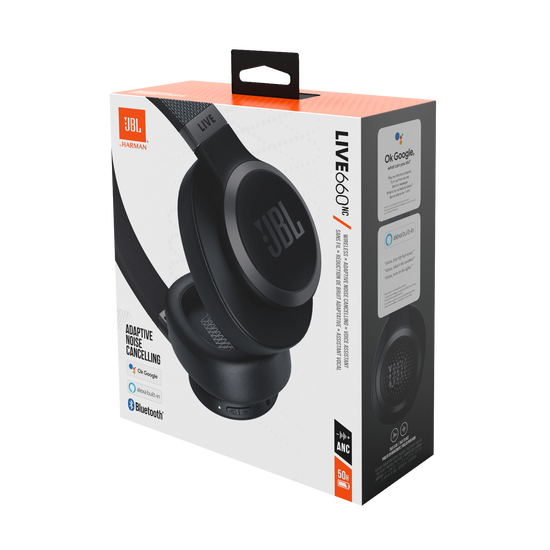 Asiakirjat ja lataukset
Arvostelut ja vastauksia kysymyksiin
Arvostelut
Rated

5

out of

5
by
AndrewJC
from
Quality audio, Great fit
These headphones are sleek looking and don't stand out too much, but they perform better than probably any in this price range. I have used quite a few JBL headphones over the years and they always have decent audio. This one however surprised me at the quality of the sound, its not just bass forward like most popular headphones now, although does have plenty, you get real depth of sound. It sounds more like the artists intended the music to sound. On top of this the noise cancelling is excellent. The switch on the headphone so you can hear people with the headphones on is incredible and works better than any other headphones I've used. The comfort with these were excellent too, they fit my head and ears perfectly, probably the best of any I have had. The battery life is particularly good too however the cable to charge it is quite short so if you run out of charge its difficult to use them wired. The one annoyance I had with these is if you readjust them the audio pauses, which as a concept sounds positive but after a while, I found it more of an annoyance, but I image some people would like this feature, I just found it to be a little too sensitive. Overall, for the price, these are excellent headphones and worth a buy, sound quality is excellent and comfortable.
Date published: 2021-05-10
Rated

5

out of

5
by
WillB2003
from
Great Headphones with Excellent Noise Reduction
These are really great headphones. I have had them for about two weeks now and have found little to dislike. The sound quality is excellent and with the app equalizer I can fine tune the sound to my liking. While listening to music or watching a movie I found there to be no highs or lows and no distortion. The headphones are comfortable wear. The ear cups may be a tad small for me, but when I adjust the length of the band it compensates and my ears don't hurt, even after wear the headphones for more than an hour. The active noise cancelling is excellent. This feature I put through some scenarios to learn how well it worked and it did a great job. Sitting next to my a/c air inlet, the ANC was great at removing the fan noise to a quiet hiss. I let a family member try them out while I was driving, and they commented it worked very well. For kicks I tried out them while using my food processor. It did not completely remove the sound, but it was no longer harsh and piercing. My only complaint is the volume control. I was unable to get the volume to a low enough level for long term listening. I did not measure the decibels or anything, but at the lowest volume setting, I expected a quieter sound. I experienced this when connected to both my phone and laptop. Still, I think these are great headphones and do recommend them.
Date published: 2021-04-30
Rated

2

out of

5
by
TheGuy
from
They won't shut up.
These things are jam packed with so many features that it becomes legitimately annoying. Noise canceling. Ambient aware. Talkthrough. Touch sensors. Google voice. For all of these little bells and whistles they forgot to program in the feature that allows you to turn the motion detection off. Every single time I move my head with these headphones on it somehow detects that I'm taking them off and plays a little noise that plays over whatever is playing on them. It is a total and utter nuisance that drives me MAD. I just wish I could turn it off some how but customer service wasn't even helpful at all. That's not even getting into the fact that in order to turn off any of these terrible other features you have to download an app that openly tracks your location in order to do ANYTHING. Overall, what I thought would be a decently priced pair of sturdy headphones ended up being a living nightmare to deal with. Not recommended in the slightest.
Date published: 2021-10-26
Rated

4

out of

5
by
Maria_G
from
Great for focus while working, less so for music
I love these headphones when I'm working. I wear glasses and these are the most comfortable over-the-ear headphones I can find-- other types start to press the frames down too much on my temples. At my work, there is a lot of construction noise over the past 3 months and I have a loud co-worker in the next office over. It's so much better with these on! The same happens when I work from home. I've had my young children at home doing their remote schooling and need to block out what's going on with them to focus on work. These are great for this. I even tried sleeping with them on with the noise cancellation on to block out my partner's snoring. Again, these are better than another more expensive brand for this purpose. However, they aren't the best for jamming out to music that's heavy in bass. Occasionally, it snaps or crackles. I still use them while I'm cooking and want to enjoy my music.
Date published: 2021-04-29
Rated

2

out of

5
by
Hrgei
from
NOTHING NEW JUST A WASTE OF MONEY
First time buying jbl products this 660nc headphones sound good but not great as others. A bit uncomfortable but annoying that the right cup doesn't seal well at the bottom, I wish I could return them but I CAN'T because nothing tells you that you cannot return it when you are buying it. Now I'm stuck with them what a waste of money. PEOPLE DON'T BUY PERSONALIZED UNLESS YOU WANT TO KEEP THEM
Date published: 2022-12-05
Rated

5

out of

5
by
DanielM
from
Comfortable and great sound!
I bought these to tune out the random stuff going on around the house and they work great. They are very comfortable to wear for a long time. The sound is awesome, especially with the app that can adjust the EQ for different listening. My only complaint (and it's small) is that the buttons aren't super intuitive, but it just takes some learning and getting accustomed.
Date published: 2021-12-03
Rated

2

out of

5
by
Mariabm
from
Not with the money
For 200 dollars they don't come with a protective case, just a pouch. I wanted to switch my AirPods Pro for over the ear headphones. The noise cancellation is not great, I thought it wasn't even on the first time I wore them. The sound quality is great and so is battery life. I don't find the shape comfortable. For 200 dollars there's much better ones in the market.
Date published: 2022-12-16
Rated

4

out of

5
by
Pujo
from
Laadukkaat vastamelukuulokkeet
Istuvat todella jämäkästi päähän, mutta pitkässä käytössä saattavat alkaa hieman painaa. Etenkin silmälasien kanssa käytettäessä. Taustamelu suodattuu tehokkaasti ja ominaisuuksista löytyy myös kätevä Talkthru-toiminto, joka tarvittaessa helpottaa esimerkiksi ympäröivän liikenteen havainnoimista tai muiden puheen kuulemista. Kuulokkeista löytyy myös kätevä automaattinen pause-toiminto, joka aktivoituu kun kuulokkeet nostaa pois korvilta ja vastaavasti toisto jatkuu, kun kuulokkeet asettaa jälleen takaisin päähän. Kuulokkeet on helposti yhdistettävissä puhelimeen bluetoothin välityksellä ja app:n kautta avautuu kattavat äänensäätömahdollisuudet. Erityisesti koordinaatistomallisena esitetty taajuuskorjain, jota pystyy muokkaamaan vapaasti kosketusnäytöltä, tuntui todella kätevältä. Äänenlaadun vastatessa tasaisen hyvää tasoa, johon olen muissakin JBL:n tuotteissa tottunut, nämä tuntuvat hyvin laadukkailta langattomilta kuulokkeilta.
Date published: 2021-05-27
Rated

5

out of

5
by
Anonymous
from
Brilliant !!
I bought these for my boyfriend for christmas and the sound cancelling options are brilliant, he's a builder and can hardly hear the loud machinery when they're on, he absolutely loves them, and i got them at a really good price too. I would love a pair for myself now to be honest. Also they fit his and my ears like a glove, super comfortable
Date published: 2022-01-31
Rated

4

out of

5
by
Viola1
from
Jykevät ja toimivat kuulokkeet!
Laatu tuntuu todellakin tämän hintaluokan tuotteessa. Yhdistäminen puhelimeen oli kivuttomin kohtaamani prosessi ja akku kestää aikaisempia edullisempia JBL:n viidenkympin kuulokkeita paremmin. Kuulokkeet ovat hiukan liiankin älykkäät: ohjelma menee tauolle, kun nostan toista kuuloketta korvalta kuullakseni ympäristön tapahtumia.
Date published: 2021-05-06
Rated

5

out of

5
by
Linda75
from
Best I have ever used
I've been using this for about one month and this is the best headset I've used. Can connect to Apple TV via Bluetooth. It's canon good sound and plus it pauses the music or what I see on TV when I take it off. Only minus I have is that the buttons are difficult to use when the headset is on. Slightly wrong placement on those.
Date published: 2021-06-09
Rated

4

out of

5
by
Kayjas
from
Very pleased.
Sound quality is not amazing. I would say my Apple airpods are better sounding. But I am still pleased with them. As usual the volume never goes loud enough. The sound cancelling works ok but doesn't block TV sound out completely. The battery life is good and reasonably comfortable. Connectivity with the app is hit or miss.
Date published: 2022-01-25
Rated

4

out of

5
by
Bigmac1017
from
Good sound
JBL has such a long standing reputation for quality products and this one is definitely a good set of headphones. I have had Bose, Beats, Sony and I would put the JBL in third place behind Beats and Bose for sound quality, but for the way they made I would say 1st place because both my Beats and Bose have fallen a part.
Date published: 2021-12-05
Rated

1

out of

5
by
stella12324351467
from
Horrible audio quality
After just a few minutes of listening I have decided to return these as they are nearly unbearable to listen to. My phone which is super old has better audio quality and the app needed to customize these headphones isn't even available on my phone. The headphones also took over a week to arrive.
Date published: 2022-04-06
Rated

4

out of

5
by
Fvsl28
from
Great colour
Bought it weeks ago, great sound and able to adjust volume. Easily connect with my laptop. But the ANC isn't that great. Couldn't even determine between if it's already ANC or normal. Overall really impressed with the battery as it takes awhile to ran out of charge. Would still recommend:))
Date published: 2022-05-24
Rated

3

out of

5
by
Grace22
from
Disappointing Cord
Less than 12 weeks and my cord is already shorting out. My cord from my previous JBL headphones lasted much longer so I don't think it was my fault. They sound great, but the cord is a bit disappointing. I wish they offered these in more colorways too. The aqua headphones were so unique!
Date published: 2022-08-30
Rated

5

out of

5
by
MrNovak
from
Amazing headphones
I bought these a couple months ago just to have and they are the most comfortable and light weight headphones I've ever had and they have a great sound quality and the bass is matched perfectly with it and I have a huge head and these fit great with extra space to adjust
Date published: 2022-09-01
Rated

4

out of

5
by
Blackshirtzz
from
Fulfilled my every want!
After receiving the headphones in the mail I was throughly impressed. The sound is phenomenal followed with the perfect amount of bass. The noise cancelling feature works very well. The buttons do; however, take a second to get use to… Overall very satisfied purchase!
Date published: 2021-12-11
Rated

4

out of

5
by
DJ Maverick
from
Good product for the price.
These are really good headphones for the price. The bluetooth is great, and they are easy to use. I really like the ability to use them for phone calls. I've been a nightclub DJ for 21 years, so I'm a little disappointed in the audio quality while listening to music.
Date published: 2021-08-08
Rated

4

out of

5
by
Nonname
from
Refurbed item
Purchased as they had same warranty and exchange policy as a new pair. Sound quality is good on Bluetooth settings as can use the app to alter the sound settings but hard wired they're not as good sounding. I'll stick with them as they fit well
Date published: 2022-06-27
Rated

5

out of

5
by
JakeC21
from
ANC. Comfortable.
Bought this a little over 2 weeks ago. Absolutely incredible for the price. With ANC on you seriously can't hear anything around you. App helps a lot if you need to adjust the bass or vocal. Very comfortable. For £100 it's worth it.
Date published: 2022-01-25
Rated

5

out of

5
by
Kalismom0615
from
Great sound!
I love these headphones. They are comfortable and loud. The noise canceling does its job. I use these while mowing and barely hear the mower over my music. I would definitely recommend these to friends and family.
Date published: 2021-08-20
Rated

4

out of

5
by
aniket3622
from
Good noise cancellation heahphones!
I got these headphones about 3 weeks back and have been using them continuously. I have liked them, and would definitely recommend to a friend, as they are a steal for this price. Detailed review below: Setup : The setup was quick and easy. I was surprised at how fast it popped up and was discovered every time I try to connect. Gives the Airpods vibes. Durability : The headphones have a good strong sturdy feel to them. The cushion on the head rest does the job good, and the light weight helps you forget that you have something wrapped up around your head. The buttons are well places and are interactive. They feel good to touch and are easy to locate. Sound Quality : The sound is clear and crisp. I have been using these headphones for my meetings, and the mic has worked seamlessly. The active noise cancelling is good and is able to eliminate most of the noise around. I am in love with the talk-thru and ambient aware feature. Overall, this is a steal of an headphone at these price. App : I had to mention a separate point for the app. The app makes it easy to personalize and tweak settings. It also has a lot of features. If you are getting these headphones, installing the app is highly recommended.
Date published: 2021-05-03
Rated

3

out of

5
by
Arch Pedro
from
Brilliant Headphones/Horrible App
I'm extremely pleased with the fit and sound of my Live 660s but the JBL Headphones App is a complete dud, will not connect to the headphones at all. Please fix this and I will sing your praises. Thank you.
Date published: 2022-01-06
Rated

5

out of

5
by
Bujie
from
Better Than Expected!
I got these because they were on sale and I've had JBL in the past. What a nice surprise to get such a great pair of headphones with some cool features at an excellent price! I love the Google Assist.
Date published: 2021-11-06
Rated

3

out of

5
by
BAYSA
from
Comfy biut speaker can't handle bass...
I bought these today and was super exited to try then out, whacked on some techno full whack and the speaker is slightly distorting??? Really not impressed might take then back to the store.
Date published: 2022-03-25
Rated

5

out of

5
by
katarinamarinaa
from
Amazing sound!
Got to try these out and are really satisfied with the sound quality and all the technical options it have. It's so nice to put these on and just disappear in the musical world. :-)
Date published: 2021-05-06
Rated

5

out of

5
by
Colesy
from
So easy to use
I bought these headphones "refurbished". The best purchase i ever made, they were virtually half price and in perfect condition. Easy to use and the sound is fantastic. Very happy.
Date published: 2022-05-13
Rated

4

out of

5
by
Mia003
from
Ihana ääni
Olen käyttänyt näitä nyt muutama viikko. Niin hyvä ääni-laatu. Eristävät muut äänet just sopivasti ulos että pystyy kotikonttorilla keskittyy töihin ja hyvään musiikkiin.
Date published: 2021-05-09
Rated

5

out of

5
by
Mariosa
from
Best Headphones
battery life is incredible!! and the noise cancellation works really well. i don't hear my family while using them. Best headphones I bought by far! Highly recommend
Date published: 2022-03-07
bvseo_sdk, dw_cartridge, 18.2.0, p_sdk_3.2.0
CLOUD, getReviews, 6ms
reviews, product
Kysymyksiä ja vastauksia
bvseo_sdk, dw_cartridge, 18.2.0, p_sdk_3.2.0
CLOUD, getContent, 146ms
questions, product
bvseo-msg: Unsuccessful GET. status = 'ERROR', msg = 'Not Found.';