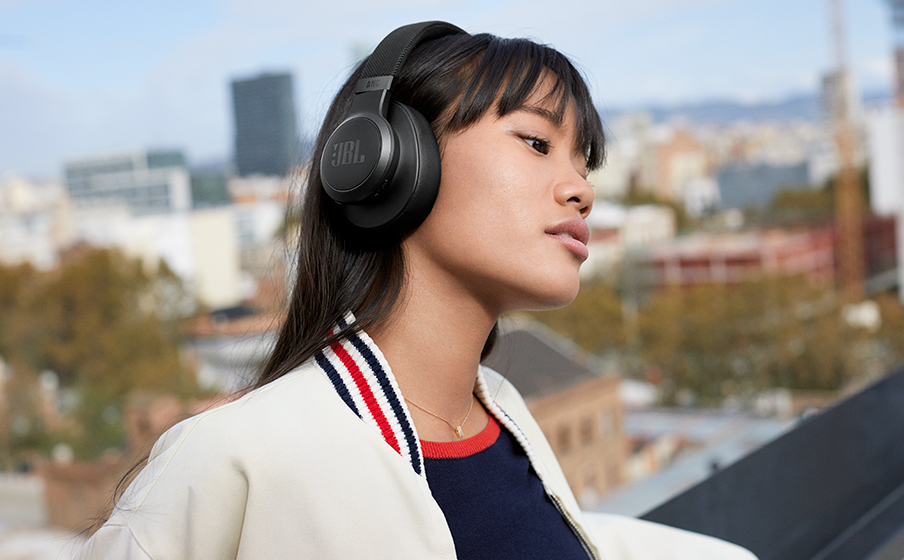 JBL:lle ominainen sointi
40 mm:n elementit ja sointi, joka on tuttu maailman kuuluisimmilta konserttiareenoilta.
Eristä melu tai salli taustaäänet. Valinta on sinun.
Mukautuvan melunvaimennuksen ansiosta voit eristäytyä melulta ja keskittyä musiikkiin. Ambient Aware -tekniikan avulla voit kävellä turvallisesti vilkkailla kaduilla voimistamalla taustaääniä. TalkThru-tekniikka taas vaimentaa musiikkia ja vahvistaa puhetta, jotta voit helposti jutella kuulokkeet päässä.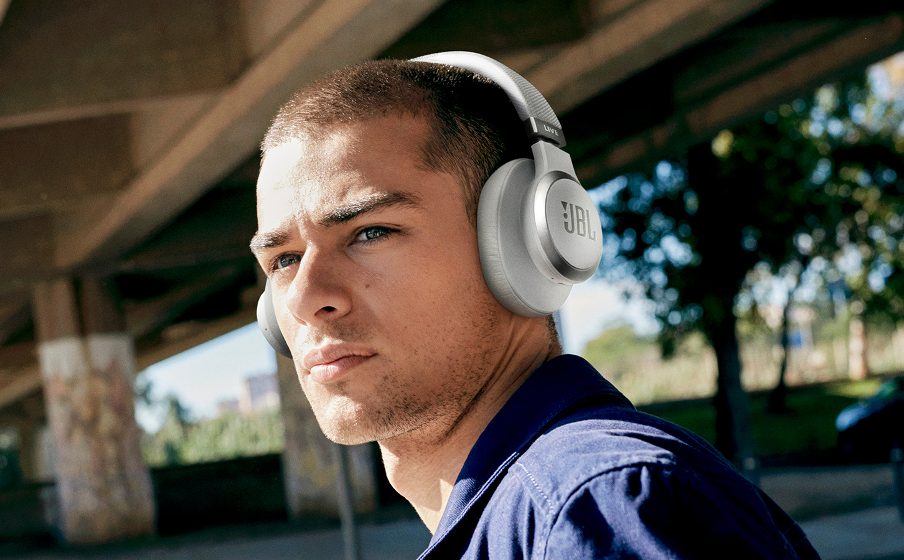 Kysy neuvoa käyttäen vain omaa ääntäsi.
Kysy neuvoa valitsemaltasi puheavustajalta käyttäen omaa ääntäsi tai napauttamalla kuulokkeen kupua. Ota käyttöön ANC tai Ambiet Aware, tarkista akkukesto tai katkaise virta JBL Live 660NC -kuulokkeistasi helposti omalla äänelläsi Hei Google -komennon avulla. Uudessa JBL-sovelluksessa voit valita käyttöön haluamasi puheavustajan. (*) Tukee vain Androidia. (**) Alexa-ominaisuudet edellyttävät tätä laitetta käytettäessä Android 6.0 -käyttöjärjestelmää tai uudempaa.
Ominaisuudet

Täydellisiä hands-free-stereopuheluita
Pysy yhteyksissä ja hallitse puheluita korvakupissa olevien painikkeiden avulla. Mikrofonitekniikka mahdollistaa täydelliset stereopuhelut. VoiceAwaren avulla voit hallita kuulokkeisiin ohjattua mikrofoniääntä ja valita, kuinka voimakkaana haluat kuulla omaa ääntäsi.

Jopa 50 tunnin akkukesto ja pikalataus
Rokkaa jopa 50 tunnin (tai jopa 40 tunnin ajan melunvaimennus ja Bluetooth kytkettyinä)! Sen jälkeen saat 10 minuutin pikalatauksella 4 tuntia lisää hauskanpitoa. Kuulokkeiden pitäisi sopeutua sinuun, ei päin vastoin. JBL Live 660NC -kuulokkeiden äänentoistoa ja ominaisuuksia voi muokata maksuttomalla My JBL Headphones -sovelluksella: voit muuttaa taajuuskorjausasetuksia, valita haluamasi puheavustajan, määrittää Smart Ambient -asetuksesi ja paljon muuta.
Mukavasti istuva kangaspäällysteinen sanka ja kantopussi​​
Live 660NC -kuulokkeet ovat erittäin mukavat tekstiilipäällysteisen sangan ja korvapehmusteiden ansiosta. Pehmeä pussi suojaa kuulokkeita matkoilla.

Automaattinen toisto ja tauko
Musiikin toisto keskeytyy automaattisesti, kun riisut kuulokkeet, ja jatkuu taas, kun asetat ne takaisin korvillesi. Sinun ei tarvitse edes ajatella asiaa.

Monipisteyhteys
Mahdollistaa lähteen vaivattoman vaihtamisen Bluetooth®-laitteesta toiseen. Voit vaihtaa helposti lähteen tabletillasi pyörivästä videosta matkapuhelimeesi puhelun puhumista varten, eikä yksikään puhelu jää kuulematta.

Google Fast Pair -pariliitos
Googlen mahdollistaman nopean liittämisen ansiosta JBL Live 660NC -kuulokkeet muodostavat heti yhteyden Android-laitteeseesi. Voit myös muodostaa laiteparin useiden laitteiden kanssa napauttamalla laitteen näyttöä.

My JBL Headphones -sovellus
Tiedot ja lataukset
Item# JBLLIVE660NCBLU
Kuvaus
Aloita toisto, vaimenna häiriöäänet.

Musiikki on sinulle tärkeää, joten aseta JBL Live 660NC -kuulokkeet korvillesi ja piristä päivääsi. Tehokkaasti toistavilla 40 mm:n elementeillä varustetut JBL Live 660NC -kuulokkeet tarjoavat JBL-ominaissoinnin ja korostetun basson, joka pistää tehoa soittolistaasi. Kun haluat keskittyä musiikkiin, mukautuva melunvaimennus estää ympäristön äänien aiheuttamat häiriöt. Ambient Aware -tekniikka antaa turvaa kävellessäsi kaduilla musiikkia kuunnellen, ja TalkThru-tekniikan avulla voit vaihtaa pikaiset kuulumiset ottamatta JBL Live 660NC -kuulokkeita korvilta. Tarvitsetko apua päivän askareisiin? Kysy neuvoa valitsemaltasi puheavustajalta omaa ääntäsi käyttäen tai napauttamalla kuulokekuppia.​​ Ja jos otat käyttöön Hei Google -komennon, voit aktivoida JBL Live 660NC -kuulokkeiden toimintoja pelkällä äänelläsi. Taikaa! Kuulokkeet ovat kevyet, ja pehmustettu sanka tekee niistä mukavat käyttää. Niiden toistoaika on jopa 50 tuntia ilman aktiivista melunvaimennusta. Niillä nautit täydellisistä stereopuheluista, minkä lisäksi niiden mukana toimitetaan irrotettava kaapeli, jonka avulla voit jatkaa musiikin toistoa myös akun loputtua. Kun et käytä Live 660NC -kuulokkeitasi, ne katkaisevat musiikin toiston automaattisesti ja jatkavat taas toistoa, kun laitat ne korvillesi. JBL Live 660 NC -kuulokkeiden avulla voit rokata ja pysyä yhteyksissä. (*) Tukee vain Androidia. (**) Alexa-ominaisuudet edellyttävät tätä laitetta käytettäessä Android 6.0 -käyttöjärjestelmää tai uudempaa.
Tuotetiedot
Audiotiedot
Elementin herkkyys @ 1kHz/1mW (dB)

97 dB SPL@1 kHz/1 mW

Dynaaminen taajuusvaste (Hz)

16 Hz – 20 kHz

Impedanssi (ohmia)

32
Mitat
Paino (g)

265

Kuulokejohdon pituus (m)

0.2

Headphone Cable Length (ft)

0.7

Ear Cup External Height (in)

3.7

Ear Cup External Width (in)

3

Ear Cup Internal Height (in)

2.5

Ear Cup Internal Width (in)

1.9

Ear Cup Depth (in)

0.8

Korkeus (cm)

9.3

Leveys (cm)

7.6

Sisäinen Leveys (cm)

6.4

Sisäinen korkeus (cm)

4.7

Syvyys (cm)

2.1
Ohjaimet, kytkennät ja liitännät
Bluetooth profiilit

HFP V1.7, A2DP V1.3, AVRCP V1.6

Bluetooth-taajuus

2.4 GHz – 2.4835 GHz

Bluetooth-lähettimen modulaatio

GFSK, π/4 DQPSK, 8DPSK

Bluetooth-lähettimen teho

< 10 dBm

Bluetooth-versio

5.0
Akku
Latausaika (tuntia, kun akku on tyhjä)

2

Maksimi musiikintoistoaika ANC pois päältä (tuntia)

50

Maksimi musiikintoistoaika ANC päällä (tuntia)

40

Maksimi toistoaika (tuntia)

50
Ominaisuudet
Bluetooth

Kyllä

Charging cable

Kyllä

Mukautuva melunvaimennus

Kyllä

Päästää läpi ympäristön äänet

Kyllä

Sisäänrakennettu mikrofoni

Kyllä

Kantopussi

Kyllä

Pehmustettu sanka

Kyllä

Hands-free-puhelut

Kyllä

JBL Signature Sound

Kyllä

Multipoint-yhteys

Kyllä

Over-ear

Kyllä

Ladattava akku

Kyllä

Kauko-ohjain korvakupeissa?

Kyllä

Pikalataus (5 min = 1 tunnin soittoaika)

Kyllä

TalkThru-monitoimipainike

Kyllä

Langattomat

Kyllä
Pakkauksen sisältö
Live 660NC
Audiokaapeli
C-tyypin latauskaapeli
Säilytyspussi
1 takuu-/varoituskortti
1 pikaopas/turvallisuustiedote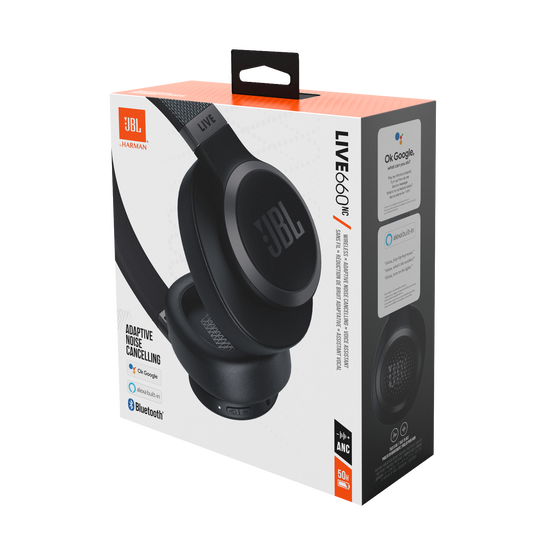 Asiakirjat ja lataukset
Arvostelut ja vastauksia kysymyksiin
Arvostelut
Rated

1

out of

5
by
GoshinRyu
from
Disappointing on PC & Too Much Bass & Too Tight
Perhaps I have a larger than normal head or maybe these are made for little kids, but they are really tight. If you're going to use them for any extended period of time, 1+ hour flight, they get really irritating fast. No way to really turn down the bass on the PC. The EQ works fine on Android/iPhone, but if you are going to use these on PC, you're going to be miserable. I have Dolby Equalizer and no adjustments make any difference on the bass. It just sounds like constant thumping mixed with blown speakers while Shrek squeezes your head.
Date published: 2022-03-19
Rated

2

out of

5
by
David D
from
Poor performance
First off, I want to say that these headphones are decent. I had higher hopes for them. Ive been able to use them for a total of 15 minutes before the mid and low speakers in the left ear, and the low speaker in the right ear blew. I'm honestly pretty dissatisfied with them. JBL in recent years has been on the higher end of consumer speaker products. It could just be a "bad" pair but it is discouraging to try a new pair. I will remain hopeful that the exchanged pair will perform as expected. There was a firmware update available but after updating there was still no change. I will update the review and star rating once I've received a replacement pair. Just for the record, the song they blew while playing was Mama I'm Coming Home by Ozzy. Its bassy but nothing deep enough to cause that even if they were at full volume which they should be able to handle anyway.
Date published: 2021-08-12
Rated

5

out of

5
by
Beaglemommy
from
Great sound easy to use
Two weeks of use and I love these headphones. I am technologically challenged yet these are easy to use with Google and I know I have not yet learned all of the features. The sound quality is great (I have a surround sound system and high expectations), noise canceling effective enough to not hear beagle barking and I love features like how my movie will pause when I pull off the headphones. My only complaint is that the buttons on the headphones are so small and feel the same so my old fat fingers are not working well with them, removed a star in rating. But, it did lead me to use automated features so that is good. These headphones would make a great gift, especially for Mother's Day or Father's Day. Love the blue color, we bleed blue in KY.
Date published: 2021-05-04
Rated

5

out of

5
by
Oscardinsa
from
True sound.
Just arrived and with a charge it performed as advertised.
Date published: 2021-04-21
Rated

5

out of

5
by
turmaliini
from
Todella iloinen yllätys ja laadukkaat kuulokkeet!
JBL Live 660NC-kuulokkeet ovat olleen iloinen yllätys ja todella hyvä ostos. Äänenlaatu on hyvä, mobiilisovelluksessa on toimiva taajuuskorjain, jonka avulla äänten tasapainon saa itselle toimivaksi. Toisto on hieman bassovahvisteinen, kuten JBL:n kuulokkeissa tuppaa olemaan, mutta itse en pidä sitä huonona! Akun kesto on hyvä, nyt olen kk aikana ladannut vain kahdesti. Usb-c -latausliitännästä plussaa, joten lataus onnistuu samalla kaapelilla kuin puhelimenkin. Aktiivinen taustamelunvaimennus on toiminut hyvin junassa, bussissa, autossa ja liikkeellä - lisäksi etätyötä kotona tehdessä vaimentaa myös puolison työpuhelut taakseen. Laitteen sisäistä mikrofonia olen kokeillut vain muutaman kerran, mutta pelitti ihan hyvin. Hauska toiminto on se, että kun kuulokkeet ottaa päästä pois, katkeaa myös musiikki automaattisesti. Toisto jatkuu automaattisesti, kun kuulokkeet ovat taas päässä. Suosittelen näitä kuulokkeita!
Date published: 2021-06-07
Rated

4

out of

5
by
Megan0314
from
Amazing sound
Loved the sound and is noise cancelling which is a plus. The headphones fit a bit snug and I turned them off twice by accident when trying to adjust them on my head because of the location of the power and volume buttons. Sound is great and my Bluetooth found the device quickly and easily so no set up and they came charged. Seems to have a great battery life.
Date published: 2021-04-29
Rated

5

out of

5
by
Walter61
from
Awesome Sound Quality
Many positive things on this product: Size and light weight are perfect Crispy and very decent bass level Controls are very easy to get used to It has an auto play and pause feature that comes very useful when you are working or doing any activity along with enjoying your music The ANC also makes it very special Highly recommend this product
Date published: 2021-04-29
Rated

5

out of

5
by
pownall1989
from
Excellent, beautiful sound and comfort
if you are looking for a set of Bluetooth headphones look no further these are absolutely fantastic you will not be disappointed. beautiful sound that can be adjusted with the JBL app as well as activating the noise cancelling function. get lost in your music block out the outside world. very very happy with my purchase 5 stars
Date published: 2021-04-27
Rated

5

out of

5
by
Sonjas
from
Laadukkaat kuulokkeet
Erittäin laadukkaat kuulokkeet. Mukavat päähän ja ja kuulokkeissa jopa sensori joka tietää milloin ne on päässä ja milloin ei joten osaa sammuttaa musiikin automaattisesti. Äänenlaatu erinomainen ja akku kestää todella pitkään kuten luvattukin. Ehdottomasti parhaat kuulokkeet mitä itsellä on koskaan ollut.
Date published: 2021-05-06
Rated

5

out of

5
by
TeppoO
from
Toimii!
Noin kuukauden käytön jälkeen olen edelleen kovin tyytyväinen kuulokkeisiin. Vaimoni tosin yrittää omia kuulokkeet, täytynee ostaa hänelle omat. Äänen laatu on hyvä ja tanakka. Luulin kuulokkeiden vastameluominaisuuden olevan sellainen etten kuulisi mitään ulkopuolelta mutta ihan hyvin se toimii. Videoita katsellessa ei kuulu ärsyttävää naksahtelua kuten halvemmissa kuulokkeissa joskus kuuluu. Teams-palaverit onnistuvat hyvin. Miellyttävät päässä ja akun kesto on todella hyvä, ei tarvi latailla jatkuvasti.
Date published: 2021-06-07
Rated

5

out of

5
by
Happy Ears
from
Excellent, you will not be sorry
Just received my JBL LIVE660nc headphones today and could not be happier. It may be a bit quick for a review, but I can honestly say I have had these on for several hours now and cannot say enough positive things about them! First, let me back up a bit. Packaging was great as usual. Headphones came with directions, charging cable, direct connect cable and padded carrying pouch. See Pics Easy to connect via Bluetooth and start enjoying listening to, but make sure you take the time to download the JBL headphone app. The LIVE660's sound good right out of the box, but with the app, you can take your listening pleasure to a completely different level. You can not only customize your headphone user settings, but change the default equalizer or create your very own customized equalizer setting. The sound quality is exceptional, crisp and clear with nice bass. The head phones are lightweight, comfortable and easy to use. I would not hesitate to recommend these. A great pair of headphones!
Date published: 2021-04-22
Rated

2

out of

5
by
Dschwebel
from
Bass issues
If you want to listen to bass heavy music, these are not the headphones for you. I bought one pair then returned it thinking they were broken due to how they sounded but after getting another pair I've realized that that's just the way they are. They have a very low threshold for the amount of bass they can produce without distorting the rest of the sound in the song. The features are great but when I buy a pair of 200 dollar headphones I expect to be able to listen to my music on full volume with no issues.
Date published: 2022-09-29
Rated

4

out of

5
by
CharlieNoVA
from
Awesome with FEW drawbacks
I got these because my friend wanted to game over the internet, and I didn't have any headset to talk via chat. Therefore, I got these. The noice cancelling works amazing, and the sound quality is pretty good. My only complaints would be that when it *thinks* it's been taken off an ear, it pauses the music and makes a chiming sound. This gets somewhat annoying when you haven't moved it and it thinks it's being removed. Also, when I tried to connect it to my Xbox series s, the microphone didn't seem to work.
Date published: 2021-11-06
Rated

5

out of

5
by
The Matt Kane
from
Solid sound and battery life for the price.
Bought this device and for the last week have been amazed with the sound quality produced by the 660NC. This device holds up well in terms of noise cancelation. Walking outside or around the house able to block out most noises. Solid battery life and fits comfortably on my head.
Date published: 2021-05-03
Rated

5

out of

5
by
Duchi
from
Excellent noise cancelling, great app features!
The JBL Live 660NC unboxing caused me a good first impression from the beginning. I've been happy since the day I've received it. It was easy to connect to your devices (up to 2 at the same time), you get the sound notification on every interaction you do with the headphone when turning on, adjusting the volumes, connecting, and disconnecting to Bluetooth. It's highly recommended you download "My JBL Headphones" so it can support you with extra features such as setting up your Google Assistant or Alexa. Benefits of installing the app: - See on each of the options what it does which is an advantage as it might be not clear what that functionality does. - You can easily set up the Auto-off fafter15min/30min/1h/2h/3h/4h of inactivity or set it to "never" - Play & Pause automation - music and videos pauses and resumes automatically when you take off the headphones and put them back on. - Voice Assistant - Choose between Google Assistant or Alexa Product help - Containing all tips and FAQ to help you to get to know the headphone a little bit more. And for me, one of the most important check if the firmware is up to date (basically is the software that has all the features, when you update it, it sometimes fix issues and bring new functionalities. ANC (Ambient Sound Control) - 2 odes (Noise Cancelling, Ambient Aware) TalkThru when you need to talk with someone without taking off the headset. When you connect to a laptop via Bluetooth pay attention to select between "JBL Live660NC Stereo" and "JBL Live660NC Hands-free AG-audio" when you see that a sound does not work in one it means that specific audio has been recorded on mono or stereo. For bigheads like me, the pressure on your head can disturb but nothing to causing pain, with a couple of days it will lose a bit and it will continue to be comfortable. I felt they are very lightweight with a good cushion on the ears and it's a great gadget to buy!
Date published: 2021-04-28
Rated

5

out of

5
by
Chiefybor
from
All round brilliant
I bought these headphones a few weeks ago for the noise cancelling feature because i work around noisy machinery, as soon as you put the headphones on and turn them on, its like turning off your surroundings which is perfect for audiobooks, or music because you dont have to have the volume up as high which helps protect your ears. The transparency mode is also very good for communicating with others without removing the headphones. The app works well and the battery life of the headphones is very good!
Date published: 2022-02-08
Rated

3

out of

5
by
virgogal
from
Good
I have the prior model it was good. Charge time and look fantastic on this model! Overall sound good not great because.... bass lacks in new model as well. Whether it's a custom sound mode or generic this model can not handle heavier bass music. It distorts it, which sucks so as long as your fine with turning down your bass. And for Pete's sake fix your jbl app already it doesnt work. I can't even tune from it not even set up. Look at the reviews...hello. Overall, Im a bit more bougee with music; grew up playing, tuning, etc. It runs in my vains. I would rather charge my cans more for better sound and pay more if it just needs to be. JBL please use better descriptions that tailor more towards handling heavier bass and again, fix your app. Your company based on sound the app is essential hello! Distorted bass is pretty 80s. I can say that because I also have had every great cassette, cd, mp3 player throughout the years. I even had the yellow Sony in movie pretty woman! I value great sound feeds the soul.
Date published: 2021-12-30
Rated

3

out of

5
by
Neiti kesäheinä
from
Hmmm, miten tämän nyt sanoisi
Olen nyt käyttänyt näitä kuulokkeita kuukauden verran ja positiivista näissä on se että sammuttavat toiston kun nostaa korvilta pois, huonoa iphonen kanssa että lykkää sirin päälle vähän väliä. Sekä sangat painaa päätä silmälasit päässä tosi paljon.
Date published: 2021-05-14
Rated

5

out of

5
by
Jknetland
from
Amazing capasity
I have used the headphones for a week now, several hours, and still there is battery left, and i haven't had used the charger. The sound is great, ans silenser is wery nice. so i recomend this very mutch
Date published: 2021-05-19
Rated

4

out of

5
by
Lynelmer
from
Great
I been testing them. And are more than happy for the noise canceling. I had less noice canceling cause I was walking in traffic. But the wind sounds comming trough was the reason for 4 stars
Date published: 2021-05-28
Rated

4

out of

5
by
NorbertH
from
MS Teams compatible!!
Okay, so this review came out of necessity. I bought a Tune 750 and the website did not mentioned that those are not compatible with microsoft based communication software. Hence, I bought these headphones, wich STILL not advertised as desktop based communications software compatible, but they work. Apart of this small fiasco, these (Live 660) headphones are amazing so far. The sound is very nice, the battery life is excellent, and also the telephone capability. The added features like headphone tapping for google assist is a nice feature, for whoever using it. The ANC setups are super great, altho I found the talk-through a bit unnecessary, I just simply remove the headphones if someone wants to talk to me :) The headset's earcup is a bit small, my ear doesn't fit inside of it ( this was a real let down coimg from the Tune 750, they are the same size), and if I'm not mistaken, this is not interchangeable, like the other brands. All in all, I am very happy with my purchase, but for this kid of money, a hardcase would be handy, and the shortcomings could've been addressed ( like the interchangeable ear pad)
Date published: 2021-04-26
Rated

5

out of

5
by
Tinz just testing
from
Erittäin hyvät ominaisuudet
Olen ollut ERITTÄIN tyytyväinen!! Joka menossa mukana ja soveltuvat mahtavasti musiikin kuunteluun ja puhelimella puhumiseen. Kuulokkeet istuvat hyvin eivätkä pitkän käytön jälkeen edes jätä painaumaa korvan ympärille. Erittäin laadukas äänenlaatu takaa mahtavan musiikinkuuntelu kokemuksen. Puhelimeen puhuessa myös erittäin laadukas äänenlaatu. Mukana tulleessa pussukassa on mukava kuljettaa kuulokkeita minne vain kun et käytä niitä. Hinta- ja laatusuhde on kyllä kohdillaan.
Date published: 2021-05-19
Rated

5

out of

5
by
rae96
from
amazing sound
i needed new headphones for home and these deliver on every level. sound is amazing, the app is pretty cool too! 10/10 would recommend and have already.
Date published: 2022-01-12
Rated

5

out of

5
by
lperezident123
from
Excellent sound!!
These headphones have amazing sound and active noise cancellation! Love the look, feel, and interface for easy transition between sound modes!
Date published: 2021-04-23
Rated

5

out of

5
by
Jade M
from
Works like a dream!
I'm autistic and have been needing noise-canceling headphones for a while now. The added white noise/noise-canceling feature you can turn on works like a dream and sounds a bit like rain if you listen close enough! I love it. You can definitely still head outside noises if you aren't playing music, but that's to be expected, and I always have music on anyways! Connects to your device instantly, you can adjust the sound exactly to your liking, and the buttons are easy to use!
Date published: 2022-02-01
Rated

2

out of

5
by
Vidaurock
from
I just bought this headphones I don't connect through the app
Date published: 2021-12-03
Rated

1

out of

5
by
Slimthugg
from
Disappointed
I bought these 3 months ago and the noise canceling stop working and I got one headphone that doesn't work took them back to best buy to see if I could do a exchange was told to call jbl sat on the phone for 3 hours trying to fix a problem I've had a pair of 770 club for 5 years wore them every day and thought that the 660 would replace them I've had to go buy a pair of 130 ear buds debating if I should take them back and go with another brand
Date published: 2022-12-31
Rated

1

out of

5
by
Prunici
from
No good nooo goodddd. Never buy from JBL
Noo good , it's broken ,don't buy from jbl never ever
Date published: 2022-02-04
Rated

5

out of

5
by
Pina
from
Amazing noise cancellation!
I received this headset about 2 weeks ago and I have been using since then. I got the one in blue color and it looks so cool. Connecting with bluetooth on my iPhone and Macbook was super easy. It's comfortable on my ears, I have small ears so it kinda covers the whole ear. The headset height is adjustable to your liking. It came with a bag to store, and the headset itself folds so it can be stored compactly. The sound quality for music is great with considerable bass and surround sound! Although, when you are in noise cancellation mode, the bass might seem low. But if you are in for noise cancellation, it is amazing! Completely blocks the noise around you and you can also chose the ambient mode if you want to partially block the noise. I keep moving in the house while listening to music and the bluetooth connection stays completely stable across multiple walls. To turn on and off the headset, you need to slide the power button which is somewhat difficult to do when you are wearing the headset. Moreover, many functional buttons are placed close to each other on one side of the headset which makes it difficult to identify a button and you tend to easily press the wrong ones. Given the minor usability concerns, overall it's a useful and satisfactory headset!
Date published: 2021-05-01
Rated

5

out of

5
by
AndrewJC
from
Quality audio, Great fit
These headphones are sleek looking and don't stand out too much, but they perform better than probably any in this price range. I have used quite a few JBL headphones over the years and they always have decent audio. This one however surprised me at the quality of the sound, its not just bass forward like most popular headphones now, although does have plenty, you get real depth of sound. It sounds more like the artists intended the music to sound. On top of this the noise cancelling is excellent. The switch on the headphone so you can hear people with the headphones on is incredible and works better than any other headphones I've used. The comfort with these were excellent too, they fit my head and ears perfectly, probably the best of any I have had. The battery life is particularly good too however the cable to charge it is quite short so if you run out of charge its difficult to use them wired. The one annoyance I had with these is if you readjust them the audio pauses, which as a concept sounds positive but after a while, I found it more of an annoyance, but I image some people would like this feature, I just found it to be a little too sensitive. Overall, for the price, these are excellent headphones and worth a buy, sound quality is excellent and comfortable.
Date published: 2021-05-10
bvseo_sdk, dw_cartridge, 18.2.0, p_sdk_3.2.0
CLOUD, getReviews, 9ms
reviews, product
Kysymyksiä ja vastauksia
bvseo_sdk, dw_cartridge, 18.2.0, p_sdk_3.2.0
CLOUD, getContent, 122ms
questions, product
bvseo-msg: Unsuccessful GET. status = 'ERROR', msg = 'Not Found.';