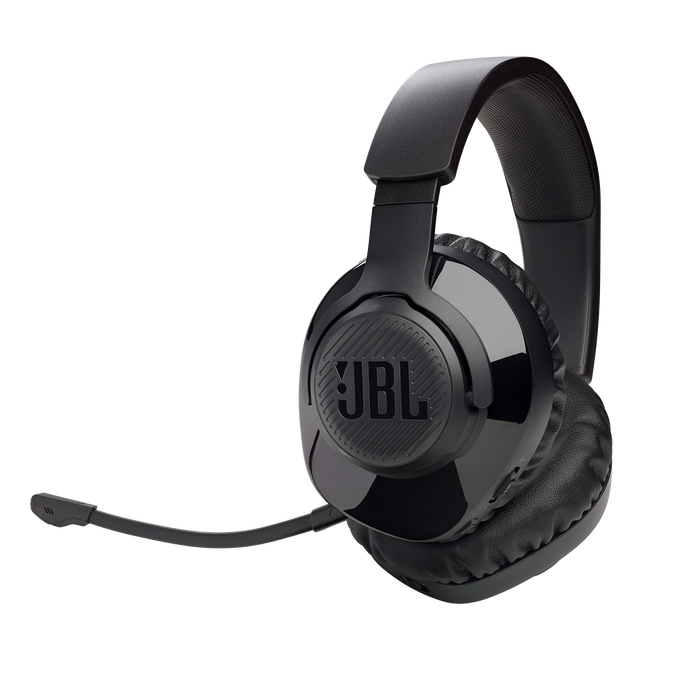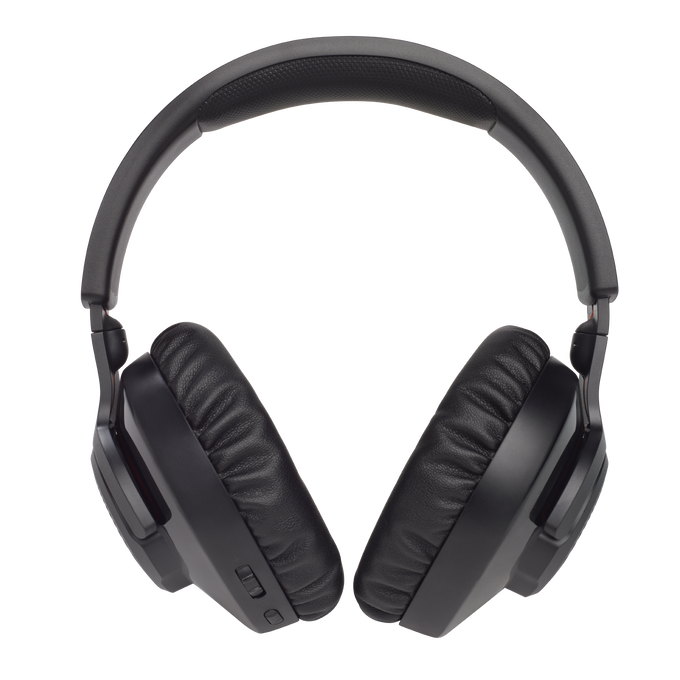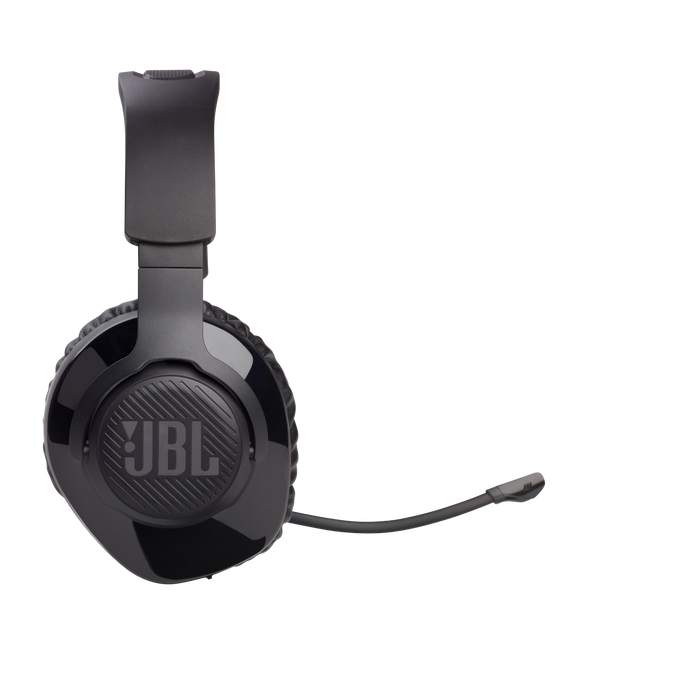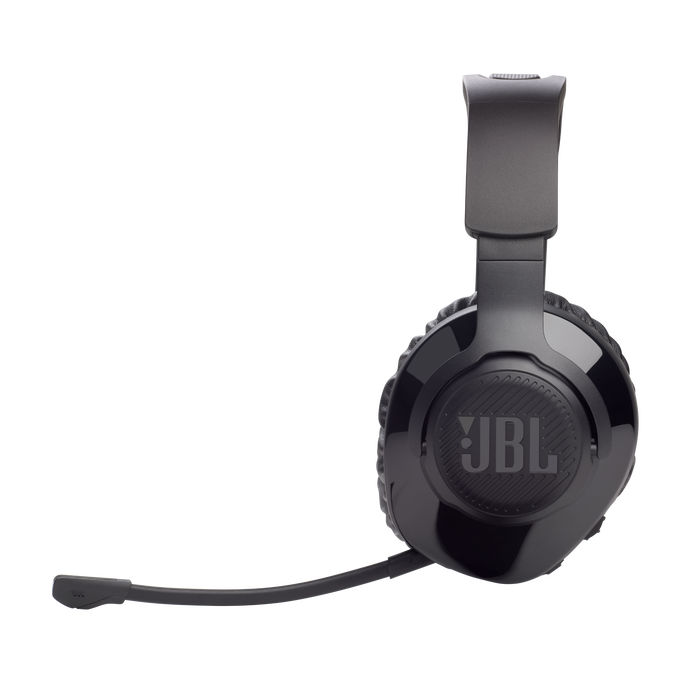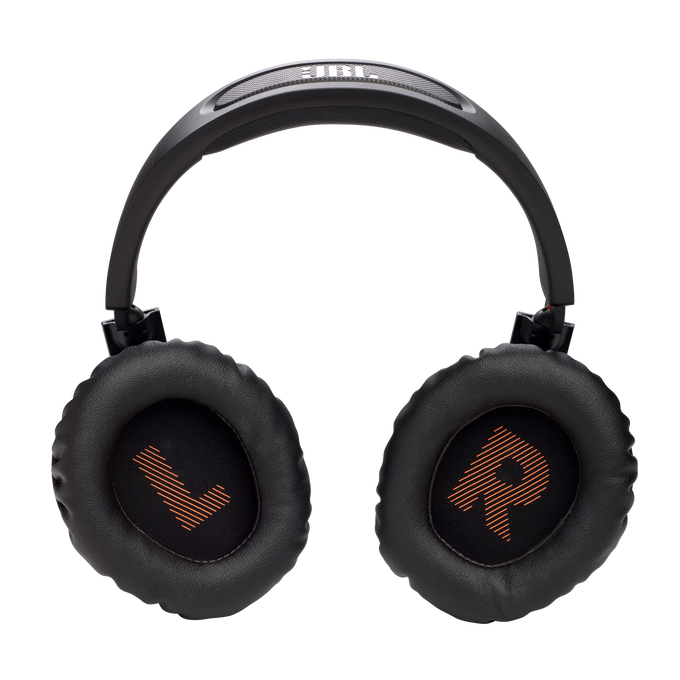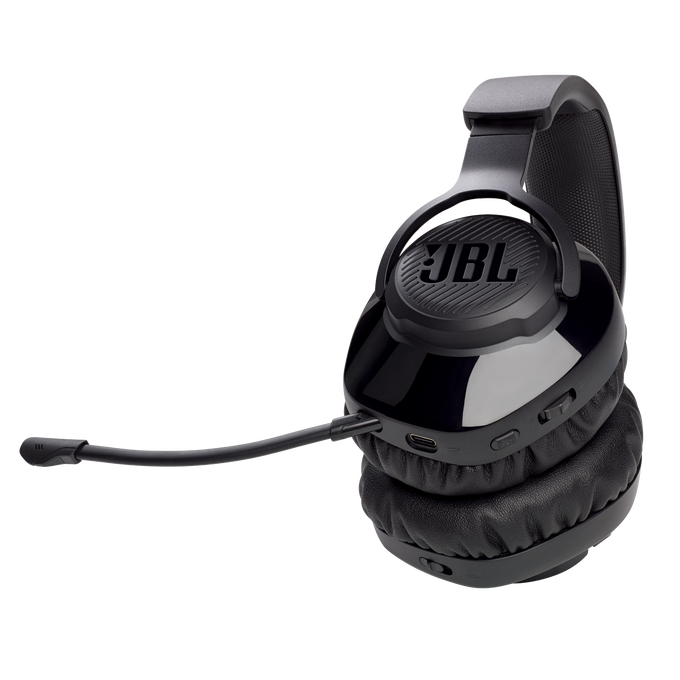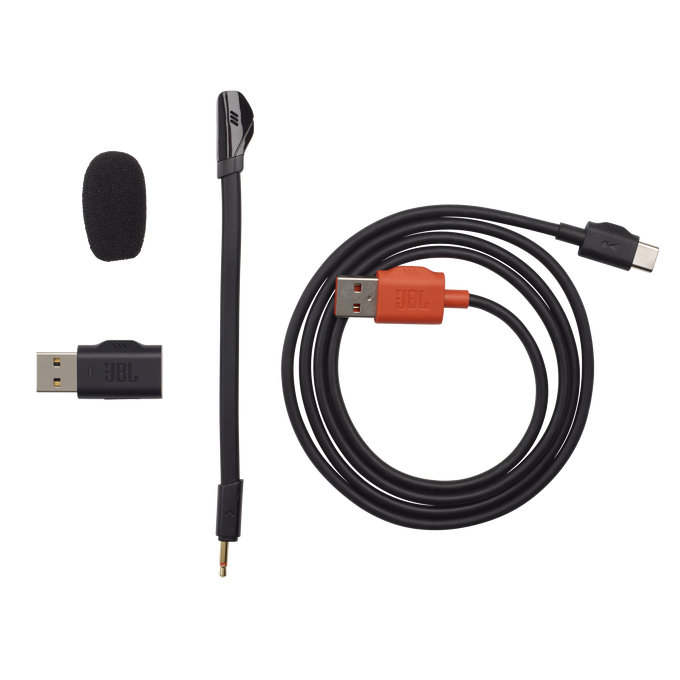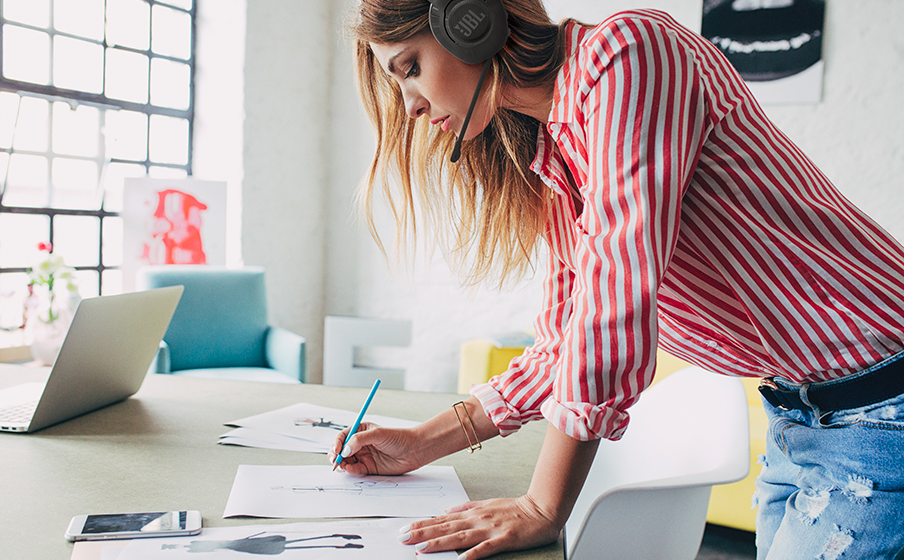 Häviötön ja matalaviiveinen 2.4G langaton järjestelmä
JBL Free WFH Wireless -kuulokkeiden saumaton suorituskyky takaa vakaan yhteyden päivittäisiin puheluihin ja videoneuvotteluihin ilman häiritseviä johtoja.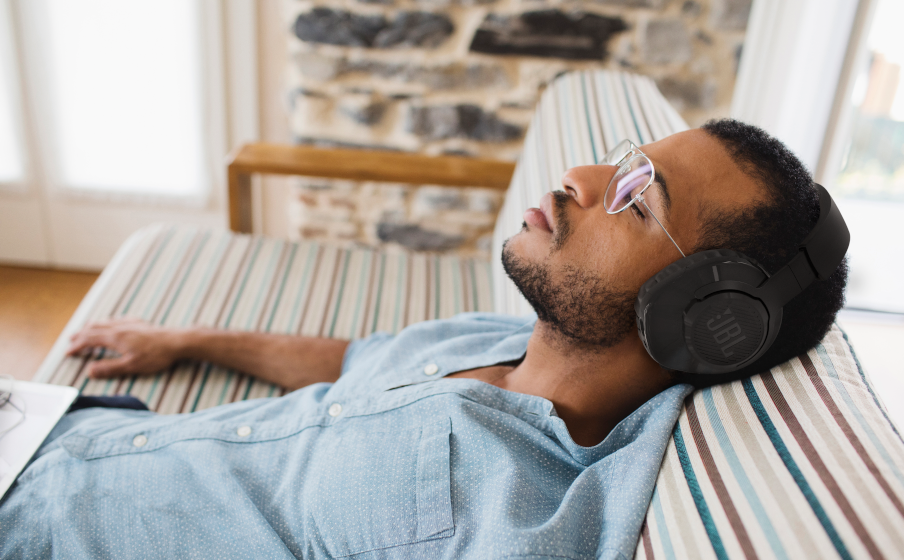 JBL Signature Sound
Tehokas JBL Signature Sound 40 mm:n kuuloke-elementeillä takaa, että puhelusi ja musiikkisi ovat uskomattoman selkeitä, kuunteletpa sitten David Bowieta tai työtoveriasi kirjanpidosta.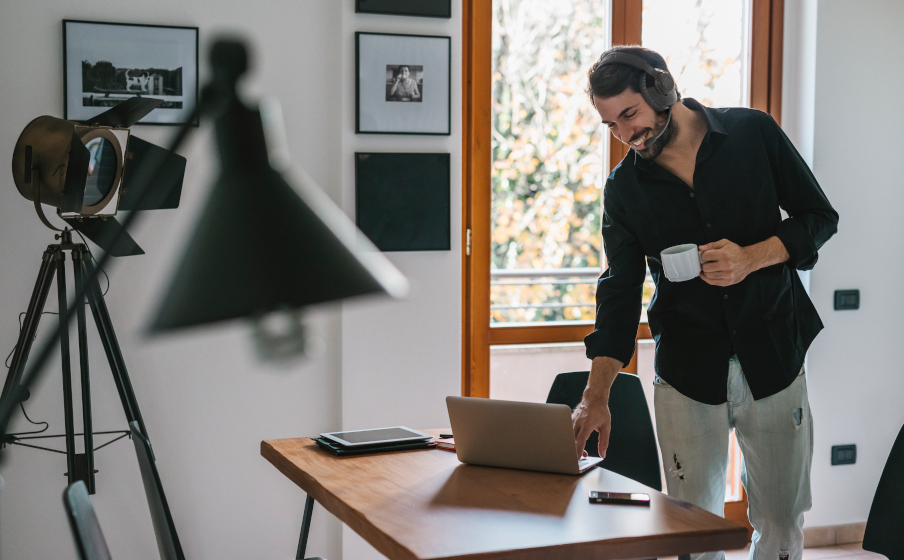 Irrotettava, puheääntä tarkentava ja melua vaimentava mikrofoni
Mikrofoni päälle tai pois päältä, siinäpä kysymys. Kirjaudutko sisään Zoom-puheluun? Ota käyttöön mikrofoni, jossa on kehittynyt melunvaimennustekniikka ja puheohjaus mykistykselle. Voit myös irrottaa mikrofonin, kun haluat keskittyä työhösi tai rentoutua lempimusiikkisi parissa.
Ominaisuudet

Kevyt ja kestävä
Mukavuus on avaintekijä, kun päiväsi on kiireinen. Kevyt sanka sekä muistivaahtomuoviset korvatyynyt soveltuvat ihanteellisesti pitkiin käyttöjaksoihin. Itse asiassa kuulokkeiden istuvuus on niin mukava, että saatat jopa unohtaa käyttäväsi niitä!

Jopa 22 tunnin akunkesto sekä pikalataus
Et ehkä koskaan joudu työskentelemään peräti 22 tuntia putkeen, mutta JBL Free WFH Wireless -kuulokkeet ovat siihen valmiit. Lisäksi vain viiden minuutin pikalatauksella saat tunnin toistoaikaa – täydellinen lisä viime hetken kokouksiin.

Yhteensopiva yleisimpien chat-sovellusten kanssa
Nykyään on monia tapoja olla verkkoyhteydessä. Käytätpä sitten Zoomia, Cisco WebExiä, GoToMeetingiä, Skypeä tai Microsoft Teamsia, JBL Free WFH Wireless -kuulokkeet ovat tukenasi kaikissa näissä.

PC-yhteensopiva
Tien päällä, toimistossa tai kotona työskennellessä? JBL Free WFH langattomat kuulokkeet ovat sekä PC- että mobiiliyhteensopivia, joten voit pysyä yhteydessä missä tahansa.
Tiedot ja lataukset
Item# JBLFREEWFHWLBLK-Z
Kuvaus
Häviötön ja langaton. Nopea lataus. Yhdistä paremmin.

Mukauta yhteyksiäsi saumattomalla suorituskyvyllä ja selkeällä, tehokkaalla JBL Signature Sound -äänellä. Free WFH Wireless -kuulokkeet varmistavat vakaan, häviöttömän yhteyden neuvotteluja varten, kun puolestaan irrotettava melua vaimentava voice focus -mikrofoni on yhteensopiva yleisten chat-sovellusten, kuten Zoom, GoToMeeting, Skype ja WebEx kanssa. Jopa 22 tunnin akunkeston ansiosta et koskaan menetä puhelua, ja jopa virran ollessa vähissä pelkkä viiden minuutin lataus tarjoaa tunnin toistoaikaa. Aloita työskentely tai rentoudu kevyiden, kestävien muistivaahtopehmusteisten kuulokkeiden myötä, jotka istuvat korvillasi niin mukavasti, että unohdat käyttäväsi niitä.
Tuotetiedot
Audiotiedot
Elementin herkkyys @ 1kHz/1mW (dB)

96

Dynaaminen taajuusvaste (Hz)

20 Hz - 20 kHz

Impedanssi (ohmia)

32
Mitat
Paino (g)

220

Paino (oz)

7.76
Akku
Maksimi toistoaika (tuntia)

22
Ominaisuudet
Charging cable

Kyllä

Sisäänrakennettu mikrofoni

Kyllä

Latauskotelo

Kyllä

Hands-free-puhelut

Kyllä

JBL Signature Sound

Kyllä

Ladattava akku

Kyllä

Aidosti langaton

Kyllä

Langattomat

Kyllä
Pakkauksen sisältö
JBL Free WFH langattomat kuulokkeet
USB-audiosovitin
Vaahtomuovinen tuulisuojus puomimikrofonille
Pikaopas | Takuukortti | Turvallisuustiedote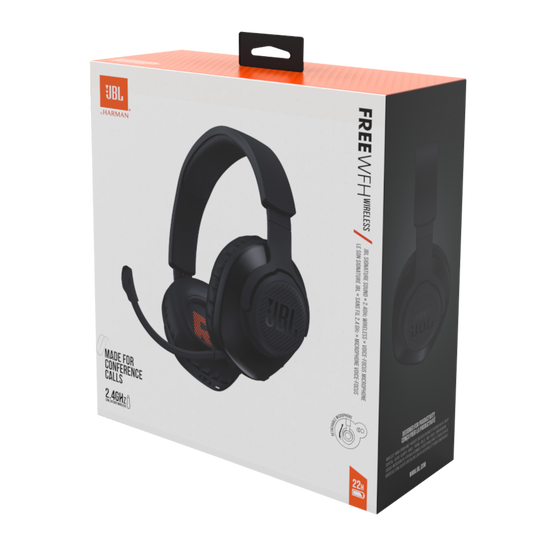 Asiakirjat ja lataukset
Arvostelut ja vastauksia kysymyksiin
Arvostelut
Rated

5

out of

5
by
Aaron
from
What a great set - WFH Perfection
What a great set of headphones. JBL Sound quality comes through crisp and clear as always, however what really sets these apart is the comfort. While feeling durable and looking professional, these headphones are light and are easy to wear for long stretches of time. I wanted something I could easily use WIRELESSLY and reliably at home for work calls and this is the perfect fit. I've got great range from room to room and I love that it has its own dongle for a solid connection with out interference. One of my favorite JBL products (right behind the pulse4). Must buy for folks who work from home and have to deal with calls all day.
Date published: 2021-11-30
Rated

5

out of

5
by
Anonymous
from
Excellent Headset for Working from Home
I've been using this headset for video meetings, calls, and entertainment on breaks while working from home and it has been a joy to use. Setup effortless with the headset connecting to the dongle quickly and establishing a rock solid connection. Here are my thoughts on each aspect of the headset: Comfort: This was the most important thing for me and this headset does not disappoint. I have a pretty big head, so comfort is always a concern for me with over-ear headsets like this. These are well-padded and the clamping force is similar to other JBL over-ear headsets that I've used in the past. I am also bald, so the "hot spot" on the top of my head is also a concern with over-ear headphones. I can use this headset all day comfortably with no "hot spot" issues. Microphone Quality: This is the second-most important consideration for me for a "work" headset and again, this headset does not disappoint. Everyone that I talked to said that I sounded crisp, clear, and loud. They also said that the microphone did a good job of ignoring background sounds (my kids were home). I cannot complain about the mic! It also has a really handy "mute" button on the left side that allows for you to stealthily step away from your desk if your cameras are off! Love it. Build Quality & Other: The build quality of this headset is great! Nothing creaks/squeaks/or clicks (other than the buttons, which should!) and the headset feels high quality. It is very light, which is great for a headset. The ear cushions are soft and comfy. There is also very good passive noise isolation (not to be confused with noise cancellation - these are not ANC headphones). The buttons are also easy to use, along with the volume wheel. I prefer to leave my PC setting to 100% volume and use the volume wheel on the headset itself to control the volume. Note that the volume setting on your PC and the volume wheel on the headset are independent of one another. The volume wheel adjusts the volume of your headset itself, not the PC volume setting. Overall I love this headset! It's improved my work from home setup! I bought a little clip to hang these from the side of my desk and I couldn't be happier with them!
Date published: 2021-11-29
Rated

5

out of

5
by
Anonymous
from
Easy To Use and Make WFH life easy.
Easy to use and another JBL product to help WFH life. This one is comfortable on ear and have good battery life. Quickly connects to laptop and ready to use in few seconds. One of the best thing about this product is all buttons are at the right place where they are actually needed without searching.
Date published: 2021-12-02
Rated

4

out of

5
by
Sandy334
from
Fits comfortable
These work great with pc bit can't get them to work on Xbox or PlayStation. Not sure if it's more or they just won't work with those. They do have great sound quality as with any JBL product. The mic is great picks up everything and is crisp. Product is very easy to use with pc. Great for conference calls and zoom. Fits great and feels great when wearing. Would recommend this product. I love anything that wireless. Only gave 4 stars because I can't connect to game console.
Date published: 2021-12-05
Rated

1

out of

5
by
LorieK
from
Disappointed
Specifically wanted over the ear instead of in the ear. Wanted to love this headset but do not. I could not hear myself speak, so completely useless for interactive conference calls. Tried many things but microphone did not send voice back to ear. Customer service was kind, but didn't know the product at all and had no suggestions. Returning the headset. So disappointing.
Date published: 2022-03-09
bvseo_sdk, dw_cartridge, 18.2.0, p_sdk_3.2.0
CLOUD, getReviews, 5ms
reviews, product
Kysymyksiä ja vastauksia
Do you buy the 3.5mm cable to attach headphone to smartphone separately or does it come with this purchase?
Our JBL Free WFH Wireless does not have an option for a 3.5mm audio cable as this headphone uses wireless technology (USB Audio Adapter) to connect to a source device.
Date published: 2022-06-09
Can 2 headsets be connected to communicate with each other?
Our JBL Free WFH Wireless is designed to be connected to a PC or Laptop. You can communicate with another Free WFH Wireless if both devices is connected to a source device(PC or Laptop) with the use of any universal chat apps such as Zoom, MS Teams, or Skype.
Date published: 2022-06-27
Does this headset have an in-line mute?
Our JBL Free WFH has mute and volume control on the left earcup.
Date published: 2022-06-07
Is the microphone removable? 
The built-in microphone of our JBL Free WFH Wireless is not detachable.
Date published: 2022-07-29
How does one check the remaining battery level?
Our JBL Free WFH Wireless only has an indicator shows you when the device has low battery.
Date published: 2022-09-08
Can you connect these headphones to a smartphone? If so, how? Previous questions are answered by saying to use a 3.5 mm jack, but the headphones do not have a headphone jack.
The wired version of or JBL Free WFH are the ones that can connect to a smartphone via 3.5mm jack. Our JBL Free WFH Wireless can only connect to a laptop/computer via USB.
Date published: 2022-08-05
Bluetooth capable?
Thanks for reaching out. Our JBL Free WFH wireless headset connects to your PC using a 2.4GHz wireless USB Stick. This unit doesn't feature Bluetooth connectivity.
Date published: 2022-07-23
If the battery dies, can the headphones be connected to a computer with a aux cable for continuous use?
Yes, our JBL Free WFH Wireless will continue to work as a passive headphone when the battery runs out of charge and the Aux cable is connected.
Date published: 2022-02-28
bvseo_sdk, dw_cartridge, 18.2.0, p_sdk_3.2.0
CLOUD, getContent, 168ms
questions, product