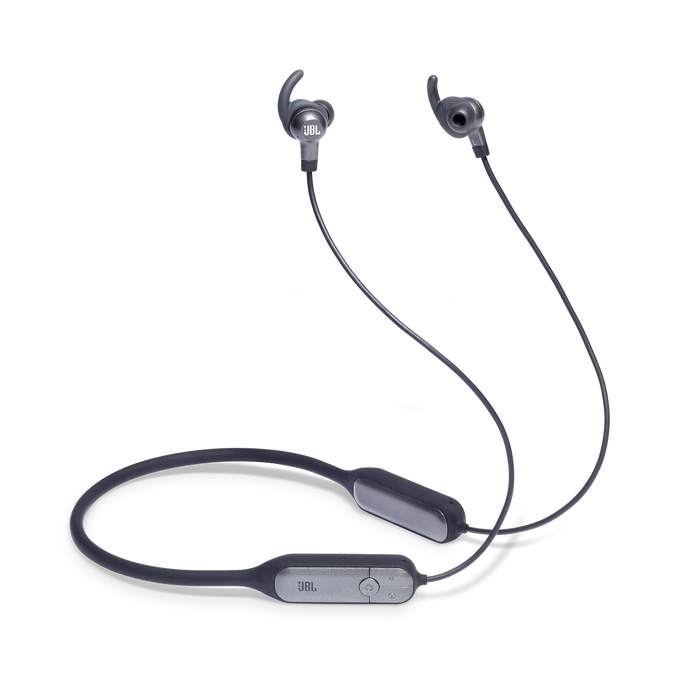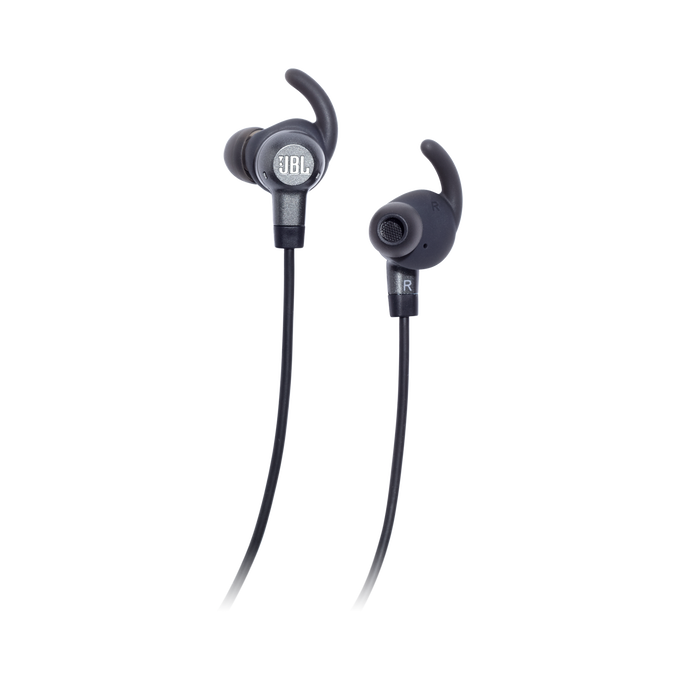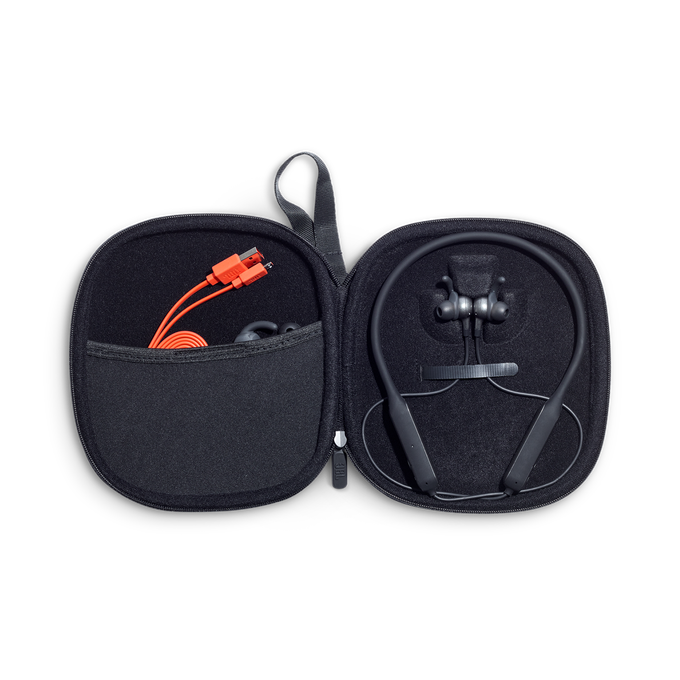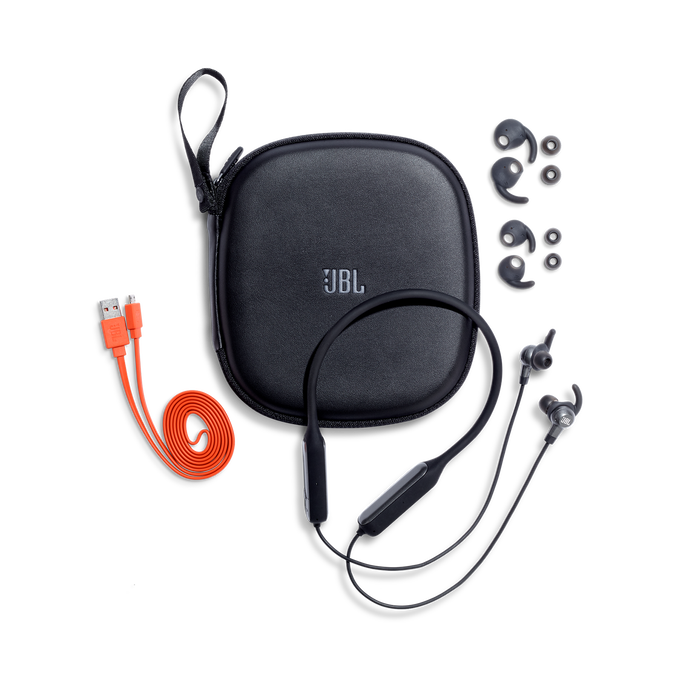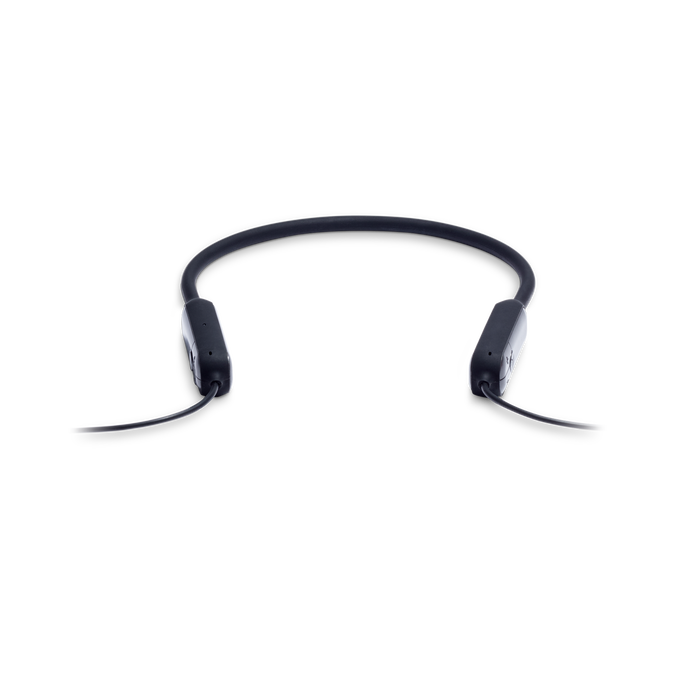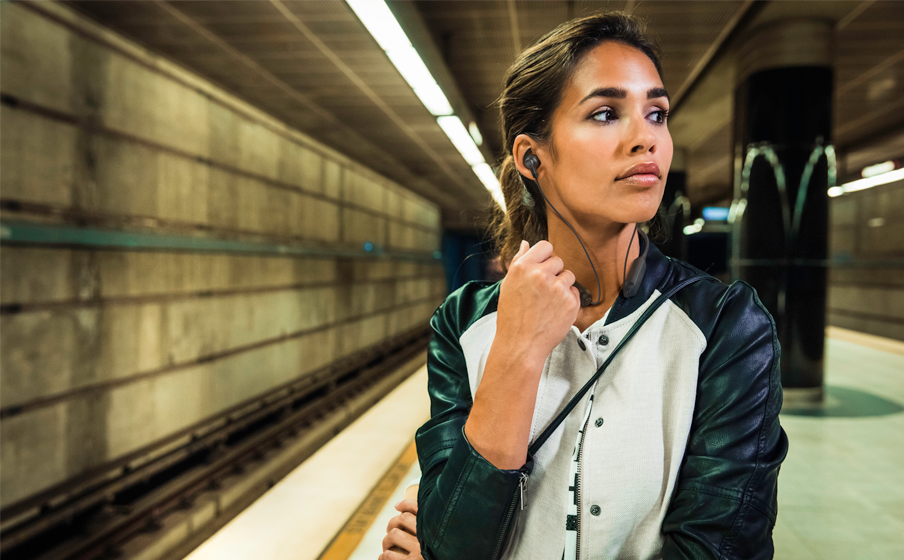 Bluetooth-yhteys
Kuuntele musiikkia langattomasti.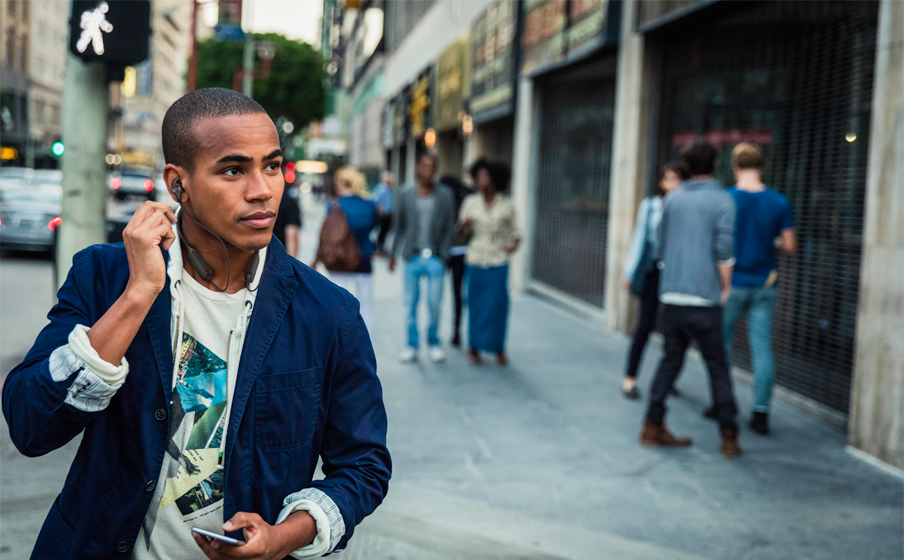 Legendaarinen JBL Pro Audio -äänentoisto
Koe sama uskomaton JBL Pro Audio -äänentoisto ja syvempi kuuntelukokemus, jota JBL on toimittanut konserttisaleihin, studioihin ja olohuoneisiin jo yli 70 vuoden ajan.
Ominaisuudet

Mukautuva melunvaimennus
Hiljennä ympäröivä maailma mukautuvalla melunvaimennuksella, jolla voit hallita ympäristömelun määrää. Voit päättää itse, haluatko sulkea pois ympäristön äänet vai sallia ne käyttämällä My JBL Headphones -sovellusta tai niskasangan älypainiketta.

14 tunnin akunkesto, 2 tunnin latausaika
Micro USB:llä ladattava sisäänrakennettu akku mahdollistaa jopa 14 tunnin kuunteluajan mukautuvalla melunvaimennuksella tai jopa 16 tunnin kuunteluajan ilman melunvaimennusta. Akku latautuu täysin kahdessa tunnissa.

Kaksi kaikua vaimentavaa mikrofonia
Sisäänrakennetut kaksi kaikua vaimentavaa mikrofonia mahdollistavat kristallinkirkkaat hands free -puhelut.

Mukauta itse
Ota kaikki irti Everest Elite 150NC -kuulokkeista mukauttamalla niiden asetukset omien toiveittesi mukaisiksi.

Mukavat korvasovitteet
Muotoillut korvasovitteet lisäävät ainutlaatuista käyttömukavuutta kuuntelukokemukseen – ja mahdollistavat näin entistä pitempikestoisen ja miellyttävämmän kuuntelun.

Taita ja kanna
Kompakti ja virtaviivainen niskasanka ja laadukas kova säilytyskotelo tekevät kuulokkeista ihanteelliset matkakäytössä.

Magneettinen kaapelinhallinta
Varmistaa, että kuulokkeet pysyvät turvallisesti, mukavasti ja sotkeutumatta kaulasi ympärillä, kun et käytä niitä.
Tiedot ja lataukset
Item# JBLV150NXTGML
Kuvaus
Fiksuin tapa kuunnella musiikkia.

Sinun elämäsi, sinun musiikkisi, sinun nautintosi – täysin uudet JBL Everest Elite 150NC -kuulokkeet on valmistettu sinulle sopivaksi. Älykäs suunnittelu takaa langattoman vapauden ja jopa 16 tunnin kuunteluajan yhdellä latauksella. Mukautuvalla melunvaimennustilalla (ANC) voit hallita, mitä haluat kuulla jopa 14 tunnin ajan. JBL Everest Elite 150NC -kuulokkeissa on kaksi kaikua vaimentavaa mikrofonia, joilla puhelut ovat selviä ja kirkkaita, minkä lisäksi ne mahdollistavat puheluiden ja musiikin hallinnan langattomasti. Legendaarinen JBL Pro Audio -äänentoisto, sotkeutumattomalla kaapelilla varustetut magneettiset kuulokenapit, kompakti kova säilytyskotelo ja kevyt rakenne tekevät näistä kuulokkeista verrattoman matkakumppanin. Nämä virtaviivaiset, laadukkaimmista materiaaleista huolellisesti valmistetut kuulokkeet istuvat mukavasti päähän useiden erikokoisten korvasovitteiden ansiosta. Hienostuneet kuulokkeet ovat saatavilla metalliviimeistelyillä ja -väreissä. My JBL Headphones -sovelluksella päivitykset hoituvat langattomasti, ja kuulokkeet pysyvät käyttökelpoisina myös tulevaisuudessa. Säädettävän Ambient Aware -toiminnon avulla taas voit dynaamisesti säätää taustaäänien kuuluvuutta. Uskalla kuunnella.
Tuotetiedot
Audiotiedot
Elementin herkkyys @ 1kHz/1mW (dB)

@1kHz dB v/pa: -20

Dynaaminen taajuusvaste (Hz)

10Hz–22kHz

Impedanssi (ohmia)

16.0

Elementtien määrä per korva

1.0
Mitat
Paino (g)

53.0

Paino (oz)

1.87
Ohjaimet, kytkennät ja liitännät
Bluetooth-taajuus

2.402GHz-2.48GHz

Bluetooth-lähettimen modulaatio

GFSK,π/4-DQPSK, 8DPSK

Bluetooth-lähettimen teho

4 dbm

Bluetooth-versio

4.0
Akku
Latausaika (tuntia, kun akku on tyhjä)

2

Maksimi musiikintoistoaika ANC pois päältä (tuntia)

16

Maksimi musiikintoistoaika ANC päällä (tuntia)

14

Maksimi toistoaika (tuntia)

10
Ominaisuudet
Päästää läpi ympäristön äänet

Kyllä

Kantokotelo

Kyllä

Hands-free-puhelut

Kyllä

Legendaarinen JBL Pro Audio -ääni

Kyllä

TalkThru-monitoimipainike

Kyllä

Langattomat

Kyllä

Mukautuva melunvaimennus

Kyllä

Kolmipainikkeinen kaukosäädin/mikrofoni

Kyllä

In-ear-niskasanka

Kyllä

Pikalataus (5 min = 1 tunnin soittoaika)

Kyllä

Ladattava akku

Kyllä
Pakkauksen sisältö
EVEREST ELITE 150NC
Latauskaapeli
Säilytyskotelo
1 takuu-/varoituskortti (W / !)
1 QSG-/turvallisuustiedote (S / Q)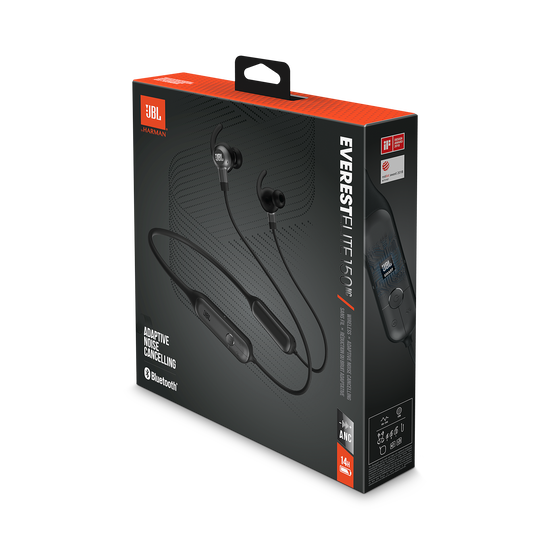 Asiakirjat ja lataukset
Arvostelut ja vastauksia kysymyksiin
Arvostelut
Rated

5

out of

5
by
Carlos La
from
ANC is solid, Battery Life is wild
Got this for two reasons: Battery + ANC. I've used earbuds with ANC before -- these ones are better, partially because the ear cups are a really good fit, partially because the ANC is just very good. The ambient aware stuff is dumb, just ignore that. Their app threw me off about the battery life... it seemed to drop quickly and charge in like 20 - 30 mins... I finally realized that the app is wrong and the battery is fine. It gets down to 30% and then lasts forever, so the charge is just topping it off. In reality it lasts a stupid amount of time battery wise. Needed to play with the EQ a little to get the sound right, but then it's great. All in all very happy with it, as it nailed the key things I wanted without looking like trash.
Date published: 2018-07-25
Rated

4

out of

5
by
JuBiLee
from
Weaker bluetooth signal vs better battery life.
Both units, ELITE 100 and ELITE 150NC, provide great sound than most other brands. But for me, ELITE 100 would be a better unit if it's battery was not defective. I can perform more tasks while listening music with ELITE 100: jogging, running, doing crunches, pushing up....hand mopping floor even microwaving/ vacuuming/ mowing. Thanks to the holding support mechanism. ELITE 150NC does not have that support and tend to slide to sides. ELITE 150NC loose connection if it is position lower than the phone or close to a running microwave, mower or or vacuum machine. Some times after loosing connection it can't even auto connect back. ELITE 150NC still is a awesome unit .
Date published: 2018-10-30
Rated

1

out of

5
by
Lara T
from
Save your money and stay away from this garbage
I bought these headphones during Cyber Monday as the deal appeared very good - they were half price. Unfortunately, too good to be true. Let's start with the battery: with the ANC on, it is possible to see how the battery gets drained from 100% to 50% in only 1 hour of listening! It is only slightly better with the ANC off: you can get a "whopping" 3 hours of listening! The sound isn't that great either: flat and underwhelming - I have a pair of wireless earphones paid MUCH less that have a deeper and more nuanced sound than these. Do yourself a favor and DO NOT BUY these!!!
Date published: 2018-12-27
Rated

5

out of

5
by
SPRjr
from
My favorite earbuds
I bought these about 3 months ago and I couldn't be happier with them. The noise canceling works great. The battery life is insane (I consistently get 12 to 14 hours of use per charge). The sound quality is really good between watching videos and listening to different genres of music. I have never had an issue with connecting or staying connected as other reviews have stated (My personal experience, take it for what its worth). Overall these are amazing and I highly recommend them if you are willing to spend a little more, especially if you are looking for a good noise canceling earbud.
Date published: 2019-06-20
Rated

5

out of

5
by
Midwest Guy
from
Better than Everest Elite 100NC
I had the Everest Elite 100NC ear buds and the sound was pretty good when they stayed connected and were not crackling. I upgraded to the EE150NC and what a difference. Sound was equally as good, but no crackling and battery life is great compared to the EE100NC. I use these every day for work to make sales calls with no problems. I do have them set to auto shut down if not used to save battery. They come back up very fast after pushing the power button if a call comes in. I really like these when I am riding my lawn tractor. The NC cuts out pretty much all of the tractor noise and I can hear the music great. The design of the new EE150NC is so much better than the EE100NC. The peice that gooes around the neck is nicely weighted and stays in place. It is way better than the EE100NC that had some crummy plastic pieces that you had to add to keep them around your neck when using them in an active scenerio (working out or yard work). I did have to play with the different size ear pieces to find what works best to keep them stuck in my ears. I also puchased some cheap memory foam ends instead of using the silicone ones that came with the EE150NC because they hurt my ears if I wore them for a long period of time. That solved the problem. I am very satisfied with new version.
Date published: 2018-08-27
bvseo_sdk, dw_cartridge, 18.2.0, p_sdk_3.2.0
CLOUD, getReviews, 6ms
reviews, product
Kysymyksiä ja vastauksia
Are these heaphones multipoint capable?
The Everest 150NC does not feature a multipoint operation. It only has the capability to connect to one device at a time.
Date published: 2021-06-06
I can't pair my device with my Macbook Air 2018? When i pair the devices with the each other it says ''connected'', but when i try to play music it disconnect How can this be fixed?
i have a same problem with macbook pro , reset the mac and try and works but you got to reset every time u want the connection. not a good noise cancelling , bad on high end .
Date published: 2021-06-06
Quality of Noise Cancellation
Pretty great as far as in ear headphones go... You need to select noise canceling instead of the ambient aware default, then it's pretty good. I've used other cheaper wireless headphones with ANC that didn't have the same kick
Date published: 2021-06-06
What does the auto off feature do?
It turns the unit off at the specified time.
Date published: 2021-06-06
I can't get my headset to power on and when I plug in the charger no light appears. Not sure what to do to get my headset up and going again? Please send me some options to try and resolve the issue. Thanks
not putting the answer here is suspicious. these headphones are frustrating without more verbose instructions when first purchasing. I'm taking them back to BestBuy
Date published: 2021-06-06
Can these be plugged into the audio source directly instead of using Bluetooth? For example, the entertainment system on an airplane? Thanks!
Unfortunately the Everest Elite 150 does not have the ability to get it directly plugged via Aux cable.
Date published: 2021-06-06
this device is just for Apple or I can connected with Samsung
These can be used with both devices.
Date published: 2021-06-06
I have had my Everest Elite 150NC wireless headset less than 8 months. In the past week it suddenly stopped working. I have tried charging but still not working. What else can be done - I love them and have no idea why they stopped working.
Question: I have had my Everest Elite 150NC wireless headset less than 8 months. In the past week it suddenly stopped working. I have tried charging but still not working. What else can be done - I love them and have no idea why they stopped working. Answer: Thanks for sending us this question. You may want to try charging your JBL Everest Elite 150NC headphones with a different charging cable and adapter as it's possible that the charging cable could have gone bad. If this doesn't work, let us know through the link below and we'll be happy to check your other options: https://support.jbl.com/us/en/
Date published: 2021-06-06
bvseo_sdk, dw_cartridge, 18.2.0, p_sdk_3.2.0
CLOUD, getContent, 156ms
questions, product