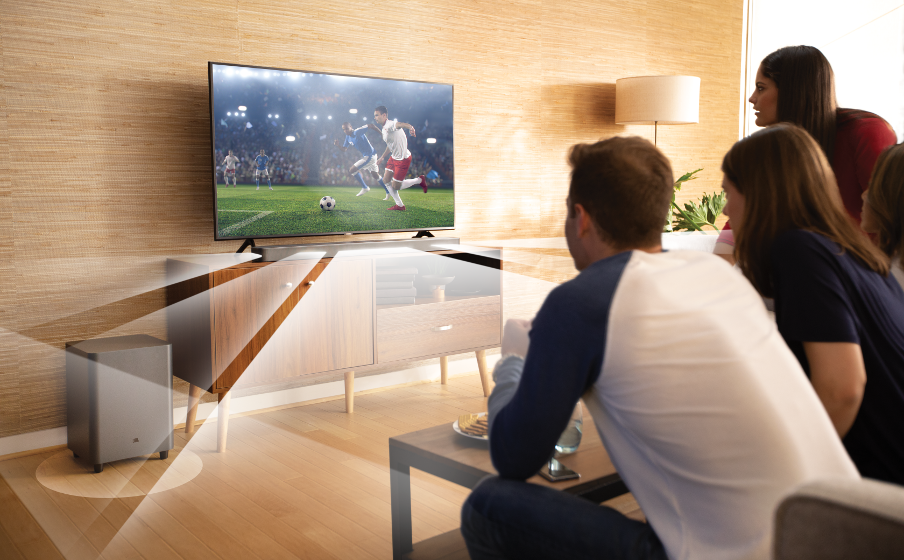 Tehokas ääni
JBL MultiBeam™ -teknologia tuo ylivoimaisen elokuvakokemuksen kotiisi. Et tarvitse ylimääräisiä kaiuttimia tai johtoja.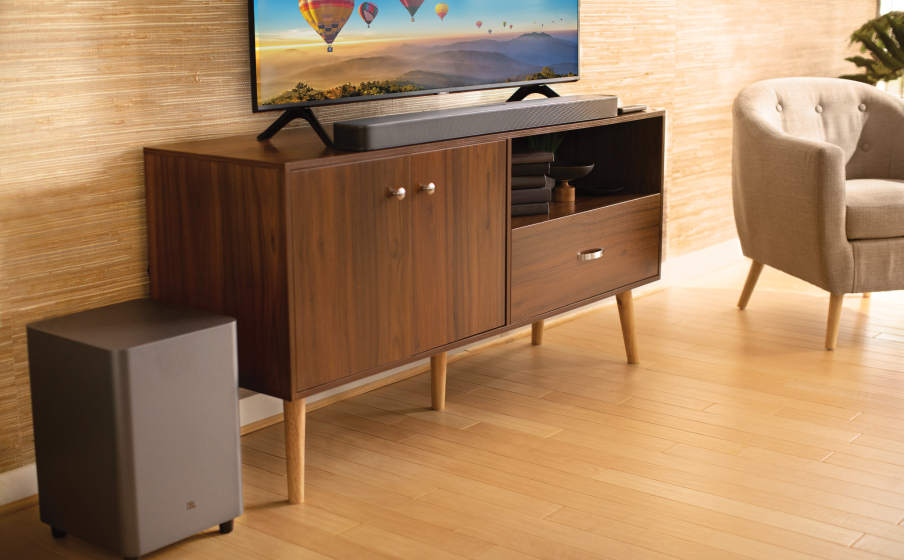 Nauti voimakkaasta tehosta
Järjestelmän 550 watin ulostuloteholla koet elokuvasi ja musiikkisi ennen kokemattomalla tavalla. Mukaansatempaava, voimakas ääni vastaa kuuntelunautinnostasi.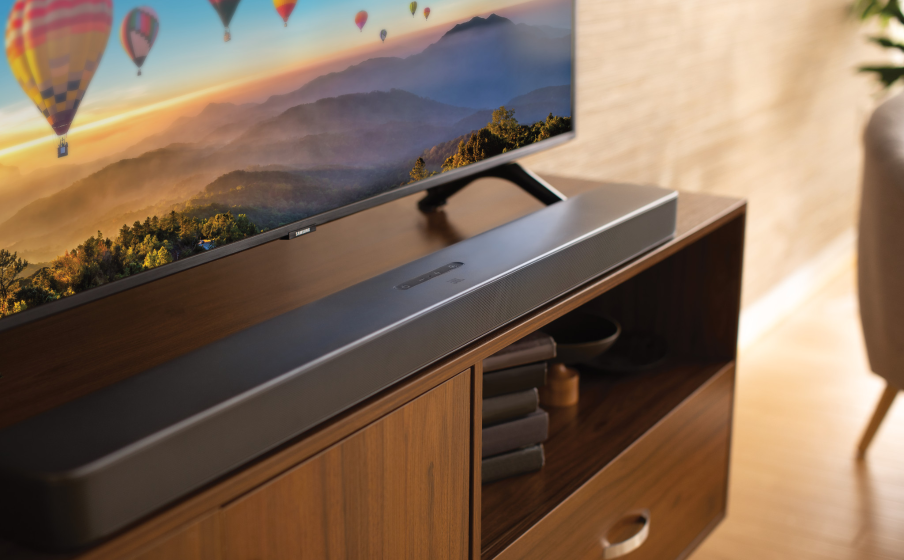 Tunne basso
Väkevän 10-tuumaisen langattoman subwoferin iskevä, tarkka basso vie sinut keskelle toimintaelokuvan tapahtumia ja varmistaa, että jokainen musiikkiraita kuulostaa eeppiseltä.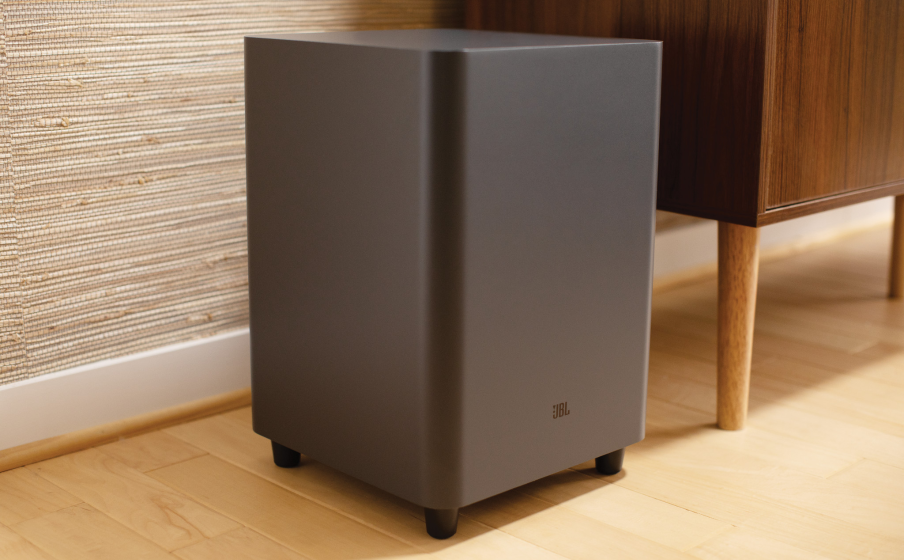 Chromecast ja Airplay 2 sisäänrakennettuina
Sisäänrakennettu WiFi ja yhteensopivuus Chromcastin ja Airplay 2:n kanssa tarkoittaa, että voit toistaa suosikkiverkkosisältösi uskomattomalla äänellä, yhdellä sormen näpäytyksellä.
Ominaisuudet

Aito HDMI 4K-läpivienti
Paras 4K-video ansaitsee parhaan äänen seurakseen. Televisiosi ja JBL Bar 5.1 Surround ovat ylivoimainen voimakaksikko.
Suoratoista kaikki
Eikö huvita katsoa elokuvia? Ei ongelmaa. JBL Bar 5.1 Surroundin avulla nautit langattomasta musiikin toistosta Bluetoothin kautta puhelimeltasi tai tabletiltasi.
Tiedot ja lataukset
Item# JBLBAR51IMBLKEP
Kuvaus
Koe panoraamaääni

Vaikuttava JBL Bar 5.1 Surround luo ylivoimaisen kotiteatterikokemuksen. Herätä katselukokemuksesi eloon 550 watin teholla ja 10-tuumaisella subwooferilla: toimintaelokuvan sykähdyttävä basso, trillerin kihelmöivä jännitys tai luontodokumentin kauneus. Sisäänrakennettujen Chromecastin ja Airplay 2:n avulla toistat ja hallinnoit verkkosisältöä ja Bluetoothin avulla musiikkisi kuulostaa myös mahtavalta. JBL:n MultiBeam™ -teknologia tarjoaa hämmästyttävän tilaäänen. JBL on toiminut maailmanlaajuisesti elokuvateattereiden äänilähteenä jo yli 75 vuotta. Nyt voit nauttia tästä äänestä kodissasi.
Tuotetiedot
Malli

Bar 5.1 CNTR (soundbar-yksikkö), BAR 5.1 SUB (subwoofer-yksikkö)

Virtalähde

100 V–240 V AC, 50/60 Hz

Soundbarin lähtöteho (Maks. @THD 1 %)

5 x 50 W

Subwooferin lähtöteho (maks. @THD 1 %)

300W

tehontarve valmiustilassa

< 0,5 W

tehontarve verkkovalmiustilassa

< 2,0W

Käyttölämpötila

0–45 °C

BAR 5.1 SURROUND noudattaa Euroopan komission asetusten (EC) nro 1275/2008 ja (EU) nro 801/2013 vaatimuksia.

Off-tila

Ei tuettu

Verkkovalmiustila

< 2,0W

Aika valmiustilaan siirtymiseen

< 20 minuuttia

* Valmiustila

tila, jossa kaikki soundbarin langattomat yhteydet on deaktivoitu. Jos soundbar-yksikölle ei tule ääni- tai videosignaalia, se siirtyy automaattisesti valmiustilaan 10 minuutin kuluttua.

* Verkkovalmiustila

tila, jossa kaikki soundbarin langattomat yhteydet on aktivoitu. Jos soundbar-yksikölle ei tule ääni- tai videosignaalia, soundbar ja subwoofer siirtyvät automaattisesti verkkovalmiustilaan 10 minuutin kuluttua.

Mikä tahansa audio-tai videosignaalin palautuminen siirtää laitteen valmiustilasta toimintatilaan.
Audiotiedot
Kaiuttimen kokonaisteho (Maks. @THD 1 %)

550 W

Maksimiäänenpaine (SPL)

103dB

Taajuusvaste

40 Hz–20 kHz

Audiotulot

1 Optinen, Bluetooth, USB (USB-toisto on saatavilla Yhdysvaltain versiossa. Muissa versioissa USB on vain huoltoa varten.)

MP3-kodeekki

MPEG 1 Layer 2/3, MPEG 2 Layer 3, MPEG 2.5 Layer 3

MP3 näytenopeus

16 kHz–48 kHz

MP3 bittinopeus

80 kbps–320 kbps
Mitat
Soundbarin elementit

5 x 4690" ovaalielementti +2 x 1,25" sivulle suuntaava diskanttielementti

Subwooferin elementti

10"

Mitat (L x K x S)

1018 x 58 x 100 mm/40" x 2,28" x 3,94" (soundbar); 305 x 440 x 305 mm/12" x 17,3" x 12" (subwoofer)

Paino

2,85 kg (soundbar); 10,62 kg (subwoofer)
Ohjaimet, kytkennät ja liitännät
USB-portti

Tyyppi A

USB-luokitus

5 V DC/0,5 A

Tuetut tiedostomuodot

mp3, wav

Bluetooth-versio

4.2

Bluetooth-profiili

A2DP V1.3, AVRCP V1.5

Bluetooth-taajuusalue

2402 MHz–2480 MHz

Bluetooth-enimmäislähetysteho

< 11 dBm (EIRP)

Modulaatiotyyppi

GFSK, π/4 DQPSK, 8DPSK

Wi-Fi-verkko

IEEE 802.11 a/b/g/n/ac (2,4 GHz/5 GHz)

2,4G Wi-Fi-taajuusalue

2412 MHz–2472 MHz (2,4 GHz ISM-kaista, USA 11 kanavaa, Eurooppa ja muut 13 kanavaa)

2,4G Wi-Fin maksimilähetysteho

< 20 dBm

Modulaatiotyyppi

DBPSK, DQPSK, CCK, QPSK, BPSK, 16QAM, 64QAM

5G Wi-Fi-taajuusalue

5,15–5,35 GHz, 5,725–5,825 GHz

5G Wi-Fin maksimilähetysteho

< 22 dBm

Modulaatiotyyppi

QPSK, BPSK, 16QAM, 64QAM, 256QAM

5G langaton taajuusalue

5161,35–5245,35 MHz, 5736,35–5820,35 MHz

5G enimmäissiirtoteho

< 9 dBm (EIRP)

Modulaatiotyyppi

π/4 DQPSK
Asiakirjat ja lataukset
Arvostelut ja vastauksia kysymyksiin
Arvostelut
Rated

5

out of

5
by
Loanshark73
from
Great, amazing room filling sound !
if you want a room filling SoundBar that's ready right out of the box this is it. Pros: Price $399, sleek design, sturdy well built and a massive subwoofer, Easy to setup just plug into your TV ARC HDMI. You can calibrate this Soundbar to better fit hour size room. The 5.1 Surround Sound works great with movies. I've tested with movies from Netflix, Disney+ and also Apple TV Greyhound. The sound just draws you into the movie. and the power of that subwoofer is ridiculous. At a total 550w of power this thing will shake your living room. Even the soccer games sound great. Cons: No Dolby Atmos
Date published: 2020-07-23
Rated

2

out of

5
by
Cory123
from
Great sound but shuts off
This unit sounds great as it should for the price. Good bass to it. However, it randomly shuts off when either listening to music from my phone or watching something on TV. The service team seems to have no desire to replace my product and only offered an update with a thumb drive. I have only used this for 3 months and I noticed it after 3-4 weeks of light use. If this unit has wifi and can update from the internet directly, then why am I being asked to go buy a thumb drive and download some software directly? I do not recommend this product as there are other companies who would take care of this issue immediately instead of email exchanges getting no where...
Date published: 2021-03-08
Rated

3

out of

5
by
Annoyed Tim
from
Not disappointed but not happy.
I have three JBL sound bars with my house. Unfortunately, this one doesn't hold up to the others. I have this one in my master bedroom. Quality of sound is decent. A little heavy on the high range. I don't like that you can't change from sports, music, movies or standard like I can on my other sound bars. My biggest complaint is you can't power off the device, it only goes into standby mode. I have the device connected via fiber optic to the TV. Despite the TV being powered off, the device will wake up and the display is extremely bright. I've always liked JBL, frankly, I wish I had done more homework on this one before purchasing.
Date published: 2020-12-08
Rated

4

out of

5
by
JBL Junkie
from
Great JBL Sound
I purchased this sound bar 2 months ago after reading the product features as I also own a JBL Bar 3.1 Sound bar that works and sounds awesome. This JBL Bar 5.1 Surround Sound Bar also sounds awesome however the owners manual needs correction regarding the bass control on the remote control. It says there is 5 levels to choose from & the display should say LVL1 up to LVL5. My sound bar actually says LOW, MEDIUM, HIGH so I only have 3 bass options. Does anyone else also see this? If so this either needs corrected in the owners manual or my sound bar needs updated to give me the 5 levels. That is why I rated this 4 instead of 5. Otherwise another fine JBL sound bar.
Date published: 2021-02-23
Rated

5

out of

5
by
JBlongz
from
Amazing sound in a concise package!
The sound is amazing. I was surprised how well balanced the subwoofer is with the sound bar. I usually watch tv and listen to music through JBL studio LSR monitors. Now I prefer the sound bar and sub for entertainment. The sound really spreads out and feels like a theatre. The bass is soooo good. Try it! I bet you'll keep it! What more can you ask for: HDMI, Bluetooth, WiFi Airplay, Google Home, Ethernet, Digital optical. This unit has all the modern technology you need to connect. Within 30 seconds of plugging it, I was playing music from my iPhone and iPad. All the cable you need are provided. It can also auto connect to your home network, download any firmware updates.
Date published: 2019-11-03
bvseo_sdk, dw_cartridge, 18.2.0, p_sdk_3.2.0
CLOUD, getReviews, 7ms
reviews, product
Kysymyksiä ja vastauksia
Hello! We have a jbl bar 5.1 (550w) and since yesterday the volume became very low. Previously we used it on volume 3-4, which now equals to 11-12. Is this the result of a software update maybe? Power off & reset did not solve the problem. Peter
Is it possible to roll back to previous firmware?
Date published: 2023-02-07
I just bought the 5.1 surround system and the volume seems way lower then 5oo watts more like 50 why wont this go any louder ?
@JBL support - soo may of the same issues reported for years and nothing has been done. One issue in particular has been reported in almost every post , how can you not see this or acknowledge it ? - The issue .....The sound of this bar is not loud enough. 32 is Max and its not loud. Cheaper soundbars sound better. Whats the update on this issue which has plagued us owners for going on 3 years now ? Please update ?
Date published: 2023-05-02
It seems the bass levels have changed from low, mid, high to levels 1, 2, 3, 4, 5. Was this from a software update and was anything else changed?
This was as a result of software update
Date published: 2022-01-06
I just got this bar and can't get smart mode to toggle off. Any suggestions? Holding the mute button does nothing.
To disable the smart mode, on the remote control, press and hold the mute button for more than 3 seconds then press vol +. If you need more help, please reach out to our Customer Support. https://bit.ly/3r5oWYM
Date published: 2021-12-11
What the difference with the other 5.1
Homer at Customer Support · 7 months ago The JBL Bar 5.1 Surround actually uses Dolby Audio (Dolby Digital) instead of DTS. Dolby Digital allows higher compression ratios with similar results. That said, both audio formats are capable of achieving almost similar results by providing surround sound, however, Dolby Audio allows a much wider range of input signals without overloading the connection, thus increasing compatibility. Furthermore, DTS requires a different decoding chip and the Bar 5.1 cannot be DTS compatible via a firmware update.
Date published: 2021-06-06
Is there a way to turn off the chime that sounds every time the volume of the soundbar is raised or lowered?
Go into the Google Home app and open the settings on the jbl 5.1 surround, look for playback sounds and disable it. Your JBL 5.1 needs to be connected to wifi to turn this off, its a feedback sound for Chromecast that makes this sound!!
Date published: 2021-11-13
HDMI Cable in HDMI/ARC port on TV does not produce sound, with or without an optical cable. Only the Optical cable alone works, which is not included. Problem - HDMI cable connections, can you suggest a solution so there's no need for optical to be used?
I am facing the same problem. There is no sound when I connect it via HDMI ARC with Netflix/DIsney in 5.1 audio setting(RAW/NO PCM). If I select stereo 2.0 then it worked. Serious problem with HDMI ARC. I further connect it via SPDIF/optical, it worked with 5.1 showing "Dolby Audio". So problem with HDMI, unable to decode RAW format 5.1. Kindly fix this ASAP.
Date published: 2022-11-15
I just purchased this today and like it however I have a question. Is the max volume 32? When I was turning it up listening to a son after 32 it said "max" and wouldn't get any louder? Is that right? I've had cheaper sound bars that went louder.
Please share what's being done about this? Seen lots of comments around this on forums, reviews and FAQs . Seems to be the downfall of this soundbar. Can you please fix this asap?
Date published: 2022-07-23
bvseo_sdk, dw_cartridge, 18.2.0, p_sdk_3.2.0
CLOUD, getContent, 153ms
questions, product