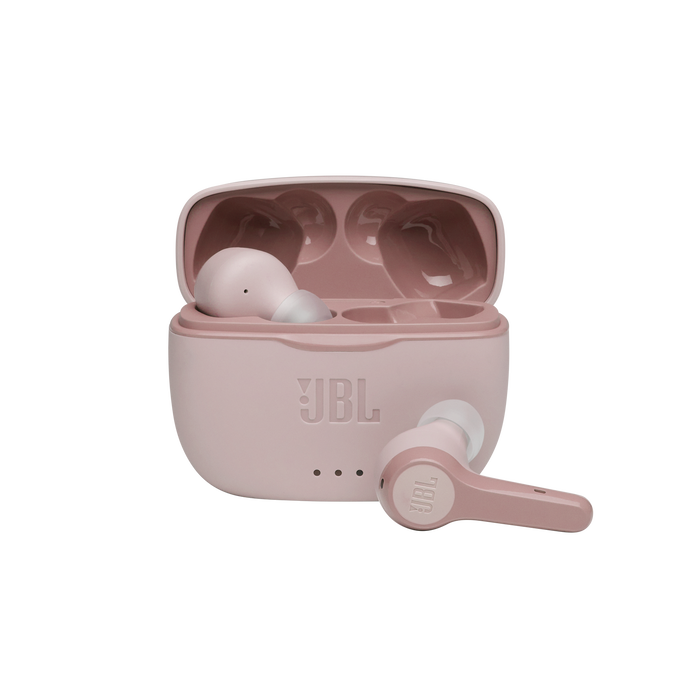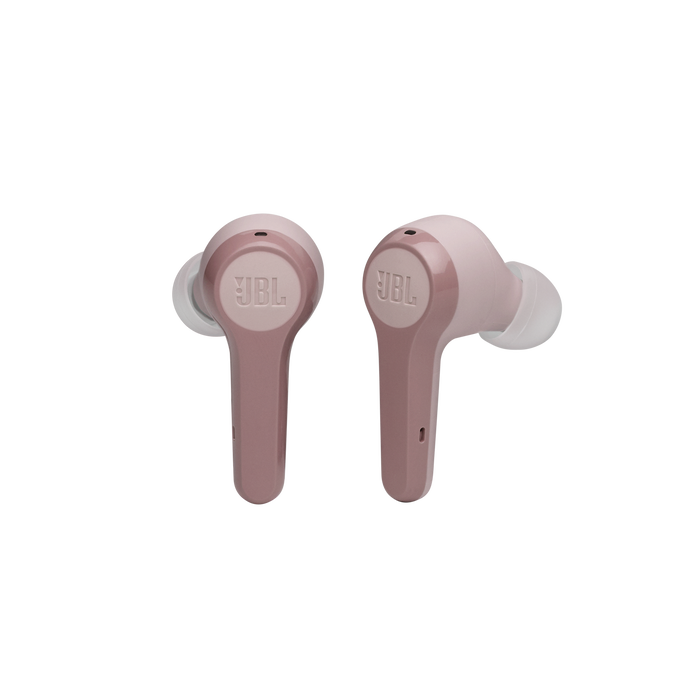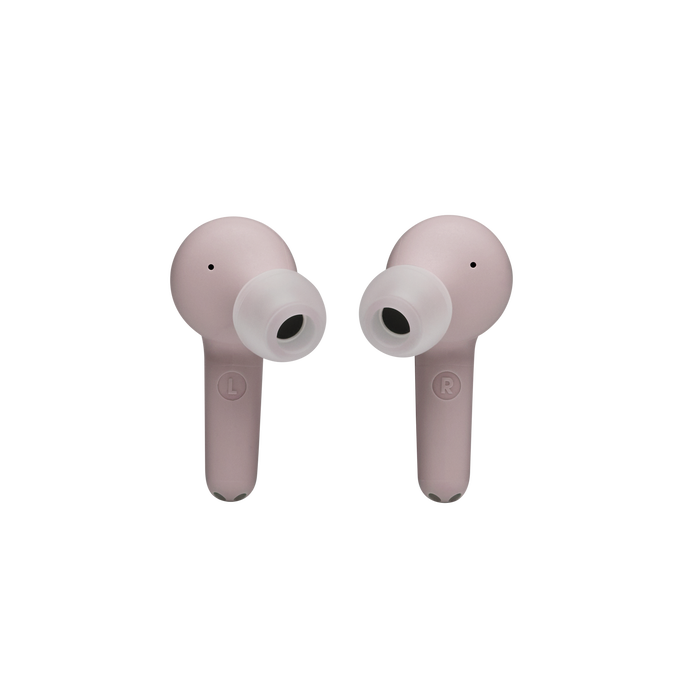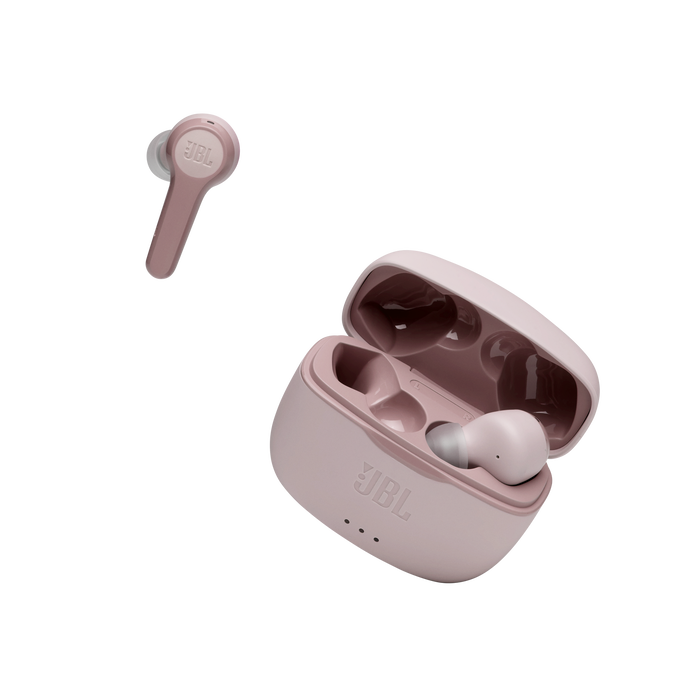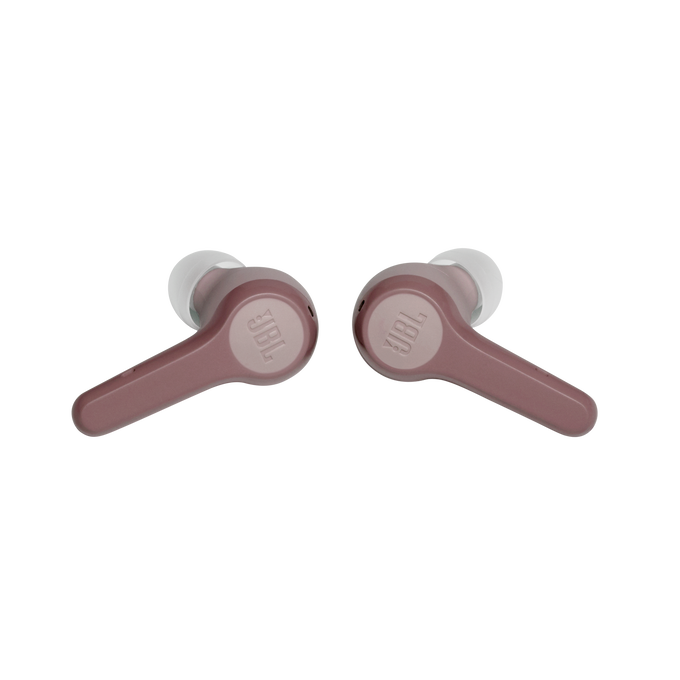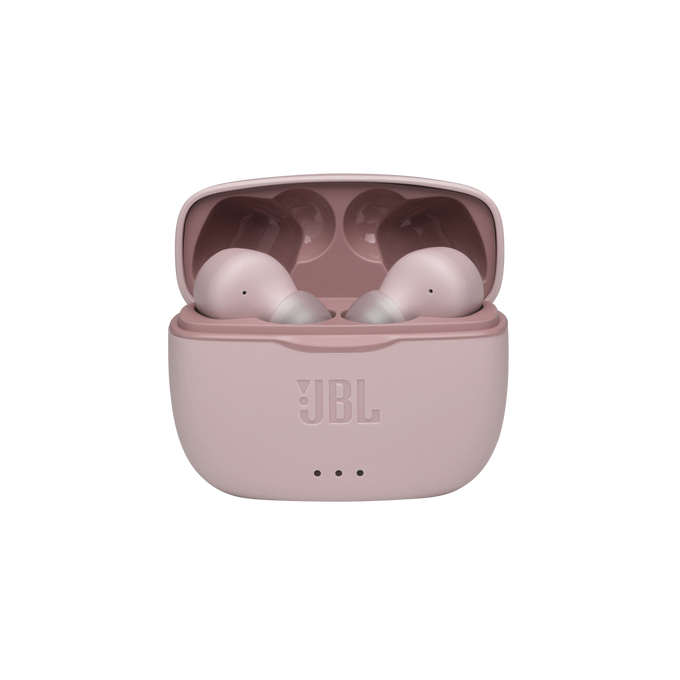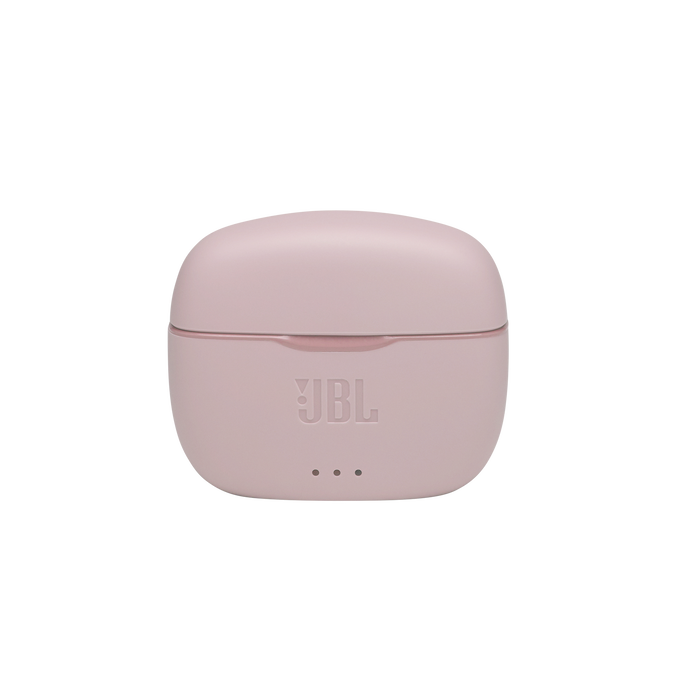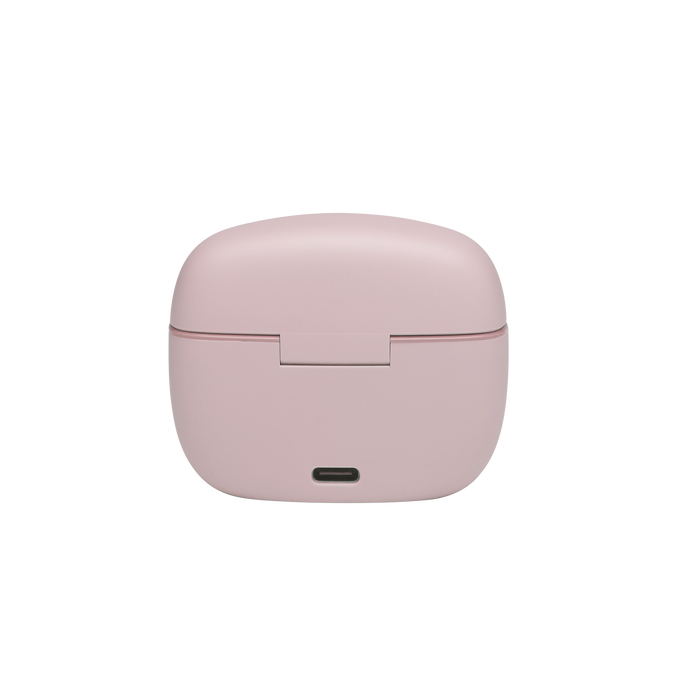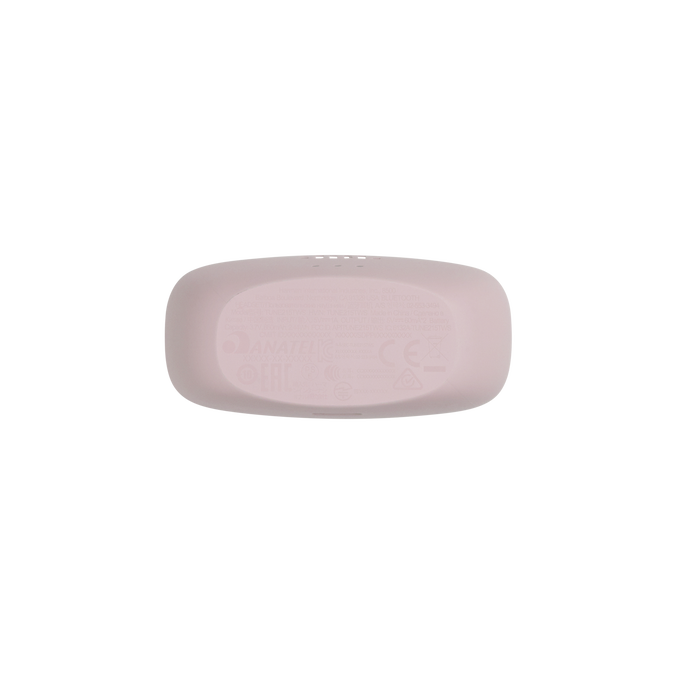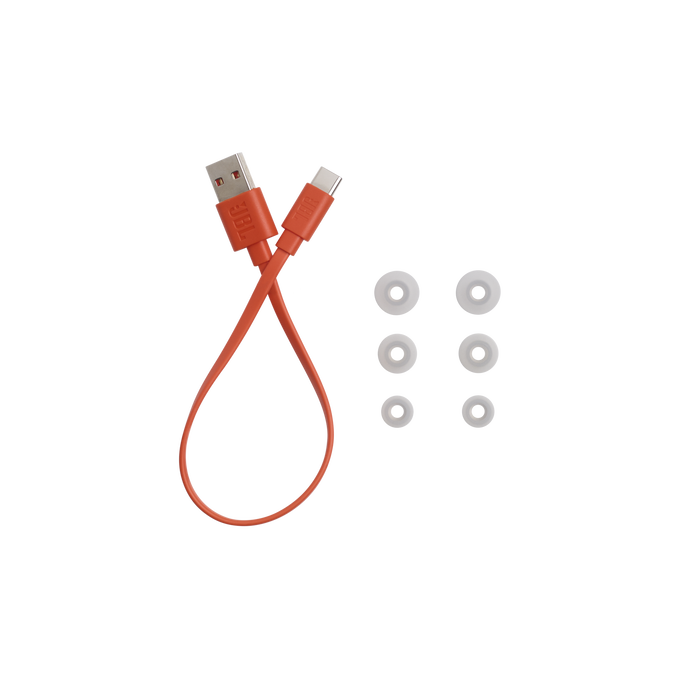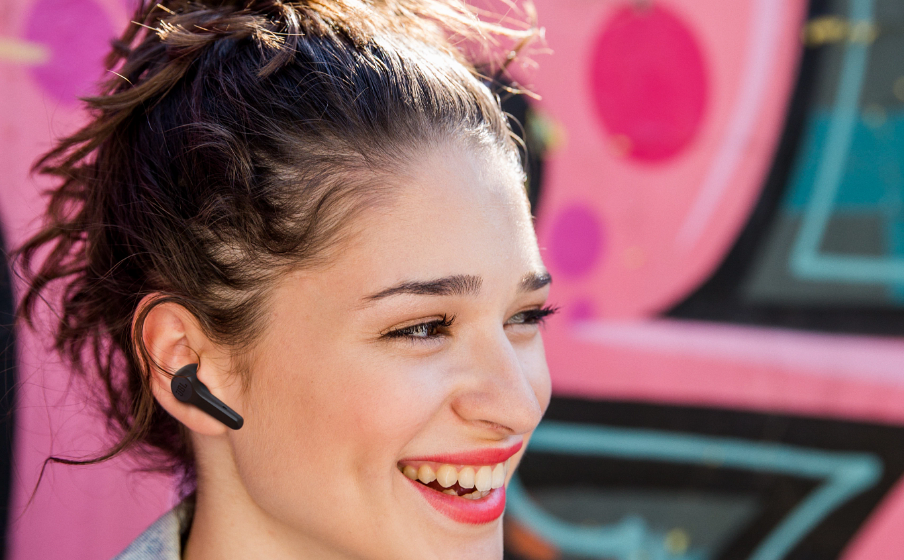 Tunne basson syke
JBL on huolehtinut festivaalien ja konserttien äänentoistosta ympäri maailmaa jo vuosikymmenten ajan. Nyt voit antaa JBL:n herättää oman maailmasi henkiin mahtavalla Pure Bass -äänellä.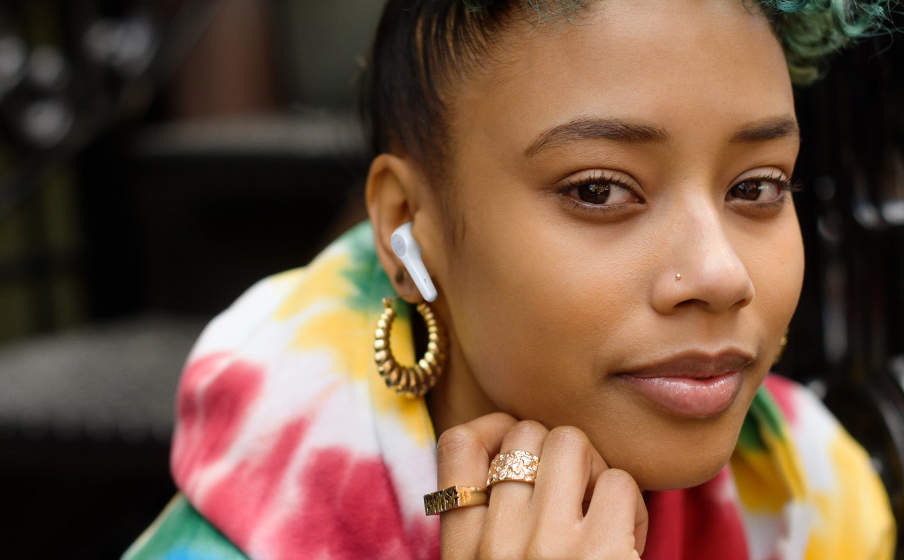 Vapaudu johdoista
Johdot voivat sotkeutua laukussa, tarrautua takkiin tai juuttua hiuksiin – eli todella olla tiellä. Aidosti langattomien JBL TUNE 215TWS -nappikuulokkeiden ansiosta saat kokea täydellisen johdottoman vapauden.
Kuuntele pidempään
Jopa 25 tunnin akunkesto (5 tuntia nappikuulokkeista ja 20 tuntia kotelosta), joten voit kuunnella koko päivän ja koko yön. Anna yksityiskonserttisi jatkua niin kauan kuin pysyt itse menossa mukana.
Ominaisuudet

Yksi korva vai molemmat korvat
Vasen korva, oikea korva vai molemmat korvat? Dual Connectin etu on se, että voit valita, haluatko nauttia musiikista tai soittaa puheluita saumattomasti vain yhdellä korvanapilla vai molemmilla. Tämän ansiosta voit kuunnella pidempään, sillä voit jättää toisen korvanapin latautumaan samalla kun käytät toista.

Löydä tyylisi
Mikä toimii sinulle? Kuuden eri värin joukosta löydät täydelliset nappikuulokkeet juuri sinun persoonaasi.

Tyylikäs ja kätevä latauskotelo
Jokainen yksityiskohta on suunniteltu huolellisesti. JBL TUNE 215TWS -nappikuulokkeiden latauskotelo on suunniteltu yhtä huolellisesti kuin itse kuulokkeetkin: sen muotoon on saatu inspiraatio jokikivestä, sen sisusta on pehmeä, ja ylös ponnahtavan kaarevan kannen ansiosta kuulokkeisiin pääsee helposti käsiksi.
Tiedot ja lataukset
Item# JBLT215TWSPIKEU
Kuvaus
Pysy yhteyksissä langattomasti.

Tunne olevasi yhtä musiikkisi ja maailmasi kanssa ilman rajoittavia johtoja. Suosikkimusiikkisi kuulostaa paremmalta JBL Pure Bass -äänellä. Ultramukavat JBL TUNE 215TWS -kuulokkeet pitävät sinut maailman huipulla 25 tunnin ajan. Voit hallita puheluita ja puheavustajaa helposti yhdellä kuulokenapilla tai molemmilla Dual Connectin ansiosta. Ja säästät akkua, joten voit kuunnella pidempään tai ladata sen nopeasti USB C -liitännällä.
Tuotetiedot
Audiotiedot
Elementin herkkyys @ 1kHz/1mW (dB)

101

Dynaaminen taajuusvaste (Hz)

20 Hz – 20 kHz

Impedanssi (ohmia)

16

Elementtien määrä per korva

1
Mitat
Charging Case Weight (oz)

1.8

Earpiece Weight (oz)

0.4

Latauskotelon paino (g)

51.3

Kuulokekapselin paino (g)

10.8
Ohjaimet, kytkennät ja liitännät
Bluetooth profiilit

A2DP 1.3, AVRCP 1.6, HFP 1.7

Bluetooth-taajuus

2.4 GHz – 2.4835 GHz

Bluetooth-lähettimen modulaatio

GFSK, π/4DQPSK, 8DPSK

Bluetooth-lähettimen teho

0 - 6dbm

Bluetooth-versio

5.0
Akku
Latausaika (tuntia, kun akku on tyhjä)

2

Maksimi toistoaika (tuntia)

5
Ominaisuudet
Bluetooth

Kyllä

Puheääniavustaja

Kyllä

Sisäänrakennettu mikrofoni

Kyllä

Latauskotelo

Kyllä

Hands-free-puhelut

Kyllä

JBL Pure Bass -ääni

Kyllä

Ladattava akku

Kyllä

Aidosti langaton

Kyllä

Langattomat

Kyllä
Pakkauksen sisältö
JBL TUNE 215TWS
1 x C-tyypin USB-latauskaapeli
1 x latauskotelo
1 x takuu-/varoituskortti (W / !)
1 x QSG-/turvallisuustiedote (S / i)
Asiakirjat ja lataukset
Arvostelut ja vastauksia kysymyksiin
Arvostelut
Rated

5

out of

5
by
Meghan Camp
from
Overall great wireless ear buds!
Overall these are really good ear buds! They hold a charge for a really long time which is so handy. I can't wait to use them for travel because of the long battery life. They block out a lot of sound when you have them both in another thing great fro travel or loud environments. I do like that if you're only using one of the ear buds the controls change to play pause on whichever you use. The only negatives is they hurt my ear if not positioned correctly and the buttons to control them took a little getting use to they felt hard to push at first.
Date published: 2022-03-30
Rated

5

out of

5
by
Julesbr
from
Great bass
Brilliant set of earbuds ... music and bass is fantastic.. would highly recommend these for anyone who loves they're music.
Date published: 2021-01-08
Rated

4

out of

5
by
RT69
from
Toimivat kuulokkeet
Toimivat korvalle menevät kuulokkeet! Selkeä ääni, ja vakaa Bluetooth yhteys kaikkiin laitteisiin mihin olen kokeillut tähän asti:) puhelut sujuu hyvin, ei ole ollut ongelma mikin kanssa, niinkun muilla brandeilla on tullut vastaan. Ainoana miinuksena näen että äänenvoimakkuuden ei voi säädellä jollain lailla muuten kuin assistentin kautta tai suoraan puhelimesta. Kotelo on kivan kokoinen ja riittävän painava ettei se menee hukkaan taskussa, ja silti on kevyt! Äänenlaatu on todella hyvä, ja basso on todellakin olemassa vaikka ei uskoisi!
Date published: 2021-03-15
Rated

4

out of

5
by
hagaynor
from
Great sound
These definitely have great sound. They are a bit bulky and took a bit of time for me to get used to how they fit but other than that they are great.
Date published: 2020-11-24
Rated

5

out of

5
by
Rocky
from
Loud, Crisp and Clear Sound
I read the product description and reviews before trying them on, and it perfectly matched the description. The sound is loud, clear, no distortion, and very crisp. The only drawback I observed is the buds are bigger than they seem in the picture. They tend to fall down while I was running. I changed them to a small size ear tips and now they stayed perfectly without falling down.
Date published: 2022-03-18
Rated

1

out of

5
by
Zakww
from
Left earbud no longer stays connected
Sound is bad but the battery life is fine. They connect as easily as airpods. The left earbud disconnects after a few seconds/minutes. Barely used them for a week.
Date published: 2021-03-25
Rated

5

out of

5
by
Josh455678
from
Amazing sound quality for the price
Has always Jbl never stops impressing me. I Had the 120tws before I got there and I can say it's a solid upgrade from them. Great bass and sound quality, and they fit in your ear super snug if it doesn't fit in your ear you can try between three different sizes of rubber ear buds to find what fits best overall amazing headphones and jbl never stops impressing
Date published: 2020-11-11
Rated

4

out of

5
by
Ivan
from
Amazing quality for an amazing price
For the price point, these JBL earphones easily beat any competition due to two factors. First, the long lasting battery on these. My favorite aspect was going days without charging them. Another reason why these earphones are very well-designed is because of their comfort ability to my ear. One of the worst characteristic an earphone can have is being slippery to one's ear or not fitting correctly. For this reason, it gets annoying to readjust the earphones every minute or so. However, these earphones do not have this problem
Date published: 2022-04-13
Rated

5

out of

5
by
Ricketyrock
from
Fantastic Sound
This is my first pair of high end brand name wireless earpods and wow, they sound fantastic! The sound is clear and clean on all levels, bass, midrange and treble. The bass is nice and powerful and unlike other earbuds I own, it doesn't overpower the higher frequencies. The midrange comes in clear as does the treble; I can hear nice detail in the music. It sounds like I'm at a concert. Makes me want to go and buy their floor speakers. However, I don't like that the volume cannot be controlled via the earpiece, must use phone for that. And, I'm getting used to pushing the buttons (instead of touch sensor) for other functions like forward, reverse of songs as well as calls and using Google assist. They don't have ambient sound for listening to outside noises but do a good job of isolating the ear to block out sounds. These are amazingly sounding earpieces especially for the low price. I am enjoying listening to the music so much with these. Good job, JBL!
Date published: 2021-12-23
Rated

4

out of

5
by
Happycustomer11
from
A good alternative to more pricey options
I bought these a couple weeks back and overall I'm pleased. The sound is really good, they are pretty comfy and so much better priced than some of the more expensive options in the market. The battery life after charging is exceptional compared to competitors I have used and the charging box is great. However, I have had some issues with them falling out while running or just generally moving about. They also go incredibly loud, to be honest dangerously so, I know some people like to listen to really loud music but I wouldn't recommend giving these to anyone of a young age that is unlikely to sensibly self regulate the volume as you could easily wreck your hearing with these. Overall it's a good product and I've been pleasantly surprised how crisp the sound quality is. Only real issue is the occasional falling out, think they may just be a weighted a little unevenly which drags them out. But definitely go for them if you want a decent reliable pair compared to pricey competitors.
Date published: 2020-12-10
Rated

5

out of

5
by
Elimel
from
Great Buy
Very easy to use with simple Bluetooth pairing system. They have a crisp and clear audio with a great microphone for calls, they are perfect for calls or just even just listening to music. They are small enough and stylish with a comfortable snug fit. All in all a great device and 5stars
Date published: 2022-03-25
Rated

4

out of

5
by
Mr President
from
Great earbuds for the price!
These earbuds are nice for the price point. They have that JBL sound that I love (have to EQ for preference), have a decent fit, and work great. Phone calls sound quality is perfect, though they tend to pick up a lot of wind noise if it is windy. The provided tips are where the -1 star comes from. They are cheap, and I could not find a good fit. I used the tips from my JBL Tune noise canceling earbuds. Battery life is with the case is perfect. Overall, they are very good earbuds with small negatives.
Date published: 2022-03-26
Rated

5

out of

5
by
Lord Bizzness
from
Great fit, great sound.
I've had issues with some ear buds staying in when I'm moving around but not with these. They stay in even when walking/jogging. They also sound really good. There's a nice bass sound without sounding fake. Real rich sound all around. Great product. The charging dock is real nice, the magnetic feature is nice to keep them in place, and the lights on the buds themselves light up so you know they're in correctly. I haven't pushed the limits of the battery life but I haven't had to, it seems to last forever.
Date published: 2022-03-21
Rated

3

out of

5
by
Jbl01
from
Really good headphones for the price i love the sound quality and the bass but not a fan of the design, it looks better in picture the material looks cheap and big in my ears almost like they were fake earbuds or maybe its just me because i have small ears
Date published: 2021-07-13
Rated

5

out of

5
by
Fyre47
from
Vapautta korville!
Olen käyttänyt nyt noin viikon ajan kuulokkeita. Ne olivat todella helpot ottaa käyttöön. Virta menee automaattisesti päälle kotelosta otettaessa ja sulkeutuu takaisin laitettaessa. Ne on kätevät sujauttaa takin taskuun tai käsilaukun pikkutaskuun. Kotelo on todella kompaktin kokoinen ja tyylikäs. Kuulokkeet vaativat alkuun hieman totuttelua, koska olen aiemmin käyttänyt enimmäkseen tavallisia kuulokkeita. Akku ei ole vielä kertaakaan loppunut kesken, koska olen säilyttänyt kuulokkeita aina kotelossaan. Niitä on helppo ladata usb:llä. Äänentoisto on puhdas ja virheetön, kuuntelinpa äänikirjoja, klassista tai rockia. Lapsiperheessä kuulokkeet ovat olleet kultaakin arvokkaammat, koska ne blokkaavat meteliä ja puhetta todella hyvin. Olen enemmän kuin tyytyväinen ja suosittelen näitä aidosti.
Date published: 2020-12-22
Rated

5

out of

5
by
Brett
from
Great Value, Quality Sound, Deep Bass!
The JBL Tune 215TWS have been my favorite Bluetooth in ear headphones that I've owned so far. Love how nice the handleability is of the headphones, much easier to put in and take out and less chance of them falling out of my hands. Durability and overall physical quality seems really great as well, they feel heavy and I really like how they fit in my ears. I mountain bike a lot and these stay in very well. It's really great how the case actual charges these as well as magnetically holding the headphones in place. Sound quality is amazing, super dynamic and has really great range between the highs and lows. No distortion and plenty of volume to keep any type of listener happy. Bass is especially punchy and deep especially for how small these in-ear headphones are. Would definitely recommend
Date published: 2022-04-04
Rated

5

out of

5
by
Virat
from
Simple and comfortable wireless earphones
The earphones are light and comfortable to wear. The sound is a little bass heavy but nevertheless pretty excellent and the battery life has been good so far. All in all I consider them a very convenient pair of wireless earphones.
Date published: 2022-04-13
Rated

5

out of

5
by
Vineet
from
Great Bass! Totally worth every penny.
I was extremely surprised to hear the amount of bass from the such small earbuds. The sound is very crisp and yet surprisingly loud. Although it doesn't have active noise cancellation, the way the medium size ear tips fit in my ear, I don't think I need one. My wife was watching TV loudly while I had them on, I wasn't able to hear anything from the TV noise. I didn't notice of lag as well while watching videos from YouTube. This is probably the most value worth earphones I have bought.
Date published: 2020-11-11
Rated

2

out of

5
by
own 4 JBLS
from
Not highly recommended- Going to buy another pair
It depends what you are looking for in a headphone. The battery life is fair. Could be better, my Bose speaker lasts longer, it is also bigger. Disadvantages: If connected to one device, will not connect to another unless I disconnect from the first None of the adaptive ear silicone things fit my ear (petite female) Have had to reset about 10 times, only had 3 months Advantage: Sound is good, but depends on device (con) charging case long battery life small lightweight
Date published: 2022-02-03
Rated

4

out of

5
by
Boris B
from
Good earphones that sound well, but unremarkable
These are great earphones that just do the job, without any frills. They are like Honda Civic or Toyota Corolla of earphones. Tune 215s have great sound, are truly wireless, and have a nice carrying/charging case. They also do a great job of isolating the sound around you. People around me had to tap me on the shoulder after raising their voice quite a bit calling my name, and I still couldn't hear them. However, that's where the goodness ends. There are no touch controls, no wireless charging of the case, and no equalizer. Of course, they're not priced as high as, say, JBL Club Pros that I also own and love. Club Pros have all those features, and cost quite a bit more. Tune 215s are budget earbuds that are truly wireless and sound well. They are filling cost-effective niche and are doing a great job at it.
Date published: 2022-03-30
Rated

3

out of

5
by
Raz13
from
Good sound horrible battery life
The sound out of these buds are great. It's just the battery life I have never had them come out 100% charged out of the case and after 3 hrs use they're down to 20% and start beeping at me to charge them. They do not live up to what jbl says on battery life. I won't buy another pair.
Date published: 2021-07-08
Rated

1

out of

5
by
HugeEarHoles
from
Not for people with huge ear-holes
My wife bought these for me for Christmas and they sound great, but fall out of my ears CONSTANTLY. I'm a big guy so maybe I just have weird ear holes or something but I don't have this problem out of any of the six other pairs of earbuds I own, both wired and wireless. I've tried every size tip, every conceivable angle (EVEN UPSIDE-DOWN!!!) and they STILL fall out. Customer Service is replacing them with a different style that has ear hooks. Weird-Eared people beware!
Date published: 2022-03-24
Rated

4

out of

5
by
RDeal
from
Nice Sound
The JBL Tune 215TWS is a good choice for the budget conscious consumer. It has a nice low end, that JBL is know for. The ear buds connect easily to the Bluetooth on your device. The controls are easily accessed on the earbuds, a button for functionality on each side. The charging case is nice and compact and LEDs charging lights on the front of the case show the charge load. Its nice to see that the charging USB C port is on the case as well for a quicker charge.
Date published: 2022-03-19
Rated

5

out of

5
by
Anonymous
from
Phenomenal
Amazing all around product. Strait out of the packaging the look, feel and sound are immaculate. The unboxing experience is what you would expect from JBL. Clean, to the point. The best part about this product is the audio quality. I've used and tested many products before, but these stand out and gave me a bit of a shock. The audio quality is exactly what a music lover would love. Crisp clear highs and very responsive bass. These are a Music Lovers Headphone!
Date published: 2022-03-23
Rated

5

out of

5
by
DBrandt
from
Great little package with big sound
Really nice earbuds, I got these with the intention of using them in conjunction with a VR headset, but I love them so much for everyday use that I never got around to trying that yet. The sound is very crisp and clear, I wish I could pump up the bass a little though. Very easy to pair and control with my phone. Great for doing yard work or chores around the house. The charging pod is really cool with the magnetic grab. All in all, very happy with these.
Date published: 2022-03-21
Rated

4

out of

5
by
Frank2287
from
Not too shabby
So i gave it some time to try the tune215tws at work and the battery life is really good for a wireless earbud. Sound quality is that crisp JBL sound. The only think as a preference is i was hoping for a little bit more bass from them. Yes JBL has other products for bass and balance but i like to hear bass to complete the sound, yet again, this is my preference. Overall, you will not be dissapointed in this product. JBL has always and will be an amazing brand.
Date published: 2022-01-07
Rated

3

out of

5
by
RC90
from
Decent audio but too much plastic packaging
The JBL Tune 215TWS are a good pair of headphones but don't really stand out in any area. I really wish JBL would focus on making just 2-3 variants of really fantastic in-ear/true wireless earbuds rather than flooding the market with the 20+ that they have now. I'm not quite sure where the Tune 215TWS are supposed to excel, but even without excelling anywhere, they're good enough to be a go-to pair for work / casual listening. The Positives: Between the headphones and the case, the battery life is great. I've used these pretty regularly at work over the past month and have only had to charge about once a week/every other week. They're also quick to connect to my phone when I pull them out of the case, and I rarely have dropped connection issues. Audio quality is solid for the price point and I haven't gotten any complaints about mic issues when taking calls. The Negatives: The packaging had too much unnecessary plastic which we should all start fighting back against. The charging case is relatively compact and light, but the hinge for the top part feels flimsy and moves around slightly whether open or closed. You have to hold the buds to push the buttons on them without shoving the buds painfully into your ears. The buttons also do different things on the left and right buds which took some getting used to. The smallest silicone tips are the only ones that don't pop out of my ears every two minutes.
Date published: 2022-04-24
Rated

5

out of

5
by
JSFOhio
from
Great noise isolating buds.
Very satisfied with the ear buds. Previous in hears have touch sensitive "buttons" and I would accidently hit that if I was adjusting them in my hear. These have an actual button and hold better in my ear with the rubber tips. Great bass to them and so far the battery life hasn't been an issue. People on phone calls can hear me just fine. I think my biggest joy is the rechargeable case and how quickly it charges the ear buds.
Date published: 2022-03-27
Rated

5

out of

5
by
Jacob
from
Excellent headphones for those on a budget!
These are pretty solid headphones! I have pretty small ears, but with the smallest tips on them they are very comfortable and secure. Even though they don't have active noise cancellation, they still do a good job blocking out noise. And of course, they have that famous JBL sound quality and bass. All that and they still have the battery life to get me through the work day and then some. Awesome headphones!
Date published: 2022-04-13
Rated

4

out of

5
by
Jones60
from
Hyvät bassot
Olen testannut näitä reilu viikon verran. Latauksen kokeilin korviini ja 3 sovitus kappaleesta laitoin keskimmäiset ja tuntui sopivan hyvin. Sit hakeen Bluetooth ja helposti löysi ja sit vaan päälle. Mielestäni ääni on tosi hyvä ja basson jytke on kiva. Muutenkin eristää aika hyvin ulkopuolisia ääniä. Välissä soi puhelimiin ja hyvin sai vastattua. Istuvat korville hyvin ja pysyvät korvilla. Tukkäsin
Date published: 2021-03-17
bvseo_sdk, dw_cartridge, 18.2.0, p_sdk_3.2.0
CLOUD, getReviews, 7ms
reviews, product
Kysymyksiä ja vastauksia
bvseo_sdk, dw_cartridge, 18.2.0, p_sdk_3.2.0
CLOUD, getContent, 107ms
questions, product
bvseo-msg: Unsuccessful GET. status = 'ERROR', msg = 'Not Found.';