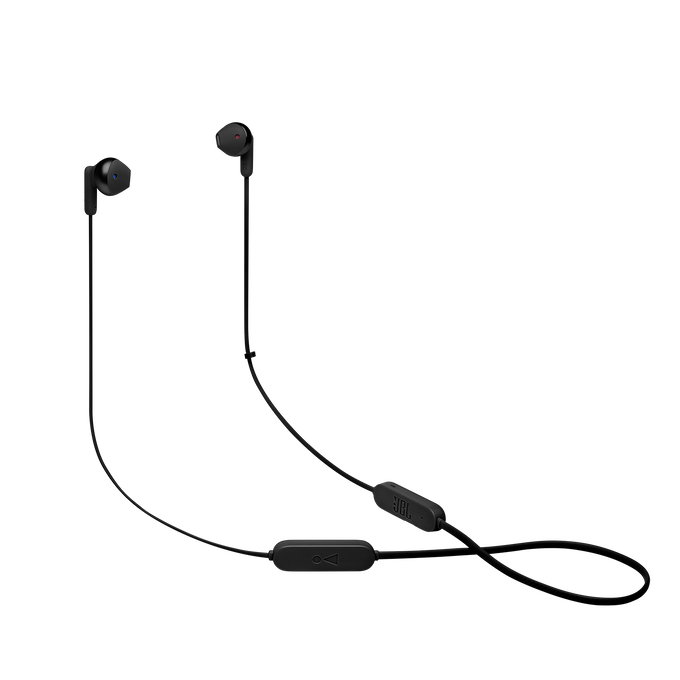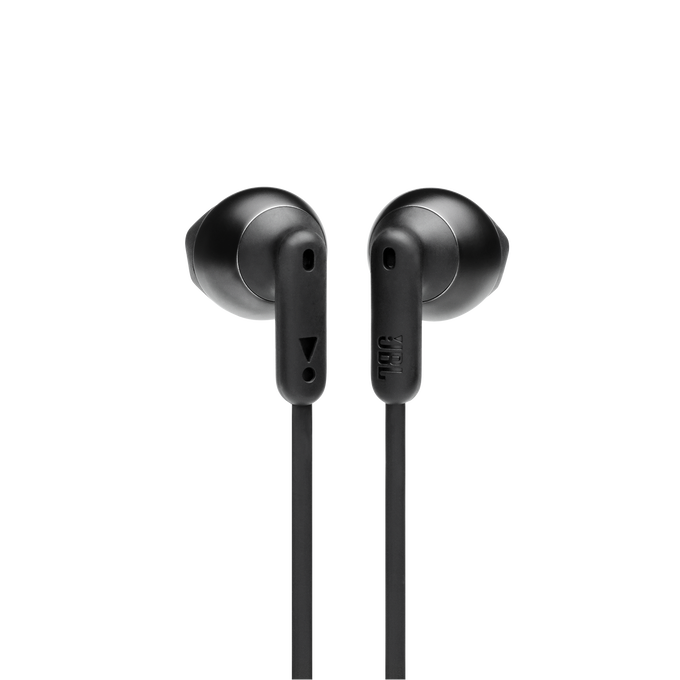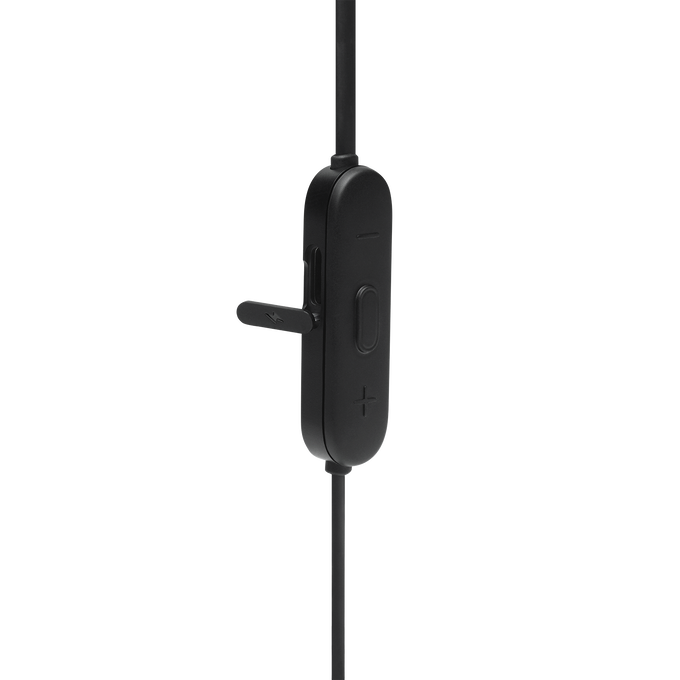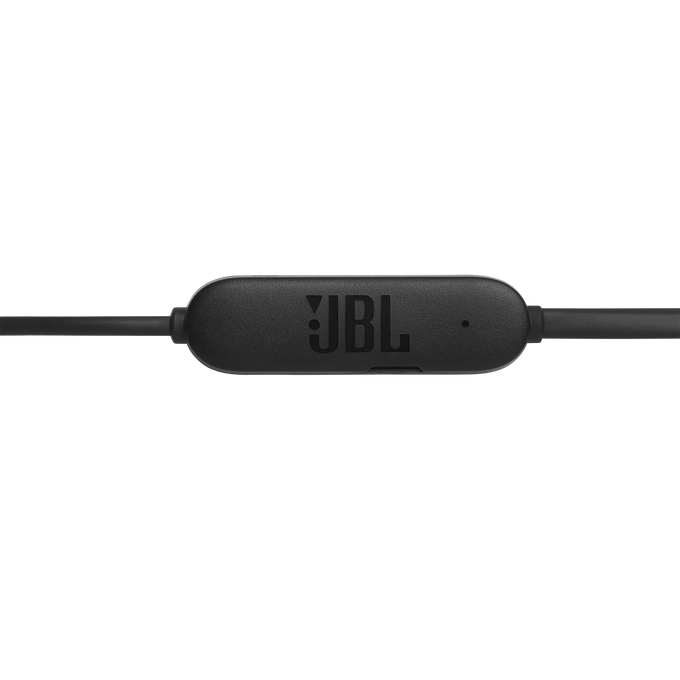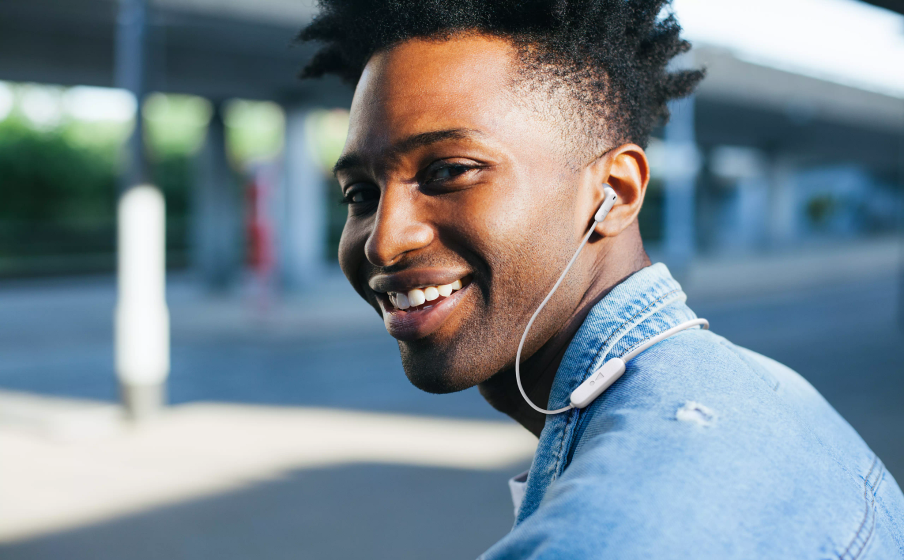 JBL Pure Bass -ääni
Yli 70 vuoden ajan JBL on kehittänyt tarkkoja ja vaikuttavia äänentoistoratkaisuja suuriin tilaisuuksiin ympäri maailmaa. Näillä kuulokkeilla saat tuon saman JBL-äänen, jossa basson tehoa ja syvyyttä ei ole säästelty.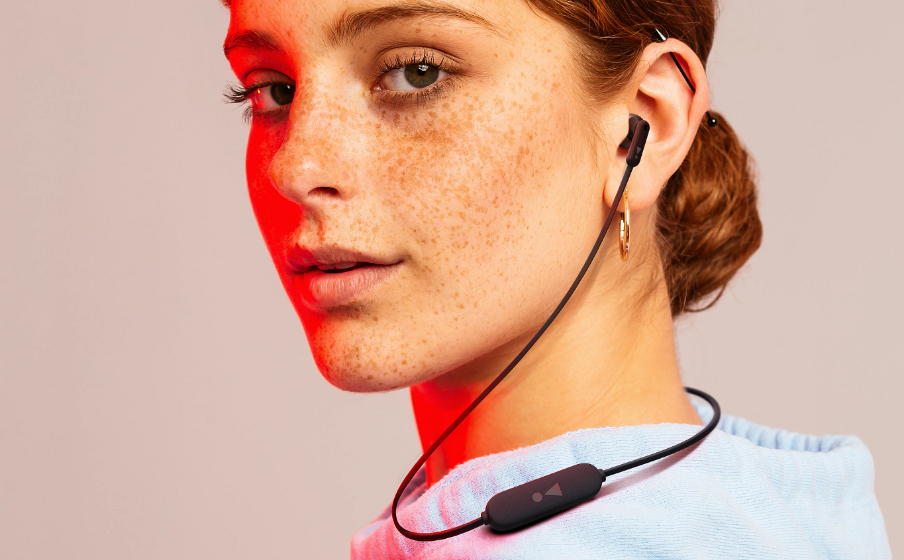 16 tunnin akkukesto pikalatauksella
Nauti musiikista ja käytä puhelintasi 16 tunnin ajan. Saat täyden latauksen 2 tunnissa tai yhden lisätunnin vain 10 minuutin latauksella.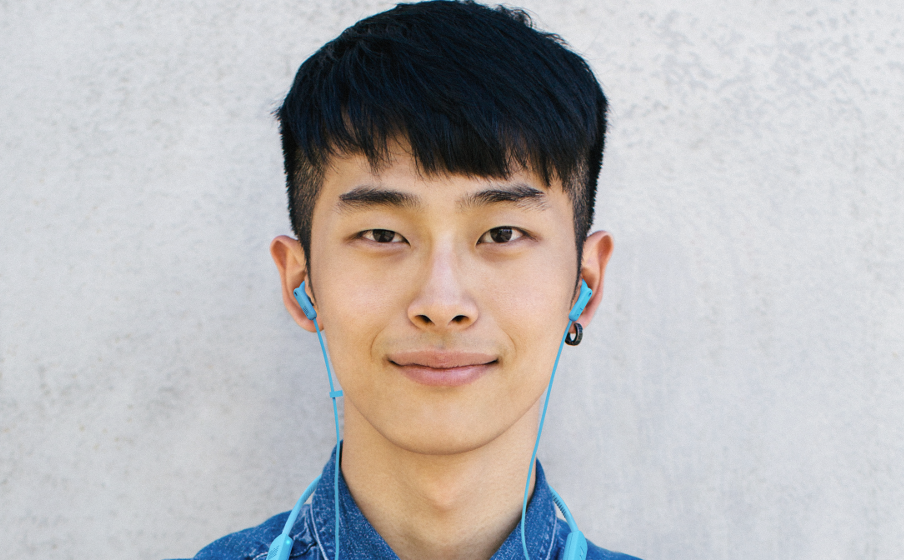 Hands-free-puhelut
Hallitse äänentoistoasi ja puheluitasi helposti kuulokkeiden kätevän kolmipainikkeisen kauko-ohjainmikrofonin avulla.
Ominaisuudet

BLUETOOTH 5.0​ – häviötöntä laatua
Suoratoista suosikkimusiikkiasi erittäin korkealaatuisesti Bluetooth 5.0:llä.

Litteä sotkeutumaton kaapeli
Kestävä litteä kaapeli ei mene solmuun.
Mukavasti istuvat nappikuulokkeet
Pehmeillä ja ergonomisilla nappikuulokkeilla voit nauttia musiikista mukavasti

​Multi-point -yhteys
Voit saumattomasti vaihtaa tabletillasi pyörivästä videosta älypuhelimeesi puhelun puhumista varten, eikä yksikään puhelu jää kuulematta.

​Puheavustajan tukema
Voit vaivattomasti käyttää älylaitteesi puheavustajaa kuulokkeista.
Tiedot ja lataukset
Item# JBLT215BTBLK
Kuvaus
PURE BASS, LANGATON

Esittelyssä JBL TUNE 215BT -nappikuulokkeet JBL Pure Bass -äänellä. 16 tunnin akunkestonsa ansiosta ne tuottavat korkealaatuista JBL Pure Bass -ääntä langattomasti ja mahdollistavat hands-free-puhelut. Ensiluokkaisesta materiaalista valmistetut kuulokenapit on varustettu 12,5 mm:n elementeillä, jotka tarjoavat tehokkaan bassoäänen. Pehmeän sekä ergonomisen muotoilun ansiosta kuuntelukokemus pysyy mukavana pitkiäkin aikoja. Lisäksi kolmipainikkeinen kaukosäädin yhdessä mikrofonin ja sotkeutumattoman kaapelin kanssa tarjoaa musiikin ja puheluiden hallinnan laitteesi puhevustajalla. Multi-point -yhteys takaa ettet koskaan missaa puheluita, minkä ansiosta JBL TUNE 215BT on jokapäiväinen kumppanisi töissä, kotona ja tien päällä.
Tuotetiedot
Audiotiedot
Elementin herkkyys @ 1kHz/1mW (dB)

118 dB SPL@ 1kHz 1mW

Dynaaminen taajuusvaste (Hz)

20 Hz – 20 kHz

Impedanssi (ohmia)

20
Ohjaimet, kytkennät ja liitännät
Bluetooth profiilit

HFP 1.7, A2DP 1.3, AVRCP 1.6

Bluetooth-taajuus

2.400 GHz - 2.4835 GHz

Bluetooth-lähettimen modulaatio

GFSK, _x005F_x001F_/4 DQPSK, 8DPSK

Bluetooth-lähettimen teho

< 6 dBm

Bluetooth-versio

5.0
Akku
Latausaika (tuntia, kun akku on tyhjä)

2

Maksimi toistoaika (tuntia)

16
Ominaisuudet
Bluetooth

Kyllä

Charging cable

Kyllä

Puheääniavustaja

Kyllä

Kolmipainikkeinen kaukosäädin/mikrofoni

Kyllä

Sisäänrakennettu mikrofoni

Kyllä

Litteä sotkeutumaton kaapeli

Kyllä

Hands-free-puhelut

Kyllä

JBL Pure Bass -ääni

Kyllä

Multipoint-yhteys

Kyllä

Ladattava akku

Kyllä

Pikalataus (5 min = 1 tunnin soittoaika)

Kyllä

Langattomat

Kyllä
Pakkauksen sisältö
1 pari TUNE 215BT -kuulokkeita
1 x latauskaapeli
1 varoituskortti
1 x Takuukortti
1 x turvallisuustiedote
1 QSG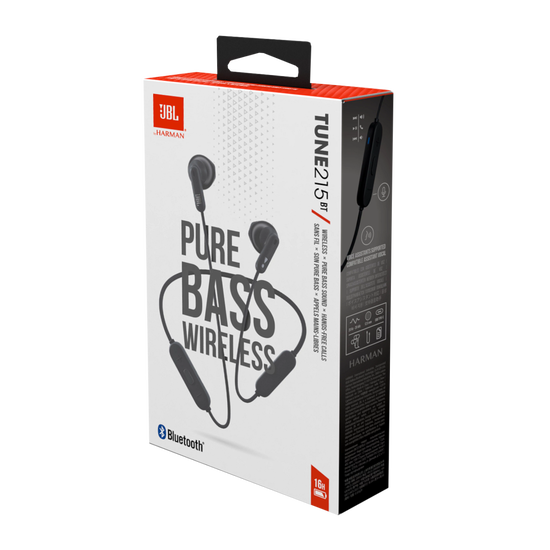 Asiakirjat ja lataukset
Arvostelut ja vastauksia kysymyksiin
Arvostelut
Rated

3

out of

5
by
Jknetland
from
Jbl plugs
I got this in hand for å few weeks ago, and was existed to try them. The earplug comes in one size, and cant be changed, and that is a big minus for me, becouse my ear is just a bit to small, so it hus when i use them for å longer period. Miss the magnets from the 115 version when it is not in use. Now there is just a small hook to connect the Wire. Go back to the 115 earplug and i will buy this, but cant use them like this…
Date published: 2020-12-21
Rated

5

out of

5
by
pearlgirl
from
Love these earbuds!
I bought these earbuds over a year ago. They still work perfectly! They have great sound quality. I use them for listening to music, watching videos, and phone calls. The cord connecting the two earbuds is longer than I expected, but it's good because if I'm wearing something with a collar or hood I can tuck the cord underneath and it stays nice and secure. I searched a long time for earbuds this shape and without the gummy things, and I'm happy to say these fit in my ears pretty well and are comfortable. Pairing is quick and easy. The quickstart guide included in the packaging was helpful and made it easy to understand the buttons' functions. I got the blue color and it is really nice. They charge quickly, and only need 5 minutes of charging to make them last for an hour if they've died. They have never tangled once in all the time I've had them. I highly recommend these!
Date published: 2022-12-17
Rated

4

out of

5
by
glust24
from
Excellent Battery Life
I recieved the JBL TUNE 215BT wireless headset a few weeks ago and have been enjoying them regularly at work and for going on walks. The biggest feature that stands out to me compared to other bluetooth headphones is the battery. Normally, battery life is almost always an issue with bluetooth headphones only lasting a few hours. The TUNE 215BT's batter life has been excellent. It is advertised as lasting 16 hours and takes under 2 hours to fully charge. I have gotten several days use out of a single charge. It also has a rapid charge feature that can get an hour worth of battery life with only a 10 minutes of charging. I don't find myself using that feature often since the battery can easily last all day, but it is nice if you forget to charge it. The sound quality is good, but with the addition of the other main feature which is the Pure Bass Sound, it has noticeably enhanced bass for such small earbuds. The external design of the headphones appear very similar to another company's design you are probably familiar with. The only things holding the TUNE 215BT back from a 5-star rating for me, would be the comfort and how secure they fit in my ears. Your results may vary since everyone's ears are different. These headphones are not uncomfortable, but I have used other earbuds that are certainly more comfortable and better fitting for my ears. There is a cord that permanently connects the two speakers which houses the battery, microphone, volume and control buttons; and it works great used as a hands free headset for phone calls. Overall, I like these headphones. They have good sound and a battery that you don't have to worry about for all-day listening!
Date published: 2021-06-20
Rated

4

out of

5
by
Meerdis
from
Hyvät ideaaliskuulokkeet
Nämä langattomat kuulokkeet ovat juuri minulle sopivat. Ne eivät poista ympäristön melua, joten liikkuessakin pystyy niitä käyttämään. Niissä on tasapaino nappulat, jotka pitävät kuulokkeet mukana harteilla vaikka joutuisi välillä poistamaan toisen kuulokkeen, tai kummatkin korvista. Piuhat tosi ovat aika pitkät, omasta mielestäni voisivat olla lyhyemmät. Handsfree toiminto toimii ja puhelut ja mikki toimivat hyvin. Johdossa on mukana oma pieni kaukosäädin toimintojen säätelyyn. Niiden taajuus toimii hyvin, ja äänen lähteen voikin jättää toiseen huoneeseen tai kauemmas, ja silti kuulokkeet toimivat. Suurin ongelma minulla oli kuulokkeiden muotoilu, tai niiden kovuus. Paketissa ei tule mukana vaihtopäitä, vaan kuulokkeissa on kiinteästi samat päät, jotka sattuvat korviini pitkän päälle. Niihin on varmaan mahdollista tottua, mutta miksi kärsiä kivusta? Muuten ideaali kuulokkeet.
Date published: 2021-06-13
Rated

1

out of

5
by
1hello
from
a downgrade
I recently bought these to replace my previous JBL E25BT earbuds and having tried to moment, i switched back to my old ones. Even if the box says "Pure Bass" these have no bass at all if you compare to E25BT. Also these are "one size fits all" without any changeable rubber heads. Unfortunately at least to me earpieces are very uncomfortable and are literally painful to use. Pure waste of money.
Date published: 2021-03-03
Rated

3

out of

5
by
Bufonidae
from
Perushyvät kuulokkeet
Kuulokkeet on hintaansa nähden hyvät ja peruskäyttäjälle sopivat. Ei särje ääntä kovillakaan volyymeillä, mutta vuotaa hieman läpi siten että vieruskaveri bussissa tai kotona tunnistaa helposti mitä kuunnellaan. Äänenlaatu mielestäni kiitettävä niin viihteellisissä pop/rock-akselilla kuin myös esim. klassisen musiikin kuunteluun. Miinusta bassosoundeista: mielestäni soundi on diskanttipainotteinen enkä low-mid tasoilla huomannut tuotteen parannellun basson -ominaisuutta, jota kuitenkin mainostetaan yhdeksi kärkiominaisudeksi. Peruskäyttäjälle ok, en suosittelisi edistyneemmälle kuulijalle. :) Pienikorvaiselle tuntuu mukavalta korvassa sillä kuulokkeissa ei erillistä sisäkorvan kumia, mutta ei pysy liikkeessä korvassa vaan tippuu herkästi. Soveltuu siksi paremmin arkikäyttöön kuin esim. juoksulenkille tai muuhun liikuntaan. En saanut puheohjausta toimimaan, mielestäni valmistajan ohjeet hieman puutteelliset.
Date published: 2021-06-08
Rated

4

out of

5
by
hearingbeeps
from
Factory Reset ot Firmware Downgrade/Reisntall?
I've been using these for quite a white. After the "20 second beep sound" problem (mentioned in another review) was solved (thanks to the instructions for a "firmware update", as a reply to the previous review here) they have been quite enjoyable. The seamless switching between the computer and the Android phone has been a plus, quite practical in daily use... The issue is that now the annoying beep sound is back -- 215BT may have gotten quite "confused" after they were successfully paired with a tablet as the third device (surely, only two simultaneous connections are possible among the paired devices, computer-phone-tablet... I am trying to have the firmware reinstalled or turn the earphones to their factory settings or have the firmware downgraded to then upgrade again. Is there a way to do any of that? (The JBL application for 215BT on the Play Store detects the firmware as up-to-date and allows for no further actions). Thanks
Date published: 2022-07-22
Rated

5

out of

5
by
Kevin1015
from
Great sound and can move around great in them!
I have been very happy with this product! The sound is great and the microphone works perfectly. I forgot how nice it was to have your headphones connected. Allows you to move around in them and not worry about them falling out. Also, convenient to leave them around your neck or hang over your ear when not in use. Overall, they're a great product!
Date published: 2021-06-22
Rated

5

out of

5
by
Robert85
from
Insane battery life!
JBL just never fails to impress me. The battery life is enought to last all day which is important to me. These headphones are not bulky at all, you can barely notice you have them on. The earbuds fit nicely and I like that I don't have to worry about losing the rubber tips. Amazing bass and sound quality as I've come to expect from JBL!
Date published: 2021-06-03
Rated

4

out of

5
by
utown
from
You can hear the bass
These earbuds have an interesting design, as they rest at the bottom of the outer-ear cup. It's very comfortable, and eliminates some of the pressure associated with some other earbuds. It also allows you to remain more aware of your surroundings. It has been a while since I tried earbuds that do not insert at least part-way into the ear canal. I thought that I would miss the noise isolation that you get with an inserted earbud, but I didn't. The more open, comfortable fit definitely has appeal. The earbuds paired easily. Controls are a little larger than expected, but clearly labeled an easy to use. The build seems to be solid. The sound profile is a little more tuned for bass than some other JBL earbuds that I've tried. That seems to be the trend these days, and it's nice to have earbuds that are capable of reproducing the lower tones. These are a solid option for anyone who wants a more open, less isolated experience.
Date published: 2021-06-08
Rated

4

out of

5
by
AlinaC23
from
Decent earphones
I have used these earphones for two weeks now and I find them pretty decent. Nice sound quality, really good battery life and super easy to operate. I have quite small ears so they can be uncomfortable after a few hours. For a pair of earphones advertising "pure bass sound" I found the bass quite disappointing, but overall not bad.
Date published: 2021-06-23
Rated

4

out of

5
by
Davidb775
from
Great headphones
I use these headphones while i work out and they truly are great. The ONLY reason i give it a 4/5 is because if i go on a run after a little while they will fall out of my ear, but thats only on runs they stay in throughout the rest of the workout. Overall great headphones. Great volume, sound quality, and durability.
Date published: 2021-06-06
Rated

5

out of

5
by
Lenakk
from
Super pleased
I got to test these through review club and I am so happy I had the opportunity! These are well l fitted in the ears, feels good and they don't fall out while I go on my walks, cut the grass, they stay in wind and the sound doesn't get interrupted by the wind ! These are one of the best I've ever tried of this type.
Date published: 2021-06-21
Rated

4

out of

5
by
Phunkyphreak
from
Amazing bass
The bass on these is amazing, feels like a room full of subwoofers! It has a long batterylife and excellent tactile feel on the buttons making them easy to find. Also live the startup sound! They are comfortable around the neck, althought they can be a little bit big in the ears if you wear them for longer time.
Date published: 2021-06-21
Rated

1

out of

5
by
Jouny boy
from
Not the best
These are quite comfortable and have okay sound quality for the price. BUT as everyone else are saying that these earbuds repeat the *bleeb* sound every 20 seconds and on top of that these also start automatically play music after the *bleeb*. On my way to the store to return these. Ps. Bring back Inspire 500
Date published: 2021-04-01
Rated

5

out of

5
by
Lizo1
from
Good Quality Earplug and Value for Money
First of all these earplugs are value for money. The sound clarity is great and the earpiece fit in perfectly which is great especially if you are out and about. Easy to use and connect with your phone, these are compatible with andriod phone. Battery life is long which is a plus, over all great earplugs!!
Date published: 2021-06-27
Rated

2

out of

5
by
enny
from
Audio fades in and out at during video meetings
I have used this product for a week and noticed the audio fades out for over 30 seconds almost every 8-10 minutes when I am on a zoom meeting. Very disappointed and will be returning. Other than that, works great, the microphone connects well with phones and laptops. It has a solid sound for the price.
Date published: 2022-01-23
Rated

5

out of

5
by
Saradha Krishnamoorthy
from
Great Value for money
These earplugs are great value for money. The sound clarity is amazing and the earpiece fit in perfectly which is great especially if you are out and about. Easy to use and connect with your phone, these are compatible with andriod phone. Battery life is long which is a plus, over all great earplugs!
Date published: 2021-07-05
Rated

4

out of

5
by
Amanda79
from
Helppo käyttää
Todella helppokäyttöinen ja ihana kun ei ole pitkiä sotkuun meneviä johtoja! Kätevä laittaa päälle ja löytää heti puhelimen, hyvä istuvuus korviin ja pysyvät kunnolla. Ainoa miinus puoli on kun puhuu puhelua niin taustamelu kuuluu ääntä kovempaa eikä voi jutella toinen osapuoli kanssani.....
Date published: 2020-12-26
Rated

4

out of

5
by
RBK123
from
Entry Level Quality Buds!
Now a days more got use to wireless buds so felt little uncomfortable using these initially but after a while I liked them. Sound quality is awesome with extra bass. Well made with sturdy material and I can feel the quality of JBL. These buds works best for workouts as well for casual listening.
Date published: 2021-06-03
Rated

1

out of

5
by
MKZ2000
from
It doesn't sound like JBL.
I like sound of my JBL TUNE 205BT is very full, but the battery it doesn't last long , so upgrade to JBL TUNE 215BT, IT DOESN'T SOUND LIKE JBL. My car audio are JBL. '
Date published: 2021-11-10
Rated

3

out of

5
by
mrusmanali95
from
bluetooth multi connect not working properly
I bought these just to experience bluetooth multi connect feature... But i am disappointed, the headset dosent switch to 2nd device smoothly some times it works but mostly i hear no sound after i switch to 2nd device... also many devices find it very hard to discover for the first time.
Date published: 2022-11-23
Rated

5

out of

5
by
ROWNM
from
Great Sound
The JBL Tune 215BT provides great sound when listening to music or making a call. With music you get your highes and lowes and calls clarity is crystal clear. Quick charge time and enjoy them having a usb c port not worrying having to change cables to charge phone or headphones
Date published: 2021-06-04
Rated

3

out of

5
by
Worth0
from
Save your money if your looking for bass
I can go jogging or work out without it falling out my ear. I hate the fact that I have to always reconnect the headphones whenever I get a FaceTime. There is no bass. The volume of the headphones is too low for me but then mama always tell me I'm hard of earring lol.
Date published: 2021-08-24
Rated

5

out of

5
by
Pownall1989
from
Quality sound
I bought these headphones as I already have JBL products and wow these are absolutely amazing they are that good the wife has taken them when she goes running so needing to buy another pair for myself the bass is first class and very easy to connect via Bluetooth
Date published: 2021-06-21
Rated

4

out of

5
by
Miia
from
Hyvä kuuluvuus
Laite tuli perille nopeasti ja vähän liian isossa paketissa. Tuote oli helppo ottaa käyytöön. Nopea lataus ja hyvin kuului. Kuulokkeet eivät meinanneet oikein pysyä kunnolla korvissa, mutta esim pipo päässä musiikin kuuntelu toi loistavasti ulkoillessa.
Date published: 2020-12-21
Rated

3

out of

5
by
mydoglouie
from
cool little earbuds but not good enough
I purchased these cool JBL earbuds, to be able to wear around my neck and then pull out of ear when needed. I thought these would work good. They do, but the sound quality is not there, To much treble, not enough bass. Did not like them, will return.
Date published: 2021-06-05
Rated

5

out of

5
by
Hobart912010
from
Great Quality
Just received these and immediately had them paired to my iPhone 12. Sound quality is pretty good, super light and barely notice you have them on. Charge seems to last a while on them as well. Will be using them during the hot summer outside.
Date published: 2021-06-05
Rated

5

out of

5
by
Baynes
from
Great Bluetooth headphones the price
These headphones are an excellent buy. I use them for Time to Walk on my Apple Watch. I have some JBL noise canceling headphones I use for work to allow me to focus, but these are nice to have to be able to hear my surroundings while I walk.
Date published: 2021-06-21
Rated

5

out of

5
by
Samimaka
from
Samimaka
Olen käyttänyt nyt kuulokkeita useamman viikon ja ollut todella tyytyväinen ääni on muhkea ja täyteläinen. Kuulokkeet kulkevat kätevästi kaulalla kun niitä ei käytä. Akku kestää todella pitkään helposti päivän ajan ja yöksi laturiin .
Date published: 2021-06-24
bvseo_sdk, dw_cartridge, 18.2.0, p_sdk_3.2.0
CLOUD, getReviews, 7ms
reviews, product
Kysymyksiä ja vastauksia
bvseo_sdk, dw_cartridge, 18.2.0, p_sdk_3.2.0
CLOUD, getContent, 132ms
questions, product
bvseo-msg: Unsuccessful GET. status = 'ERROR', msg = 'Not Found.';