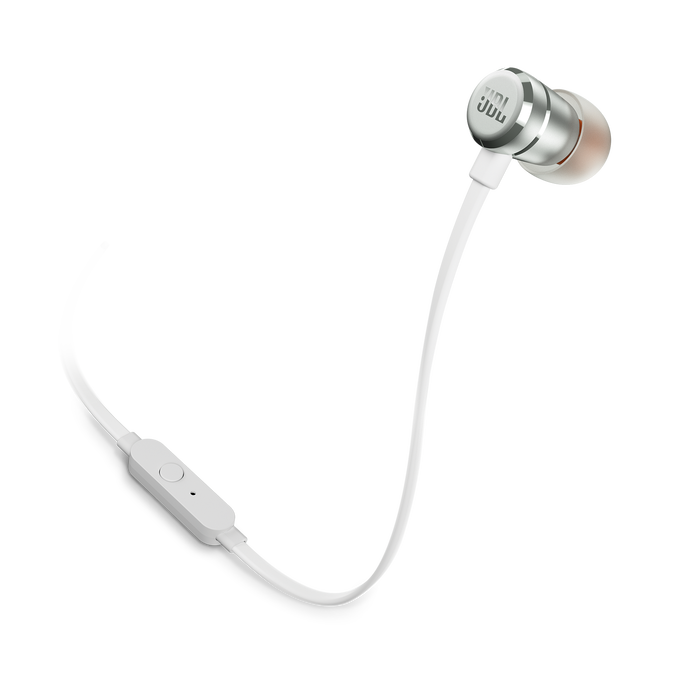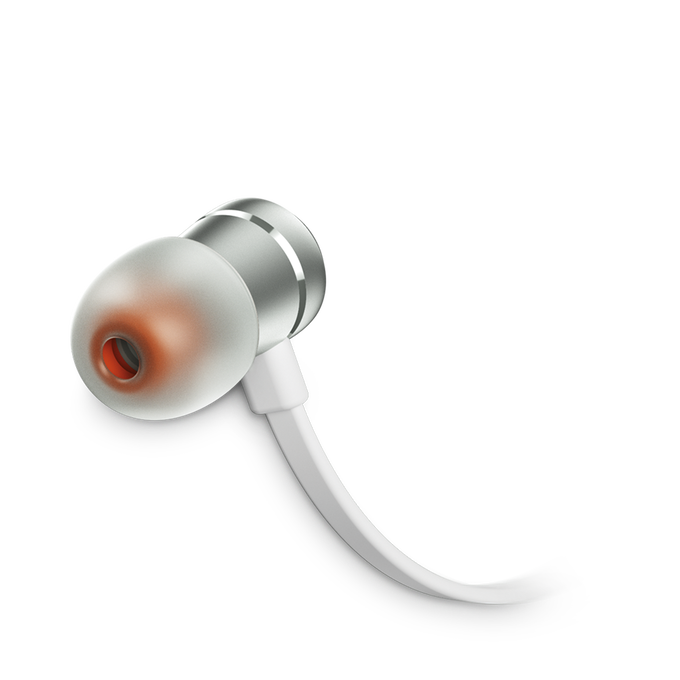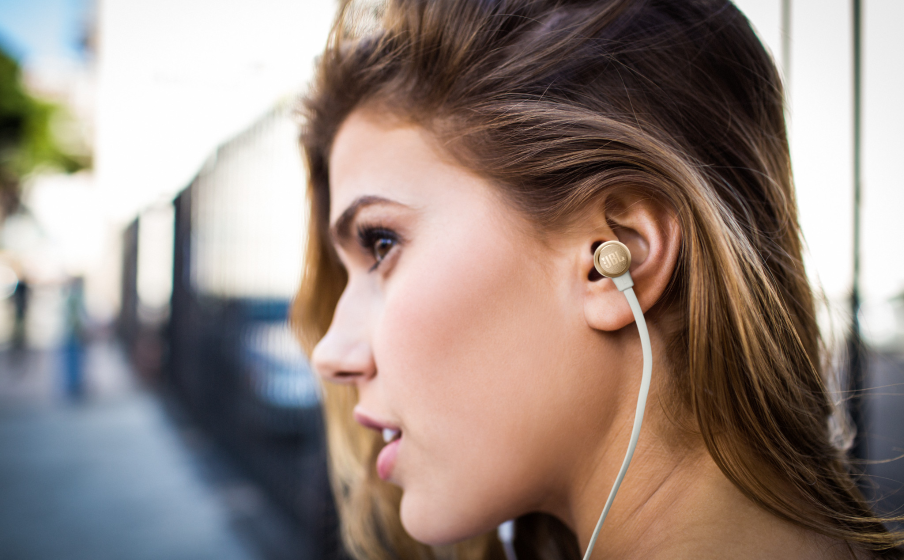 Ensiluokkainen alumiinirakenne
Korvanappien kotelo on tehty alumiinistä, mikä tekee niistä kevyet, mutta vahvat.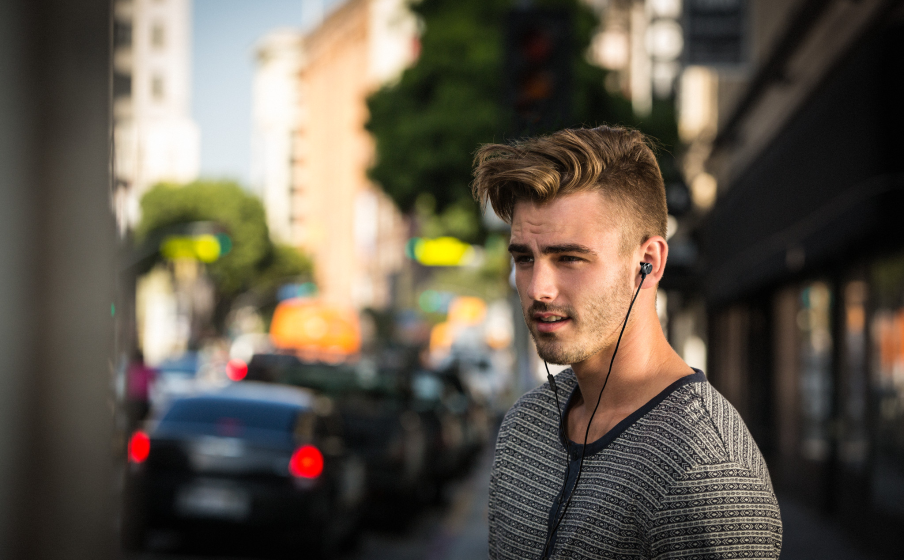 JBL Pure Bass -ääni
JBL on tarjonnut yli 60 vuoden ajan upeaa äänentoistoa, jonka voi kokea suurissa tapahtumapaikoissa eri puolilla maailmaa. Nämä kuulokkeet tarjoavat samaa JBL-ääntä ja syvälle ulottuvaa tehokasta bassoa.
Ominaisuudet

Yhden painikkeen mikrofonillinen kaukosäädin
Hallitse musiikin toistoa käytännöllisellä yhden painikkeen kaukosäätimellä. Onko sinulle tulossa puhelu? Vastaa siihen lennossa sisäänrakennetun mikrofonin avulla.

Sotkeutumaton litteä johto
Kestävä, litteä kaapeli, joka ei sotkeudu solmuihin.
Tiedot ja lataukset
Item# JBLT290SIL
Kuvaus
Sotkeutumaton. Yllättävä

Esittelyssä JBL TUNE290 in-ear kuulokkeet, joissa on JBL Pure Bass -ääni. Ne ovat kevyet, miellyttävät ja kompaktit. Kestävissä alumiinikapseleissa on 8,7 mm kuuloke-elementti, joka saa aikaan voimakkaan bassovasteen. Ne tarjoavat tehokkaan JBL Pure Bass -äänen, jota olet kenties kuullut konserttihalleissa, areenoilla ja äänitysstudioissa eri puolilla maailmaa. Lisäksi voit hallita musiikin toistoa yksipainikkeisella kauko-ohjaimella ja vastata puheluihin lennossa sisäänrakennetun mikrofonin avulla. JBL TUNE290 -kuulokkeet ovat jokapäiväinen kumppanisi olitpa sitten töissä, kotona tai tien päällä.
Tuotetiedot
Audiotiedot
Elementin herkkyys @ 1kHz/1mW (dB)

102 ±3dB

Dynaaminen taajuusvaste (Hz)

20 Hz - 20 kHz

Impedanssi (ohmia)

16.0

Elementtien määrä per korva

1.0
Mitat
Kuulokejohdon pituus (cm)

124.2

Kuulokejohdon pituus (ft)

4.07

Paino (g)

71.0

Paino (oz)

2.5
Akku
Dynaaminen taajuusvaste (Hz)

20 Hz - 20 kHz
Ominaisuudet
Sisäänrakennettu mikrofoni

Kyllä

Kantopussi

Kyllä

Litteä sotkeutumaton kaapeli

Kyllä

Hands-free-puhelut

Kyllä

JBL Pure Bass -ääni

Kyllä
Pakkauksen sisältö
1 setti TUNE290-kuulokkeita
Korvakasovitteet (S, M, L)
Kantopussi
Varoituskortti
Takuukortti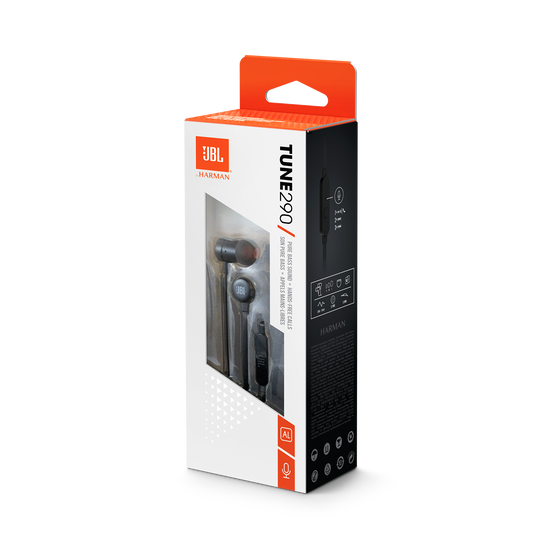 Asiakirjat ja lataukset
Arvostelut ja vastauksia kysymyksiin
Arvostelut
Rated

5

out of

5
by
mshahidur7
from
Very good sound with reasonable pricing
Got impressed with these earbuds at first time listening experience. Well built, nice fit and high volume of sound does not hurt the ears.
Date published: 2020-09-19
Rated

5

out of

5
by
iccbsu
from
Entry level in-ear choice? Can't go wrong!
For the price point of an in-ear headphone - you'll get solid performance, attention to detail with extra ear tips, a decent 1-button remote and a pouch, along with a goof proof cord. Durable wear life if not abused. JBL offers step up purchase and performance in-ear headphone options, but repeat - for entry level lovers, you can't beat the Tune 290.
Date published: 2021-03-28
Rated

1

out of

5
by
Lukewain14
from
Broke within 2 months
Bought these headphones after Christmas and found yesterday that they had broke
Date published: 2017-03-04
Rated

5

out of

5
by
Moyo
from
Very nice pair of headphones
I found these on sale for $7.99 and used credit card points to purchase them, plus free shipping, so I got them free, and they are great! The sound is awesome and, because they're wired (the flat cables are great) they work well with my phone's enhanced audio capabilities. So, overall, a great pair of headphones at an even greater price!
Date published: 2020-11-28
Rated

2

out of

5
by
oldschool33
from
Could use improvement
Recieved the TUNE 290 and the flat coed had taken a bit of a 'set' from being coiled up and continued to want to coil and became a challenge to use without a hassle. Also the sound quality was not what I expected from a JBL product. Otherwise it functioned properly, but overall I am less than thrilled with the TUNE 290 headset.
Date published: 2021-04-20
Rated

5

out of

5
by
Vzperez
from
JBL, the best in audio sound!
I bought them for gifts for my nieces and nephews and they were amazed at how great they sounded. I've always loved the JBL brand cause it's never let me down when it comes listening to music. Top quality as far as I'm concerned. I highly recommend this product to everyone! I will continue to purchase in the future.
Date published: 2021-02-14
Rated

3

out of

5
by
Bob321
from
Mediocre Earbuds
Bought these earbuds on sale. I bought these to use at work to listen to the FM radio feature on my cellphone. Sound is a bit Brassy, especially noticiable for speech. Average at best for listening to music. Earbuds don't fit very well. Keep coming loose. Still not bad for under ten bucks.
Date published: 2020-11-26
Rated

4

out of

5
by
Dommo
from
Wired for working from home
I needed a pair of wired earbuds to work from home as they're much more reliable/stable than bluetooth. These do the job and are comfortable to wear for long periods of time. Great value when on sale for $10, but wouldn't pay more than that for this pair.
Date published: 2020-11-28
Rated

1

out of

5
by
Anonymous
from
TRASH!!
These lasted a TOTAL of 3 days! The bass just crap out out if NOWHERE!! I was so excited when they came and sounded great for three days! I'm getting locked up in 2 days!! I can't even enjoy music how it should be heard! Thanks for nothing!
Date published: 2021-04-10
Rated

2

out of

5
by
Dave LV
from
Ear buds don't stay in
I don't know if it's my ears or not but I tried switching the rubber end pieces to the various sizes and they just didn't sit securely. Other than that it seems like I did product. The audio and mic are quite clear, as you would expect.
Date published: 2020-11-29
Rated

1

out of

5
by
unsatisfied2021
from
Purchased in Nov. Dead in Apr. Seldom used
I use these sometime and was suprised they basically started sounding really faint. Turns out there is a lose connection near the plug. The device looks new with no damage on the outside. Used so rarely havent taken off the tag yet.
Date published: 2021-04-16
Rated

2

out of

5
by
Bodi
from
Jack design issue
Purchased these direct from JBL worked well for about a month the stopped working. Jack design is ofset and this appears to be an issue as this is where the problems lies with the wirinng . Look elsewhere for wired earbuds.
Date published: 2021-04-13
Rated

2

out of

5
by
Warwickian
from
Poor fit and uncomfortable
Bought a few weeks back and just can't get in with them. They will not stay put in my ears and are an uncomfortable experience- sound is inconsistent as the fit makes the rubber buds close up. My old Bose were heaps better
Date published: 2019-12-30
Rated

2

out of

5
by
JordyH
from
Good sound, bad quality
I bought these headphones a half year ago, and everything worked fine. But the left earpiece stopped working 2 weeks ago. So I bought new ones, and the right earpiece didn't work at all! Never going to buy JBL's anymore.
Date published: 2019-03-31
Rated

5

out of

5
by
Hokie83
from
Outstanding quality and value
I purchased these during one of the holiday sales a few months ago. I have used Sony and Panasonic ear buds for 15 years and those are great... but these are even better. Just wish I bought a few more pairs at the price!
Date published: 2021-02-14
Rated

1

out of

5
by
Am305
from
Sorry shipping!
There sending me a review of something I haven't even received. It's been way over 2 weeks and no item. The product might be good when I get it but forget the shipping really sucks.... I won't buy again from them.
Date published: 2020-11-24
Rated

5

out of

5
by
mbenton
from
Great sound, comfortable to wear even while lying
Another great product from JBL/ Harman. I also have a Harman AVR 20 II receiver, Harman CD player, and Infinity speakers from the mid 90s that still sound great ( after I replaced the foam around the woofers ).
Date published: 2021-04-10
Rated

3

out of

5
by
MichaelCar
from
Bad built
I bought this months ago. It didn't even made a complete year. And the left bud already stopped working. I was on my pc everything was fine I took it out put it in my phone and it happened. It stopped working.
Date published: 2019-09-26
Rated

4

out of

5
by
KellyRay
from
Great Value and Sound
These are perfect for my ancient iPod Classic. I like having my whole CD collection with me when I workout, travel and relax. It keeps my phone for other things! Sound quality is pretty smooth across the board
Date published: 2020-04-28
Rated

3

out of

5
by
Mrs Customer
from
Good Enough
I bought this ear piece because I need the ability to hear in a very loud environment, but the quality of sound did not meet my expectation of JBL products. However, it's a good product for the price I paid.
Date published: 2020-11-28
Rated

2

out of

5
by
TizG
from
For the price I was expecting a real high quality product, the materials are good but the sound... it's medium-low quality, absolutely not wort it, you can spend less and get a definitly better product
Date published: 2018-06-12
Rated

4

out of

5
by
Mitch B
from
better construction
I have had this item twice before and even through normal usage, they broke.I was happy with the product though. They have madeit better now and I am happier. The purchase experience was very easy.
Date published: 2021-08-30
Rated

3

out of

5
by
Ear Budd
from
eh
Not bad sound, decent for the price. The real annoying thing is the left earbud is quite a bit louder than the right. I tried switching them around, but it is just not quite right.
Date published: 2021-02-24
Rated

4

out of

5
by
Larsm19
from
Nice earbuds, but falling out of ear all the time.
This earbuds are really nice! But they are falling out of my ear like every 2 minutes, but.. In the box there are some smaller "Things" To cover it with.. So thats a good solution!
Date published: 2017-11-12
Rated

5

out of

5
by
Tovuti Solutions
from
Cannot be beat
Excellent sound quality for both music and voice. Experience traditional high-quality JBL audio and excellent listening and speaking audio clarity while using with a phone.
Date published: 2021-04-08
Rated

5

out of

5
by
nnati
from
Great headphones!
very good quality for simply wired headphones, we use them around the house when we do not want to use Bluetooth, not expensive and JBL sound quality!
Date published: 2021-04-25
Rated

4

out of

5
by
Blueyedbanshee
from
Good headphones for the price.
I'm glad I bought these headphones. Ordering was simple, and shipment was quick. The sound quality is decent. I would recommend these headphones.
Date published: 2021-03-14
Rated

5

out of

5
by
ddfWA
from
Excellent sound quality
This JBL Tune 290 has awesome sound quality. The bass is outstanding and the earpiece is very comfortable. Excellent product for the price.
Date published: 2021-04-09
Rated

5

out of

5
by
jkwhaley
from
Sounds great!
Needed a decent set to replace my earphones (no microphone). Exceeded my expectations! Wish I'd bought a couple more sets for the price!
Date published: 2021-04-06
Rated

3

out of

5
by
Jeff T1
from
Good for use with computer audio
Great microphone, decent sound quality, comfortable feel. Wish the bass response was a little better but overall I'm happy with this set.
Date published: 2020-04-08
bvseo_sdk, dw_cartridge, 18.2.0, p_sdk_3.2.0
CLOUD, getReviews, 12ms
reviews, product
Kysymyksiä ja vastauksia
What's the difference between JBL T290, T210, T110?
Hi. I want to know the difference in ONLY the sound quality between JBL T110, T210 and T290. Correct me if i am wrong, i think the difference is only in the housing material. The T110 is less than half the price of T290. So help me choose.
Değerli marka temsilcisi, Tüm modellerinizde sol kulaklığın bozulmasından bahsediliyor adeta ortalama 6 ay kullanım ömrü var gibi duruyor bizzat deneyimledim! Buna bir çözüm üretecekmisiniz? T110 modelinde de aynı hata var T290 modelinde de?
bvseo_sdk, dw_cartridge, 18.2.0, p_sdk_3.2.0
CLOUD, getContent, 142ms
questions, product