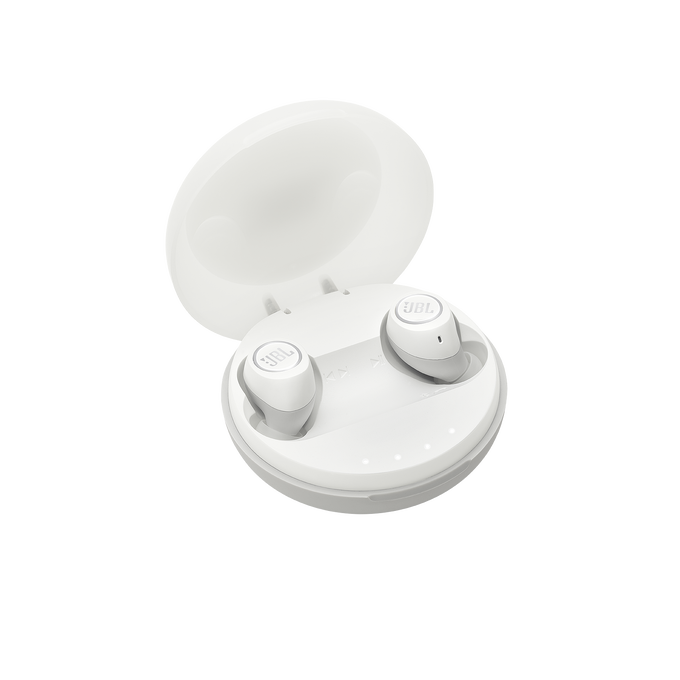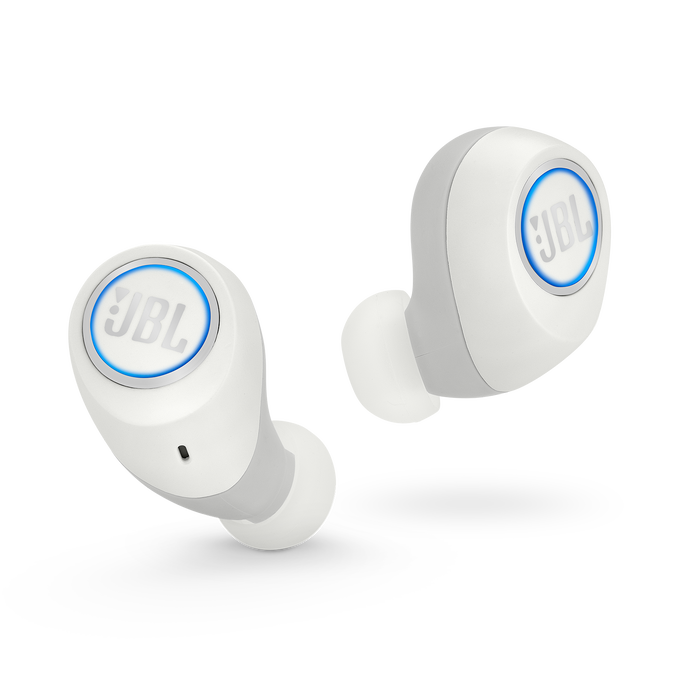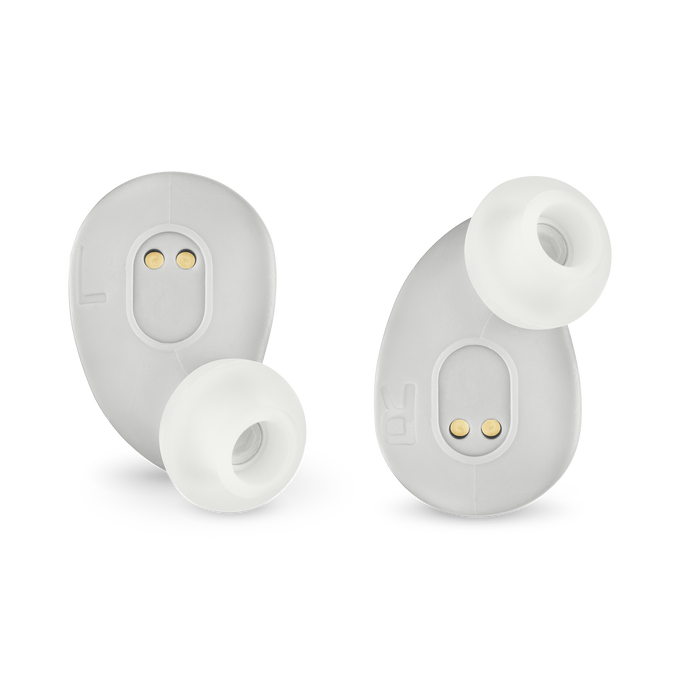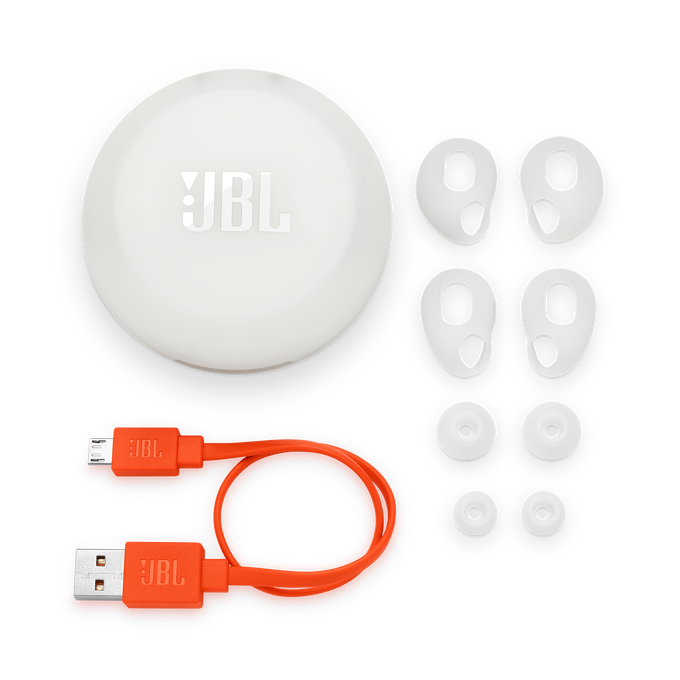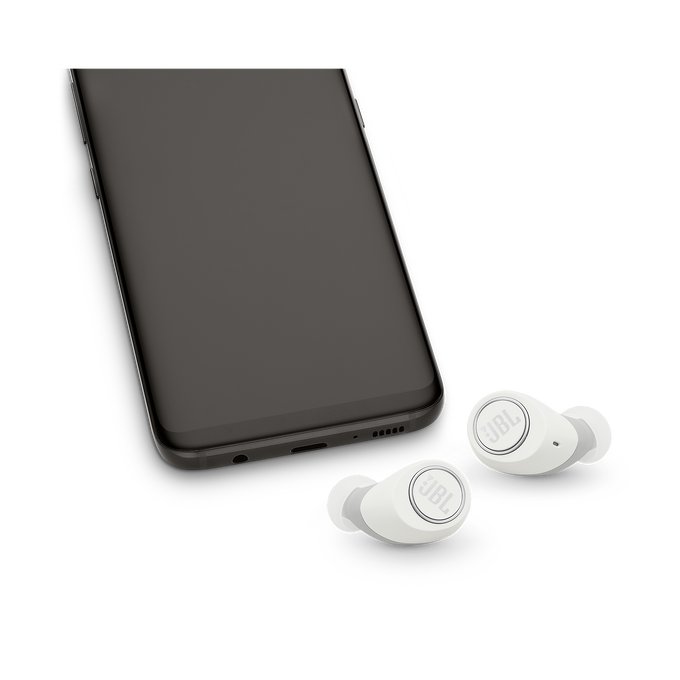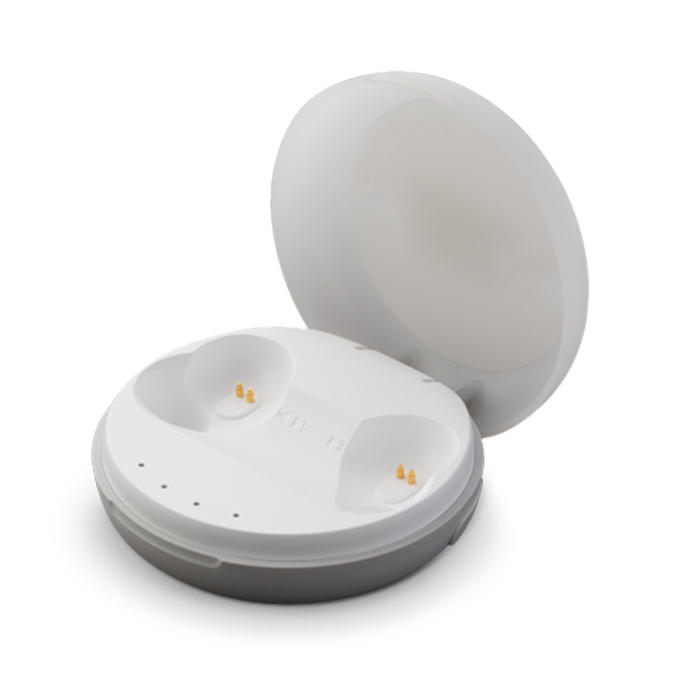 Aidosti langaton
Koe langattoman elämäntyylin vapaus musiikin kuuntelussa, puheluissa ja treenaamisessa.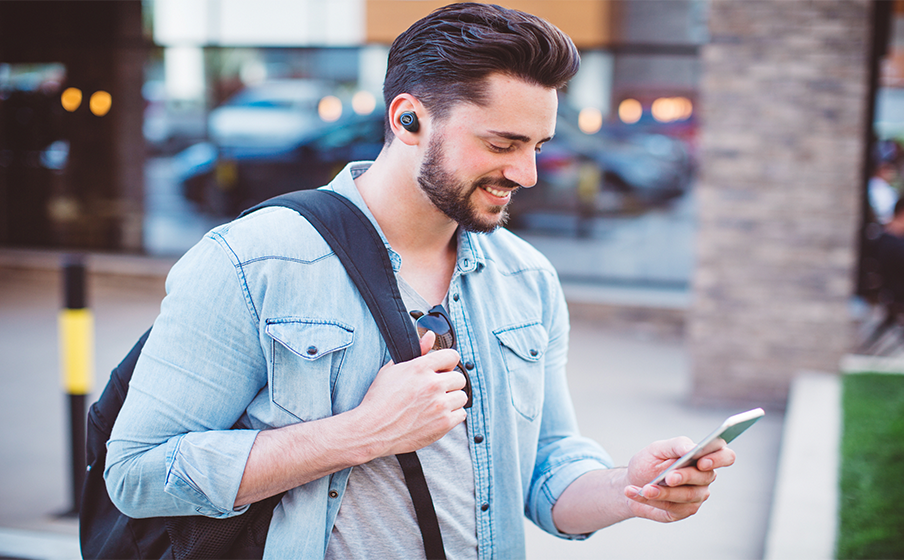 JBL:lle ominainen sointi
JBL:n mukaansatempaava ominaissointi intuitiivisessa ja älykkäässä paketissa.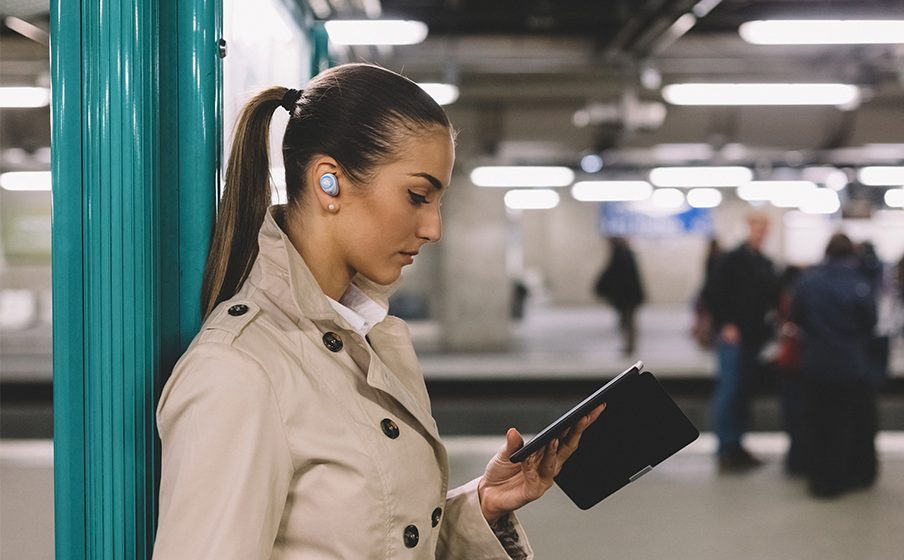 Yhteensä 24 tuntia toistoaikaa
Nauti kokonainen vuorokausi langattomasta äänentoistosta 4 tunnin jatkuvalla toistoajalla ja latauskotelon 20 tunnin varavirralla.
Ominaisuudet

Älykäs latauskotelo
Suojaa kuulokkeita ja lataa niitä silloin, kun ne eivät ole käytössä. Tarjoaa yli 20 tuntia varavirtaa. 15 minuutin pikalatauksella saat 1 tunnin toistoaikaa.

Handsfree-puhelut
Yhdysrakenteinen mikrofoni mahdollistaa selkeät puhelut. Automaattinen vaihto stereo- ja monotilan välillä takaa luontevan puhelukokemuksen.

Puhelutila
Vaihtaa kuulokkeet monotilaan luontevaa puhelukokemusta varten.

Helppo hallinta
Hallinnoi puheluitasi ja musiikintoistoa yhdellä helppokäyttöisellä painikkeella.

Mukava ja tukeva istuvuus
Luokkansa parasta ergonomiaa – 3 erikokoiset tulpat ja 2 erikokoiset geelipehmusteet takaavat tukevan istuvuuden. Kuulokkeet pysyvät korvillasi kaikissa käänteissä.

Roiskeenkestävä
IPX5-sertifioitu rakenne takaa musiikin soinnin sateessa ja paisteessa.
Tiedot ja lataukset
Item# JBLFREEXWHTBT
Kuvaus
Puhelut, musiikki, aktiivisuus – sinun valintasi. Ei johtoja.

JBL Free – aidosti langattomat in-ear-kuulokkeet, jotka tarjoavat JBL:lle ominaisen soinnin intuitiivisessa ja älykkäässä paketissa. Täysin langaton ja helppokäyttöinen JBL Free on täydellinen valinta puheluihin, musiikin kuunteluun ja aktiiviseen elämäntyyliin. Saat yhteensä 24 tuntia toistoaikaa: 4 tuntia jatkuvaa kuuntelua ja 20 tuntia lisäaikaa älykkään latauskotelon avulla. Mukava ja tukeva ergonomia sekä 3 erikokoiset tulpat ja 2 erikokoiset geelipehmusteet tarjoavat hyvän istuvuuden pitkäkestoiseen ja aktiiviseen käyttöön. Roiskeenkestävä IPX5-sertifioitu rakenne takaa musiikin soinnin sateessa ja paisteessa. Paranna kuuntelukokemustasi kolmella helpolla tavalla: (1) käytä yhtä kuulokenappia puheluihin, (2) käytä kahta kuulokenappia mukaansatempaavan musiikin kuunteluun ja (3) lisää geelipehmusteet treenaamiseen ajaksi paikallaan pysymisen varmistamiseksi.
Tuotetiedot
Audiotiedot
Elementin herkkyys @ 1kHz/1mW (dB)

96

Dynaaminen taajuusvaste (Hz)

10 Hz – 22 kHz

Elementtien määrä per korva

1
Mitat
Paino (g)

Total: 99g

Paino (oz)

Total: 3.5oz
Ohjaimet, kytkennät ja liitännät
Bluetooth profiilit

A2DP 1.3, AVRCP 1.5, HFP 1.6

Bluetooth-taajuus

2.402 – 2.480GHz

Bluetooth-lähettimen modulaatio

GFSK, π/4DQPSK, 8DPSK

Bluetooth-lähettimen teho

0 - 9.5dbm

Bluetooth-versio

4.2
Akku
Latausaika (tuntia, kun akku on tyhjä)

2

Maksimi toistoaika (tuntia)

4

Puheaika (tuntia)

4
Ominaisuudet
Bluetooth

Kyllä

Charging cable

Kyllä

Sisäänrakennettu mikrofoni

Kyllä

Latauskotelo

Kyllä

Hands-free-puhelut

Kyllä

JBL Signature Sound

Kyllä

Ladattava akku

Kyllä

Mukava ja varma istuvuus

Kyllä

Hikeä hylkivä

Kyllä

Aidosti langaton

Kyllä

Langattomat

Kyllä
Pakkauksen sisältö
1 x JBL Free -kuulokkeet
1 x latauskotelo
2 x pari geelipehmusteita (M, L)
3 x pari silikonitulppia (S, M, L)
1 x mikro-USB-latauskaapeli
1 x pikaopas
1 x turvallisuustiedote
1 x takuukortti
1 x varoituskortti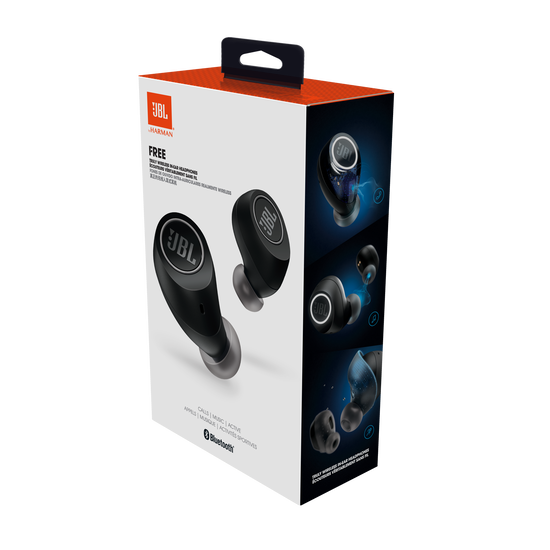 Asiakirjat ja lataukset
Arvostelut ja vastauksia kysymyksiin
Arvostelut
Rated

5

out of

5
by
JustAnotherMusicDude
from
JBL Free X fixed connectivity problems of the Free
I had the original JBL Free, which I thought sounded really good and fit well. Like all the reviews say, the left earbud on the original Free cut out quite a bit. I filed an exchange request and asked to swap them out for the Free X, which supposedly has better connectivity. After receiving them, I can safely confirm that connectivity is exponentially better, and this is now a product I can highly highly recommend over some of its peers. I haven't experienced on cutoff to this point and am thoroughly pleased with the product I currently have at hand. Do not confuse the Free X with the original Free, which some reviews do!
Date published: 2019-01-11
Rated

1

out of

5
by
YOMA
from
I REALLY dislike mine
I got the JBL Free (white one) from my school store and was unable to return it if I opened it. I love my JBL speakers on my Rav4, however, I was very upset with the wireless headphones after I have tried it on. It sounds very basic, too expensive for the price that I paid for ($149.99). The bass on it is very minimal and worse thing, the ear buds fall out of my ears constantly. I have tried using other sizes of the ear piece but it still falls out. I want my money back, but I can't because I opened it already. I tried calling the customer service and they can't do anything about it too because I bought it from somewhere else.
Date published: 2019-10-11
Rated

5

out of

5
by
Imcici1
from
LOVE THESE NEW JBL FREE X
Fantastic earbuds. Superior sound and excellent fit, thanks to the new extra size options. These are very light weight, fit tightly in my ears and do not fall out. They are the most comfortable earbuds and don't hurt my ears to sleep in, while listening to my ambient music.The sound quality is FANTASTIC, high quality stereo sound with surround sounds as if coming from every direction. The volume can turn up very loud too, for the times I want to really jam out. The buttons are easy to press and navigate. Over all I'm very impressed. These are my favs. Thanks JBL for such an awesome product. And at a great price.
Date published: 2019-05-24
Rated

5

out of

5
by
Downhilljack
from
Please make replacement cases available.
Similar to Sbet92 I only came here to try to source a new rechargeable case, since my toddler destroyed mine. Surprised how low a rating these have, by far the best headphones I have owned and I have been through many. Seems they do not fit people with a particularly small ear, as my wife doesn't like them. I predominantly wear these for running and cycling, they have stood up to 18months of fairly constant abuse and getting soaked. By far the most comfortable headphones I have had for running. They also do a decent job of noise cancellation but still allow you to hear enough for safety. JBL please make replacement cases available!
Date published: 2020-10-06
Rated

5

out of

5
by
cwicker77
from
What I've come to expect
I just got mine, and so far like all my other JBL products they don't disappoint. The sound is great, and they fit good in my ear. I've had problems with earbuds fitting in my ear in the past, but these work fine. I like how when you take them out of the charging case they are ready to pair. The button functions is a feature I don't see anyone talk about in the reviews, so I'm going to talk about them. I think button features are important, because part of the reason you get wireless headphones is to have your hands free and that should include not having to hold the phone. With that being said the button features are great they're easier than the button features on my E 45 BT headphones. Overall these are great.
Date published: 2019-02-06
bvseo_sdk, dw_cartridge, 18.2.0, p_sdk_3.2.0
CLOUD, getReviews, 6ms
reviews, product
Kysymyksiä ja vastauksia
Do the blue light rings stay lit when being used? I don't want light coming from my ears.
Mine will light up blue and blink a few times, but once they're connected to my phone for about a minute, the lights turn off. It'd be really inefficient to have the lights on the whole time they're being used. The battery would drain much faster, which they obviously don't want since battery life is a huge competitive marketing battle between companies.
Date published: 2021-06-06
I'm interested in buying a pair of these, but am being influenced by the reviews to stay away. Is there any corporate message about the quality and reliability of this product, and if/how any of the issues have been addressed?
I just bought these and I believe they are definitely not worth the money, they have no bass at all, or at least my pair doesnt. I'm taking them back tomorrow
Date published: 2021-06-06
When i put my earbuds to charge only on of the earbud turns white. If it's not white I take it's not charching?
That means it's done charging
Date published: 2021-06-06
I'm expecting loss of soud while listening music through JBLFree X, or "lost of package" in sound. How to solve this problem, since I have disconnected bluetooth and connected again, without solving the problem?
Hi, please try to pair your JBL FreeX to other phone/devices and see if that would do the same thing. If you still need assistance, please submit a case request and so we can assist you: www.jbl.com/support-contact.html
Date published: 2021-06-06
I've heard something about the JBL free X's not being in sync while for example watching a YouTube video. Is it true, and if it is, can it be "fixed"?
The JBL Free and most of our Bluetooth portable products are not necessarily designed to be used as a speaker for video. If the device has the option of a wired connection, we recommend using this as an alternative. In this case, the Free X doesn't have a wired connection. What you are experiencing is a limitation of Bluetooth. When you start the video and audio at the same time, the audio will lag behind by the length of time it takes the Bluetooth hardware to receive, process and output it which is known as Latency. You won't notice this lag if you're listening to music, but if you're watching a video the sound may be marginally out of sync or sometimes when it cannot process the audio format, it would completely stop. Latency varies depending on the hardware and software setups you have.
Date published: 2021-06-06
I have small ears and have had trouble finding a pair of ear buds that stay put when I run. Even the smallest silicon pieces on other pairs havent worked out for me. Could this be a good option for small ears?
Our JBL Free has different ear tip sizes that you can mix and match for your ears. If you need more help, please contact us here: https://bit.ly/2zwFkYM
Date published: 2021-06-06
After months of use, the right ear started producing no sound. The earbuds still connect to the phone, and I can get sound out of the left earbud, but nothing comes out of the right ear, what should I do?
We would like to get more information to help you out, please contact us so we can assist you:https://bit.ly/2zwFkYM
Date published: 2021-06-06
Kindly I would like to know if there is any andriod app that can be used with JBL Free X please?
Unfortunately there are no apps that can directly control the JBL Free X .
Date published: 2021-06-06
bvseo_sdk, dw_cartridge, 18.2.0, p_sdk_3.2.0
CLOUD, getContent, 5ms
questions, product