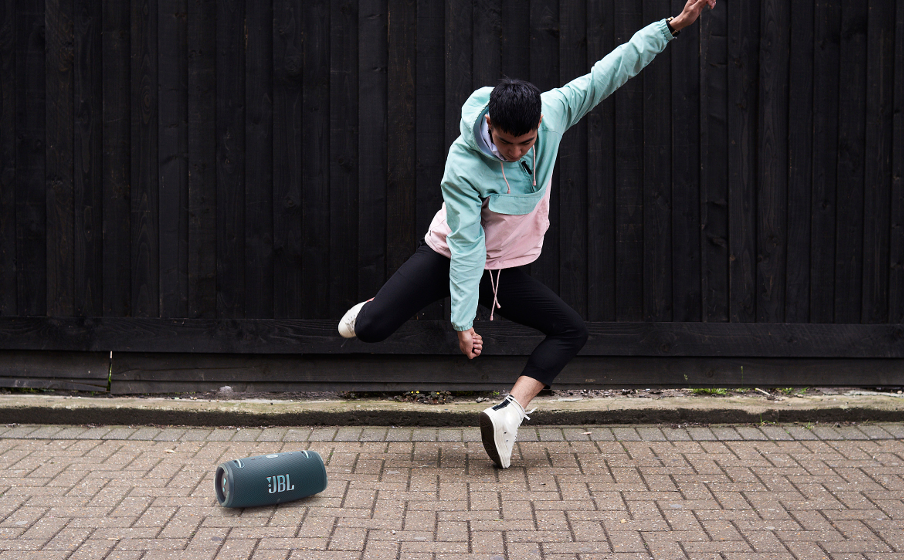 Massiivinen JBL Original Pro Sound -ääni
Neljä elementtiä ja kaksi JBL-bassosäteilijää tuottavat vaivattomasti dynaamisen, mukaansa tempaavan soundin syvällä bassolla ja runsailla yksityiskohdilla. Voit uppoutua musiikin maailmaan sijainnista riippumatta.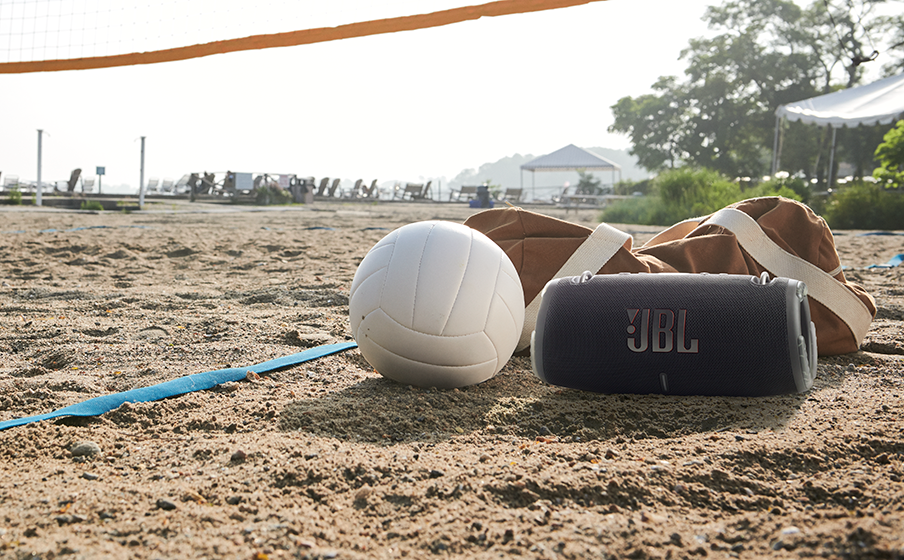 15 tunnin toistoaika
Hauskuuden ei tarvitse loppua. JBL Xtreme 3:n uskomattoman 15 tunnin akunkeston ansiosta voit bilettää aamusta iltaan.
IP67 on vesitiivis ja pölynkestävä
Uima-altaan reunalle. Puistoon. JBL Xtreme 3 on luokitukseltaan IP67, joten se on vesitiivis ja pölynkestävä. Voit siis ottaa kaiuttimesi mukaan minne vain.
Ominaisuudet

Langaton Bluetooth-suoratoisto
Kytke kaiuttimeen langattomasti jopa 2 älypuhelinta tai tablettia ja kuuntele niitä vuorotellen nauttien upeasta JBL Pro Sound -äänentoistosta.

Pidä hauskaa PartyBoost-toiminnon avulla
PartyBoost-toiminnon ansiosta voit käyttää kahta JBL PartyBoost -yhteensopivaa kaiutinta stereoäänen tuottamiseen. Lisäksi voit piristää bileitä entisestään yhdistämällä useita JBL PartyBoost -yhteensopivia kaiuttimia.

Ota mukaan minne tahansa
Pullonavaajalla varustetun kantohihnan avulla kaiutin kulkee helposti mukanasi minne tahansa menetkin.

Sisäänrakennettu varavirtalähde takaa, että virtaa riittää mobiililaitteillesi
Älä keskeytä bileitä. Sisäänrakennetun varavirtalähteen avulla voit ladata mobiililaitteitasi ilman, että musiikki katkeaa.
Tuotevertailu
Löydä kannettava bluetooth-kaiutin, joka sopii sinulle parhaiten
XTREME-3-
BOOMBOX-3-
CHARGE5-
FLIP-6-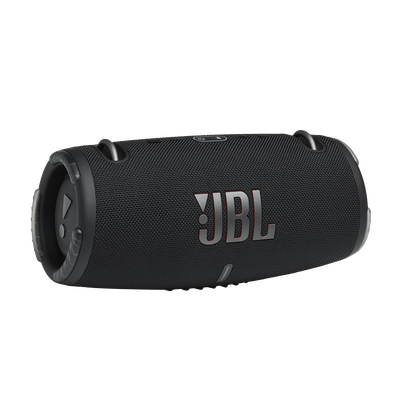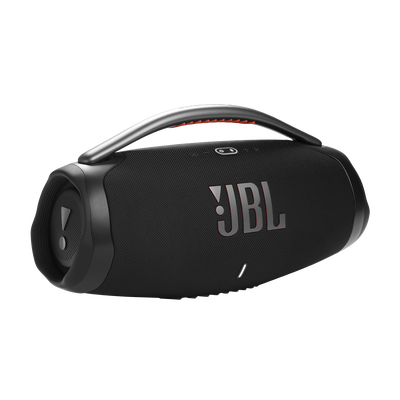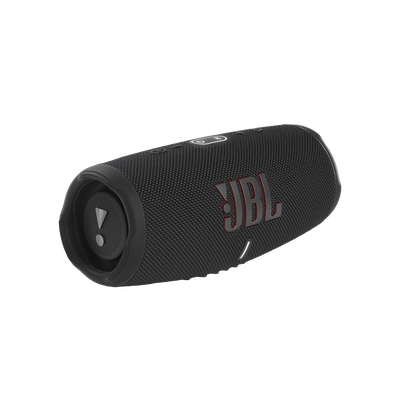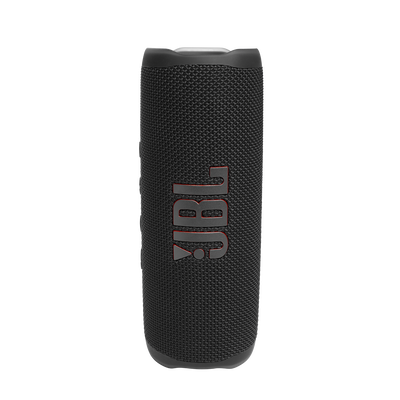 Yleiset tekniset tiedot
Musiikin toistoaika (t)
15
Musiikin toistoaika (t)
24
Musiikin toistoaika (t)
20
Musiikin toistoaika (t)
12
Lähtöteho (W)
2 x 25W RMS woofer + 2 x 25W RMS tweeter
Lähtöteho (W)
1x80W RMS-subwoofer + 2x40W RMS-midrange + 2x10W RMS-tweeter (AC mode) 1x60W RMS-subwoofer + 2x30W RMS-midrange + 2x8W RMS-tweeter (Battery mode)
Mitat
Mitat (cm)
29.8 x 13.6 x 13.4
Mitat (cm)
48.2 x 25.7 x 20.0
Mitat (cm)
22 x 9.6 x 9.3
Mitat (cm)
17.8 x 6.8 x 7.2
Tiedot ja lataukset
Item# JBLXTREME3BLKEU
Kuvaus
Kajauta ilmoille tehokas ääni missä tahansa

Uima-altaalla. Piknikillä. Rentoutumassa. Musiikki tekee juhlan. Kannettava JBL Xtreme 3 Bluetooth -kaiutin toistaa vaivattomasti massiivisen JBL Original Pro Sound -äänen. Neljällä elementillä ja kahdella JBL-bassosäteilijällä varustettu tehokas ääni kutsuu kaikki mukaan. PartyBoostilla voit yhdistää useita JBL PartyBoost -kaiuttimia ja viedä asiat uudelle tasolle. Pieni sade saattaisi pilata ilon, mutta vedenkestävää ja pölynkestävää Xtreme 3:a se ei haittaa, ja käyttömukava kantohihna sisäänrakennetulla puollonavaajalla auttaa siirtämään juhlat helposti sisätiloihin. JBL Xtreme 3 kerää katseita, minne tahansa menetkin.
Tuotetiedot
Musiikin toistoaika (t)

15

Lähtöteho (W)

2 x 25W RMS woofer + 2 x 25W RMS tweeter
Audiotiedot
Dynaaminen taajuusvaste (Hz)

53.5 Hz - 20k Hz
Mitat
Mitat (cm)

29.8 x 13.6 x 13.4

Mitat (inch)

11.75 x 5.35 x 5.28

Paino (kg)

1.97

Paino (lbs)

4.34
Ohjaimet, kytkennät ja liitännät
Bluetooth profiilit

A2DP 1.3, AVRCP 1.6

Bluetooth-taajuus

2400MHz - 2483.5 MHz

Bluetooth-lähettimen modulaatio

GFSK, π/4 DQPSK, 8DPSK

Bluetooth-lähettimen teho

≤ 12dBm (EIRP)

Bluetooth-versio

5.1
Akku
Ominaisuudet
3.5 mm audiotuloliitäntä

Kyllä

Bluetooth

Kyllä

Charging cable

Kyllä

Powerbank

Kyllä

Vedenpitävä

Kyllä

Wireless

Kyllä

Ladattava akku

Kyllä

JBL PartyBoost

Kyllä
Pakkauksen sisältö
JBL Xtreme 3 -kaiutin
Pikaopas
JBL-sovitin virtajohdolla + paikallisella pistokkeella
JBL Xtreme 3 -hihna
takuu-
turvallisuustiedote (S / i)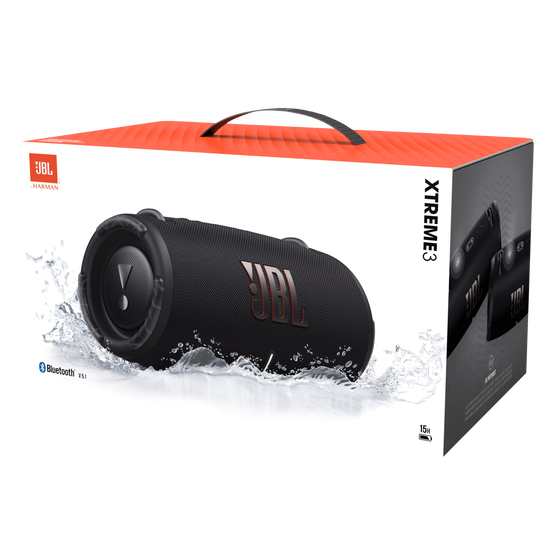 Asiakirjat ja lataukset
Arvostelut ja vastauksia kysymyksiin
Arvostelut
Rated

5

out of

5
by
Ethan77
from
Perfect Everything
A great speaker when hanging out with friends. This is perfect to take when at the beach or for me on the disc golf course with my buddies. The sound quality and battery life are fantastic, a rugged speaker that lasts. I love how the bass fills a room, great for hanging with some friends or out by the grill. If you are on the fence do yourself a favor and go for it!!
Date published: 2021-01-05
Rated

1

out of

5
by
Jor123
from
NOT WATERPROOF!
Bought this speaker, used it for a outdoor family gathering it started drizzling and took the speaker inside to dry off how the directions said and stopped functioning.
Date published: 2021-06-18
Rated

5

out of

5
by
garveyals
from
Incredible product that has tons of features!
This is an amazing product, really impressed! For the price and sound quality it truly is a great product, very well built and very sturdy!
Date published: 2021-01-10
Rated

5

out of

5
by
Dogsnif
from
Sweet new features on the JBL Xtream 3
This is my third portable Bluetooth speaker and the second from JBL (the other being the JBL Link 500). I am very impressed by the Xtreme 3 with its quality of sound, versatility, utility, convenience, and ruggedness. The Xtreme 3 has beautiful sound quality, with impressive range, and nice clear bass sound that doesn't overpower the mids and highs. Overall this product is nothing short of excellent! I haven't tested the waterproof features of the Xtreme 3, but if the videos are accurate, I do not think there will be any problem. The Xtreme 3 also comes with a very nice carry strap that makes it super portable and convenient. One of the nicest features of the Xtreme 3 is that charges via a USB C port. The nice thing about the USB C port on the Xtreme 3 is that I can also use it to charge my own devices - think iPod or iPhone for that matter. I am taking the Xtreme 3 with me on my annual winter camping trip with the boys this coming weekend. It will be cold, so that will be a good test for the battery as the speaker will be playing 12-14 hours straight. I have a TACKLIFE T8 Starter that has dual smart USB outputs that I plan on using to charge the Xtreme 3 safely. As I am in charge of the tunes during camping, I'm going all in with the Xtreme 3.
Date published: 2021-01-10
Rated

2

out of

5
by
Thomas504
from
Far too expensive for the sound
I thought at $350 I would be getting a huge upgrade from my Flip 4. I really didn't feel like it was that big of an upgrade for the price. I expected there to be some kind of bass response with a speaker this large but there was barely any. I returned it and plan to get a Block Rocker.
Date published: 2021-08-22
Rated

3

out of

5
by
morebass76
from
Basic portable speaker
I bought this speaker with high hopes for good JBL quality and strong sounds. Quality of the product and the sound are excellent and the compact size is good, but the bass was very disappointing. When listening with higher volumes, the bass disappears under the treble. The speaker just doesn't have enough power to play the bass sounds well enough for this speaker to pass for me. For someone who just wants a over all good sound and are not that hyped about the bass, this is a good quality product.
Date published: 2022-05-09
Rated

2

out of

5
by
Ryan3
from
Dissapointing Connection Issues
Individual speaker quality is great. I bought two JBL Xtreme 3's, however, and when on a Bluetooth connection, the PartyBoost feature faces numerous connection issues/cutting out
Date published: 2022-03-22
Rated

4

out of

5
by
SavFox
from
Great for long walks and bike rides
I believe harran out did themselves on this speaker. Not only can it pump out impressive sound all day long it's ideal for those who enjoy out door activities. Personally I wear the speaker like a satchel and the grooved strap keeps it from flipping over to my front side. if you own a boom box 2 and pair it up with the extreme 3 you'll notice how beautifully they complement each other. The thing about JBL you can never have enough and I'm looking forward to reviewing the charge 5!
Date published: 2021-04-20
Rated

5

out of

5
by
B Dallah
from
Awesome sound !!
It's a huge upgrade compared to the first version of the extreme lineup. Sound is crisp and and clear . Delivers nice bass response. You won't be disappointed.
Date published: 2020-12-31
Rated

2

out of

5
by
Suz 37
from
Great speaker but malfunctioned + blew out
I really loved this speaker- but it took less than a year to malfunction suddenly and then the speaker was blown after. Batter lasted only 6 hours
Date published: 2021-09-30
Rated

3

out of

5
by
DavidfJBLReview123
from
Very heavy. Decent sound but not worth the price. The Beats XL is a much better value.
Date published: 2021-02-13
Rated

4

out of

5
by
Divpot
from
Great speaker
Great speaker, but the app won't finish updating because the speaker turns off. Really annoying.
Date published: 2022-04-23
Rated

5

out of

5
by
Anonymous
from
Great medium sized stereo\./
Grear speaker. I've had many speakers, including many from ,_| B |_, and this is definitely a new favorite. The Xtreme 2 was too heavy to carry for me, and this is light enough as it lost about a pound of weight and kept the same battery life which is great. I'm impressed by the mids, the vocal frequency is better than the earlier versions. The bluetooth clarity or tweeters and tuning are better because the clarity in the highs or treble, is much better than others out there. I'm 25 and have hearing that reaches over 17,000 htz, it's nice to actually be able to use it, unlike other speakers that claim to go into the 20k hertz and never reached it. The elephant in the room you can hear rumbling in the background is the bass. I didn't like the Xtreme 1 because of the lack of clean bass notes, and although I never experienced the Xtreme 2 I thought it wasn't quite ready, but the 3, is very nice. The bass actually has a great kick and nice extension to 42 htz, with some reaction all the way down to 36 htz you can hear in a small bathroom. The mid bass performance from 58-80 htz is fantastic, and what it was tuned for. The upper bass is clean and doesn't interfere with the mids. Because of this, the speaker, for the first time in the Xtreme lineup, can play all music genres at any volume. I am impressed with the full range of genres this speaker can play. Although it performs well, the bass doesn't overpower genres like rock, classical, jazz, folk, etc., and artists like Johnny Cash, and Elvis Presley, and similar stuff sounds great. And because of the bass, it wubs, something not many speakers this size can pull off, especially when handicapped by passive radiators instead of using ports. (Ported speakers are inefficient and never water resistant nor waterproof) This water resistance is important where I work is very dusty and I have to rinse my speaker in water to clean it. The battery life is much better than expected, I get 18-24 hours of use with bassy music at half volume. The JBL design in the front is a very improved heat-synch. Much better than the small JBL before, and probably helps in hot weather. The price is good because it makes it available more often than if it was under priced.
Date published: 2021-05-22
Rated

2

out of

5
by
Orivano
from
Not loud enough
Sound is good, but for 350$ I'd expect it to be louder.
Date published: 2022-04-15
Rated

2

out of

5
by
Standers
from
Battery Length NOT even close
Have purchased many JBL products. genreally love them. however, I bought 2 Xtreme 3 in March 2022 from Amazon. I have never been able to get more than 6.5 hours out of them at volume above 70% volume. that's LESS than half what JBL says you "can" get of 15hrs. DO NOT BUY IF YOU DESIRE ample volume and longer BATTERY LIFE and AMPLE SOUND. JBL customer service has been of no help resolving the situation. saying "results may vary". ouch.
Date published: 2022-05-07
Rated

1

out of

5
by
Tim 89
from
Do not buy
I bought an extreme 3 14 months ago. Used less than 10 times and will not take a charge anymore. 350 wasted and JBL will not do anything. Do not waste your money on this product. My unit has no damage and looks brand new. Terrible support of product. I fully understand if I damaged product but battery and charging system is junk!!!
Date published: 2022-06-26
Rated

5

out of

5
by
mgneeve
from
Boom! Boom! Boom!
I use this alongside an LED projector to project Karaoke words and play music for people living with dementia to join in and sing along. They love it! The fact that this connects via Bluetooth to the projector and that I can use the JBL app to control the tone of the speaker makes it invaluable for this purpose and it sounds great. I have also used it for outdoor meetings and music playback and the response was fantastic. Thanks Harman and JBL!
Date published: 2022-05-26
Rated

3

out of

5
by
Ruqi
from
disappointed with pairing
Bought Boombox2 and Xtreme 3 in late December, disappointed that, you can't pair speakers and connect to the computer (MacBook Air) via bluetooth if you use speakers at home. bluetooth connection only available during pairing if you connect to mobile devices only, which is not very convenient, specially if you listen to music on YouTube. With 1st generation Xtreme's I was able to pair them and connect to computer to listed to the music.
Date published: 2023-01-10
Rated

5

out of

5
by
Welshbri
from
Mind blowing sound for the size
Having previously owned a Azatom steal air 2 Bluetooth speaker the JBL extreme 3 blows it away in every department. The loudness from a speaker this size is immense, the bass is tight and deep and not at all bloaty. The mids are clear and not to forward. The treble is accurate and not to bright. Great battery life is a plus as well. Good speaker for a house party indoors or outdoors, I struggle to find any faults with this speaker.
Date published: 2022-02-03
Rated

5

out of

5
by
Jfaye
from
Stunning Sound
STUNNING SOUND! I bought the Xtreme 3 in Camo for my son, had it shipped directly to him at college as a surprise and he loves it! He recently brought it home and I love it! Now I want one....it's amazing how much sound comes from this speaker....quality vocals and bass. The strap is super durable and handy. I wish it was available in pink and purple. Please offer more colors! This is well worth the price...buy it!
Date published: 2021-05-10
Rated

4

out of

5
by
DMac72
from
Great speaker, but not completed
I bought this and a Charge 4 2 weeks ago with the intent on experiencing them first hand after watching hours of online content. They do sound amazing and seem well built. These are replacements for Bose portable speakers and i was surprised to find that both JBLs were superior in every way to the Bose although the Bose is about 3 years old. JBL needs to take care of some app issues. The functions promised by the app are one of the biggest reasons for deciding on JBL and I feel as though it falls short, way short. Like a group of kids created it for an IT project in their senior year. Getting the two connected together has turned out to be a crap shoot by using the app. When ive invested 12 minutes of life with them resetting and reloading the app and they work they are wonderful. Fortunately my phone will play two speaker devices without their app so most of the time i close the app and play them via the ultra 21 however two is all that it will play. Our plans were actually to buy two more pair totaling 6 of these for a RV retrofit we are working on but after the poor app and connectivity issues we are looking at different options. Perhaps if i were connecting an extreme to another extreme it would be flawless but technically i should be able to connect 3 charge 4s and 3 extremes. That is not the case so the PB310 we were planning on using for the subs in the RV is out of the question. Maybe future upgrades to the app will correct the issues but the speakers do sound great by themselves. JBL... How many apps do you need anyway? Connect, portable, partyboost and thats three without looking at the play store.
Date published: 2021-05-08
Rated

5

out of

5
by
Justice2003
from
The Most Versatile Portable Speaker
When looking for a new portable speaker I wasn't intending on spending $400 dollars on one. Reluctant at first I seen the speaker came with a strap, which is really a design I never thought I would use so often. Also, being able to have somebody else connect via Bluetooth whilst I'm still connected is very convenient. The battery life on this speaker is impeccable, I can blast it full volume all day with no problem. It chargers significantly fast as well, it comes with a fash charger that has good length. The sound on this speaker is crystal clear with no distortion. The bass is very impressive too and really gives the room your playing it in have an oomph. What really sold me on this $400 dollar portable speaker was the addition of it being waterproof and dustproof. Everything nowadays is just water-resistant and not truly waterproof. I'm 100 percent proud of this purchase.
Date published: 2021-11-21
Rated

5

out of

5
by
RAIDERS 22
from
Simply The BEST
I ordered this speaker last week, I just received it, I've had it for only 2 days, and Love It! Worth every dollar. The technology behind All JBL products is Incredible. I own the(550 Live) headphones and JUST purchased the new Flip 6 today. The Extreme 3 is Extremely powerful and delivers clear, clean vocals, deep bass, and is compatible with the JBL APP, offering an EQ. If you want 'The One', this IS it.
Date published: 2022-02-20
Rated

5

out of

5
by
Babyd
from
Simply the best!
I bought this speaker a two months ago and all I cam say is wow! I have tried several other brands, by other brands but they fail in comparison to this speaker! The bass is off the charts and the speaker is crystal clear! I can hear the music so clearly that I notice sound from instruments I have never heard before! You will not be disappointed in this amazing bluetooth speaker!
Date published: 2021-10-13
Rated

5

out of

5
by
Mahimclaren
from
Great BT Speaker for party and casual use
I have had this speaker since it launched and I'm over the moon on how it preformed. I use it daily and the speaker is the perfect addition to someone daily life or their party
Date published: 2021-01-27
Rated

1

out of

5
by
Anonymous
from
Awesome while it lasted.
Floated in pool and filled up with water....stopped working within 10 minutes. Disappointing. I haven't contacted customer support about a replacement yet.
Date published: 2021-07-07
Rated

2

out of

5
by
Dantheman12
from
Not worth the Money...
For $350 this speaker should have more bass and more battery... I'm very disappointed, this is the 3rd generation and it doesn't sounds extreme at all... For indoor listening it's pretty pleasant; balanced and nice deep bass but for out door it's pretty mediocre. It does gets pretty loud but the bass leaves a lot to be desired...
Date published: 2021-07-06
Rated

3

out of

5
by
SimoS
from
I bought this a month ago, I really like it, the sound is spectacular. This is my review for the peoduct. Now, if we are talking about delivery, very disappointed. From 1 to 5 I would give 0 (zero). No message for delivery, no name on the missed delivery card. For your great name, I would suggest change the delivery company.
Date published: 2022-06-06
Rated

5

out of

5
by
costumerharp18
from
I AM REALLY SATISFIED
It is my first purchase with this house and it has been a great experience with my JBL EXTREME3, the sound, the design is light but to take anywhere is quite comfortable, the battery is quite generous, I also want to mention that the experience in terms of purchase time and shipping time has been quite good. Thank you
Date published: 2022-07-22
Rated

5

out of

5
by
JoeMac1
from
Love it!!!
We bought this a couple weeks ago, and we absolutely love it. The sound is superb, and the speaker is easy to use. The party mode to connect up to 3 speakers is nice as well. Be advised that party mode will not work on older models of JBL speakers. But, top of the line product. Would recommend to everyone.
Date published: 2021-04-27
bvseo_sdk, dw_cartridge, 18.2.0, p_sdk_3.2.0
CLOUD, getReviews, 7ms
reviews, product
Kysymyksiä ja vastauksia
The spec sheet shows the speaker wattage in "ac mode". What is the wattage when not plugged in?
Our JBL Xtreme 3 has 2 x 15W woofer + 2 x 15W tweeter on battery power mode.
Date published: 2022-09-14
Will the Xtreme 3 sync with the Flip 4?
Our JBL Xtreme 3 can't be connected with the JBL Flip 4 speaker because these two speakers have different technologies that are incompatible with one another. Our JBL Xtreme 3 has the PartyBoost feature that can only connect with party boost enabled speakers like Flip 5, Boombox 2, and Pulse 4. While our JBL Flip 4 has the Connect+ feature that can only connect with other Connect + enabled JBL speakers like Charge 4, Boombox, and Pulse 3.
Date published: 2022-05-24
hey jbl you got any news on the blue and camo realease date
We only have black color in stock for our JBL Xtreme 3 at the moment. We have no news to share at this time on when the blue or the camo would be available. Please check our website from time to time or subscribe to our Newsletter for updates.
Date published: 2021-06-06
Hello this product made from USA ?
Our JBL Xtreme 3 is designed in the US and manufactured in China.
Date published: 2022-01-23
Does this speaker have more power when plugged in or doesn't it make a difference?
Thank you for your question. Yes, the Xtreme 3 or any other speaker will have more power when plugged in. Should you wish to receive further support, you may contact the Harman Customer Support team by telephone, email or chat in order to receive direct assistance. Please see https://uk.harmanaudio.com/support-contact.html#ns for further details. Thank you.
Date published: 2021-06-06
Does it have a USB input so I can use a zip drive of my songs, and does it have random play
The USB port on our Xtreme 3 is power output USB-A output: 5V/2.0A (maximum) USB-C output: 5V/1.5A (maximum) Our JBL Xtreme 3 has a built-in powerbank that lets you charge your devices. You won't be able to plug and play your music from a flash drive plugged into the speaker.
Date published: 2022-02-27
Onko tulossa laajemmin väri vaihtoehtoja kuin aikaisempiin malleihin? Itse olisin valkoisesta kiinnostunut.
Thank you for your question. At the moment, our Customer Support does not support Finnish, but I will happily assist you in English. Currently the only planned colour is Black. Your request will however be communicated to the proper department to improve our current and future product line. Should you wish to receive further support, you may contact the Harman Customer Support team by telephone, email or chat in order to receive direct assistance. Please see fi.harmanaudio.com/support-contact.html for further details. Thank you.
Date published: 2021-06-06
Can this be changed with a car charger, if yes what charger can I use?
To charge your JBL Xtreme 3, you'll need a DC 12V/24V power inverter that you can plug into your cigarette lighter, which you can purchase from third-party manufacturers.
Date published: 2022-04-13
What is the range of PartyBoost feature? I'm needing 2 speakers that can pair together from about 75 feet away from one another.
The range of the Partyboost feature on our JBL Xtreme 3 can go from 10-15 meters tops, this could vary depending on the environment. Blockages such as walls and other wireless signals like WiFi and Bluetooth devices can also cause interference.
Date published: 2023-01-20
Does the Xtreme 3 connect wirelessly with the Charge 4?
Our JBL Xtreme 3 has PartyBoost, it is compatible with other PartyBost enabled speakers like Boombox 2, Flip 5, and Pulse 4. Xtreme 3. On the other hand, Our JBL Charge 4 has the connect + which is compatible with speakers that have the same feature as the Xtreme 2, Pulse 3, and Flip 4,
Date published: 2021-06-28
Hi there when will the JBL Xtreme 2 in black be in stock on the Black Friday offers I need it ASAP before the end of 4th December plz thanks 
Thank you for your question, the better modell Xtreme 3 should be avaible in black.
Date published: 2021-06-06
Can a usb or bluetooth or wireless microphone be connected to a jbl xtreme 3 speaker for karaoke singing?
JBL Xtreme 3 doesn't have a mic input for connecting the microphone. The USB port on the speaker is for charging devices like your phone or tablet.
Date published: 2021-09-09
Can you bluetooth to a wireless microphone?
Our JBL Xtreme 3 can't connect to a microphone.
Date published: 2022-08-31
Will this Extreme 3 speaker pair with either Partybox 110 or Partybox 310?
Thanks for your inquiry. Our JBL Xtreme 3 can't be connected to our JBL PartyBox speakers as it doesn't have the PartyBoost feature. The PartyBox speakers only connect with another PartyBox through TWS. While our JBL Xtreme 3 can connect with other JBL speakers with the PartyBoost feature, such as another Flip 6, Charge 5, Boombox 3, Flip 5, and Pulse 4.
Date published: 2022-12-19
What's the actual mAh of the battery? And how long can the speaker play music at full volume on a full charge?
Our JBL Xtreme 3 has a 5000mAh battery and can play for up to 15 hours depending on volume and audio content.
Date published: 2022-09-18
Is this safe to fly with this in a carry-on bag or would it need to be packed in a checked bag.
We could provide you the Material Safety Data Sheet of our JBL Xtreme 3 that may be useful when you confirm with the airline if they'll allow it as a hand carry. Please reach out to our Customer Support to request for a copy of the MSDS.
Date published: 2022-09-05
Can the JBL extreme 3 be link with the JBL boombox 3?
Yes. Through the Partyboost feature, our JBL Xtreme 3 can be linked to our JBL Boombox 3. To do this, connect the first Partyboost speaker to your phone, play music, and then press the Partyboost button. Once done, simply turn on the other compatible speaker and press the Partyboost button.
Date published: 2023-01-27
my jbl extreme 3 sounds flat. is there anything i can do?
Thanks for bringing this to our attention. You can try using a 3rd party equalizer which you can download from Playstore or Apple App Store depending on the OS you're using.
Date published: 2021-09-06
Is low frequency mode bad? Does it turn off when I cycle the on/off? And are there any more button combos I should know? Owners manual doesn't tell you much
This is something called "Service Mode". It bypasses all sound processing in the speaker that makes it sound as good as it can. This should be used only by service centers when testing the system. Yes, it may sound more bassy and louder, but the overall sonic quality is not very good, and it can end up damaging the speaker. It should NOT be used by customers listening to music.
Date published: 2022-03-03
where is this manufactured?
Thank you for your question. The JBL Xtreme 3 is manufactured in China  For further support, we welcome you to contact our JBL Customer Support team: https://support.jbl.com/gb/en/ Thank you.
Date published: 2022-12-22
Is this speaker stereo sound or not 
bvseo_sdk, dw_cartridge, 18.2.0, p_sdk_3.2.0
CLOUD, getContent, 105ms
questions, product