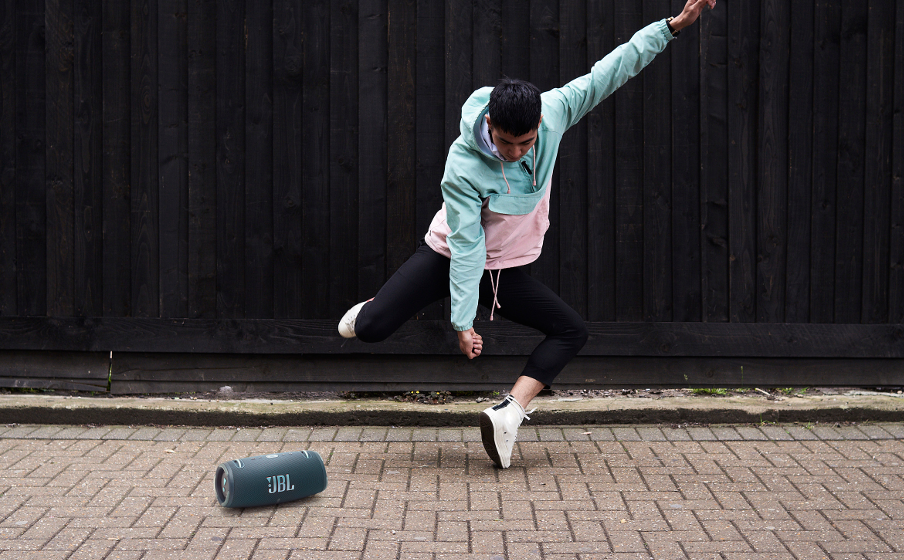 Massiivinen JBL Original Pro Sound -ääni
Neljä elementtiä ja kaksi JBL-bassosäteilijää tuottavat vaivattomasti dynaamisen, mukaansa tempaavan soundin syvällä bassolla ja runsailla yksityiskohdilla. Voit uppoutua musiikin maailmaan sijainnista riippumatta.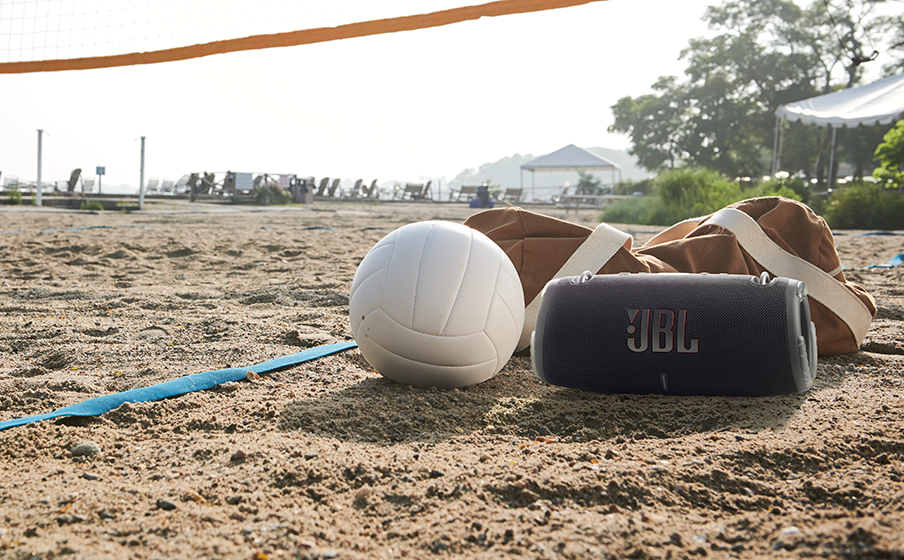 15 tunnin toistoaika
Hauskuuden ei tarvitse loppua. JBL Xtreme 3:n uskomattoman 15 tunnin akunkeston ansiosta voit bilettää aamusta iltaan.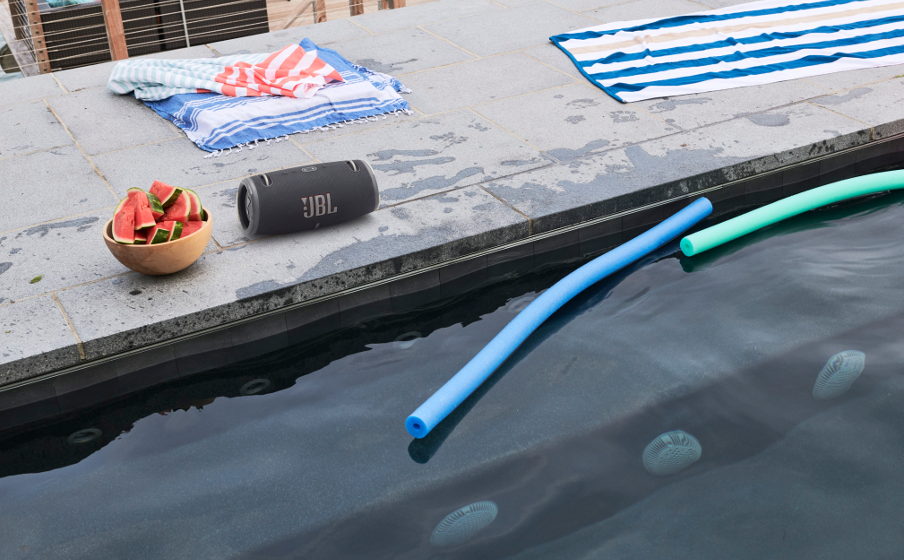 IP67 on vesitiivis ja pölynkestävä
Uima-altaan reunalle. Puistoon. JBL Xtreme 3 on luokitukseltaan IP67, joten se on vesitiivis ja pölynkestävä. Voit siis ottaa kaiuttimesi mukaan minne vain.
Ominaisuudet

Langaton Bluetooth-suoratoisto
Kytke kaiuttimeen langattomasti jopa 2 älypuhelinta tai tablettia ja kuuntele niitä vuorotellen nauttien upeasta JBL Pro Sound -äänentoistosta.

Pidä hauskaa PartyBoost-toiminnon avulla
PartyBoost-toiminnon ansiosta voit käyttää kahta JBL PartyBoost -yhteensopivaa kaiutinta stereoäänen tuottamiseen. Lisäksi voit piristää bileitä entisestään yhdistämällä useita JBL PartyBoost -yhteensopivia kaiuttimia.

Ota mukaan minne tahansa
Pullonavaajalla varustetun kantohihnan avulla kaiutin kulkee helposti mukanasi minne tahansa menetkin.

Sisäänrakennettu varavirtalähde takaa, että virtaa riittää mobiililaitteillesi
Älä keskeytä bileitä. Sisäänrakennetun varavirtalähteen avulla voit ladata mobiililaitteitasi ilman, että musiikki katkeaa.
Tuotevertailu
Löydä kannettava bluetooth-kaiutin, joka sopii sinulle parhaiten
XTREME-3-
BOOMBOX-3-
CHARGE5-
FLIP-6-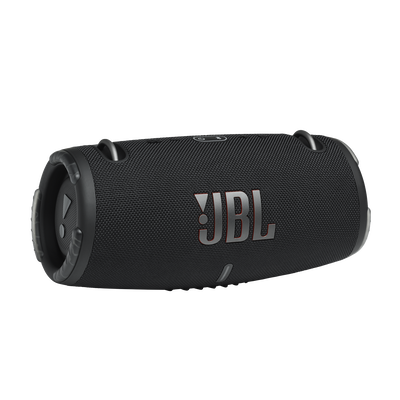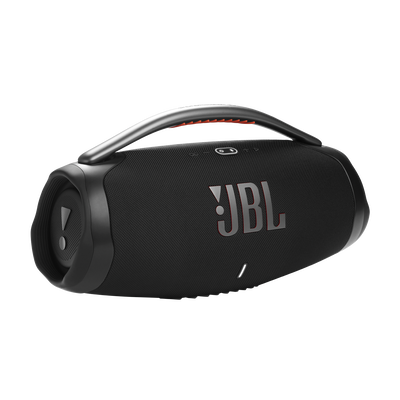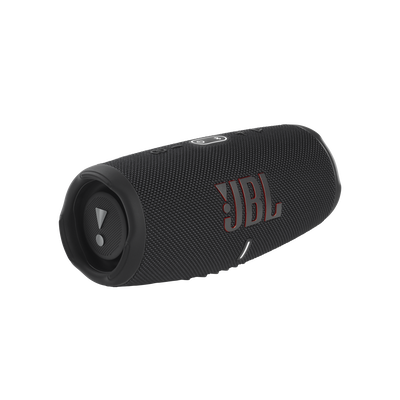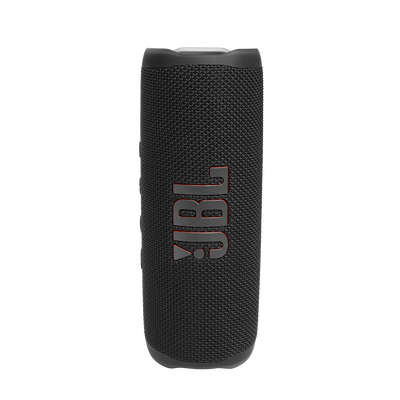 Yleiset tekniset tiedot
Lähtöteho (W)
2 x 25W RMS woofer + 2 x 25W RMS tweeter
Lähtöteho (W)
1x80W RMS-subwoofer + 2x40W RMS-midrange + 2x10W RMS-tweeter (AC mode) 1x60W RMS-subwoofer + 2x30W RMS-midrange + 2x8W RMS-tweeter (Battery mode)
Mitat
Mitat (cm)
29.8 x 13.6 x 13.4
Mitat (cm)
48.2 x 25.7 x 20.0
Mitat (cm)
22 x 9.6 x 9.3
Mitat (cm)
17.8 x 6.8 x 7.2
Tiedot ja lataukset
Item# JBLXTREME3BLKEU
Kuvaus
Kajauta ilmoille tehokas ääni missä tahansa

Uima-altaalla. Piknikillä. Rentoutumassa. Musiikki tekee juhlan. Kannettava JBL Xtreme 3 Bluetooth -kaiutin toistaa vaivattomasti massiivisen JBL Original Pro Sound -äänen. Neljällä elementillä ja kahdella JBL-bassosäteilijällä varustettu tehokas ääni kutsuu kaikki mukaan. PartyBoostilla voit yhdistää useita JBL PartyBoost -kaiuttimia ja viedä asiat uudelle tasolle. Pieni sade saattaisi pilata ilon, mutta vedenkestävää ja pölynkestävää Xtreme 3:a se ei haittaa, ja käyttömukava kantohihna sisäänrakennetulla puollonavaajalla auttaa siirtämään juhlat helposti sisätiloihin. JBL Xtreme 3 kerää katseita, minne tahansa menetkin.
Tuotetiedot
Lähtöteho (W)

2 x 25W RMS woofer + 2 x 25W RMS tweeter
Audiotiedot
Dynaaminen taajuusvaste (Hz)

53.5 Hz - 20k Hz
Mitat
Mitat (inch)

11.75 x 5.35 x 5.28

Mitat (cm)

29.8 x 13.6 x 13.4

Paino (kg)

1.97

Paino (lbs)

4.34
Ohjaimet, kytkennät ja liitännät
Bluetooth profiilit

A2DP 1.3, AVRCP 1.6

Bluetooth-taajuus

2400MHz - 2483.5 MHz

Bluetooth-lähettimen modulaatio

GFSK, π/4 DQPSK, 8DPSK

Bluetooth-lähettimen teho

≤ 12dBm (EIRP)

Bluetooth-versio

5.1
Akku
Latausaika (t)

2.5

Musiikin toistoaika (t)

15
Ominaisuudet
JBL PartyBoost

Kyllä

Charging cable

Kyllä

3.5 mm audiotuloliitäntä

Kyllä

Powerbank

Kyllä

Vedenpitävä

Kyllä

Wireless

Kyllä

Ladattava akku

Kyllä

Bluetooth

Kyllä
Pakkauksen sisältö
JBL Xtreme 3 -kaiutin
Pikaopas
JBL-sovitin virtajohdolla + paikallisella pistokkeella
JBL Xtreme 3 -hihna
takuu-
turvallisuustiedote (S / i)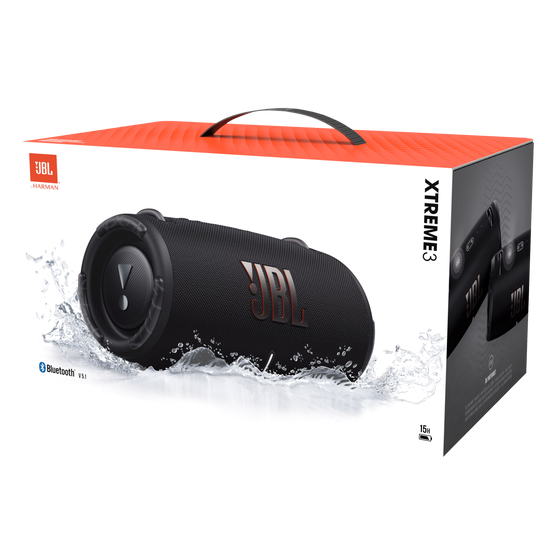 Asiakirjat ja lataukset
Arvostelut ja vastauksia kysymyksiin
Arvostelut
Rated

3

out of

5
by
Anonymous
from
Extreme3 not as good as original Extreme.
I never thought that I would be disappointed with a JBL / Harmon product ( I have many) but the Extreme3 isn't what I expected. I have the original Extreme and it really kicks a full range, bass heavy sound, but I wanted a little more power for my rooftop parties so I ordered the 3 thinking it would be the same but better (100watts as opposed to 60watts). However it seems to have more mid-range and actually less bass then the original, with less high range. It's also slightly muddier whereas the the original is crisp and clear. Definitely better battery life though. I am returning it for a BoomBox3 which hopefully should do the trick.
Date published: 2022-03-14
Rated

5

out of

5
by
Jblalock3
from
Simply amazing!
I bought this speaker with hopes of using it on the boat but also being able to use it around the house when not on the water. I am completely satisfied with the purchase. When on the boat, the sound is great at 35mph and I have absolutely zero complaints. Moreover, I have found myself using it around the house more than expected. I use it when grilling and today used it when I was cleaning up the garage. The carrying strap is super useful and the battery life is exceptional. It charges relatively fast and lasts for the entire day with battery life still remaining. Time will tell how long the battery will hold up and for this price I hope a very long tIme. Overall, I am quite pleased. Nice product!
Date published: 2021-05-03
Rated

5

out of

5
by
Sinuhe_0123
from
Better than expected!
Nice "little" portable speaker with great sound. The Extreme 3 is easy to carry around thanks to the strap and is very light for its size. The sound is very good, it fills up my kitchen, dining room and living room with music without issues. Once the Extreme 3 is connected to a power outlet I noticed a good bump in sound. The speaker can charge your smart phone via the USB-C port so that's a nice feature. This speaker is definitely good for a small get together or outdoor gathering without bothering your neighbors. I like bass and I just wish it had a bit more but overall it's a great speaker with very good sound.
Date published: 2020-12-29
Rated

5

out of

5
by
ScottyG
from
Crushed it again!!
Yet another AWSOME product from the makers of JBL! This thing shakes my house and with new features it's a win win. With the 15 hour battery life, waterproof suround that makes it great for the pool side all the way to the beach. The shoulder strap was a great touch and has rubber grovss in it so it doesn't shift around as your walk. Having the option to charge your pho e or other devices is outstanding and new for this year. All in all it is a well rounded speaker..see what I did their. I have no problem rocking this "Speake-purse" around with me wherever I go. Also if you want more bass out of it try putting ot in a corner of the room so the side speakers and reverberate off them giving you that boom boom.
Date published: 2021-01-02
Rated

5

out of

5
by
Andrew23156
from
Big and high quality
the speaker ended up being a bit bigger than I expected and it is very high quality. I recommend this speaker for anyone who has a flip 5 or any other small JBL speaker and wants something louder.
Date published: 2020-11-21
bvseo_sdk, dw_cartridge, 18.2.0, p_sdk_3.2.0
CLOUD, getReviews, 4ms
reviews, product
Kysymyksiä ja vastauksia
Does the speaker have EQ control via the app?
it was released but not working, so forget EQ
Date published: 2022-09-10
Would this be loud enough to play walk up songs at a little league baseball and softball game? I am avoiding getting the big JBL Boombox 2 and rather get this JBL Xtreme if this works.
This would depend on how big the area. We would recommend getting a bigger speaker to make sure the sound is able to cover the place, like our JBL Boombox series or JBL PartyBox series.
Date published: 2021-06-06
Can it go into the pool water?
Just avoid very hot hot tubs and soap, as heat and soapy water can damage the speaker. Soap decreases the viscosity of water, I killed a 100 meter water resistant watch by showering without and washing it with soapy water. Bubble bath, for example, should be avoided if possible and rinsed immediately if you drop it in there by accident.
Date published: 2021-12-04
Why does speakers power go off while downloading software update? i have the JBL extreme 3 speaker
Please ensure the JBL Xtreme 3 has a sufficient charge throughout the software/firmware update. You can also try to update your speaker while charging or connected to a power supply. It is best to leave the speaker while updating without doing anything to it to prevent the update from interrupting. Alternatively, you may try to use a different device to update the software to see if the issue happens across multiple devices. If you need more help, please contact our customer support for us to work with you directly.
Date published: 2023-03-11
How big is the speaker?
Thank you for your question. The dimensions (W x H x D) are 298.5 x 136 x 134 mm / 11.75 x 5.35 x 5.28" Should you wish to receive further support, you may contact the Harman Customer Support team by telephone, email or chat in order to receive direct assistance. Please see https://uk.harmanaudio.com/support-contact.html#ns  for further details.  Thank you.
Date published: 2021-06-06
Why does the bass only extend to 53hertz as opposed to 20?
Although turned to 60 hertz, this speaker can play down to 44 htz. The main drivers react down to 36 or 35 Hertz, but it isn't audible because the box is not tuned to such low frequency. Such a small speaker rarely can audibly play notes lower than 35 htz because the size of the speaker is too small to move enough air for your ears to hear, as your ears are less sensitive to lower frequencies and the power required increases exponentially. If it was capable of playing music so deep, it may have trouble with battery life, driver endurance, passive radiator endurance, and trouble playing higher bass notes from 50-90 htz. No speaker on the market gets 20 hertz at this small size. Speakers that claim such sensitivity are not actually reproducing the sound and a test at those frequencies can prove it. I do not work for JBL.
Date published: 2022-11-25
When will the JBL Xtreme 3 come out so I can possibly purchase it on the uk.jbl.com website.
Thank you for your question. Currently, the JBL Xtreme 3 is in back-order and we expect it to be in stock again on December 2nd. Should you wish to receive further support, you may contact the Harman Customer Support team by telephone, email or chat in order to receive direct assistance. Please see https://uk.harmanaudio.com/support-contact.html#ns for further details. Thank you.
Date published: 2023-03-17
Does an jbl extreme 3 speaker survive in minus degrees?
Thank you for your question. As like many of our JBL Products, the JBL Xtreme 3 speaker uses a Li-Ion battery to function. Using a device with a Li-Ion battery in temperatures under 0° celsius, might affect the battery. Do not charge your device in freezing temperatures, this will cause damage to the battery. The device will be able to power on and play music in cold temperatures, but the battery life will be dramatically reduced, and we do not recommend you to use the device in freezing temperatures to avoid possible damage to the battery. If your device gets cold, for example during transportation, please allow the device to warm back to room temperature before charging. For further support, we welcome you to contact our JBL Customer Support team: https://support.jbl.com/fi/fi/ Thank you.
Date published: 2022-11-21
bvseo_sdk, dw_cartridge, 18.2.0, p_sdk_3.2.0
CLOUD, getContent, 20ms
questions, product