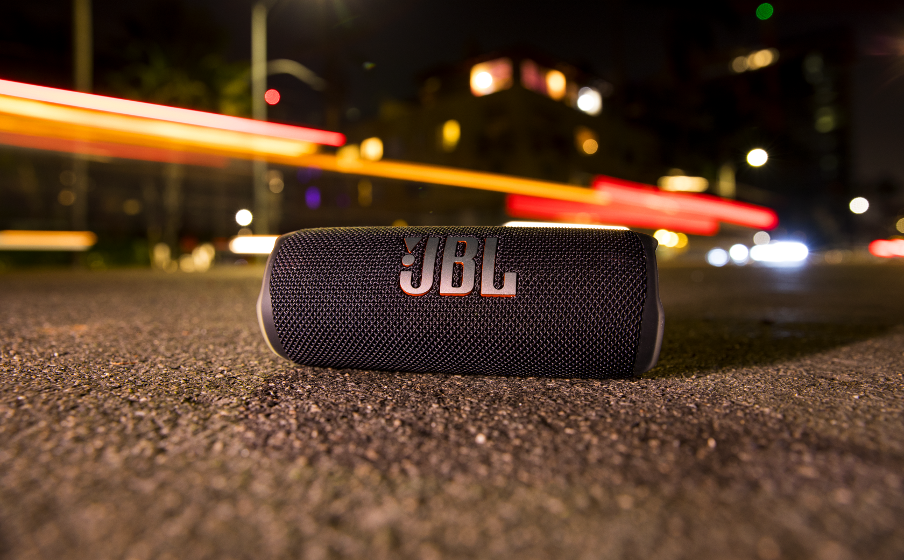 Voimakkaampi ja kuuluvampi ääni
Rytmin syke jatkuu JBL Flip 6 -kaksitiekaiutinjärjestelmän kanssa, joka on suunniteltu tuottamaan voimakasta, kristallinkirkasta ja voimakasta ääntä. Sen ovaalin muotoinen bassoelementti tuottaa poikkeuksellisen matalat taajuudet ja keskialueen, kun taas erillinen diskanttielementti tarjoaa kirkkaan ja raikkaan ylärekisterin. Flip 6 -mallissa on lisäksi optimoidut kaksi passiivisäteilijää syvään bassotoistoon, joka on hienosäädetty Harmanin edistyneellä algoritmilla.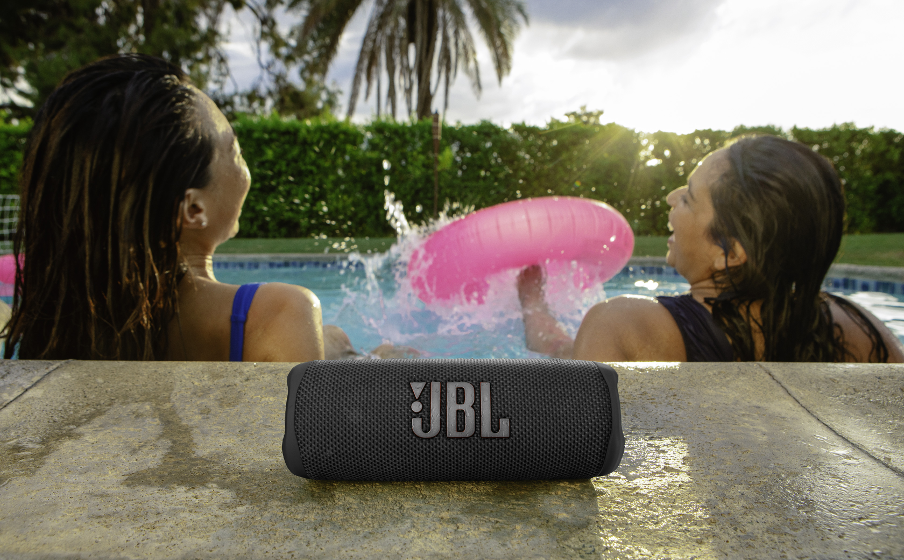 IP67-luokituksen mukaisesti vesitiivis ja pölytiivis
Uima-altaan reunalle. Puistoon. JBL Flip 6 on luokitukseltaan IP67, joten se on vesitiivis ja pölytiivis. Voit siis ottaa kaiuttimesi mukaan minne vain.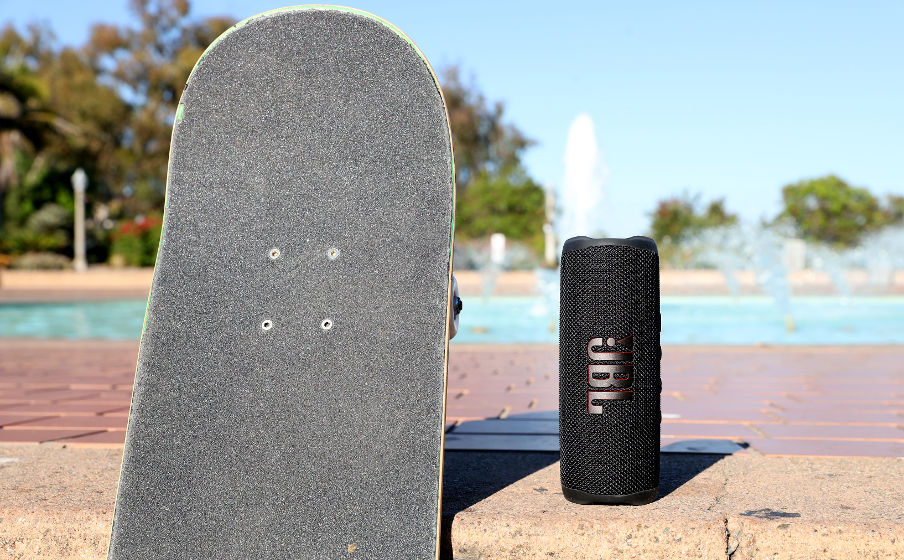 12 tunnin toistoaika
Älä stressaa pikkujutuista, kuten akun lataamisesta. JBL Flip 6 tarjoaa jopa 12 tunnin toistoajan yhdellä latauksella.
Ominaisuudet

Rohkea muotoilu
Rohkea ääni kohtaa rohkean muotoilun. Isolta kuulostava, mutta helposti kannettava malli sopii mihin tahansa henkilökohtaiseen tyyliin. Sen voi asettaa pysty- tai vaaka-asentoon, ja voit valita erilaisia eloisia värejä.

Pidä hauskaa PartyBoost-toiminnon avulla
PartyBoost-toiminnon ansiosta voit käyttää kahta JBL PartyBoost -yhteensopivaa kaiutinta stereoäänen tuottamiseen. Lisäksi voit piristää bileitä entisestään yhdistämällä useita JBL PartyBoost -yhteensopivia kaiuttimia.

JBL Portable -sovellus
Maksimoi äänentoistokokemuksesi JBL Portable -sovelluksella. Saat päivityksiä ja tuotetukea suoraan puhelimestasi. Sen jälkeen voit avata ominaisuuksia vahvistaa ääntä tai säätää bassoa, jolloin voit hallita äänentoistoasi täydellisesti.

USB-lataussuojaus
Lataa vailla huolta. JBL Flip 6 tarjoaa USB-C-lataussuojan. Tämä tarkoittaa sitä, että varoitusääni kehottaa sinua irrottamaan laitteen pistorasiasta, jos liitin havaitsee vettä, suolaa tai mitä tahansa muita kemikaaleja.
Langaton Bluetooth-suoratoisto
Kytke kaiuttimeen langattomasti jopa 2 älypuhelinta tai tablettia ja kuuntele niitä vuorotellen nauttien upeasta JBL Pro Sound -äänentoistosta.

Ympäristöystävällinen pakkaus
JBL on sitoutunut ympäristöystävällisempään ja kestävämpään pakkaukseen. Flip 6 on pakattu kierrätettävään paperiseen pakkaukseen, joka sisältää sisälokeron. Muovinen ripustuslappu on yli 90 % kierrätettyä muovia, ja ulkopinta on painettu soijamusteella.
Tiedot ja lataukset
Item# JBLFLIP6BLKEU
Kuvaus
Rohkea ääni kaikkiin seikkailuihin

Sinun seikkailusi. Sinun soundtrackisi. Rohkea JBL Flip 6 tarjoaa tehokkaan JBL Original Pro Sound -äänentoiston poikkeuksellisella kirkkaudella. Sen 2-tie-kaiutinjärjestelmä koostuu optimoidusta ovaalielementistä, erillisestä diskanttielementistä ja kahdesta bassosäteilijästä. Tämä suuren äänialueen omaava, mutta silti helposti kannettava kaiutin on vesitiivis ja pölytiivis, joten voit ottaa sen mukaasi mihin tahansa säähän. 12 tunnin akunkeston ansiosta voit juhlia, kunnes aurinko laskee tai nousee siellä, missä ikinä musiikki sinua koskettaa. Linkitä useita yhteensopivia kaiuttimia PartyBoost-toiminnolla. Flip 6 on saatavana useissa eri väreissä.
Tuotetiedot
Musiikin toistoaika (t)

12

Lähtöteho (W)

30
Audiotiedot
Dynaaminen taajuusvaste (Hz)

63 Hz - 20k Hz
Mitat
Mitat (cm)

17.8 x 6.8 x 7.2

Mitat (inch)

7 x 2.6 x 2.8

Paino (kg)

0.55

Paino (lbs)

1.21
Ohjaimet, kytkennät ja liitännät
Bluetooth profiilit

A2DP 1.3, AVRCP 1.6

Bluetooth-taajuus

2400 MHz - 2483.5 MHz

Bluetooth-lähettimen modulaatio

GFSK, π/4 DQPSK, 8DPSK

Bluetooth-lähettimen teho

< 10dBm (EIRP)

Bluetooth-versio

5.1
Akku
Ominaisuudet
Bluetooth

Kyllä

Charging cable

Kyllä

Vedenpitävä

Kyllä

Wireless

Kyllä

Ladattava akku

Kyllä

JBL PartyBoost

Kyllä
Pakkauksen sisältö
1 x JBL Flip 6
1 x USB-C-kaapeli
1 x pikaopas
1 x Takuukortti | Turvallisuustiedot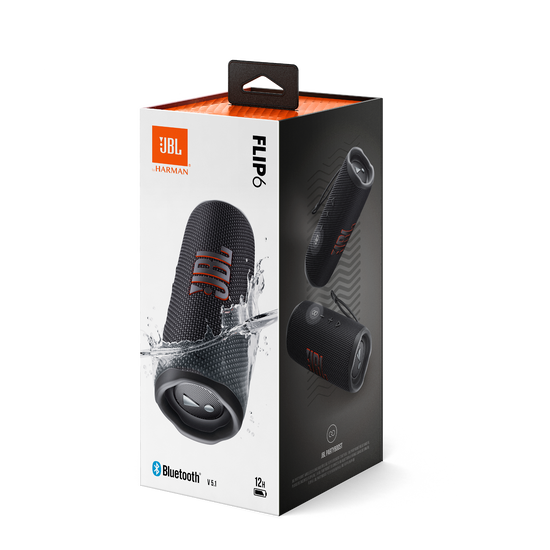 Asiakirjat ja lataukset
Arvostelut ja vastauksia kysymyksiin
Arvostelut
Rated

5

out of

5
by
Vhjckyh999
from
Amazing sound
I got this about 2 wks ago and WOW! This product is amazing. Seamless bluetooth connection immediately and Im not gonna lie I put on Green Day Jesus of suburbia. Im in Ireland and suprised billie joe armstrong couldnt hear me! Sound is banging and at full boot next door shud prob invest in earphone! Cracker sound and features. I wou5d relcomend tl evy1
Date published: 2021-12-17
Rated

5

out of

5
by
Christina
from
More Focused Sounds. Solid improvement
At first, this model didn't seem too different from its predecessors. Cosmetically, there's a new plastic line to allow for it to be laid horizontally and "facing" the direction you choose. In the past, I wasn't quite sure the best way to face it horizontally to get the most directed sound. It's even more durable and sturdy than the previous versions, as well. It also has the same size dimensions but I would maybe like to see it get lighter as it does feel a little heavy at 1.2 lbs. The sound quality is excellent, of course. I noticed it has a bigger distinction between audio segments (mid range, bass, highs, etc) eliminating overpowering background noise in mid range. The bass is great for the size, but as someone who loves bass I think the factory settings leave a little to be desired. That being said, in the JBL Portable app you can absolutely adjust the equalizer to your preference. I realize now they don't have preset "sound modes" in the app like they used to - but that's okay. Overall just another steady improvement on the classic. I also appreciate their eco-friendly packaging (soy ink, recycled materials). It used to be niche in certain products but now JBL seems to be implementing it across the board :)
Date published: 2021-11-24
Rated

5

out of

5
by
RAIDERS 22
from
Excellent Sound
I just purchased the Extreme 3. I Love the JBL lineup and wanted to add another speaker, something smaller to use at work. After watching reviews, I decided to buy the new Flip 6. It is Amazing! Powerful sound from a small speaker, crisp, clear and capable of using the EQ on the JBL APP. This unit Rocks!
Date published: 2022-02-20
Rated

1

out of

5
by
lowlife306
from
Dud
Quit working in less than a week. Had bought 2. Other ones great. This one not. Turning into warranty
Date published: 2022-01-20
Rated

4

out of

5
by
Doom Slayer
from
Awesome sound and size.
This is all you need in a compact portable unit. The size, sound, and loudness of it is great. I gave it 4 stars instead of 5 because I am only getting 4 hours of play time at full volume. I'm not sure if the charge will last longer if the volume is lower, but where I use it I need it to be loud.
Date published: 2021-12-30
Rated

5

out of

5
by
Charlie216
from
Superb Little Speaker
I bought it a week ago, and glad I did. Beautiful speaker, well built, and a good battery life. I'm not disappointed. Thinking of buying another one. If you have doubts, then let tell you it's a good portable speaker. Been a fan of the JBL Flip since the first generation.
Date published: 2022-01-06
Rated

5

out of

5
by
Anonymous
from
JBL Rocks!!!
After purchasing a knockoff through Walmart.com I knew I had to just go through JBL straight up. The look on my sons face when the real Flip 6 came in blew him away. For such a small speaker it pack's quite a punch, and provides a significant upgrade from the flip 4.
Date published: 2022-01-12
Rated

5

out of

5
by
Anonymous
from
Excellent Speaker
With close to half the price, I could not believe it actually sounds better than my old Marshall Stockwell II. I owned a flip 4 before, and I really love the new design of flip 6, it looks much nicer! The ability to adjust EQ is also superb! Love it!
Date published: 2022-01-21
Rated

5

out of

5
by
Suej
from
AWESOME
I love my flip 6.The sound quality is amazing.It is very compact and easy to take with me around the home ,camping and in my campervan.I would highly recommend this speaker.I have linked it to my charge 5 with the party boost feature and its great.
Date published: 2021-12-22
Rated

5

out of

5
by
FZBob
from
So much to love here.
I have a Flip 4...which in it's own right is a great speaker. This one caught my eye and WOW is it an upgrade. The bass is quite amazing and with the EQ in the app, you can give the low a bit more bump for lower volumes. So far, really happy!
Date published: 2021-12-21
Rated

5

out of

5
by
Eddie
from
Party Boost anywhere!
I love this speaker. I linked it with another JBL using the Party Boost function and it really brought the music to another level. The sound is clean! It was a hit with my friends during our Friendsgiving dinner. I can't wait to take this speaker to the beach, golf course and pool side. It feels rugged enough to handle the outdoors and sleek for indoors.
Date published: 2021-11-25
Rated

5

out of

5
by
Roots
from
I enjoy the sound quality and the portability!
We went vacationed in Jamaica and this speaker was a must have in our chateau as well as on the beach. And with one charge it lasted quite a while. I definitely recommend this to anyone who wants a well sounding and moderately sized speaker.
Date published: 2022-01-23
Rated

1

out of

5
by
Xiangqi
from
when can I get it
You guys sent a headphone ,but I buy a speaker. I have return it and want to get my right stuff. Can somebody update process situation to me?
Date published: 2022-02-03
Rated

5

out of

5
by
RBrown718
from
This was worth the money
Had this for a few weeks now. It is loud enough for outdoors, The sound is clear bass is great. I have also listened to this while driving with my truck windows open and again it was clear sounding and loud enough to hear at 70 mph.
Date published: 2021-12-21
Rated

5

out of

5
by
Alicia
from
First Class
First class speaker. The Flip 6 sounds like a 16 inch speaker sound in a 6 inch speaker size. The battery life is excellent. The speaker looks beautiful. Every time a new speaker is released you think there isn't room for improvement but some how they always improve it. Bluetooth connectivity range is amazing. Light weight and easily portable.
Date published: 2021-11-26
Rated

5

out of

5
by
FishG
from
Great Product!!!
This thing bumps! Great battery life too. I don't hear or notice a difference with the "Party mode" somewhat disappointed in that, but besides that it's a Great speaker.
Date published: 2022-01-13
Rated

5

out of

5
by
MP1911
from
Great features
Purchased from JBL website to make sure we got good quality, unlike the black market items that are out there. There is a difference!
Date published: 2022-01-13
Rated

4

out of

5
by
Wachopr
from
Good Sound but Can't pair with Charge 4
I was under the impression I could pair this speaker with My previously owned Charge 4 but couldn't pair them together.
Date published: 2021-12-20
Rated

5

out of

5
by
jblboiii247
from
Amazing sound!!
I absolutely love my new JBL speaker! The sound is great and so is the bass!!! It's a definite upgrade from the Flip 5.
Date published: 2022-01-06
Rated

5

out of

5
by
ShaunaK
from
Upgrade from Flip 5
My Flip 5 was stolen so I upgraded. Great sound! I was sad the other colors weren't released yet but the red is nice
Date published: 2022-03-11
Rated

5

out of

5
by
Jayy69
from
Outperforms the flip 5
Reliable as the flip 5, but more improved features where required. Jbl is definitely my go to for speakers
Date published: 2022-06-21
Rated

5

out of

5
by
Anonymous
from
Good sound and the grandkids love it. Using it
Excellent piece if equipment using it every day. Grandkids love it. Best gift yet, recommend highly.
Date published: 2022-03-12
Rated

5

out of

5
by
Karson
from
Litterely nothing wrong, but I have a question:
This speaker is straight from heaven, and the logo says it all. My question is, if you were to push on the passive radiators by accident, would it break anything? I had it sitting vertically at my table and my sibling pushed in on the passive radiator a little bit, and now I'm noticing some extremely faint noises if you put it right, RIGHT next to your ear. If it's a couple inches away, you don't notice it though, so it doesn't matter to me. Just a question.
Date published: 2022-01-15
Rated

5

out of

5
by
Matty Coult
from
Beyond my expectations
I bought the flip 6 after loosing my flip 3. Which had itself been incredibly durable with surprisingly good sound quality. So I looked to get the latest model in the same line. The bass for such a small speaker took me by surprise. It seems to have greater Bluetooth range and this one no longer rolls away when on its side thanks to a little strip. Which is another thing, the attention to detail shows. Even down to the embossed logo within the speaker face.
Date published: 2022-05-16
Rated

5

out of

5
by
bykfixer
from
Well done JBL
After about 90 days of use I am still estatic about this wonderful sounding speaker. Sounds way more natural than those from that brand that rhymes with nose. Pretty decent low end at low volume without sounding muddy or drowning out the mids and highs. It's a mono speaker so don't expect sound stage. Coupled with a second one, using the app can get you stereo, but for background music this one gets the job done very well. Battery holds up well too.
Date published: 2023-01-07
Rated

5

out of

5
by
Anonymous
from
JBL does it again!
The addition of the tweeter speaker is very welcomed, finally music can be heard crisp and clear. Paired it with my flip 5 using Partyboost was incredibly fast, one button operation. Keep up the good JBL!
Date published: 2021-11-24
Rated

5

out of

5
by
Daddys Earth Angel
from
I flipped for the new flip 6!
I absolutely love, love my new flip 6 JBL speaker! The new improved upgraded woofer.. Makes my music and my podcasts sound more crystal clear than ever before! I highly recommend getting one to enhance your listing experience!! I absolutely love the color of the blue speaker too. I was expecting a dark dull color. Wrong!! It is a darker color. But, not really the blue color I was expecting. It's more of a darker teal color. My favorite color!!
Date published: 2022-01-19
Rated

5

out of

5
by
Genessis
from
Crisp sound
Just recently ordered the JBL flip6 speaker and I'm definitely not disappointed. Its a small speaker with a load punch! The bass sounds pretty good for its size, the music comes out sounding crisp, its also a cute small speaker, unlike other ones that are bulky. I definitely use this one with all my everyday activities.
Date published: 2021-11-25
Rated

1

out of

5
by
David Edouli
from
I don't like that there are different models of the same speaker to find which one you have it's the first two letters of the serial number I got the TT model number in black it doesn't sound good at all my friend has a GG flip 6 it sounds much better I figured this out after the date I could return it to best buy I wish JBL would stop doing this GG tl tt cs thing now I stuck with a 130$ speaker that doesn't live up to JBL name.
Date published: 2023-01-27
Rated

5

out of

5
by
Daniel stegall
from
Jbl flip 6
This little speaker suprised me !! It has clear highs and good lows ! The battery life is amazing and last a long time on one charge ! It's small and portable with lots of sound ! If you want a decently priced speaker with great sound and great battery life this speaker is for you 100%
Date published: 2021-11-24
bvseo_sdk, dw_cartridge, 18.2.0, p_sdk_3.2.0
CLOUD, getReviews, 8ms
reviews, product
Kysymyksiä ja vastauksia
How can I tell that my JBL Flip 6 is charging? How can I tell when it is fully charged? How can I tell how much battery life is left after use?
Our JBL Flip 6 has a battery light indicator next to the Bluetooth button which tells you how much charge your speaker has left.
Date published: 2022-11-01
So we know that the Flip 6 does not have an aux output option however, if we connect a USB-C to Aux cable to say, a computer aux point, will the speaker output the computer sound?
Thank you for the inquiry. Our JBL Flip 6's Type C USB port can only be utilized to charge the speaker. Connecting the Type C USB cable to the speaker output of your computer will not produce any audio output.
Date published: 2022-11-04
Is this made in China?
Thanks for reaching out. Our JBL Flip 6 Portables Speakers are designed in the United States and manufactured in China.
Date published: 2022-02-22
I would like to know where you got the 12 hour battery life from?? I am lucky to get 6 hours no matter what volume. I work in a noisy environment so I do have it cranked up a bit but should last more than 4 hours with a reported 12 hour battery life.
Our JBL Flip 6 has a battery life of up to 12 hours but this will depend on the music content and volume level. If you have any questions or concerns about your device, feel free to contact our customer spport via our website or toll-free number.
Date published: 2022-12-06
Can I connect a Flip 5 to a Flip 6?
Yes, you can link the JBL Flip 5 with the Flip 6 using the PartyBoost feature.
Date published: 2022-05-08
Cant you use google assistant on the flip 6?
Thanks for reaching out. Our JBL Flip 6 does not feature speakerphone or voice assistant functionality as it does not have a microphone.
Date published: 2022-01-02
Do I have to engage stereo mode on the flip6 through the app or is there a way to establish stereo mode by pushing one of the buttions on flip6
Yes, to enable stereo mode on your JBL Flip 6 you'll need to set it up first on your JBL Portable App. This setting will remain on your speakers the next time that you will use them without using the app.
Date published: 2022-11-14
Does Partyboost / stereo work with Windows and MacOS? It works fine for me via an iPhone but not when using with my computers. Nothing in the description suggests its limited to mobile devices only.
Thank you for your question. Please contact our Customer Support Team on https://uk.harmanaudio.com/support-contact.html#ns for further assistance. Thank you.
Date published: 2023-01-23
What is the difference between the Flip 5 and Flip 6
Thanks for reaching out. Here is the difference between our JBL Flip 5 and Flip 6: The Flip 5 has an IPX7 (waterproof) rating, Bluetooth 4.2, and a 44mm x 80mm transducer. While the JBL Flip 6 has an IP rating of IP67 (waterproof and dustproof), the Bluetooth version is 5.1, and the transducers are "45 x 80mm woofer (1.75 x 3.0") and 16 mm tweeter (0.6). Both our JBL Flip 5 and Flip 6 speakers have the PartyBoost feature and can be linked together.
Date published: 2022-12-15
Jbl flip 6 it's waterproof?
Our JBL Flip 6 is IP67 waterproof and dustproof. This means that the unit can be dropped into a body of water up to a meter deep for half an hour. Please make sure that the unit is dry or free from moisture before charging, to prolong the battery life of the speaker.
Date published: 2022-12-06
Does it have a mic for phone calls?
Thanks for your inquiry. Our JBL Flip 6 does not feature speakerphone or voice assistant functionality as it does not have a microphone.
Date published: 2022-10-04
How many watts is jbl flip 6
Thanks for your inquiries. Our JBL Flip 6 has 30 watts RMS.
Date published: 2022-08-11
When will the Flip 6 in Black be available for purchase here in the USA
Thanks for your interest. We don't have news to share about when the JBL Flip 6 (Black) will be available in the US. You could sign up for the JBL Newsletter or click on the 'Notify Me' button found on this link to get notified as soon as this product is available. https://bit.ly/31GnraZ
Date published: 2021-12-08
Does this support calls over bluetooth like the Flip 4?
Thanks for reaching out. Our JBL Flip 6 doesn't have the speakerphone system which allows you to make and receive phone calls like the JBL Flip 4. Access the link provided to get more information about this product. https://bit.ly/3pCNEj3
Date published: 2021-12-08
Just ordered flip 6 but wondering upon arrival should I fully charge first or just use straight away and drain it till turns red, then fully charge? I want to optimise the battery life. When will I know it's fully charged?
Thank you for your question. We recommend to fully charge your JBL Flip 6 before the first use. In regards to the charging light, on the side of the unit you will see the charging light bar which will be full once the unit is fully charged and it will decrease with use to let you know the battery status. Should you wish to receive further support, you may contact the Harman Customer Support team by telephone, email or chat in order to receive direct assistance. Please see https://uk.harmanaudio.com/support-contact.html#ns for further details. Thank you.
Date published: 2022-07-04
How many watts is the flip 6?
The output power of our JBL Flip 6 is 20 Watts RMS for the woofer, 10 Watts RMS for the tweeter.
Date published: 2021-12-08
bvseo_sdk, dw_cartridge, 18.2.0, p_sdk_3.2.0
CLOUD, getContent, 113ms
questions, product