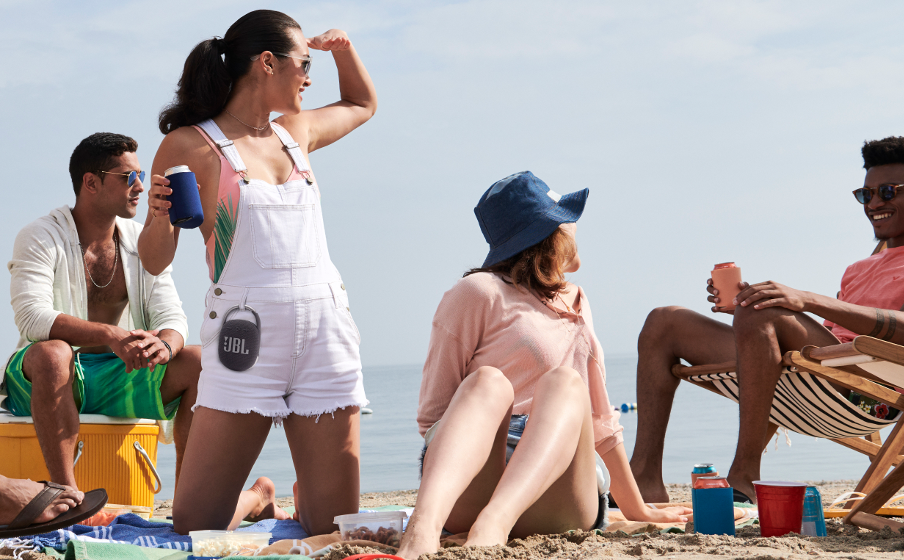 Täyteläinen JBL Original Pro Sound -ääni
Kompakti Clip 4 -kaiutin tuottaa yllättävän täyteläisen JBL Pro Sound -äänen ja iskevän bassosaundin.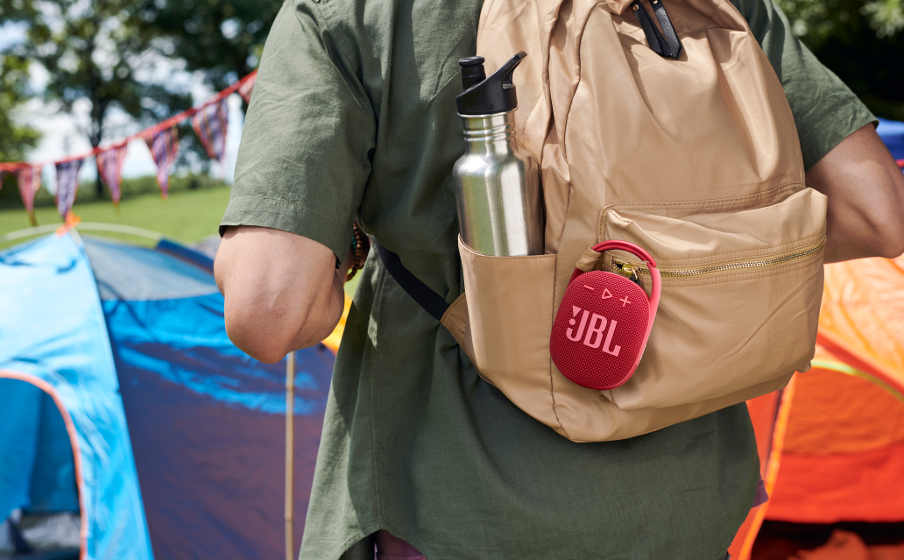 Rohkea tyyli ja helposti kannettava muotoilu
JBL Clip 4 -kaiuttimen helposti kannettava muotoilu sulautuu saumattomasti nykymuotiin. Sen värikkäät kankaat ja ilmeikkäät yksityiskohdat varmistavat, että se näyttää yhtä upealta kuin kuulostaa.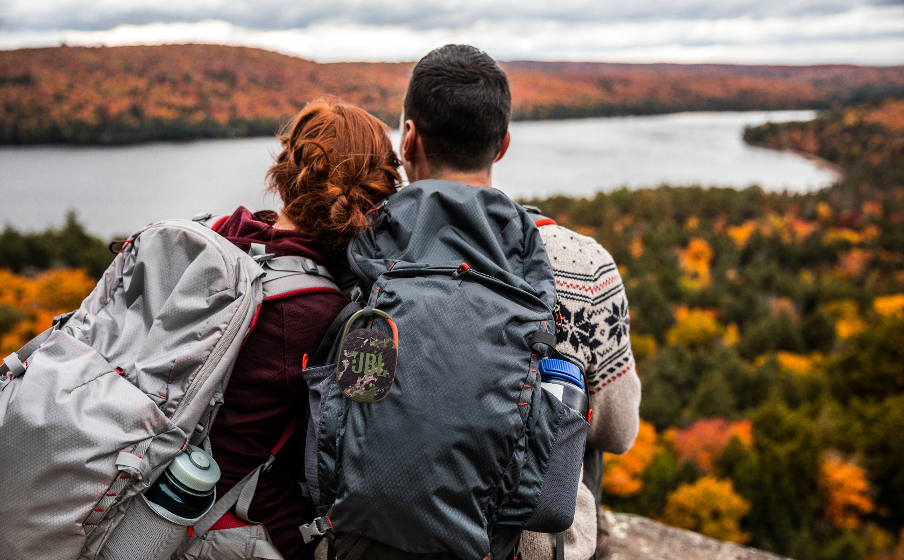 Päivitetty integroitu karabiinihaka
JBL Clip 4 -kaiuttimessa on uudistettu karabiinihaka, joten se kulkee mukana turvallisesti missä tahansa ja milloin tahansa. Kiinnitä vain vyöhön, hihnaan tai solkeen ja lähde tutkimaan maailmaa.
Ominaisuudet

IP67-luokituksen mukaisesti vesitiivis ja pölytiivis
Uima-altaan reunalle. Puistoon. JBL Clip 4:n suojausluokka on IP67, eli se on vesitiivis ja pölytiivis, joten voit ottaa kaiuttimesi mukaan minne vain.

Langaton Bluetooth-suoratoisto
Suoratoista musiikkia langattomasti puhelimellasi, tabletillasi tai millä tahansa muulla Bluetooth-laitteella.

10 tunnin akunkesto
Älä stressaa pikkujutuista, kuten akun lataamisesta. JBL Clip 4 tarjoaa jopa 10 tunnin toistoajan yhdellä latauksella.

Eloisat värivaihtoehdot
JBL Clip 4 -kaiuttimien ainutlaatuinen värivalikoima on saanut innoituksensa uusimmista katumuodin trendeistä. Esittelyssä on aivan uusia sävyjä ja yhdistelmiä.
Tuotevertailu
Löydä kannettava bluetooth-kaiutin, joka sopii sinulle parhaiten
CLIP 4-
GO 3-
FLIP-6-
CHARGE5-
JBL CLIP 3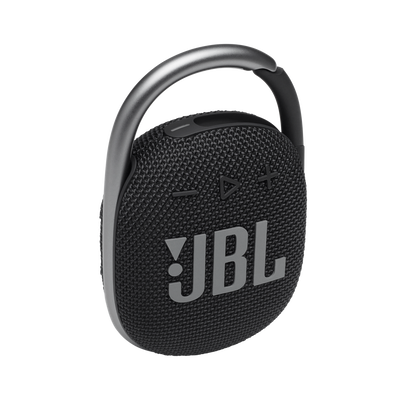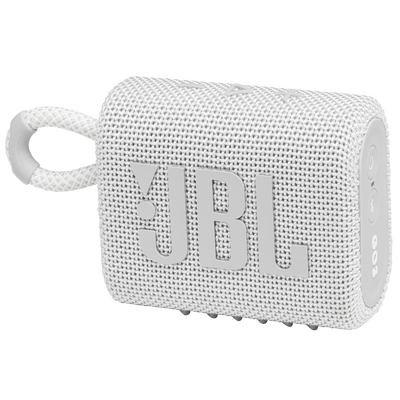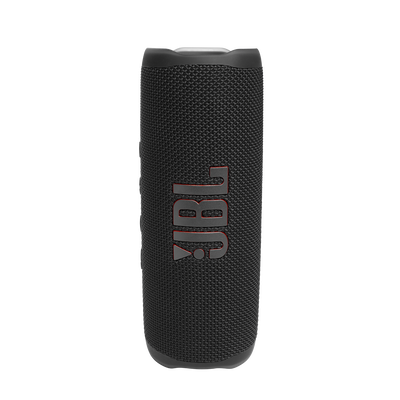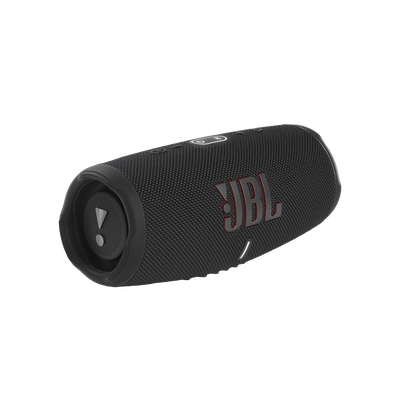 Yleiset tekniset tiedot
Musiikin toistoaika (t)
10
Musiikin toistoaika (t)
5
Musiikin toistoaika (t)
12
Musiikin toistoaika (t)
20
Musiikin toistoaika (t)
10
Mitat
Mitat (cm)
8.6 x 13.5 x 4.6
Mitat (cm)
8.6 x 6.9 x 4.0
Mitat (cm)
17.8 x 6.8 x 7.2
Mitat (cm)
22 x 9.6 x 9.3
Mitat (cm)
9.7 x 13.7 x 4.6
Tiedot ja lataukset
Item# JBLCLIP4BLK
Kuvaus
Kiinnitä ja kuuntele

Tyylikäs, kannettava ja vesitiivis. Eloisan raikkaan näköinen JBL Clip 4 tarjoaa yllättävän täyteläistä JBL Original Pro Sound -ääntä kompaktissa muodossa. Ainutlaatuinen soikea muoto sopii hyvin käteen. Eriväriset kangasvaihtoehdot ja nykymuotia henkivät ilmeikkäät yksityiskohdat mukautuvat vaivattomasti tyyliisi. Täysin integroidun karabiinihaan ansiosta kaiuttimen saa nopeasti kiinni laukkuun, vyöhön tai solkeen, joten voit ottaa lempimusiikkisi mukaasi minne tahansa. Kaiutin on vesi- ja pölytiivis, tarjoaa jopa 10 tunnin soittoajan ja on tarpeeksi kestävä retkelle kuin retkelle.
Tuotetiedot
Musiikin toistoaika (t)

10

Lähtöteho (W)

5
Audiotiedot
Dynaaminen taajuusvaste (Hz)

100Hz - 20kHz
Mitat
Mitat (cm)

8.6 x 13.5 x 4.6

Mitat (inch)

3.4 x 5.3 x 1.8

Paino (kg)

0.239

Paino (lbs)

0.53
Ohjaimet, kytkennät ja liitännät
Bluetooth profiilit

A2DP 1.3, AVRCP 1.6

Bluetooth-taajuus

2400 – 2483.5MHz

Bluetooth-lähettimen modulaatio

GFSK, π/4 DQPSK, 8DPSK

Bluetooth-lähettimen teho

≤ 10 dBm (EIRP)

Bluetooth-versio

5.1
Akku
Ominaisuudet
Bluetooth

Kyllä

Charging cable

Kyllä

Vedenpitävä

Kyllä

Wireless

Kyllä

Ladattava akku

Kyllä
Pakkauksen sisältö
1 x JBL Clip 4
1 x USB-C-kaapeli
1 x Pikaopas
1 x Takuukortti
1 x Turvallisuustiedote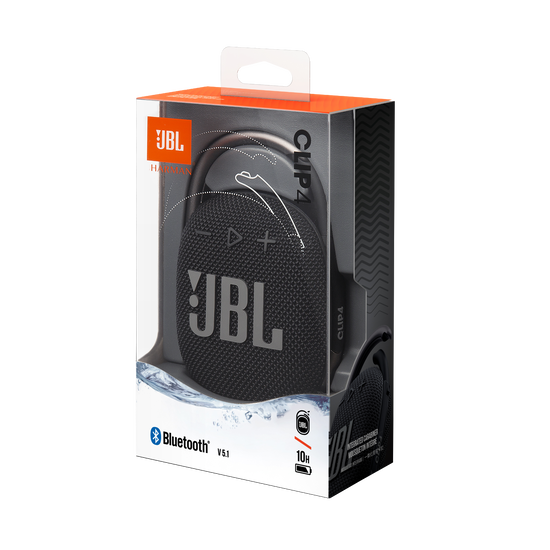 Asiakirjat ja lataukset
Arvostelut ja vastauksia kysymyksiin
Arvostelut
Rated

5

out of

5
by
Toval
from
Super
Look: The clip is the perfect size to take with you everywhere. Its simple but elegant design makes it stand out and you are immediately addressed by it. Of course, the clip is super practical, I have already hung it on my e-scooter, on my bag or even on the trunk. Sound: The clip has a super sound quality, no matter whether loud or soft the sound is always perfect. It also doesn't matter whether you listen to music, the radio or an audio book, everything is in perfect sound quality! Handling: The handling is super easy. Switch on the clip, connect it to your mobile phone via Bluetooth, turn on the music and off you go! Conclusion: I've really fallen in love with this clip and wouldn't want to do without it! I give it a clear buy recommendation and ⭐️⭐️⭐️⭐️⭐️ from ⭐️⭐️⭐️⭐️⭐️!
Date published: 2021-06-07
Rated

5

out of

5
by
Elsa98
from
Great compact speaker
I bought this as a gift for someone and wish I could have one for myself too. It's compact whilst not comprising sound and quality. The whole design is very sleek and sturdy with the clip meaning you can easily attach it to almost anything. The quality of sound it produces is also great, in comparison to the jbl 2 that I've owned for a number of years which is still going strong the jbl clip 4 almost meets the sound quality of that which you wouldn't expect from something a third in size and price. Excellent little purchase, would recommend highly!
Date published: 2020-12-13
Rated

5

out of

5
by
Beaglemommy
from
Big Sound Small Speaker
First, this is the loudest portable speaker I have ever used/owned. The big sound that comes from such a small unit is incredible, the clarity of sound is as good as my big surround sound system and it holds a charge for a long time, never died on me! Love the clip feature, great for handbag, backpack or other uses. Physically it's very durable, this speaker survived a car wreck (me too) where car was totaled, I was surprised it was not in pieces like so many other items. It's a great speaker, easy to use, would make a great gift for anyone.
Date published: 2021-03-07
Rated

2

out of

5
by
Madik
from
Better clip but the older model had more function
I'm pretty displeased with this. I had an older model that worked better, it connected for phone calls which was the main reason I purchased. This newer version has no mic/phone audio so I can't make phone calls while riding my bike. I wish I had known this before buying. It also doesn't tell me the battery life of the speaker on my phone which is the only device I have it connected to. The sound is ok. The rubber bumpers began peeling off immediately and are almost all gone
Date published: 2022-07-29
Rated

3

out of

5
by
Yonh
from
Not as advertised
I can say I love JBL and I purchase products from them and have multiple speakers from Bluetooth to home speakers. What I have noticed the speakers don't last as long as they advertise. I take this Clío 4 on my bike rides and it last about 4 hours max so 10 hours is a bit much to say. I love the speaker but extremely disappointed in the battery life as advertised
Date published: 2021-09-14
Rated

4

out of

5
by
GeirF
from
Liten høytaler med mye lyd!
Fikk testet denne høytaleren av Reviewclub. En liten og solid høytaler med en egen krok som kan henges på sekken eller lignede. Den har antiskli belegg på baksiden som også fungerer som demping når du legger den på et bord (unngår at den sklir og skurrer). JBL er kjent for å levere god lyd, og denne leverer også på dette punktet (størrelsen tatt i bedrakting). Det at den er støv og vanntett betyr at denne er den perfekte tur kompis. God batteritid selv med volumet på full guffe og den varer tett opptil 10 timer. Tilkobling av bluetooth gikk som en drøm. Benytter en usb c lader som følger med de fleste nyere mobil telefoner i dag. Denne blir nok et fast følge med på tur.
Date published: 2021-04-05
Rated

5

out of

5
by
Riseball24
from
Big time sound!!!
Absolutely love the design. Right out of the box you can tell that you have a great product. Quality is synonymous with JBL and this baby is no exception. Long battery life and robust sound stand out here. The bass is exceptional for such a small package. The clip allows you to take it anywhere and find just about anything to clip it onto. I take this all places with me and small enough to store in your vehicle. I love this speaker! Well done JBL!
Date published: 2021-02-08
Rated

4

out of

5
by
LLEVERYDAY
from
Great "on the go" sound!
This compact package is impressive! I wasn't expecting this much sound to come from something so portable. It can literally go anywhere you can go. The IP67 rating makes it waterproof and dust proof. That along with the unique built-in carabiner for "safe clipping" makes this a winning combination. I carry it to my office everyday clipped to my backpack. It's perfect for me to play music with all day at the office without having to worry about the battery dying. I love it! Although there is one thing in particular that bothers me about this small wonder. It will not work with phone calls. During training meetings I like to use the webex application on my phone for video/audio conferencing. The other day I left my JBLClubPro earbuds at home, but thought it would be great to listen to the training using the Clip 4. That's when I discovered that the speaker goes silent when my phone is connected to a call. Actually it doesn't even show up as a bluetooth connecting option for call audio while engaged in a call. I've done some trouble shooting and minimal research on this to no prevail. Hopefully it's something that I'm not doing right that causes this. Other than that this is a great portable product that I not only suggest for people on the go, but I also suggest for anyone who likes music as much as I do. Whether that's on a mountain top, at the office, or in the kitchen. This will satisfyingly bring you listening pleasure bundled with maximum portability.
Date published: 2021-01-30
Rated

5

out of

5
by
sirintiphan
from
perfect to travel
I am using the CLIP 4 for about a week... I also have a CLIP 2 and a charge 2, my older clip version was a bit too silent and had a kind of empty sound, I missed a full bass on it, so I had to bring my Charge 2 box to travel all the time, which is much bigger n heavier... the Clip 4 has a rich sound for the small size, and it also has a deep bass for such size., It s perfect to travel, and I can´t wait to travel again, hopefully this, maybe next year and the clip 4 ll make me save place and weight with a great sound... it s also well done and seems sturdy to me. can t expect more
Date published: 2021-04-14
Rated

5

out of

5
by
Benben159
from
Does exactly what it's designed for
I've no idea why some people are complaining about lack of speakerphone. Someone who goes out into the wild and spends the time on speakerphone has completely missed the point. Aux cables are also outdated, so I'm glad they got rid of the 3.5mm jack. An app would be nice for updates, and to check battery percentage, but overall I'm really happy with it. It's simple, stripped back, portable, and functional, and that's the whole point. Adding in a 3.5mm jack and features like a microphone adds weight and reduces waterproofing, which is the whole point of this speaker! So stop whinging, and if you want speakerphone or additional inputs, buy the flip 6 because you're clearly not that worried about portability.
Date published: 2022-07-16
Rated

5

out of

5
by
Deepkumar
from
It has amazing built quality and battery life
I own this product since a month now and its very rugged and waterproof. It plays really nice quality music that you will enjoy on a hike or camping. it has a 10H battery life. Large buttons make it super easy to use even in the dark. I love the metal clip carabiner-type hook. Beautiful creation by JBL. Makes best gift option for someone you love and they will appreciate it. I have no complaints so far. I wish to have connectivity to another jbl speaker and group play, that will elevate the game for sure.
Date published: 2021-02-16
Rated

5

out of

5
by
Eddie32
from
My hiking buddy!
I've taken other portable speakers on hikes and I have to leave them in the pack - not anymore with this hookable baby! I clip it on the outside of my pack and I have quick access to the buttons without having to take out my phone. I don't like hiking with my phone in hand. The build also feels rugged and able to withstand a drop or fall. I might need another one since my girlfriend likes to take it on her hikes with her friends too. I would recommend this little speaker to anyone!
Date published: 2021-03-05
Rated

4

out of

5
by
Parks24
from
Great speaker but needs some small improvements
Nice improvement over the Clip 3 and sounds great for the size and the clip is really good, overall I like it and if you're on the fence buy it. I didn't give it a 5 because the buttons on the side need to be recessed like the Clip 3 or need to be harder to press people are always hitting the buttons by accident or if its on your pack it can bump them, I'd like to see just a slightly stronger spring in the clip part and other than that I wish the battery lasted a little longer but it should be sufficient at least what you'd expect. Definitely pick this up if your in the market for something this size!
Date published: 2021-05-27
Rated

2

out of

5
by
Anthony p
from
Not great
First let me say I've bought every one of the "clip" series from JBL. They were all great. Then I bought the 4 after having the 3 for a year or two. Within 2 weeks the battery wouldn't charge. I'd charge it until full and think I had the 10 hrs that they say it will stay charged and within an hour it's blinking telling me it needs to be charged. I bought it from Walmart and don't know what I did with the receipt(didn't think I'd need it) jbl won't do anything about it. No more jbl products for me.
Date published: 2021-08-02
Rated

1

out of

5
by
Rick1992
from
Rattles
This speaker was awesome until the clip ring that goes around the speaker started rattling only a month after i bought it. Now it sounds horrible because the plastic ring rattles at any volume above half
Date published: 2021-09-01
Rated

5

out of

5
by
Studio8two7
from
Amazing bass!
I needed something compact to travel and that would just fit in my bag. After hrs of sound editing in my hotel room, I took it down to the pool and after 3 days of doing the same, it was still playing. I've always trusted the bigger units but this is a game-changer. Great quality, built, and sound!
Date published: 2021-02-26
Rated

5

out of

5
by
Peela
from
Huikea ääni
Olen käyttänyt tuotetta pari viikkoa ja olen ällistynyt, että tämän kokoisesta kaiuttimesta voi lähteä näin hyvä ääni. Musiikin laatu kuulostaa hyvältä ainakin näin maallikon korvaan. Ja musiikin saa raikaamaan kovaa! Helppo ja kätevä kuljettaa mukana. Käytössäni on aiemmin ollut Clip 2 kaiutin, olen tykännyt kun kesäilloissa kävellessä kaiutin voi roikkua repussa kiinni ja koko porukka kuulee musiikin. Tässä kaiuttimessa on sama ominaisuus, mutta tuo kiinnytys systeemi vaikuttaa vähän tönkömmältä kuin edeltäjässään. Kaiutin on helppokäyttöinen ja napukat helposti painettavissa. Pientä miinusta tuo edustan merkin ja takana olevien "liike stopparien" materiaali, jota tekisi mieli repiä pois.
Date published: 2021-03-19
Rated

4

out of

5
by
Kuuntelijaksi
from
Yllättävän hyvä!
Tämä on nyt ollut testissä jo kuukauden verran ja pienikokoinen kajari on kyllä yllättänyt tehokkuudellaan. Äänimaailma on oikein mukava, ei rätise eikä särise, basso jyskyttää niinkuin pitääkin. En olisi uskonut, että tämänkokoisesta pikkumötikästä lähtee näin hyvät äänet näinkin puhtaasti ja volat saa todellakin kaakkoon! Ei jää mikään kuulematta. Yhdistäminen vaikkapa puhelimen kanssa on helppoa ja vaivatonta, naps ja toimii. Kajari on muotoilultaan mukava ja kätevä kahva josta sen saa roikkumaan melkolailla mihin vain. Tosi helppo käyttää, ääntä voi säätää myös suoraan kajarista. Akku kestää kiitettävän pitkään ja lataaminen käy sukkelaan. Ei valittamista kyllä näin kuukaudenkaan jälkeen.
Date published: 2021-03-29
Rated

5

out of

5
by
helen28
from
Survived a car fire easily
I got this for Christmas and use it all the time. Recently, my car caught on fire (nobody was hurt!) and the speaker was in the front seat where the fire was. After 15 minutes the fire department put the fire out, and when they found the speaker it was in perfectly fine condition, surviving smoke and extreme water damage with ease. Not to mention I use it in the shower all the time, and the clip feature is super convenient. I listen to music loudly and for such a little speaker, this has a great volume and bass.
Date published: 2022-07-05
Rated

1

out of

5
by
RobbyX
from
Terrible button design ruins it
I'm returning this speaker because the buttons are very poorly designed. I'm an avid hiker and backcountry skier. I've had a Clip3 swinging from my backpack for years without any problems. My trusty Clip3's battery is no longer holding much of a charger, so I decided to give the Clip4 a try. Sound-wise, the Clip4 is solid, on par with the Clip3. Where the Clip4 completely fails is the button design. The Clip3's buttons are recessed and required an intentional push. The Clip4's buttons are the opposite. They actually protrude and are extremely sensitive to touch. Even slightly grazing them will suddenly turn your speaker off or put it into pairing mode. I tested the Clip4 on a run a few days ago. It was hanging on my backpack and it turned itself off 5 times (no joke) as I ran. As it swung from side to side, simply brushing against my soft backpack would turn it off. The button design is horrendous. In many years of owning a Clip3, it never once turned itself off. The Clip4 design is trash. Skip it and find a Clip3 on Amazon or some other online retailer.
Date published: 2022-05-27
Rated

2

out of

5
by
Jt78brown
from
Power
Don't like the power button. Very easily turned off. A slight bump and there goes the power. Also didn't last 10 hrs it was more like 5.5-6 hrs. Wish it had pairing with other speakers too.
Date published: 2021-06-15
Rated

5

out of

5
by
Kelila
from
Great sound quality and awesome color!!
I got this the blue JBL Clip 4 as a birthday gift from a WONDERFUL friend. It was such an exciting surprise to receive this speaker and I have been using it NON-stop since receiving the gift. SO HUGE shout out to my friend ;) for the awesome gift. Now to share more about why this speaker is great: 1) SUPERB sound quality for such a small speaker 2) Great battery life - I am just needing to charge now after 2 days of listening for many hours 3) I hear it is waterproof (that's cool - haven't tried it out yet) 4) Love the blue color!! 5) The clip is durable and big enough to fit on most things 6) SUPER easy to pair. Overall I just love it and am so thankful to my wonderful friend for the thoughtful gift <3
Date published: 2022-09-24
Rated

4

out of

5
by
Bdubbs
from
Great little speaker
I absolutely love the speaker. I was in love with my go 3 but wanted something lighter as I stock shelves at night for work. I gave this 4 stars only because I hate where the power button is located. Directly on the back side. Quite a few times while working it has hit my side and shut the speaker off. Never happened with the go 3 because the power button is on top. If that power button was in a better location this speaker would be completely perfect for me. Button location may not be an issue for anyone else.
Date published: 2023-02-01
Rated

5

out of

5
by
linush
from
Good sound paired with excellent quality
I am happy with the JBL CLIP 4. The sound is crisp and clear but a little too bass-heavy for my preference. I found the clip to be game-changing at any outdoor activity really. You can just clip it onto your belt loops or your backpack and then you can hike or bike with both good sound and free hands. Sadly, the power button is placed in a weird position and that is nagging me. It exactly in the same spot where my fingers would naturally reach when grabbing the speaker. But you get used to it, it just takes some time. Despite that and the too "bass-heavy" sound I would absolutely recommend this speaker to anyone who is looking for a premium-feeling, robust and waterproof speaker for outdoors, travel or the occassional bathroom-listen.
Date published: 2021-04-19
Rated

5

out of

5
by
crocoka
from
JBL Clip 4 - Convincing sound to go
- First impression Even when unpacked, the Bluetooth speaker impresses with its high-quality impression and good build quality. - Installation, start-up Once fully charged (USB-C) and then paired with the iPhone, everything is really child's play. - Scenario Whether at indoor fitness, cooking or chilling and barbecuing in the sun, the JBL is convincing. The sound quality is high and a bit bassy, high sound level even at low levels. The battery life is adequate and the clip is simply ingenious. - Functionality Great sound with creative attachment and it also looks chic - perfect ;-) A power supply unit is not included, but surely everyone has at least three suitable ones in use. Unfortunately, there is no built-in microphone for hands-free calls. - Conclusion If you're looking for a mobile and flexible speaker with great sound, the JBL Clip 4 is a good choice.
Date published: 2021-04-25
Rated

1

out of

5
by
Boogie Man
from
Battery Flunks
Got it for Christmas and by March the battery would no longer charge. Sound was great while it didn't last
Date published: 2022-03-14
Rated

3

out of

5
by
Jam mastah
from
Great sound buuuut...
Awesome sound battery life lasts 4hours full volume. Also bummer it doesn't connect to others like the clip2. Returned two because they don't connect together. Turns off after vibration like it hanging from my pants while snowboarding.
Date published: 2021-02-19
Rated

4

out of

5
by
steveCPS
from
Bluetooth could use some work
The sound quality is awesome as per usual, the clip is much better than the clip 3, however, the distance between my phone and speaker has to be much close then with the clip 3 to keep the signal from cutting out. With the jbl clip 3, my speaker could be in the very back of my backyard playing music and my phone could be on the front porch, now if I have my phone at the back of backyard and my speaker the the front of my backyard it cuts out. I expected better Bluetooth signal from JBL. Other than that, I am very happy with my new speaker
Date published: 2021-05-21
Rated

5

out of

5
by
Tedschaumburg
from
The JBL CLIP 4, does not disappoint!
The JBL CLIP 4, does not disappoint! It gets very loud for the size and the midrange and highs are very crisp. The bass is decent, but it's not going to shake any windows I have owned several JBL products over many years and have never had an issue, and I definitely do not anticipate having one with the Clip 4, as the new products keep getting better! The quality as always seems very solid, rubber trim on the bottom keeps it from moving or rattling at high volumes, and the size is perfect to take on the go. It connects automatically when you turn it on, can control tracks and volume right from the speaker, waterproof can take to the pool, or shower…this thing is simply awesome. I wish it had a speakerphone option, but other than that is perfect!
Date published: 2021-02-06
Rated

5

out of

5
by
AZmille
from
Great Speaker for on the go
This portable speaker has been a great addition to our grab bags when we are on the go. The battery life of this speaker is great. We can take this speaker on multiple outings before having to recharge the unit. The speaker has a nice metal clip that give me piece of mind when clipping this to my backpack pack for an afternoon out. Due to the metal screen used to house the speaker I am not concerned with the speaker living on the outside of my bag and being tossed into the bed of my truck. The sound quality that emanates from this durable little speaker is amazing. We recently attended a birthday party at a busy park and brought the Clip 4 to listen to the play by play of our favorite local hockey team. The sound was audible over the gusts of wind whipping through the Ramada and the shouts of the kids playing tag on the playground equipment. I cannot wait to take this speaker with us on our next out of state hockey tournament to play the team's pre-game music. I will be able to clip the speaker to my son's hockey bag allowing for easy carry and the ease of use will allow him to be the locker room DJ without any help from me. This speaker's durability, size and sound makes the Clip 4 an easy choice when looking for a great speaker for someone on the go.
Date published: 2021-02-16
bvseo_sdk, dw_cartridge, 18.2.0, p_sdk_3.2.0
CLOUD, getReviews, 6ms
reviews, product
Kysymyksiä ja vastauksia
Does this have an auto off feature?
Our JBL Clip 4 will go on power-saving mode or standby mode after 8-10 minutes of inactivity or doesn't detect usage from the source device.
Date published: 2022-04-05
Is it possible to damage the battery by leaving it on the charger and over charging it?
There's no harm in using our JBL Clip 4 while it is connected to a power source. It will not over charge. Our products have PCM circuits that manage the charging of the battery. However, if you'd like to save energy, you may unplug the speaker.
Date published: 2023-01-16
Can you skip a song with this device?  Someone on amazon said you can click the play button twice but others still say you can't skip songs.  I would like to know what is correct
Yes, you can skip tracks by pressing the play button of the JBL Clip 4 twice.
Date published: 2022-06-06
Can I use 2 of them as a stereo pair?
No, I was hoping for that aswell.
Date published: 2021-06-06
How do I connect multiple clip4 together?
Thank you for your question, unfortunately this is not possible. Except for the clip and go devices almost all other speaker support this function.
Date published: 2021-06-06
My iPhone 13 Mini will not recognize my Clip 4 nor does my Dell Inspiron running Windows 10
You may try to perform a reset on your Clip 4 by following the instructions below: In Power On mode, press and hold 'Volume+' together with 'Play/Pause' for more than 10s. The speaker will power off and is now reset. For any issues or concerns about our products, please get in touch with our customer support service via our official website or toll-free hotline.
Date published: 2022-07-28
Can you actually use this underwater? As in, can I use this while surfing and tumbling around in the waves?
Our JBL Clip 4 can't be used underwater as Bluetooth signals can't pass through water. However, it can work even if it's wet but not submerged in water.
Date published: 2022-04-07
Can it pair to two different devices at once? 
Hi There, our Clip 4 is not yet available in the market. You can check out our Flip 4 which can wirelessly connect up to 2 smartphones or tablets at the same time and take turns playing impressive stereo sound. https://www.jbl.com/bluetooth-speakers/JBL+Flip+4.html
Date published: 2021-07-02
How do I pair my new Clip 4 with my iPhone?
Please follow the steps for pairing an iPhone with our JBL Clip 4 by following the steps enumerated in our 'Pairing Speaker with iPhone or iPad' guide here at this link. https://bit.ly/3aoJGnU
Date published: 2021-06-06
What is the bluetooth range of the JBL Clip 4?
Our JBL Clip 4 has Bluetooth version 5.1. The range of it while connected to your device can go from 10-15 meters tops, this could vary depending on the environment. Blockages such as walls and other wireless signals like WiFi and Bluetooth devices can also cause interference.
Date published: 2021-06-06
Is it possible to turn off the startup sound?
Thank you for your question. I am very sorry to confirm that the start up sound cannot be removed. Should you wish to receive further support, you may contact the Harman Customer Support team by telephone, email or chat in order to receive direct assistance. Please see https://uk.harmanaudio.com/support-contact.html#ns for further details.  Thank you.
Date published: 2021-06-06
What does it mean when the indicator light blinks white? Also, what color should the indicator light be when the speaker is plugged in and being used with a fully charged battery?
The LED indicator lights of our JBL Clip 4 will blink when it has a low charge. While it is charging, it will have a solid light and once the battery is full, the LED should turn off.
Date published: 2023-01-04
I like to know what is the distance the JBL CLIP 4 and the JBL CLIP 3 can reach. If I use it with my HP computer in the house will they work outside.
Aside from their physical design, here are their differences: Bluetooth version: Clip 3 - 4.1, Clip 4 - 5.1 Output Power: Clip 3 - 3 Watts, Clip 4 - 5 Watts Waterproof: Clip 3 - IPX7, Clip 4 - IP67 Speakerphone: Clip 3 - Yes, Clip 4 - No Distance range and distance are practically the same but the Clip 4 has a more stable and stronger connection. The max distance would be 10-15 meters tops.
Date published: 2022-04-24
I lost my charger, how can I buy a new one?
For the JBL Clip 4, You may to use a USB charging adapter with at least 5V and atleast 1A rating to charge the speaker which is common with mobile phone chargers.
Date published: 2022-07-14
When will this be available to purchase in the US? 
Please subscribe to our Newsletter to be updated with our product releases.
Date published: 2021-07-02
Is there a lock on the carabiner that prevents the speaker from accidentally getting unhooked?
Thanks for your inquiry. Our JBL Clip 4 doesn't have a lock on the carabiner. However, it has a fully integrated metal carabiner closure that protects the speaker from damage and allows it to be attached to a backpack or belt loop.
Date published: 2022-11-12
Will the JBL Clip 4 float if accidently dropped in the water?
Our JBL Clip 4 is rated IPX67 protecting the product from submersion in 1 meter (3.3 feet) of water for up to 30 minutes, but it is also resistant to dust. This speaker is not designed to float on water.
Date published: 2021-06-30
Can I use it with my smart tv?
Our JBL Clip 4 is designed to be used for mobile phones, tablets, and laptops. Using it with your TV isn't recommended as it may have audio and video sync issues due to the limitations of Bluetooth technology.
Date published: 2021-07-25
Can you use the clip 4 in the shower?
Our JBL Clip 4 is IP67 waterproof and dustproof. This means that the unit can be dropped into a body of water up to a meter deep for half an hour. Please make sure that the unit is dry or free from moisture before charging.
Date published: 2023-01-13
what material is the carabiner? is it nickel free?
Thanks for reaching out. Our JBL Clip 4's carabiner is made of aluminum alloy (non-rated for climbing, i.e., not to be used as a rock-climbing carabiner) and silicone plastic for that translucent joint.
Date published: 2022-11-21
Does this have multipoint features?
Thanks for your inquiries. Our JBL Clip 4 does not have a multi-point feature.
Date published: 2022-04-25
Can I pair this to a Flip 5?
Our JBL Clip 4 can't be paired with any other speaker since it has no Partyboost feature like our JBL Clip 4. Only speakers that have the same Partyboost feature can be linked with each other. Here are some of our speakers that have the same Partyboost feature: JBL Flip 5 JBL Charge 5 JBL Pulse 4 JBL Boombox 2
Date published: 2022-06-21
Does the JBL Clip 4 have volume control?
Our JBL Clip 4's Volume control can be located on the front panel. There should be the Volume +, the Phone button, and the Volume - Button. You can control the volume from the volume both on the speaker and your connected device.
Date published: 2021-07-05
Would this be a good speaker to use while working in a warehouse while working in an area by yourself?
We recommend a bigger speaker than our JBL Clip 4 since your workplace is in an open space and might be noisy. Please check our Flip and Charge series speakers which have more power when it comes to sound: https://bit.ly/3ppysEV
Date published: 2022-01-24
How do I know when my JBL CLIP 4 is fully charged? Does the light go from red to green?
There is an LED indicator on the JBL Clip 4 that will start blinking red, indicating that the battery is running low. While charging, the LED will be a constant red, and once it's fully charged (if the speaker is ON) the LED will illuminate a solid light. When the charging is full and the speaker is off, the LED indicator will turn off. For more information, here's the quick start guide link: https://bit.ly/3eox5n7
Date published: 2022-05-24
I brought your clips two of your clips 3 speakers because of your excellent subwoofer, it blocks out their V2k or the voice of god technology, US Patent number: 4877027. So please can you tell me how your clips 4's subwoofer has improved?
Thank you for your question, please contact us directly, so we can find a solution as fast as we can. https://support.jbl.com/us/en/
Date published: 2021-07-02
Can I take phone calls using this speaker?
Our JBL Clip 4 has no built-in mic, it can't be used for phone calls or as a speakerphone. For more information about the speaker, check it out here: https://www.jbl.com/on/demandware.static/-/Sites-masterCatalog_Harman/default/dwfcb3d131/pdfs/JBL_Clip4_SpecSheet_Global_English.pdf
Date published: 2021-06-06
Clip4 makes an astonishingly annoying series of loud sounds on start up. It's almost as though part of the design brief was to discourage people from turning it on. Not just a beep, but a series of sounds played at full volume. How to make it stop? Sur
Thank you for your question. Unfortunately it is not possible to change or remove the start up chime sound of the Clip 4. Should you wish to receive further support, you may contact the Harman Customer Support team by telephone, email or chat in order to receive direct assistance. Please see https://uk.harmanaudio.com/support-contact.html#ns for further details.  Thank you.
Date published: 2022-01-30
Can the bass be adjusted? It seems to be set up to make bass centric music sound better but its not great for voice (e.g. podcasts).
Our JBL Clip 4 doesn't have a bass or treble control. You could try to adjust this by downloading a third-party EQ apps on Play Store or App Store.
Date published: 2021-06-06
bvseo_sdk, dw_cartridge, 18.2.0, p_sdk_3.2.0
CLOUD, getContent, 5ms
questions, product