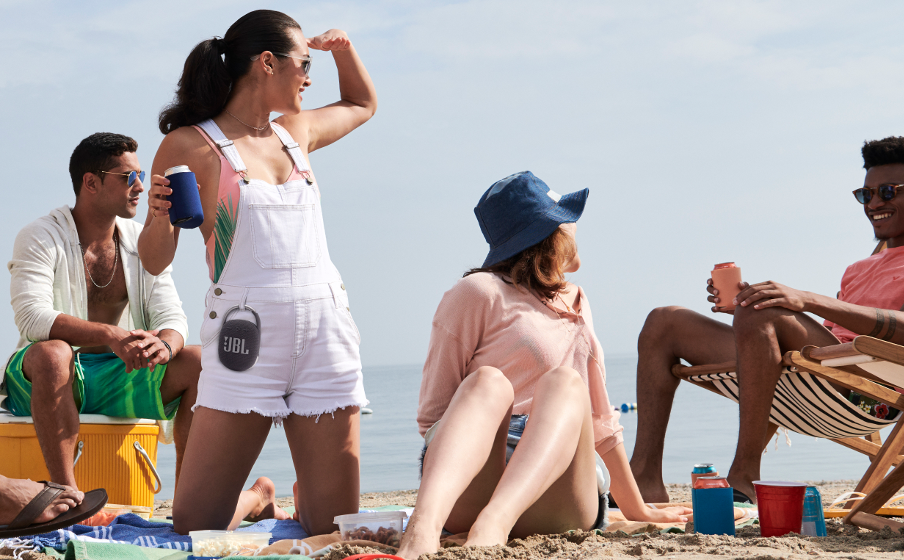 Täyteläinen JBL Original Pro Sound -ääni
Kompakti Clip 4 -kaiutin tuottaa yllättävän täyteläisen JBL Pro Sound -äänen ja iskevän bassosaundin.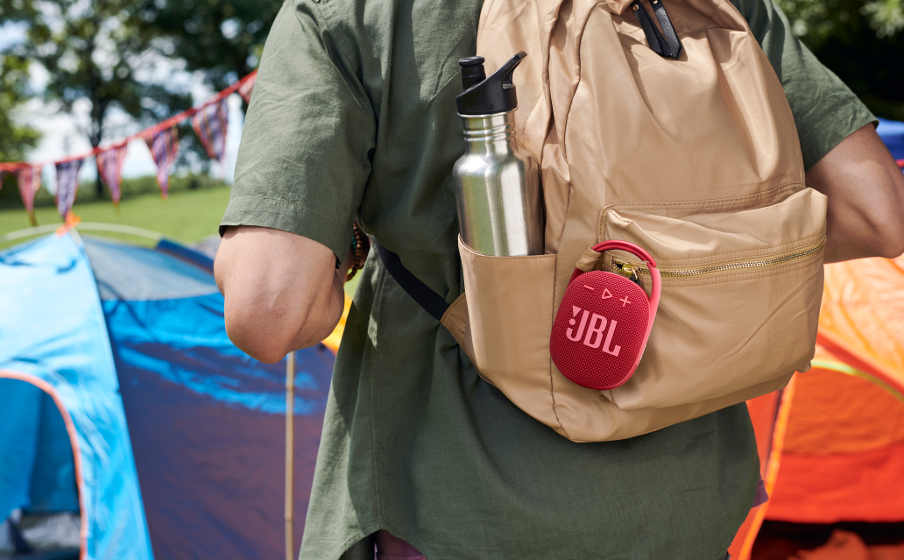 Rohkea tyyli ja helposti kannettava muotoilu
JBL Clip 4 -kaiuttimen helposti kannettava muotoilu sulautuu saumattomasti nykymuotiin. Sen värikkäät kankaat ja ilmeikkäät yksityiskohdat varmistavat, että se näyttää yhtä upealta kuin kuulostaa.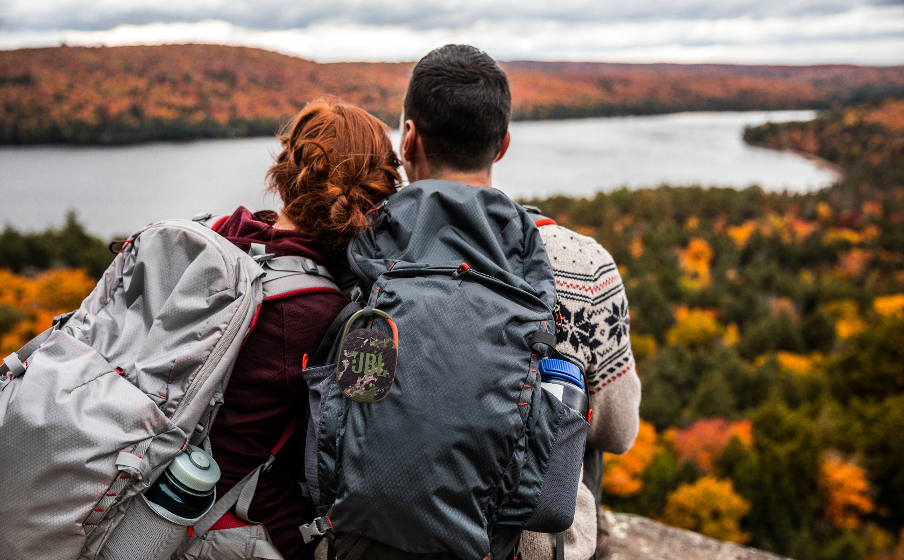 Päivitetty integroitu karabiinihaka
JBL Clip 4 -kaiuttimessa on uudistettu karabiinihaka, joten se kulkee mukana turvallisesti missä tahansa ja milloin tahansa. Kiinnitä vain vyöhön, hihnaan tai solkeen ja lähde tutkimaan maailmaa.
Ominaisuudet

IP67-luokituksen mukaisesti vesitiivis ja pölytiivis
Uima-altaan reunalle. Puistoon. JBL Clip 4:n suojausluokka on IP67, eli se on vesitiivis ja pölytiivis, joten voit ottaa kaiuttimesi mukaan minne vain.

Langaton Bluetooth-suoratoisto
Suoratoista musiikkia langattomasti puhelimellasi, tabletillasi tai millä tahansa muulla Bluetooth-laitteella.

10 tunnin akunkesto
Älä stressaa pikkujutuista, kuten akun lataamisesta. JBL Clip 4 tarjoaa jopa 10 tunnin toistoajan yhdellä latauksella.

Eloisat värivaihtoehdot
JBL Clip 4 -kaiuttimien ainutlaatuinen värivalikoima on saanut innoituksensa uusimmista katumuodin trendeistä. Esittelyssä on aivan uusia sävyjä ja yhdistelmiä.
Tuotevertailu
Löydä kannettava bluetooth-kaiutin, joka sopii sinulle parhaiten
CLIP 4-
GO 3-
FLIP-6-
CHARGE5-
JBL CLIP 3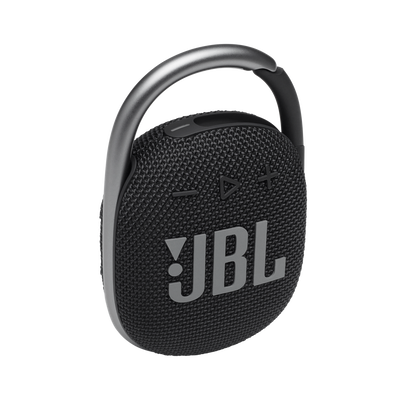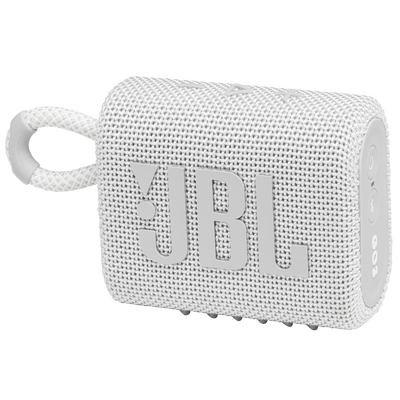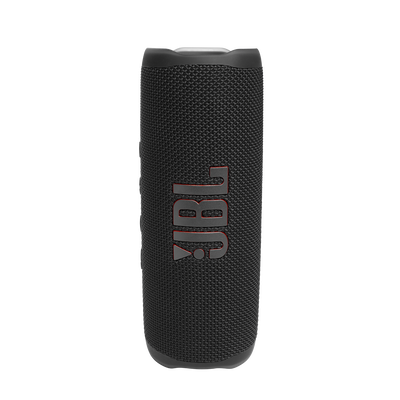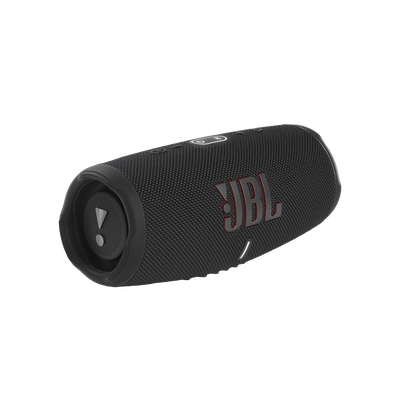 Yleiset tekniset tiedot
Musiikin toistoaika (t)
10
Musiikin toistoaika (t)
5
Musiikin toistoaika (t)
12
Musiikin toistoaika (t)
20
Musiikin toistoaika (t)
10
Mitat
Mitat (cm)
8.6 x 13.5 x 4.6
Mitat (cm)
8.6 x 6.9 x 4.0
Mitat (cm)
17.8 x 6.8 x 7.2
Mitat (cm)
22 x 9.6 x 9.3
Mitat (cm)
9.7 x 13.7 x 4.6
Tiedot ja lataukset
Item# JBLCLIP4BLK
Kuvaus
Kiinnitä ja kuuntele

Tyylikäs, kannettava ja vesitiivis. Eloisan raikkaan näköinen JBL Clip 4 tarjoaa yllättävän täyteläistä JBL Original Pro Sound -ääntä kompaktissa muodossa. Ainutlaatuinen soikea muoto sopii hyvin käteen. Eriväriset kangasvaihtoehdot ja nykymuotia henkivät ilmeikkäät yksityiskohdat mukautuvat vaivattomasti tyyliisi. Täysin integroidun karabiinihaan ansiosta kaiuttimen saa nopeasti kiinni laukkuun, vyöhön tai solkeen, joten voit ottaa lempimusiikkisi mukaasi minne tahansa. Kaiutin on vesi- ja pölytiivis, tarjoaa jopa 10 tunnin soittoajan ja on tarpeeksi kestävä retkelle kuin retkelle.
Tuotetiedot
Musiikin toistoaika (t)

10

Lähtöteho (W)

5
Audiotiedot
Dynaaminen taajuusvaste (Hz)

100Hz - 20kHz
Mitat
Mitat (cm)

8.6 x 13.5 x 4.6

Mitat (inch)

3.4 x 5.3 x 1.8

Paino (kg)

0.239

Paino (lbs)

0.53
Ohjaimet, kytkennät ja liitännät
Bluetooth profiilit

A2DP 1.3, AVRCP 1.6

Bluetooth-taajuus

2400 – 2483.5MHz

Bluetooth-lähettimen modulaatio

GFSK, π/4 DQPSK, 8DPSK

Bluetooth-lähettimen teho

≤ 10 dBm (EIRP)

Bluetooth-versio

5.1
Akku
Ominaisuudet
Bluetooth

Kyllä

Charging cable

Kyllä

Vedenpitävä

Kyllä

Wireless

Kyllä

Ladattava akku

Kyllä
Pakkauksen sisältö
1 x JBL Clip 4
1 x USB-C-kaapeli
1 x Pikaopas
1 x Takuukortti
1 x Turvallisuustiedote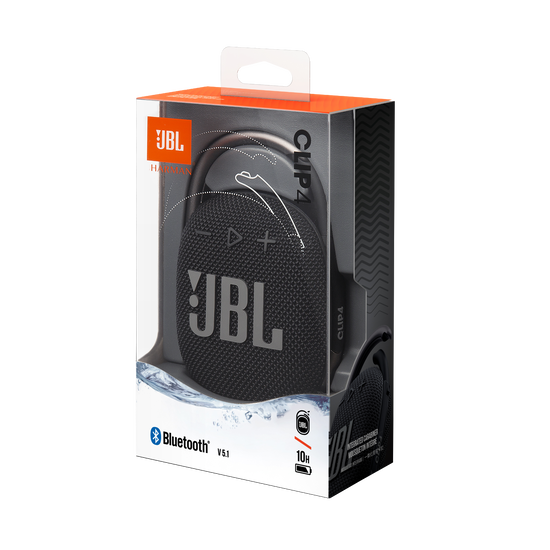 Asiakirjat ja lataukset
Arvostelut ja vastauksia kysymyksiin
Arvostelut
Rated

2

out of

5
by
Customer22
from
Poor Quality Paint
Received this as a gift from friends. The speaker works well for its size but I would not recommend having a custom design printed. The paint is cheap and immediately rubs off. You can also see small clumps of paint that just peel up exposing the white speaker below. Thankful for the gift but sad that the customization piece lasted less than 5 minutes out of the box.
Date published: 2022-09-20
Rated

4

out of

5
by
Gunnarsson85
from
Good speaker
I have been testing this speaker through reviewclub for a week. It is an easy and straightforward speaker. It is small and handy and can easily be taken around. It is a great advantage that it is waterproof and can withstand being outside. The carabiner hook also makes it easy to attach whatever needed. The setup is very easy and it was easy to connect it to Bluetooth. The buttons makes it easy to control the music. In my oppinion the sound quality could have been better, but based on the size, it is not worse than expected.
Date published: 2021-03-17
Rated

1

out of

5
by
JRI3
from
Illogical button design!
Terrible design. Barely bumping the power button will turn it off or the Bluetooth button will put it in pairing mode. Considering it is designed to be clipped to a backpack, golf bag, etc, the buttons should be recessed or you should have to hold them down to activate them. Hoping a firmware update can fix this poorly thought out design!
Date published: 2022-10-13
Rated

5

out of

5
by
Jart
from
Little Puck Packs a Punch!
The Clip 4 is a great portable speaker. It creates impressively loud and clear sound from such a small size. This speaker would be great to use while on a boat since it can be clipped to something more secure and will be safe from going overboard. The only downside I can see is the hard plastic exterior piece is slippery and makes it impossible for the Clip 4 to stand up by itself where it produces the best sound. In all, if you're looking for a portable speaker to take with you anywhere, the Clip 4 is the clear choice.
Date published: 2021-01-21
Rated

5

out of

5
by
prjio307
from
Big Sound in a Small Package!
For such a small speaker, this thing cranks out some LOUD audio! Music comes through crisp and clear, with very balanced bass response as well. For how loud it gets, it also distorts very little at very high volumes. This is a very impressive speaker, especially for its size! The clip is very well sized, which allows for versatile use. It is also dust and water resistant, which when combined with the size and clip make it ideal for camping or fishing trips! This is an awesome, ultra portable little speaker!
Date published: 2021-01-23
Rated

2

out of

5
by
Ricky2022
from
Good sound
I bought this JBL clip 4 about 2 months ago and the on and off button sucks the worst speakers I have bought I work as a roofer and when my hardness touches my on and off botton it turns off very easily I prefer the inserted power botton like the one on the JBL clip 3 thank you
Date published: 2022-08-04
Rated

5

out of

5
by
Zach937
from
Great speaker for work
I bought this about 3 weeks ago and have loved it since. Quick delivery, easy sync, easy button commands. Loud enough for a warehouse with forklifts honking constantly. Very light, just hang it on my shirt, doesn't get in the way doesn't bother me. Overall great product.
Date published: 2022-03-06
Rated

4

out of

5
by
Mikilikethemouse
from
Solid speakers! Could use a bit more full bass
USB c charging is great and needed nowadays. The sound is pretty crisp, but the bass can be boosted a little! The clip itself is designed really nice. I just hang it at work and it's out of the way. The indent of the clip on the body of the speaker for the clip to go into when opening is a small design decision but I really appreciate it. The battery life is awesome!! Sometimes I forget to turn it off when I leave from work, but it has plenty of battery when I get back the next day. Love this speaker!!
Date published: 2021-03-04
Rated

4

out of

5
by
TampaMike
from
Good option, but can't see battery level
I think this is a good portable speaker option. The sound and battery are both good. I think it's a little over priced...needs to come down about $15. My biggest issue is that there's no way to see the current battery level. If the speaker has been sitting there for a little while it's a mystery - maybe the speaker will last 5 minutes, maybe 10 hours.....you get to guess! This seems like it would have been a simple thing to implement via bluetooth, letting your phone display the battery level.
Date published: 2022-10-29
Rated

5

out of

5
by
Ruffkut
from
Clip 4
I had the clip 3 and that was good but it for stolen so I was on the lookout for a new one found the clip 4 on the Jbl website order it …. It came was so impressed with it I ordered another clear sound nice round bass line……
Date published: 2021-12-07
Rated

5

out of

5
by
MamaJane
from
Great sound and so convenient!
I hemmed and hawed a long time before deciding to buy this, and I am really glad that I did. It's small and light, convenient to use in many situations, and the sound is really good. I mean, I used to shoulder a huge, heavy boom box in the early 80's and the sound from this little think is just as good! It also has a cool, modern and pleasing look and is simple to operate. For an ordinary person who wants to take a great sound wherever they go, at a good price, this is the one.
Date published: 2022-03-02
Rated

5

out of

5
by
Zb100
from
Amazing speaker
I bought this for my partner after being bought one myself and the sound quality is fantastic, definitely recommend this item.
Date published: 2022-03-04
Rated

5

out of

5
by
Woman40
from
Mahtava basso
Laite ollut kaksi viikkoa käytössä ja olen todella yllättynyt kuinka näin pieneen laitteeseen on saatu tällainen basso! Verrattuna aikaisempiin malleihin, äänen voimakkuus ja basso on paremmalla tasolla. Ainoana miinuksena olen huomannut virtanäppäimen sijainnin. Kun se on koholla, laite sammuilee herkästi kun kaiutin jää puristuksiin, tai itse painaa kädellä kaiutinta itseään vasten. Muuten loistava tuote, akku kestää heittämällä 8h kovassa metelisessä tuotantohallissa.
Date published: 2021-03-19
Rated

5

out of

5
by
Chris91
from
Excellent Little Speaker!
Wow! Just wow. I bought this a little while ago and the sound that comes out of this little speaker is incredible! JBL does not disappoint, it is an impressive speaker, considering how small it is, that doesn't stop it from putting out as much sound that you would expect from a larger speaker. It puts out more all the bass that you love and then some more just to let you know that it doesn't mess around and that it means business, there are no draw backs to this speaker at all. Also, a couple other features that are awesome are that it is completely waterproof and dust proof so it is up for any adventure and one more thing, it has a carabiner built into it which let's you clip nicely to a belt loop or wherever else you want to clip it onto, I highly recommend this speaker, you won't regret purchasing the clip 4.
Date published: 2021-03-16
Rated

5

out of

5
by
Charlotte82
from
Super lyd
Flott høytaler med en ekstremt god lyd. Denne har en fin krok hvor den kan henges overalt. Anbefales på det sterkeste.
Date published: 2021-03-08
Rated

4

out of

5
by
AndeS
from
Great sound in compact unit!!
Love sound. Very crisp and clear even at higher volume. Good overall sound, clarity and bass. Easy to tote.
Date published: 2021-01-28
Rated

1

out of

5
by
DomR
from
Unbelievable
I bought this JBL roughly a month ago from Target and it didn't come with any charging devices. Couldn't believe it especially when your spending this type of money... Would never buy JBL products again.
Date published: 2021-09-16
Rated

5

out of

5
by
Ethan222_
from
Amazing sound for the size!
I love how small this speaker is and that it's so portable. I go camping a lot and this speaker is so easy to just clip on my backpack and go and it is rugged and water resistant so I never have to worry about it getting bumped around or wet. For the size it also has some pretty good bass which you wouldn't expect. This is now my favorite go-to speaker for trips when packing size matters. Good for camping, hiking, vacations, working outside and more.
Date published: 2021-01-24
Rated

5

out of

5
by
FATBOY420
from
Very convenient and portable
When I received this speaker, I immediately put it on the charger. About 40 minutes later I connected it to my phone and was impressed. Great sound and not muffled at full volume. Clear and crisp highs and good lows. Definitely a must have if you want good sounds and one that you can clip to your belt loop!
Date published: 2021-02-25
Rated

5

out of

5
by
Handy Andy
from
This little guy rocks!
I have been using this for the last couple weeks listening to music in my office. It goes as loud as I could want for a workplace environment. So far the battery life is great I listen a few hours a day mostly in the afternoons and it lasts the whole work week at this rate no problem. Pairs easily with my Pixel 3 phone. USB C charger cable included. We will see how it holds up in the future, but so far I'm very pleased.
Date published: 2021-02-04
Rated

4

out of

5
by
Carharttcowboy420
from
Compare clip 3 & clip 4
I already Owned the clip 3 but was getting old and, carabiner clip busted so hard to use at work. Purchased the 4 because loved my 3 ! The differences I've have noticed the is the carabiner clip is half plastic don't care for that Due to the longevity of my prior clip and sound quality and loudness seems better in the clip 3. Visually the 4 knocked it out the park the I chose the camo with orange and it looks great
Date published: 2022-11-26
Rated

5

out of

5
by
Regman
from
Great portable speaker
I really love this speaker for both walks and hikes. I just clip it on my belt or backpack and go. It plays plenty loud enough to hear outside. I like that when clipped to my belt I can feel the bass. The build quality is really good. The clip sounds great and has solid bass for a small speaker. I am really happy with it. The rubber on the back make it so you can sit it on a surface without the speaker rattling.
Date published: 2021-01-23
Rated

1

out of

5
by
Robrod123456789
from
It's cool
I think they should have made it so you can link it to other speakers. It was disappointing that they didn't, I also own the clip 3 and it is about equal quality. Maybe they will for the clip 5
Date published: 2021-04-22
Rated

1

out of

5
by
Steve1312
from
Half of the streaks across the front peeled
Half of the streaks peeled off. Seems cheap. Bose has a better product
Date published: 2021-07-27
Rated

5

out of

5
by
ebick929ley
from
Small package, powerful punch
This speaker has great sound quality in a small package. The convenience of hanging it on a belt clip or backpack is a great feature. One thing that I didn't care for was the fact that the power, volume and Bluetooth buttons are the same color as the speaker so they were a little hard to see. These features should have been a different color to offset how it blended in with the overall speaker.
Date published: 2021-01-27
Rated

1

out of

5
by
AndySigerich
from
What a waste of money. Clip 4
Battery life is 6 hours max. Even after charging for a few days it still has terrible longevity, The max volume is also pretty weak. I would highly suggest buying a different product or a different company.
Date published: 2021-08-15
Rated

4

out of

5
by
Jknetland
from
On the go sound
This little buddy of mine, got quite some sound comming out of it, due it sounds sometimes like it is in a barrol or something. But you can go on a realy long walk and still have battary left. so in smal rooms/tent/trailer this one is wuite perfect. one thing i miss is that if you are playing songs and want the next track, you have to grab your phone, and not the speaker...
Date published: 2021-03-27
Rated

5

out of

5
by
CassieBjoe
from
Kjempe god lyd!
Vært så heldig å få testet denne, å synes denne var genial! Kjempe smart med clip på, mannen har hatt den med på jobb og hengt den i bukse hoopen, å det har den vært helt super til. Jeg elsker å høre på musikk, å det å faktisk kan henge den i dusjen, siden den er vanntett er helt fantastisk. Elsker denne lille saken. Å lyden er kjempe klar og god. Anbefales virkelig!
Date published: 2021-03-19
Rated

5

out of

5
by
Tor Einar
from
Overraskende bra!
Har alltid likt produktene til JBL, men var veldig spent på denne, da den er så kompakt og rimelig. Jeg ble rett og slett veldig positivt overrasket. Svært god lyd med med dybde og bass, til å være en så liten høytaler. Kjekt design med karabinkrok, så man kan henge den opp, samt antiskli materiale, så den ligger i ro. Den er også støv og vanntett. Anbefales!
Date published: 2021-03-09
Rated

5

out of

5
by
Sentinel1
from
A sonic masterpiece
I commute to work on an electric bike. And wanted something to play music on for company. The JBL clip 4 is a little marvel. Compact in size. Its has a wonderful full warm sound. And clips easily and securely to the bike. You get over 8 hours of music on a charge at full blast. It's just fantastic. And fully water proof too. And I highly recommend it.
Date published: 2022-02-05
bvseo_sdk, dw_cartridge, 18.2.0, p_sdk_3.2.0
CLOUD, getReviews, 6ms
reviews, product
Kysymyksiä ja vastauksia
bvseo_sdk, dw_cartridge, 18.2.0, p_sdk_3.2.0
CLOUD, getContent, 117ms
questions, product
bvseo-msg: Unsuccessful GET. status = 'ERROR', msg = 'Not Found.';