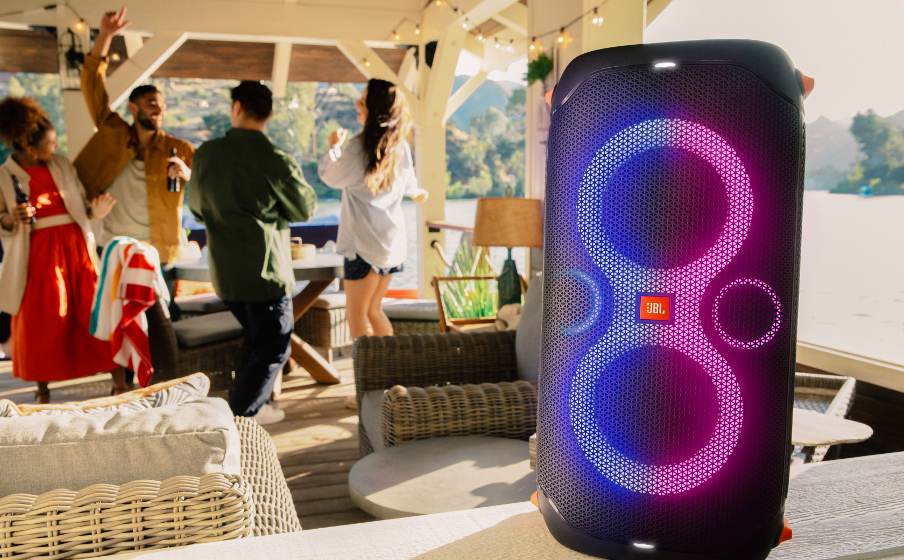 Tehokas JBL Original Pro -luokan ääni
JBL PartyBox 110 tekee musiikistasi upeaa niin kotona kuin ulkonakin kahdella syvällä, säädettävällä bassotasolla ja tehokkaalla JBL Original Pro -äänentoistolla.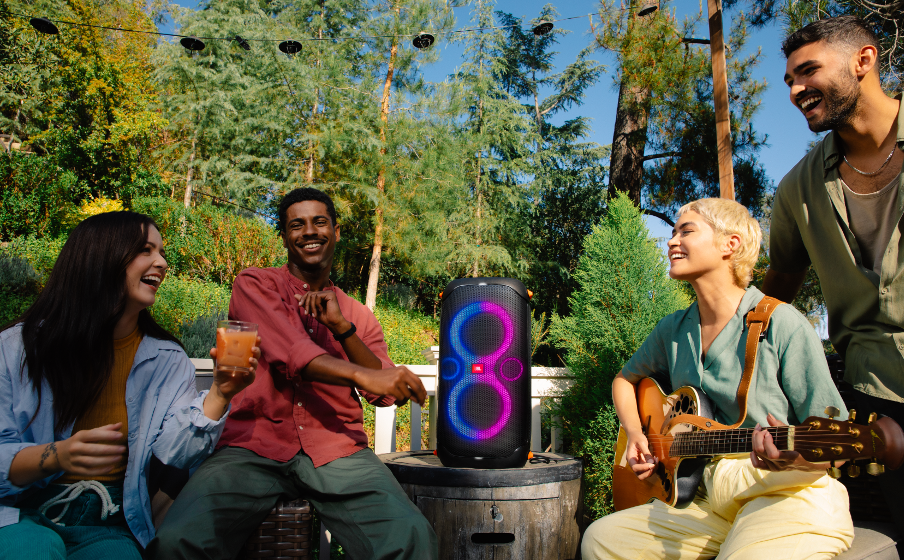 Dynaaminen valoshow, joka synkronoituu rytmin kanssa
Dynaaminen valoshow tekee kaikenlaisesta musiikista entistäkin parempaa! Värit on synkronoitu rytmiin, joka saa jalkasi liikkeelle. Muokattavat strobovalot ja -kuviot luovat häikäisevän tunnelman. Se on ainutlaatuinen, mukaansatempaava audiovisuaalinen kokemus, joka tekee jokaisesta juhlasta todellisen taideteoksen.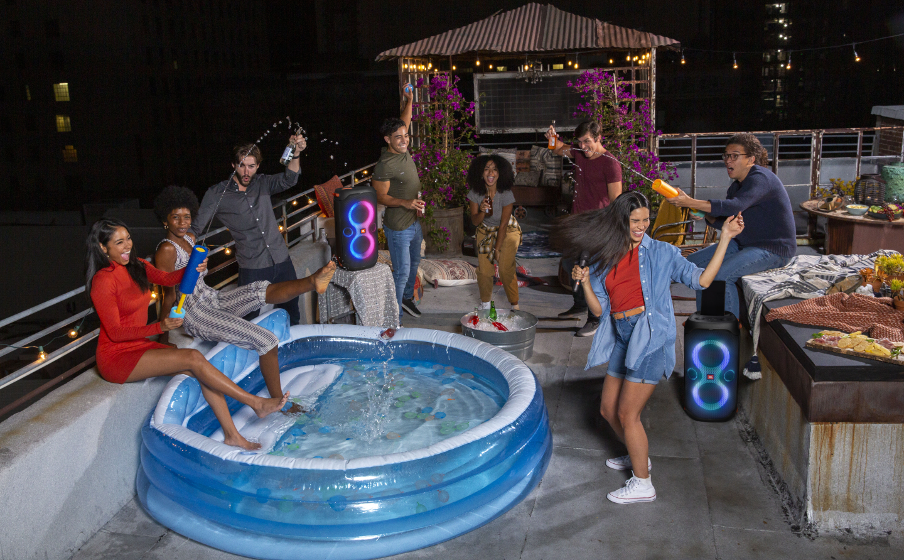 12 tunnin toistoaika
Poweria juhliin koko päiväksi tai illasta aamuun. 12 tunnin soittoajan ja sisäänrakennetun ladattavan akun ansiosta rytmi jatkuu (ja jatkuu)!
Ominaisuudet

IPX4-luokituksen mukainen roiskeenkestävyys
JBL PartyBox 110 on IPX4-luokituksen mukaisesti roiskeenkestävä ja soveltuu biletunnelman nostattajaksi niin uimarannalla kuin altaan reunalla. Nyt ei tarvitse enää koskaan pelätä, että juhlista tulisi liian kosteat tai villit.

Mikrofoni- ja kitaraliitännät
Mikrofonin ja kitaran avulla voit esitellä laulu- ja soittotaitojasi. Sen lisäksi, että kuulostat hyvältä, myös näytät hyvältä, sillä mukana tulee täydellinen valoshow kunnon rokkaamiseen!

PartyBox-sovellus
JBL PartyBox -sovelluksen avulla voit hallita musiikkiasi, päivittää asetuksia ja muokata valoshow'n värejä ja kuvioita entistäkin helpommin.

Toisto useista lähteistä
Suoratoista musiikkisi langattomasti Bluetoothin kautta, kytke USB-tikku tai käytä liitäntään aux-kaapelia. JBL PartyBox 110 mahdollistaa musiikkisi äärimmäisen mukauttamisen.

Yhdistä kaiuttimesi pariksi, niin saat soundista vielä suuremman
Eikö yksi JBL PartyBox riitä? Yhdistä kaksi kaiutinta kaapelilla tai langattomalla True Wireless Stereo (TWS) -tekniikalla saadaksesi aikaan vielä suuremman ja voimakkaamman äänen.
Tiedot ja lataukset
Item# JBLPARTYBOX110EU
Kuvaus
Aloita juhlat tehokkaalla äänentoistolla ja dynaamisella valoshow'lla

Tuo juhlaan aivan uusi ulottuvuus ainutlaatuisilla LED-valoilla, jotka on synkronoitu PartyBox 110:n tehokkaaseen äänentoistoon ja jykeviin bassoihin. Ota PartyBox mukaasi, mihin ikinä menetkin – roiskeenkestävä rakenne ja siihen sisältyvät kitara- ja mikrofoniliitännät takaavat äärimmäisen kokonaisvaltaisen kokemuksen. Bassokorostuksen ja voimakkaan ja tehokkaan JBL Original Pro -äänentoiston ansiosta ystäväsi eivät vain kuule musiikkia, vaan he myös tuntevat sen, ja 12 tunnin soittoaika pitää juhlat käynnissä koko päivän ja yön. PartyBox-sovelluksella voit hallita musiikkiasi täydellisesti, kun suoratoistat sitä langattomasti.
Tuotetiedot
Musiikin toistoaika (t)

12

Lähtöteho (W)

160
Audiotiedot
Dynaaminen taajuusvaste (Hz)

45Hz - 20KHz (-6dB)
Mitat
Mitat (cm)

29.5 x 56.8 x 30.0

Mitat (inch)

11.6 x 22.4 x 11. 8

Paino (kg)

10.84

Paino (lbs)

23
Ohjaimet, kytkennät ja liitännät
Bluetooth profiilit

A2DP 1.3, AVRCP 1.6

Bluetooth-taajuus

2.4 GHz - 2.4835 GHz

Bluetooth-lähettimen modulaatio

GFSK, π/4 DQPSK, 8DPSK

Bluetooth-lähettimen teho

≤ 15 dBm (EIRP)

Bluetooth-versio

5.1
Akku
Ominaisuudet
Bluetooth

Kyllä

Charging cable

Kyllä

Valoesitys

Kyllä

Vedenpitävä

Kyllä

Wireless

Kyllä

Ladattava akku

Kyllä
Pakkauksen sisältö
1 x JBL PartyBox 110
verkkovirtajohto (verkkopistoke ja määrä vaihtelevat aluekohtaisesti)
1 x pikaopas
1 x turvallisuustiedote
1 x takuukortti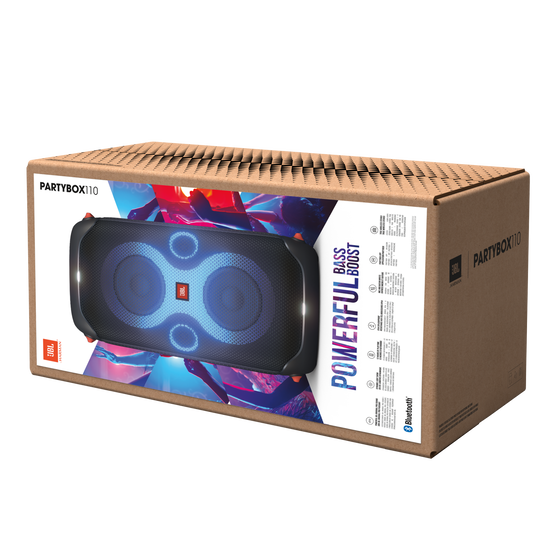 Asiakirjat ja lataukset
Arvostelut ja vastauksia kysymyksiin
Arvostelut
Rated

5

out of

5
by
Bigswitty
from
Perfect!
I agonized over purchasing this 110 the 310 or the 710. I am so happy with this 110,it is more portable, lasts a very long time and has great sound…not as loud as the 310 or 710, but perfect for backyard barbecues,pool days and boating days out on the islands.
Date published: 2022-04-04
Rated

5

out of

5
by
DreadDog
from
Lots of Power
Too loud for 25m² room / 65m² apartment because one step less volume is too little, one step more is too loud. A Partybox. Waiting to try it at the Stadium or in the nature ;) Beautiful design and big/heavy enough so hopefully never gets stolen.
Date published: 2023-01-13
Rated

5

out of

5
by
seeair
from
Great speakers
Solid build quality, great sound quality. The lights are really nice, but the bass boost setting could use some tuning. The actual sound quality is solid, the tuning is slightly v shaped with some added warmth. The sound stage is solid.
Date published: 2021-07-17
Rated

5

out of

5
by
KCD99
from
Great poolside companion
Bought for playing outside by the pool, perfect! Easy to use and the battery lasts a long time. Great full sound and with the EQ in app it's easy to tweak. Only missing feature for me is the lack of shuffle mode when using USB drive.
Date published: 2022-09-13
Rated

5

out of

5
by
Ibby98
from
Amazing speaker!
After reading through so many reviews and comparing with other speakers… I'm glad I made the purchase… shakes the walls of the house when needed… great bass and mids are nice. 10/10 recommend.
Date published: 2022-05-24
Rated

5

out of

5
by
rbl1234
from
Portable with great sound
I own two of these speakers. They are great for outdoor settings because they are portable. The sound is great and they last long enough that I can play them for many hours.
Date published: 2022-04-05
Rated

5

out of

5
by
TheCarpathian
from
Wow Wow Wow
I just bought it this amazing PARTYBOX for my friend birthday and everyone said,,Wow,amazing speaker,,.If you want quality and good price this is perfect.
Date published: 2022-06-26
Rated

5

out of

5
by
Regularjoe
from
The sound is amazing!
Got this just in time for a family gathering and it sounds great. The bass sounds good even at max volume with little to no distortion.
Date published: 2021-06-22
Rated

5

out of

5
by
SoniaC
from
Fantastic
I love this speaker. I saw it at someone's house and decided to order one for myself. It is brilliant, good for house parties.
Date published: 2022-05-31
Rated

5

out of

5
by
giza911
from
Truly Amazed
Amazed how this size speakers generate such a deep bassю Overall very balanced speaker. Plays even cooler when plugged in.
Date published: 2021-11-27
Rated

5

out of

5
by
Moa2013
from
Visually appealing, great audio
Excellent sound, great style. And most importantly, pretty fun! Happy to have it!
Date published: 2021-07-01
Rated

4

out of

5
by
Xtremess
from
Good sound! More battery life will be great!
Speakers sounds good but price is little high Moré battery life Will be great!
Date published: 2022-03-26
Rated

5

out of

5
by
DJ Chris
from
Great speaker and app features
I'm happy with the purchase. Great value for features of this speaker
Date published: 2022-04-04
Rated

5

out of

5
by
Martin Dr as so have a PH
from
Awesomeness
An awesome sound system that is great fun with super build quality
Date published: 2022-05-05
Rated

5

out of

5
by
Jake117
from
Great gadget
Fantastic toy, very loud, clear sound, battery last as it say.
Date published: 2022-06-13
Rated

5

out of

5
by
Dariush Z
from
I am so happy with my JBL is the beast sounds and quality .
Date published: 2022-06-30
Rated

5

out of

5
by
Hunter1016
from
Great Speaker
I have spent some time enjoying this speaker and here is what I have found. To get some of the basics out of the way: #1 I ran it comepletely dead and timed the charge time. I did this after fully charging it first. It took approximately 3 hours. Not bad considering the battery life. #2 I hooked it to my TV. The vocal quality is great. The bass is nice but is does overpower the mids if the bass boost is on. I got 12 hours of listening at normal TV levels. #3 I tested the bluetooth range in my yard. If you have a clear line of sight it is between 75 and 100 yards. #4 The sound carries very well. I could here it clearly to a little over 100 yards. The actual sound carried farther. It did not seem overly loud. At full volume my son and I could stand next to it and hear each other. #5 I bought a cheap microphone and experimented with a little karaoke. I had to play with the gain for different songs but it seemed to work pretty good. My daughter has been in a couple plays and I liked the way it sounded. It is a little echo sounding just talking. In conclusion it is like having a portable high quality stereo. I was not able to hook it up to the app for some reason. It was a little bigger than I expected. The bass is amazing. If you have a party and are looking for high quality sound I definitely recommend it. Cheaper than a DJ.
Date published: 2021-06-25
Rated

5

out of

5
by
HunterTarman
from
Fun, Unique and BOOMbastic
I have a collection of speakers and it takes a lot for me to say that this Partybox 100 is a new favorite of the bunch. Its unique light show display combined with its impressive sound strength sets it above and beyond in my book - especially for its mid-tier size. If you're looking for a reliable speaker to host your parties without breaking the bank, this one should be a serious contender - here's why: Sound There's no denying the strength of this speaker and its ability to perform. The sound is balanced and provides a deep bass that can be easily increased with a few presses of a button. I was impressed to feel my room vibrating to the bass of this speaker with it turned all the way up. The sound is a solid 5 considering its size and price. Light Show The light show on this unit is simply awesome. The lights emulate the sound well and it's a bonus that you can choose from four different light show types. I've enjoyed cycling through the different displays and seeing how each one matches the treble and bass of a song. The only aspect I wish I could change is the ability to turn off the strobe lights. Although they add a certain coolness factor, I just wish I had some control over the two strobe lights at the top and bottom of the speaker. Mobility At almost 2 feet tall, I was expecting this thing to not only be heavy but also be pretty awkward. It's surprisingly light and with well-placed handles I can easily move it around with little trouble. Smaller people may have some trouble with it (I'm 6'1), but overall it's a great speaker to throw in the trunk on your way to a party. Bluetooth The range of this speaker is solid - I walked all around my house with my phone without any trouble. It took walking outside and down my driveway to eventually start losing connection. This is important especially regarding its intent as a party speaker - if I bring this to a party I don't want to be anchored next to it the whole night. Based on my testing, I won't be. PartyBox 100's can only connect with other PartyBox 100's if you want dual speakers (or more). That's a problem if you decide to get the next speaker up like the PartyBox 200 or maybe even the 300. But if you stay in the 100's and you have a modern smartphone capable of connecting to several devices, you should be good for hooking up to multiple speakers via Bluetooth. Interface/Accessibility Sometimes interface simplicity can be a drawback, but in this case it's great. When I get to a party, I want to be able to turn on the speaker, connect, and play. No tuning or small adjustments, just good sound now. That's exactly what this speaker does. I turn it on, connect, press the bass button twice and everything's good to go. If you need to connect via AUX or USB, you just flip open the back and there's an input for each. It was a bonus to see you can also hook up a microphone for karaoke nights or an electric guitar for the musicians out there. These components give it more range of use and add some extra value. Battery I've played this speaker for 3 hours at full blast with the bass booster on full and it still has half its battery left. That is awesome. If I kept it on half volume I am confident it could last 10-12 hours which is more than I'd need for just about any party. After 3 hours of playtime at full capacity, I didn't see any difference in sound or quality from this speaker. Its sound strength has remained consistent and continues to stay consistent as I use it. Overall I genuinely enjoy this speaker whether I'm at a party or just partying on my own. It's the speaker's ability to cover the basics (sound, battery life, Bluetooth range) and provide extra features like its mobility, simplicity, and of course, the light show, that makes it a go-to speaker for me. It really is super cool and I look forward to using it for years to come.
Date published: 2021-06-17
bvseo_sdk, dw_cartridge, 18.2.0, p_sdk_3.2.0
CLOUD, getReviews, 7ms
reviews, product
Kysymyksiä ja vastauksia
JBL party box 110 - can it go on a stand ? If so what type ? 
Dear Dagatha, It should work with the tripod for the JBL Professional "Eon": https://uk.harmanaudio.com/professional-speakers/JBL+TRIPOD+GA.html#spcs_support It doesn't fit the PartyBox 110 perfectly and has some play, but it's safe enough. If you want a very tight fit between the tripod mount and the speaker, you may need to purchase an adapter like the one found at the link: https://www.thomann.de/gb/km_21441.htm Best Regards Jean-Claude
Date published: 2021-10-17
Can lights be turned off?
The light show on our JBL PartyBox 110 can be powered off. Simply press the dedicated "Light show" button located under the Bluetooth icon. Press and hold it for 2 seconds to turn the strobe light on or off.
Date published: 2022-04-18
Can I connect the speaker to the tv? And which wire do I need?
Thank you for your question. In this case, the Partybox 110 comes with an Aux connection, so you would just need an aux to aux (jack 3.5mm) cable to connect it to your Tv. Should you wish to receive further support, you may contact the Harman Customer Support team by telephone, email or chat in order to receive direct assistance. Please see https://uk.harmanaudio.com/support-contact.html for further details. Thank you.
Date published: 2021-11-08
Does it mean my speaker is faulty? It does not want to be ON without plugged in from electricity.
Thank you for bringing this to our attention. Please contact our Customer Support for your region. See contact details below. Connoisseur Electronics Pty Ltd. Main Support Desk for Contact in South Africa: 0860 100 551 Johannesburg Office: +27114501122 Support by e-mail: info@connoisseur.co.za For other centers: http://www.connoisseur.co.za/contact
Date published: 2022-02-19
Can the partybox be used as a sub box in a car/truck? If so how would it work and where could I get the hardware?
Our Partybox 110 is designed as a portable party speaker, using it as a car subwoofer is not possible. To learn more about the Partybox 100, you may visit our website at: https://bit.ly/3H2Cjk8
Date published: 2022-01-23
I'm having an outdoor party for about 20 people. Will the 110 be loud enough? Or should I get the 310? 
Dear Daniinad, depends more on placement than on the number of people who are going to listen to it. It is true that the JBL Partybox 310 is louder and the quality is better. Kind regards, Vincent Customer Support EMEA Harman Lifestyle Division
Date published: 2022-08-17
I have a PARTYBOX 710, can that connect to a PARTYBOX 310?
Yes, you could link our JBL PartyBox 710 to our Partybox 310 or 110 using TWS feature.
Date published: 2022-08-17
Is there a carrying case available for the partybox 110 speaker?
Thanks for your question. We have no carrying case available for our JBL PartyBox 110. You could check out third-party sellers that specializes on making carrying bags/cases for speakers.
Date published: 2021-12-07
Can it be paired with a pulse, flip or bombox?
Our JBL PartyBox 110 will only connect to another PartyBox 110. You could check the user's manual on how to pair them wirelessly or through a 3.5mm aux cable for a daisy chain.
Date published: 2021-10-27
bvseo_sdk, dw_cartridge, 18.2.0, p_sdk_3.2.0
CLOUD, getContent, 15ms
questions, product