Ominaisuudet

JBL 360-Degree Pro Sound
Ympäröi itsesi musiikilla. JBL Link Music sykkii ääntä joka suuntaan 360 asteen kattavan full-range-kaiutinelementin ansiosta. Nauti kristallinkirkkaista korkeista äänistä, selkeistä keskiäänistä ja syvästä, tehokkaasta bassosta.

Langaton suoratoisto WiFi- tai Bluetooth-yhteyden avulla
Suoratoista musiikkia vaivattomasti JBL Link Musicin avulla. Anna musiikin soida. Nauti saumattomasta WiFi- tai Bluetooth-suoratoistosta ja käytä helposti Spotifyta, YouTube Musicia tai Apple Musicia ilman keskeytyksiä.

Handsfree-apu Google Assistantilta
Sanot vain "Hei Google" pyytääksesi Google Assistanttia soittamaan suosikkikappaleitasi ja pääset helposti kaikkeen musiikkiisi.

Helppo, ongelmaton käyttöönotto
JBL Linkin käyttöönotto ja hallinta käy kätevästi ilmaisella Google Home -sovelluksella iOS- ja Android-alustoille. Lataa, asenna ja anna musiikin soida.

Tyyli ja sisältö
JBL Link Music näyttää yhtä hyvältä kuin kuulostaa. Valitse kuudesta rohkeasta väristä tyylisi täydentäjäksi.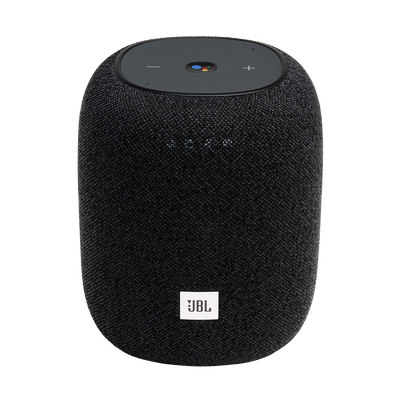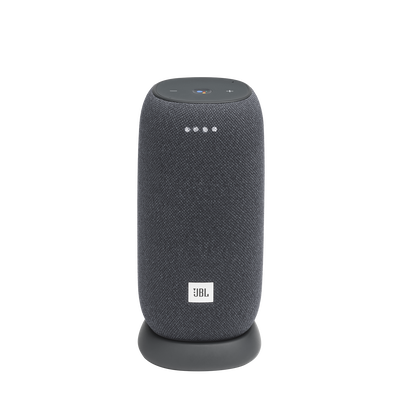 Ohjaimet, kytkennät ja liitännät
Äänentoistotiedot
Dynaaminen taajuusvaste (Hz)
60Hz-20kHz
Dynaaminen taajuusvaste (Hz)
65 Hz - 20k Hz
Yleiset tekniset tiedot
Musiikin toistoaika (t)
8
Tiedot ja lataukset
Item# JBLLINKMUSICBLKEU
Kuvaus
Helppo musiikin suoratoisto. Tehokas JBL-ääni.

Keittiöstä olohuoneeseen JBL Link Music tarjoaa upean ja dynaamisen JBL 360-Degree Pro Sound -äänen. Google Assistantin avulla voit toivoa kappaleita, käyttää Spotifyta, YouTube Musicia ja Apple Musicia ja kuunnella keskeytyksettä. Sano vain "Hei Google" aloittaaksesi. Valitse sinulle täydellinen JBL Link Music kuuden tyylikkään värin joukosta.
Tuotetiedot
Audiotiedot
Dynaaminen taajuusvaste (Hz)

60Hz-20kHz
Mitat
Mitat (cm)

11.2 x 13.4

Mitat (inch)

4.4 x 5.3

Paino (kg)

.73

Paino (lbs)

1.6
Ohjaimet, kytkennät ja liitännät
Bluetooth-taajuus

2402 − 2480MHz

Bluetooth-lähettimen modulaatio

GFSK, π/4 DQPSK, 8DPSK

Bluetooth-lähettimen teho

<5dBm

Bluetooth-versio

4.2
Ominaisuudet
Wireless

Kyllä

Built-in Wi-Fi

Kyllä
Ilmoitusten
Google, YouTube, Google Home ja Chromecast built-in ovat Google LLC:n tavaramerkkejä.

-
Pakkauksen sisältö
1 x Link Music
1 x Verkkovirtajohto
1 x Turvallisuustiedote
1 x Pika-aloitusopas
Takuukortti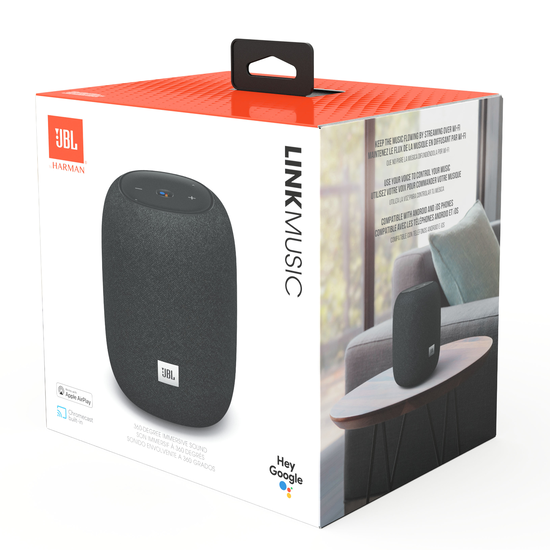 Asiakirjat ja lataukset
Arvostelut ja vastauksia kysymyksiin
Arvostelut
Rated

3

out of

5
by
Filmarc
from
Fails Connectivity
Fabulous Sound and extremely happy with that .. when it works! Connectivity is a nightmare! How on earth in this day and age linking something through Bluetooth is a difficulty? Took me ages for the iPhone to find it .. worked a couple of days and out of the sudden it lost its connection and since then its hit and miss. An absolute pity as sound is great and would love to keep it but not knowing when it will decide to work is a huge put off.
Date published: 2020-07-07
Rated

1

out of

5
by
hels
from
Very very regretful decision to buy this.
I bought this for my parents as a Christmas present last year and they have only had the time to open this now. Disappointment is an understatement. My fault for not doing more research however I do believe it should've been more obvious on this site that this is not a wireless, portable, blue-tooth speaker. Turns out it is not portable and finding out how to connect the speakers to the phone was very difficult, especially with no very little instruction or guidance given. So disappointed that this wasn't a speaker that could just use blue-tooth to connect, something easy for my parents. Do not be fooled, if you want a speaker that is not connected to a wall and will only work if you connect via google home, then this is not the speaker for you.
Date published: 2020-05-28
Rated

5

out of

5
by
Scallywag
from
Great speaker and a helpful assistant!
I got this speaker about a week ago and I am very pleased with it. The main feature, of course, is the speaker itself. The sound quality is excellent and resonates well in my living room. It is the perfect device for small gatherings that need a little background music. I also used it for working out at home when I did not want to use headphones. The bass is perfect, it's not overwhelming, but you know it's there. I am very happy with it. Also the assistant is useful for giving me my daily news and the local weather report, pretty handy!
Date published: 2020-03-22
Rated

1

out of

5
by
Jackie288
from
Horrible Product
Half the time it doesn't show up on google home. It cuts off in the middle of playing music. The initial setup/connection is not easy at all. I can't for the life of me figure out how to connect to Bluetooth, I fully set up device thought google home assistant and still no option to use with BT. The BT button doesn't seem to do anything.
Date published: 2020-02-11
Rated

2

out of

5
by
BajaPete
from
Has problems maintaining connections
Has problems maintaining connections with AirPlay 2 and Chromecast. Works fine one day and no connections the next day. Wi-fi is not the problem as I have consistent connection to Wi-Fi via Netgear Orbi Mesh network. Network has not lost the devices the problem is with the JBL Link Music. I have had better results with HK Citation 500.
Date published: 2020-09-30
Rated

1

out of

5
by
Jonny
from
Barely works
Airplay 2 is there, but it's laggy—the JBL will be about a second behind every other speaker you're sending Airplay to, no matter what. And the Bluetooth on my unit straight up does not work. The JBL Connect app does not recognize this speaker, so if you want that for troubleshooting, you're out of luck. Even trying to Google this speaker is difficult. You end up with results for a lot of other JBL speakers that don't work the same way.
Date published: 2020-06-15
Rated

4

out of

5
by
Jcuevas
from
Jbl link music
I have been playing with this speaker for a month now. The speaker has a small footprint. It's a little taller than my UE Wonderboom. It's a plug in speaker only. I wish it had the ability to be wireless seeing it's a small form factor. I have two other link units. The 300 and the view. Both have superb sound. The link music has a very flat sound. It gets reasonably loud for its size. The sound is simply good. I am using this in the basement to listen to music while working on my electronics. The fact that it has google assistant is great. I simply give the speaker commands and it follows and answers. Even when the music is up loud, the speaker reacts to commands. This is the first link speaker to offer airplay. I absolutely love this speaker. All the link speakers can be linked together but it's the Link music that has airplay. I would recommend using this speaker in smaller settings and pushed towards a corner for optimal sound reproduction. Setup of this device was simple. Plug it in and follow the commands on the google home app. My kids have become accustomed to using this speaker because of the google assistant. All of the questions they would typically ask me are now redirected to the speaker. I am slowly adding a jbl link speaker to every room of my house. It's pretty cool how they can all play the same material at the same time. You can adjust each speakers volume and settings separately so it's not to overwhelming. As always you get great Jbl build quality, features and sound with this unit.
Date published: 2020-04-11
Rated

1

out of

5
by
Anonymous
from
Support SUCKS
I have had this for 4 days and have not even listened to because it takes an IT person to set it up. There are no instructions, cannot get a reply from the online so called help service, so it is an $80.00 paperweight right now. If there is anyone reading these words, which I doubt, maybe they can can contact me. I am sure it is a great sounding device but I should not have to look up everything on how to operate it.
Date published: 2020-06-11
Rated

5

out of

5
by
Sammy123
from
Awesome Smart Speaker
Definitely worth the price. Amazing sound quality for the small package, really like how it works with airplay as well! Just wish Apple Music could work with it through voice
Date published: 2019-12-02
Rated

5

out of

5
by
Adam R
from
Exceptional Speaker with Google Assistant!
So, I have to start off by saying that I ended up giving this to my brother for his birthday and as a welcome back to the USA gift. He is team Google / Android and I knew it would be a nice setup for him. However, now I'm considering a second one for myself because the audio quality is just great! Perfectly tuned.. not too much bass but very clear and loud. I was there with him when he set it up and the setup was very easy to get everything linked. Was able to use google assistant to play music from his account and even dim some of the WIFI lighting he has setup. It's nice too that it makes it easy for anyone to quickly chime and and start playing the next song. Overall the unit is nice and compact, doesn't take up much space but fills the entire room with "3D" sound.. it's hard to pinpoint where its coming from especially if you set it out of view. It may not be the best option if you're really big on heavy base, but for the casual listener who wants good clean audio this is a great product and feels and looks premium. I will say too it's much louder than my Amazon Echo speaker but maybe not quite as good as the Apple Siri pod thing.. but that's also much more expensive and nobody really likes Siri anyway. JBL did a great job with this product. Thanks JBL!
Date published: 2020-04-17
Rated

5

out of

5
by
John5863
from
360 degrees of incognito sound!
Let me start by saying that you don't need a big speaker to produce quality balanced sound. This speaker is the perfect gift for those with offices, small dorm rooms for college students, those with disabilities who need the assistance of google for aid with time, weather and a collection of appointments or important events to remember. Would like to see easier set up options for those that are visually or slight hearing impaired as the setup can be somewhat complex for even most tech savvy individuals. I love the color schemes for this line. Maybe you can add these to other speakers in your line. Price wise this is worth the money. This is a total touchless speaker if you choose. With voice controls you can tell Google assistant to play music, turn volume up or down, skip track and a host of other commands. Hey maybe for the next gen model you can up the size to maybe the size of two of these stacked on top of each other with that 360 sound. Thanks again jbl for another great product!
Date published: 2020-03-09
Rated

1

out of

5
by
Ashleigh
from
Useless for apple home
Very unreliable. Sometimes it works, sometimes it doesn't. Very disappointed
Date published: 2020-09-24
Rated

1

out of

5
by
Mike74
from
Say No to Google
It would have been good to know it requires the google app. I would not have bought it. There should be an alternative. Apparently not.
Date published: 2020-09-03
Rated

5

out of

5
by
Jayt303
from
Great speaker !
We got this for our living room and its perfect for what we need. It links up fine with spotify and apple air play so we can use our phones or just tell it what to play. The sound is good and fills the room. The only thing i would add would be an app with an Eq so i could adjust the sound.
Date published: 2020-06-06
Rated

1

out of

5
by
Tim100
from
Don't buy this hunk of junk!
I have no idea if this product is any good or not because I can't get it to work and I can't get any support from JBL! It came with no instructions. I thought this product would make my life easier but it has been an extremely frustrating experience. Done with JBL for good after this.
Date published: 2020-04-16
Rated

5

out of

5
by
nismos14
from
Excellent, think Google Home Speaker Improved
I have to admit I was not thinking this speaker would be anything super amazing but initial impressions are that it's much better than expected. This little speaker gets very loud, but with quality output. Very nice highs, high amount of detail in the upper and mid ranges. The bass is only slightly lacking on the very low end, but is more than adequate for most listening. In testing, I listened to the speaker alone rendering the above results. Later I created a speaker group in Google Home in order to test a Google Home speaker and the JBL Link side by side. I had the volume levels set identically and no adjustment on the EQ for the Google Home Speaker. Very impressive to say the least. The JBL is clearly more detailed and provides a better low end presence. I muted each one independently and had clear, better, more detailed, and more expansive sound from the Link speaker.
Date published: 2020-03-13
Rated

3

out of

5
by
AlphaDog
from
It's a good basic player
This WiFi device meets my needs. I didn't want to spring for another Google Max for my bedroom, and the Google mini that I have sounded too weak. This device is a nice compromise. I placed it on my night stand and listen at night as I drift off to sleep. I never play it too loud and it has enough bass to please me at lower decibels. I noticed that it sounds better across the room at higher decibels but that's not what I bought to do. The Google Assistant is not up to par compared to my Google devices and it cannot do the things a pure Google device can such as setting a sleep timer for me. It claims that it is still learning when I ask it things that it can't answer. As long as you have reasonable expectations you will probably be ok with it.
Date published: 2020-05-11
Rated

1

out of

5
by
Greg_M
from
Beware!
Beware the label "Chrome-Cast Built-In". That in no way allows you to escape downloading not one, but TWO apps just to get it running. And one app is no longer compatible with PC, so you are FORCED to run your speakers (and the rest of your house) through your phone. I returned the JBL Link and bought a Bose SoundTouch 10. Had it set up and working in about 10 minutes.
Date published: 2019-12-10
Rated

5

out of

5
by
Meringo
from
Better than these early reviews suggest
I bought a couple of these during the holiday sale -- instantly falling in love. I was looking to expand my whole home audio system, which is Google Home/chromecast based. Inititially I was blown away by there suprisingly good sound for size -- but then I discovered something magical: You can make them a stereo pair through the Google Home app. I didn't know / nowhere is it mentioned that you can do this on the product pages or marketing. With that said, setup is a little confusing as it asks you to identify left and right with a blinking light -- that doesn't seem to work, but jump over that screen and the stereo pair works. I've confirmed with L/R stereo youtube tests. I've got Two sets now in operation and hope to get at least one more set. Audio performance is much better than my 2x Google Nest Minis also setup in a stereo pair, likely due to the larger drivers and physical weight. At any rate, Get these. The $59 holiday price was nuts. Thats when I got my first set. Then it went to 79.99 and I found two more. Price is $120 now? As a single unit, sure. Get two in a sale!
Date published: 2020-01-04
Rated

1

out of

5
by
MikeTN
from
Unbelievably bad!
Received today. This product can ONLY be configured through the Google Home app! Bluetooth won't work without doing that first. And, Google has a problem with certain devices (some phones) that keeps Google Home from being able to "activate the device". So, in the case of certain phones, this speaker is useless until you borrow another device long enough to get it configured.
Date published: 2022-08-26
Rated

1

out of

5
by
MakDoogle
from
Horrible instuctions written by a three year old.
Like setting up a rocket ship.......Keep it JBL, I don't need more apps just to play a tiny speaker.
Date published: 2020-04-08
Rated

4

out of

5
by
DJHazmat
from
Sounds like a much larger speaker.
I just got this new JBL Link Music and the primary reason was because I love JBL quality but use iTunes on my PC for most of my music. So I really wanted the AIrplay feature on a more portable device. Haven't gotten to use that yet because you have to have an iPhone for the app. I thought it would just work since it shows up on my PC iTunes. But no. I found out that the reason it doesn't work with iTunes 10.3 on my PC is because my iTunes version doesn't support AirPlay 2. Which is required for the Link Music. Unfortunately, I have 8 other non-Apple Airplay 1 speakers (HK Aura's) that do not support Airplay 2 (but nonetheless play in perfect sync). Won't be using the Link Music in Airplay mode, so not sure if the Google Cast is enough to keep it. I do have to say that in ordinary Google Cast home mode, it works great! I don't have any of the compatible music streaming services, it doesn't support Amazon Music or Napster - both of which I have. But since I do have android phone, I can stream from my phone. I also thought it was portable(ie. with a battery) but it requires a power cord. It is just a single cord, no brick, which makes it more "portable". I have the JBL Link 20 and the sound is similar, but somehow the Link Music sounds a little more "bassy". Fit and Finish are impeccable, and it looks good too. Got the grey version. Bought on BF, so the price was fantastic. Low enough to keep it even without Airplay 1 support.
Date published: 2019-12-09
Rated

1

out of

5
by
GmanBam
from
Difficult to set up
I received the JBL product thinking it was going to be a Bluetooth enabled speaker. Go to find out is a google home unit. No good. I started off reviewing the quick start guide. Just terrible set of instructions. Quick start should get your set up; I had to dig and then google it. Guess I am not the only one that had issues. began setting it up and had to stop and that hung the installation. This needs work to be able to pick up at the same spot. At this stage I can not recommend.
Date published: 2020-03-08
Rated

5

out of

5
by
JBlongz
from
Compact Size and Massive Sound
The sound is surprisingly big detailed for such a small form factor. There is no slack in the bass. I hear it from all areas in the room. I love the airplay capability, allowing me to quickly connect it to multiple phones and computers. Definitely a worthy choice.
Date published: 2020-03-19
Rated

2

out of

5
by
bob290
from
Disappointed
I bought this and returned it. I was expecting the versatility to be able to use it as a simple bluetooth speaker, but it is primarily a google assistant that supports airplay. The sound was decent, but I'm not crazy about google collecting my information.
Date published: 2021-03-19
Rated

3

out of

5
by
SamM
from
Mixed results
The hardware is brilliant, acoustics are great but the software is bad. No Equalizer available when using through wifi/Google Home (only on BT). The charging dock starts discharging instead of charging the battery after a period of time of usage, the only way to charge then is through the USB cable. The 8hrs battery seems to be less than 8hrs. The highs are not so audible, this speaker may be more suitable for classical, jazz music. Too many software faults for such a great hardware.
Date published: 2022-06-17
Rated

5

out of

5
by
PorchGuy
from
Easy set-up and good sound quality for the price!
I bought this delightful little pill speaker to go on a well-covered front porch. Set-up through the Apple Home app was effortless and speedy. I positioned it up near the ceiling on top of a pillar, near an outlet. The sound reflects off the ceiling and provides a nice warm tone at low-medium volumes. As with any small speaker, the top of the volume range will not be very well balanced, but we use this for ambience on the porch, not to power a rock concert. Highly recommend this.
Date published: 2020-06-24
Rated

3

out of

5
by
Caj 63
from
Plug or battery
JBL music link has no no no battery Not exactly portable You need to plug it in somewhere or no they Google................... All pics show no cord....
Date published: 2019-11-30
Rated

5

out of

5
by
Chris1961
from
Great little Speaker
This is a great little speaker which packs a bigger punch than you would expect for its sixe
Date published: 2020-10-15
Rated

5

out of

5
by
fdecon
from
Awesome speaker
The only think it's not portable but great sound like always from JBL
Date published: 2020-11-30
bvseo_sdk, dw_cartridge, 18.2.0, p_sdk_3.2.0
CLOUD, getReviews, 7ms
reviews, product
Kysymyksiä ja vastauksia
This speaker can be plugged in correct? It isn't only ran by battery is it?
Our JBL Link Music has to be plugged in for it to work since it doesn't have a built-in battery. For more information, check out the specifications here: http://bit.ly/34RUjKS
Date published: 2021-06-06
can you skip ahead to next track by double clicking buttons on top?
The buttons at the top of our JBL Link Music is for adjusting the volume level, to activate the Google Assistant command, and to pause and play the sone that's playing. If you want to skip the music that's playing, you can simply command the speaker by saying "Hey Google, play next song" or "Hey Google, skip this song" If you have further questions, please reach out to our Customer Support, and our representatives will contact you within 24-48 hours. https://www.jbl.com/support-contact.html
Date published: 2021-06-06
Can I connect this speaker to my computer via Bluetooth?
Yes, given that your JBL Link Music is already connected to your home WiFi after setting it up using the Google Home app. You can simply say "Hey Google, turn on Bluetooth" or "Hey Google, pair Bluetooth" and then check the Bluetooth menu on your computer if the speaker is already detected.
Date published: 2021-06-06
IPXX rated? Battery or A/C?
Our JBL Link Music uses an AC Power cord to function. However, it's not IPX rated. For more information about this speaker, please check this link - https://www.jbl.com/voice-activated-speaker/LINK+MUSIC.html
Date published: 2021-06-22
On the JBL smart speakers, can the Google Assistant be deactivated so it doesn't respond to voice and doesn't "listen"?
You could simply press the mic/mute button so that the JBL Link speaker would stop listening to any voice command.
Date published: 2021-06-06
How do I do to connect using AirPlay? When I've tried to connect the AirPlay is asking me the "onscreen code for JBL Link Music 8910".
We would like to get more information to help you out, please contact us so we can assist you: https://bit.ly/2zwFkYM
Date published: 2021-06-06
trouble connecting to apple play, connects then cuts out after 2 seconds?
To better assist you, please contact our customer support so we can work with you directly regarding the connectivity issue of your JBL Link Music: https://bit.ly/3cV4Hp9
Date published: 2021-06-06
Does it have to be connected to the wall for it to power on
Our JBL Link Music has to be plugged in for it to work since it doesn't have a built-in battery. For more information, check out the specifications here: http://bit.ly/34RUjKS
Date published: 2021-06-06
My two JBL Link Speakers just arrived. How long do they need to be plugged in to fully charge? Is there a charge indicator?
Our JBL Link Music doesn't have a battery. It only works while plugged into AC power.
Date published: 2021-06-06
will this speaker link with my JBL 3.1 soundbar system with subwoofer?
The JBL 3.1 is a stand-alone soundbar system, you will not be able to connect additional speakers with this soundbar.
Date published: 2022-10-18
Can I use this to stream the audio from my Roku to support TV/movies?
Unfortunately, it's not possible to use our Link Music in transmitting the audio when watching movies, as it's only meant for streaming music. A delay in audio and video might occur when doing so.
Date published: 2021-06-06
Can you use a app and talk to another JBL link in your house? For example, If i wanted for my kid to come downstairs and I had one in his room, could I talk to him through the app?
With Google Assistant's broadcasting feature, you can broadcast your message to every Google Assistant device in your wifi network. You just need to make sure that the devices are connected to the same wifi network and are set up through the Google home app for it to work.
Date published: 2021-06-06
HOW CAN I GET THE ONE THAT NEEDS TO CONSTANTLY PLUGGED IN OUT OF DEMO MODE PLEASE HELP
We would like to get more details to help you out, please contact us here: https://bit.ly/2zwFkYM
Date published: 2021-06-06
i purchased two of these speakers thinking i could link them. is that the case?
Thanks for reaching out. If you have two of the same model Google Assistant speakers, you can create a stereo speaker system. Here's how: Open the Google Home app. Find the speaker you want to set up in stereo pairs. Find the speaker/room. Tap on Settings. Go to Sound Settings. Find the Speaker pair. You are now entering the setup page pair Tap Next. Find your speaker under the Pair with list and tap. Move the speaker to be Left or Right side and press Next. You can tap on Play sound to identify which speaker it is. Find a name for your Stereo pair. It takes a minute to complete the setup. When the configuration is done it will say Ready READY. Press Done
Date published: 2022-01-10
All I got with this speaker was a quick start guide. All I can do is turn it on, it does nothing else. No instructions how to connect to wi-fi, how to connect the blue tooth. Nothing.
Our Quickstart Guide mentions the Google Home app to set up our JBL Link Music. Please download the app from the Play store/App store and it will lead you to start the setup for the speakers. If you need more help, please contact us here: https://bit.ly/2zwFkYM
Date published: 2021-06-06
It says JBL link music is portable bluetooth speaker. But it turns off when unplugged? HOw to make it portable bluetooth speaker?
Our JBL Link Music doesn't have a built-in battery and requires it to be plugged in an outlet to work. We have a version of this speaker that has a battery, which is the JBL Link Portable. For more information about Link Music, check out the specifications here: http://bit.ly/34RUjKS
Date published: 2021-06-06
Hi I am trying to use bluetooth on my jbl link music. The manual states that I need to set up with google home app. Google home app is not available in my country? How can I use Bluetooth?
Unfortunately, you would need to set it up first with the Google Home app before the Bluetooth will be enabled. You could try to get an official APK file and install it to your phone.
Date published: 2021-06-06
Can U connect this to your JBL FLIP & JBL FLIP4 Products
Our JBL Link Music can't be connected with our Flip series since it has no Connect, Connect+ or PartyBoost feature.
Date published: 2021-06-06
Is this speaker waterproof?
Our JBL Link Music is not waterproof because it has no IPX rating. For more information about the speaker, check it out here: https://support.jbl.com/us/en/speakers/speakers-voice-assisted/LINK+MUSIC.html?color=brown
Date published: 2021-06-24
My JBL Link music suddenly stopped responding for Google assistant. Also the wireless connectivity not working. Speaker is working via Bluetooth only. Why?
We'd like to get more information to help you out with your JBL Link Music, please contact our JBL Customer Support team for assistance: https://support.jbl.com/us/en/.
Date published: 2021-06-06
Can I get my link music to act as a satellite speaker controlled through my google home hub? So if I play a song on Pandora on my home hub in one room, it will play concurrently on my link music in another. 
Our JBL Link Music can be connected through speaker groups that can be made through the Google Home App. This can make your JBL Link speakers play music at the same time from a single source. If you have more questions, please reach out to our Customer Support. Our representatives will reply within 24-48 hours. https://www.jbl.com/support-contact.html
Date published: 2021-06-06
What cover or case would you recommend for using this outdoors in a VERY wet location? NOTE: If you know of an outdoor speaker with Google Assistant, I would LOVE to hear about it. I am baffled at the lack of one.
Hi there. For a portable speaker that is capable of Google Assistant, we recommend the JBL Link Portable, this speaker is rated IPX7 which is fully waterproof and it is capable of Google Assistant with up to 8 hours portable playing time.
Date published: 2022-06-06
When Link Music is connected to the Google Home app, there are no equalizer controls like other Home devices. Is there a reason for this and will this functionality be included in future updates. I would like to make some tweaks to the sound, but can't.
We don't have any updates about equalizer settings for our JBL Link Music. Sign up on our newsletter for updates. If you have any questions, please reach out to our Customer Support. https://www.jbl.com/support-contact.html
Date published: 2021-06-06
If I created a speaker group in GHome that had multiple speakers (all on the same WiFi), but was in BT range and connected to only one. Would the other speakers play the same audio?
No, you would have to cast/Chromecast the music/content to the Speaker Group name so that all the devices added to it will play the same audio at the same time.
Date published: 2021-06-21
When was this product released?
Thank you for your question. The JBL Link Music speaker was released 01/11/2019. Should you wish to receive further support, you may contact the Harman Customer Support team by telephone, email or chat in order to receive direct assistance. Please see https://uk.harmanaudio.com/support-contact.html for further details. Thank you.
Date published: 2021-06-06
I reset the speaker since we moved to a new home and now I cannot get this connected to the google home app anymore. It is not being recognized as a bluetooth speaker and I have no way to get it connected.
To reset the speaker, press and hold the mute microphone button for more than 15 seconds until you see the LED light blink one time. The speaker will turn off. Once you turn it on, the speaker should sound off the start-up tone indicating it's ready to set up via the Google Home App. If you need more help, please reach out to our Customer Support.
Date published: 2021-06-06
I've set up my speaker with Google Home app and synced it to my iPhone 11 and everything works fine. I can make calls using it, but can't hear calls coming in. What do I need to do to fix this?
We would like to get more information to help you out, please contact us so we can assist you:https://bit.ly/2zwFkYM
Date published: 2021-06-06
Can this speaker be pair with the JBL Link Bar?
Thanks for your question. Unfortunately, our JBL Link Music can't pair with the Link Bar. You can pair the Link music through the Google Home app by creating a speaker group with the other Portable Link speakers.
Date published: 2021-06-06
Can someone with an Iphone use this product?
Yes. Our JBL Link Music can be used both on iOs and Android devices.
Date published: 2021-06-06
When I press the Bluetooth button nothing happens, need help setting up
JBL Link Music has to be set up through the Google Home App to use its features like Google Voice Assistant, Chromecast, and Bluetooth connectivity. Download the Google Home App from the AppStore or PlayStore using any device, and follow the setup instructions on page 6 of our Quick Start Guide here: http://bit.ly/2RosxS9
Date published: 2021-06-06
bvseo_sdk, dw_cartridge, 18.2.0, p_sdk_3.2.0
CLOUD, getContent, 5ms
questions, product