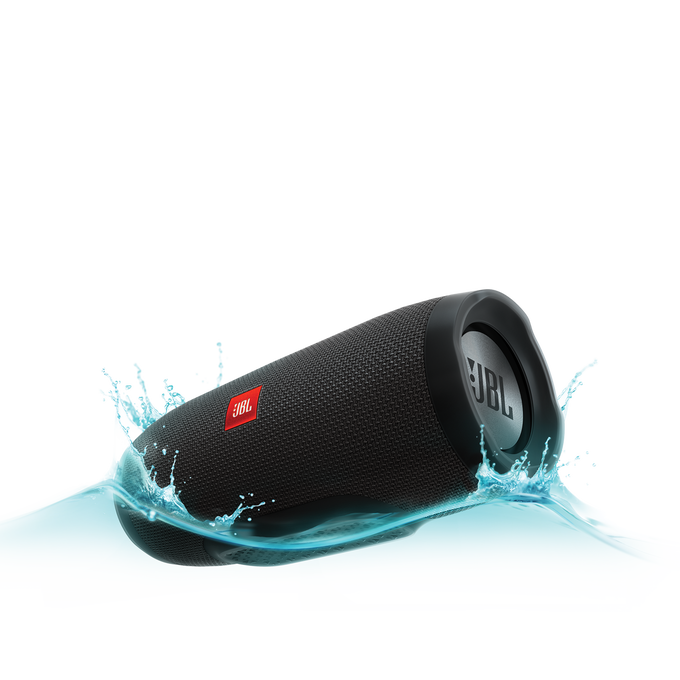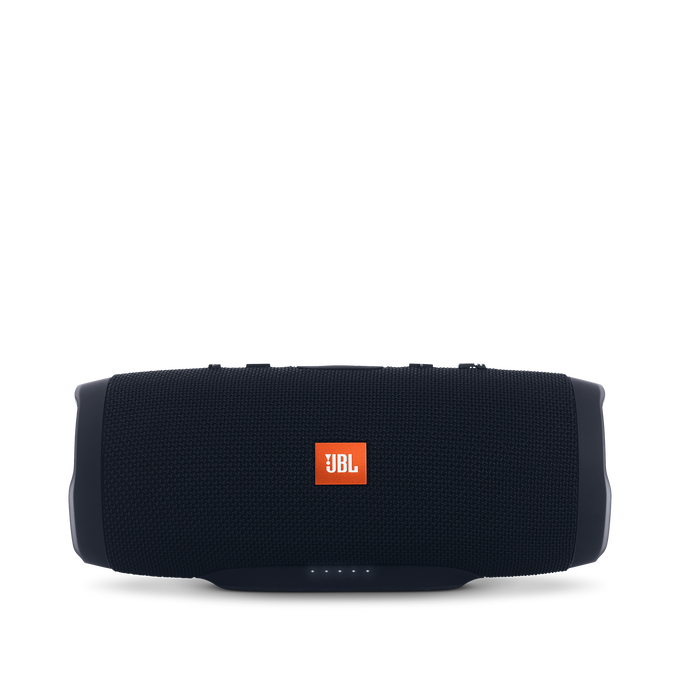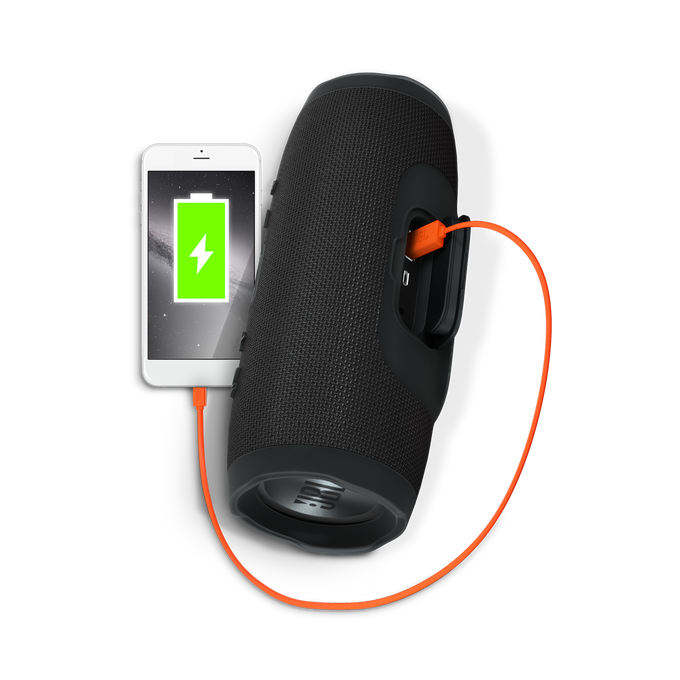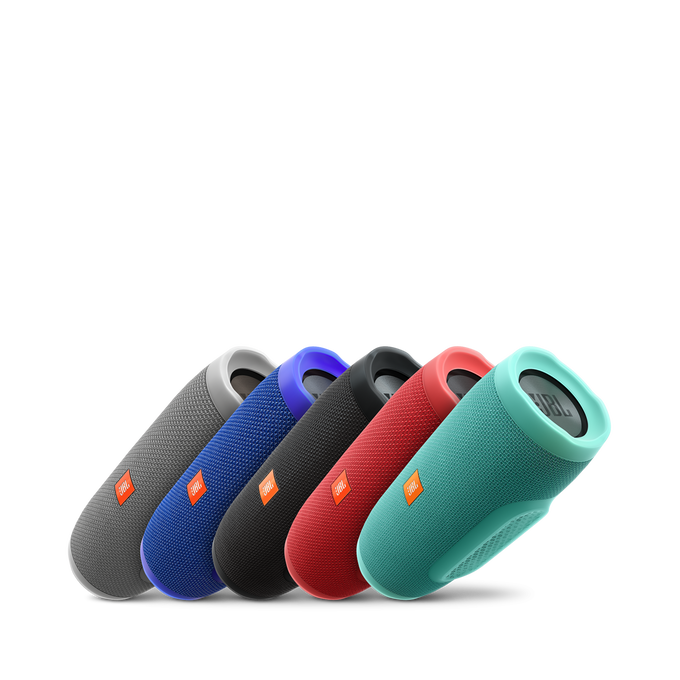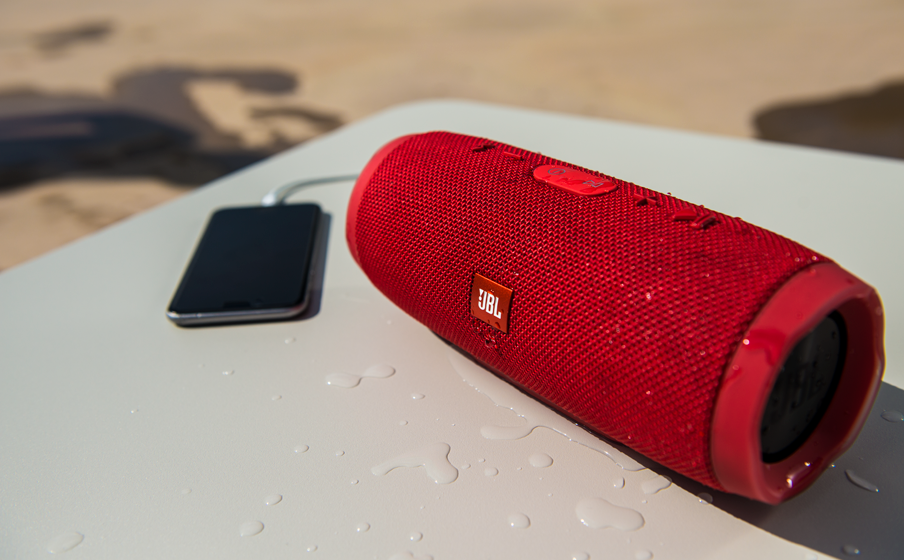 Langaton Bluetooth-suoratoisto
Kytke kaiuttimeen langattomasti jopa 3 älypuhelinta tai tablettia ja kuuntele kavereiden kanssa vuorotellen upeaa stereoääntä.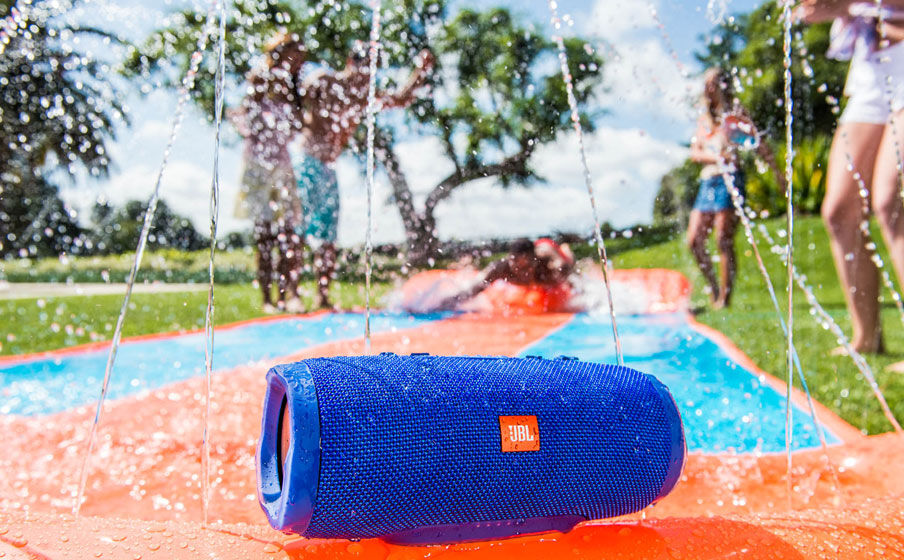 6000 mAh:n akkupankki
Sisäänrakennettu ladattava litiumioniakku tarjoaa jopa 20 tuntia soittoaikaa ja lataa muita älypuhelimia ja tabletteja USB-portin kautta.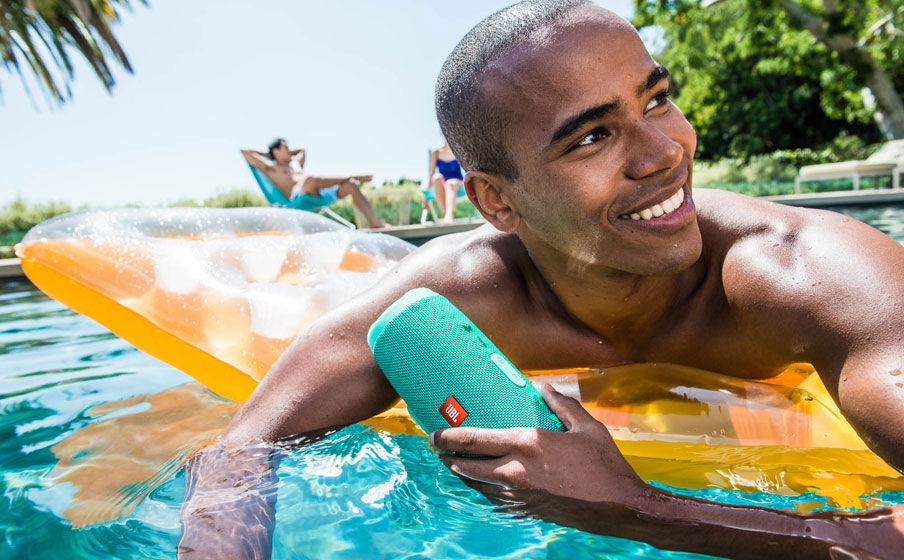 Kaiutinpuhelin
Vastaa kristallinkirkkaisiin puheluihin kaiuttimellasi vain napin painalluksella – kuuluvuuden takaa kohinaa ja kaikua vaimentava kaiutinpuhelin.
Ominaisuudet

IPX7-vesitiivis
Ei enää huolta sateesta tai roiskeista: Charge 3:n voit jopa upottaa veteen.

JBL Connect
Luo oma viihteen ekosysteemisi liittämällä erilaisia JBL Connect -tuella varustettuja kaiuttimia samaan järjestelmään.

Materiaalit elämäntyylin mukaan
Seikkailitpa missä tahansa, kaiutin kestää matkassasi lujan kankaan ja kotelon vahvan kumimateriaalin ansiosta.

JBL-bassosäteilijä
Kuule basso, tunne basso, näe basso. Kaksi ulkoista passiivisäteilijää näyttävät, kuinka tehokkaat kaiuttimesi todella ovat.

Puheavustajan integrointi
Käytä Siri- tai Google Now -sovellusta yksinkertaisesti painamalla JBL-kaiuttimen painiketta.
Tiedot ja lataukset
Item# JBLCHARGE3BLKEU
Kuvaus
Kuuntele langattomasti. Lataa loputtomasti

JBL Charge 3 on uskomattoman tehokas kannettava Bluetooth-kaiutin: huippuluokan stereoääni ja akkupankki yhdessä ja samassa paketissa. Vesitiiviin muotoilun, kestävän kankaan ja vahvan kotelon ansiosta Charge 3 vie bileet minne tahansa – myös altaalle ja sateeseen. Sen pitkäkestoinen 6000 mAh:n akku tarjoaa 20 tuntia toistoaikaa. Voit lisäksi ladata älypuhelimesi ja tablettisi USB-portin kautta. Sisäänrakennettu kohinan- ja kaikuvaimennuksen sisältävä kaiutinpuhelin mahdollistaa kristallinkirkkaat puhelut yhdellä napinpainalluksella. Liitä useampia JBL Connect -tuella varustettuja kaiuttimia yhteen langattomasti ja paranna kuuntelukokemusta.
Tuotetiedot
Musiikin toistoaika (t)

20

Lähtöteho (W)

2 x 10
Mitat
Mitat (cm)

21.3 x 8.7 x 8.85

Mitat (inch)

8.38 x 3.42 x 3.48

Paino (kg)

0.8

Paino (lbs)

1.76
Ohjaimet, kytkennät ja liitännät
Akku
Akkukapasiteetti (mAh)

6,000

Latausaika (t)

4.5
Ominaisuudet
3.5 mm audiotuloliitäntä

Kyllä

Automaattinen katkaisu

Kyllä

Bluetooth

Kyllä

JBL Connect

Kyllä

JBL Connect+

Kyllä

Powerbank

Kyllä

Kaiutinpuhelin

Kyllä

Puheääniavustaja

Kyllä

Vedenpitävä

Kyllä

Wireless

Kyllä
Pakkauksen sisältö
1 x JBL Charge 3
1 x 5 V 2,3 A USB-sovitin
1 x mikro-USB-kaapeli
1 x Turvallisuustiedote
1 x Pikaopas
1 x Takuukortti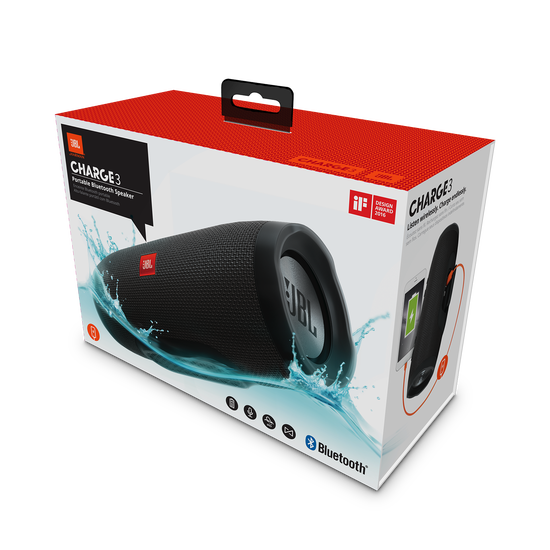 Asiakirjat ja lataukset
Arvostelut ja vastauksia kysymyksiin
Arvostelut
Rated

5

out of

5
by
Sonnyboythefifth
from
Great little speaker
I'm pleased with this overall. For the size, spec, fit and finish this is a well priced portable Bluetooth speaker. When at home I position it on an open shelf on a pine bookcase and it warms the bass a little. This is not a criticism of the unit; rather an innocent observation. It looks and feels like it'll last forever! It handles all genres of music really well, but don't expect it to replace your hifi obviously. JBL's 'Extreme' is probably more suited for this. Great for playing music on the move, barbies etc. The only niggle I have is when playing my iPad through it the music pauses to allow emails to come through. There may be an answer to this, but haven't really investigated yet. Overall though.....chuffed!!!
Date published: 2017-08-30
Rated

5

out of

5
by
JayDub
from
Im not the system freak but I heard alot of different ones in my life time.I was able to identify what they were but when I heard JBL in was different and clear.I purchased them for myself in about 2008 and here it is 2017 and ppl still remember my system and express thats one of the best systems they ever herd.For ppl to remember a system,thats special.I know JBL is top of the line with Bass,Equalizer setting and very clear.Thats why I would recommend to anybody being first choice..Its easy to use and you get What you pay for never nothing less always more.. Turn up the volume
Date published: 2017-05-21
Rated

5

out of

5
by
Darikoss
from
Great portable and home speaker
JBL Charge 3 is a great speaker, for home or outside use. It has great features like JBL connect or IPx7 waterproof. Sound quality is what you expect when purchasing JBL products and I will tell you that at this price point it will beat most, if not all speakers out there. It lacks in the 360 sound which modern speakers are built nowadays, but the bass in this speaker is what makes it one of the best. Bass keeps up even at 100% volume, where most speakers would cut it out mostly. Overall great speaker with a good sound quality.
Date published: 2017-06-17
Rated

5

out of

5
by
Darrenra
from
Quality Speaker!
This is my first bluetooth speaker. It was extremely easy to pair with my phone and laptop PC. The sound quality is amazing for this little speaker. I live in a 1600 sqft condo and it plenty loud to fill my entire unit. Loud enough to throw a party and entertain. The battery life is phenomenal. I have been playing it for about 3 hrs everyday for the last 7 days and the battery meter has only decreased by 1 bar out of 5! It's the energizer bunny. I like to use this speak while watching Netflix on my PC, and while listening to Pandora on my cellphone.
Date published: 2016-11-07
Rated

5

out of

5
by
Martin C
from
Love It
Bought direct from JBL a couple of weeks ago and love it. Just waiting to buy another to link up around the garden. Keeping in box at moment but for taking on a picnic I shall buy a case to protect the 2 side speakers. Cases appear a bit expensive for what they are. Could have 2 of these for the price of Bose Revolve +. For the garden and picnics which would I prefer, it would have to be the Bose. But I'd rather have the 2 JBL's against 1 Bose if that makes sense. Don't let the above comment put you off, the sound from the JBL is great !
Date published: 2017-08-14
Rated

5

out of

5
by
Camguy
from
Seriously, this speaker is top tier
One of the best experiences I have had with a product. This speaker has lasted for 6 months now, works the same as right out of the box. Sound quality- Amazing bass for a speaker of this size, all around good sound Durability- Has been immersed in water, withstood extreme cold, fallen on concrete. There is no visible damage, works good as new Design- Looks good, small, the speaker drivers on the ends look absolutely amazing Bluetooth- Connects quickly and easily, the range is good Would highly recommend this speaker to friends and family, I'm writing this review because I want to support JBL in their future efforts. If this speaker is any indication of what is to come then I am very excited.
Date published: 2018-05-28
Rated

5

out of

5
by
AlyB
from
Great gift-great sound
My daughter chose the JBL Charge 3 as her birthday gift (she's 23)--and from what she says it has big sound, plus it really is waterproof. A really ingenious item! I bought it directly from the JBL website to avoid possible foreign-made knock-offs on other discount websites. However, I did not buy the genuine JBL carrying case because after reading the reviews I realized it did not have space for the cords. So instead I bought a carrying case (from a different website) that did have enough space for the cords. JBL could probably boost sales by making their carrying case in a roomier size. Fantastic portable speaker, though!
Date published: 2018-06-17
Rated

5

out of

5
by
AlexTrca
from
Just Amazing!
Proud owner of many JBL products ranging from car speakers to headphones and JBL really outdid themselves another time. Sounds so amazing, amazing features. The fact that it's submersible in water and sounds great is quite the feat! Great battery life... you really couldn't ask for more. This is a steal as opposed to other sellers matching a product of this quality in more of the $250 range. Do yourself a favor and don't wait to pull the trigger. (PS, I'm not affiliated with JBL at all... just love their products) Keep it up JBL!
Date published: 2017-07-18
Rated

5

out of

5
by
60 year old rocker
from
Well...
Purchased 27 Jan 2016 and while I love the sound, I've had to do a factory reset twice, (averaging so far about once a month). Having only owned a cell phone since right before that, I don't know if it's normal to have to periodically reset BT connections or not, didn't stop me from buying a second one though. I'm anxious to pair them and see how things go, (currently visiting relatives out of state and the second one is waiting for me at home). Hoping for a great summer around the pool!
Date published: 2017-03-19
Rated

5

out of

5
by
JonSpeed
from
Great sound AND ease of use
This is my second and purchased as a gift for someone who keeps nicking mine and returning it when it is discharged! She steals it because it sounds soo good - even with her awful music (it's a generation thing - I know). The sound is really good and belies it's petite dimensions - it even sounds quite good in a tiled bathroom, never "boomy" but well balanced. It even has enough quality of sound to tell the difference between well engineered, recorded and uncompressed files (Alt-J, Radiohead) and those not so (sorry Tokio Myers, I don't know the source but "Angel" sounded hollow) We quickly tried them in stereo but it didn't work so well, I didn't give it much time but it wasn't as instant as the other operations have been on the JBL.
Date published: 2017-11-30
Rated

5

out of

5
by
Muttley
from
Jbl charger
Bought mine at Xmas and it's probably the best product you buy online the market hands down. I've used this one for a few days without charging it. In the car on one at session with the boys in the park it is brilliant. The little ones (clips) I bought two of them on the same day also and I've given them away as xmas presents and my friends have taken them on holiday and to festivals and they love them. Even the box it comes in is quality and looks collectible. The only annoying this is it make anoryllotmnnoying stupid "on sound" when started so it can be heard by everyone in the house when turning it on and if you only need it for charging your phone in the quiet of night it can be heard by people who might be asleep But it's still the best speakers I've ever had. Regards Muttley Regards Muttly
Date published: 2017-08-18
Rated

5

out of

5
by
CarterE
from
Best Portable Speaker
I accidentally left mine in a covered hot tub overnight, found it the next morning and it was working perfectly. I take it with me on a small 13ft boat with a 40hp 2 stroke engine (loud), the speaker easily breaks through the noise and has great sound even at max volume, very durable and did I mention water PROOF! Also, the texture is misleading, I take this to the beach and NO sand gets into the mesh looking outside - always looks brand new.
Date published: 2017-02-24
Rated

5

out of

5
by
KiNN23
from
hands down the best!
I bought this two and a half years ago and its still going strong!!! great build!! feels solid. produces top quality sound at high volumes!! i tour the world and have abused this little beast in every-way. it has been a life line for me multiple times... being able to charge my smart phone that doesn't have a replaceable battery I tell everyone about this speaker and some times JBL has refurbished ones for the low! waterproof and charges your phone!!
Date published: 2018-05-29
Rated

5

out of

5
by
Johhn
from
GREAT SOUND
As a person, who loves music and is "capable" to "hear it" I can claim this is one of best portable speakers built so far. The frequency range is great, especially the low range which is very good for such a small speakers. The sound is soft and nice. They are would enough and capable to operate more than 10 hours. Also the option to connect up to 3 devices and to sync two speaker systems wirelessly makes it great solution for person who travels or want to save space.
Date published: 2017-03-16
Rated

5

out of

5
by
Ksta
from
Charge 3
I finally decided to invest in a quality portable speaker. The Charge 3 is great everywhere. At home I connect it to my TV when I want to watch movies and get that extra bass and movie feel. The battery life is amazing, before making the purchase my friend let me borrow his for a few mins and what sold me was the bass and sound quality. I've only had it for a week and I'm happy I purchased it, I hope the feeling is the same in December.
Date published: 2017-07-01
Rated

5

out of

5
by
33fastcar
from
AWESOME SPEAKER!!! JBL Charge 3
I bought this speaker within 24 hours of seeing one on line. I have a JBL Flip 3 and did not know there were better JBL speakers out there. The Charge 3 has shattered my expectations of how bluetooth speakers work & sound! The sound is like a dream in a concert hall. I rarely ever have to turn the volume all the way up. If I do turn volume to max there is no distortion what so ever. Close my eyes and I'm literally there at a live performance! I was able to use the connect feature with my Flip 3 and now I'm in heaven! Its truly amazing how these speakers handle the bass. Not to much or less, always just right! I would recommend any JBL bluetooth speaker to anyone. YES, they are that good! I have found the future in bluetooth speaker technology! I would NOT buy another brand again. Only JBL for me!!!
Date published: 2017-01-08
Rated

5

out of

5
by
Jaybird136
from
I love this speaker!
I bought this a few days ago at target and I was really impressed with it once it got it, this speaker simply sounds amazing! I had the charge 2+ and decided to upgrade to the charge 3, there is a pretty good difference between the two, not in a bad way.... But comparing the two, the charge 3 goes almost two times louder than the charge 2+ as for the bass the charge 2+ has a little more bass but the charge 3 has more deeper bass and also is more like a hifi speaker and has more of a balanced sound than the charge 2+, the battery life last much longer, I just simply love this speaker, there's nothing better you can get for the price
Date published: 2016-06-05
Rated

5

out of

5
by
Bobbysgirl8166
from
The best speaker Ive used to date!!!
I absolutly love the sound quality from such a little speaker. I borrowed my cousins Pulse that lights up and fell in love with the sound so I decided to get me a JBL speaker and ended up buying a charge 3 because of the price and the battery lasts 20 hours which is twice as long as the pulse!!! I think my charge 3 actually sounds better then the pulse!!! And I love that I can connect both speakers!!! If I could afford it I wouls get another one!!!! Thanks JBL
Date published: 2017-03-13
Rated

5

out of

5
by
kristiholov
from
Nice Speaker!
Ive got this speaker 3 days ago and so far its preforming very nice. I like the sound, its very loud too. I got the grey option and its in my opinion alright its just far from the pictures that JBL presents. It has a darker shade from what i though. But still have no complains about the color. Only thing sucks is that they didn't give the JBL connect + to us. Battery life is great!
Date published: 2017-10-21
Rated

5

out of

5
by
MrFuz
from
Worth the extra money
"Why would I need to charge?" I thought, but that has turned out to be my favorite feature. I rarely have to charge the speaker and at the end of the day, when my phone is nearly dead, I can still sit on the patio, stream, and charge all at once. It's a huge convenience that prevents disruption to your relaxation time. The bass isn't quite as much as I'd hoped, but that might be due to the outdoor setting. I'd buy two of these though before dropping the same cash on one "high end" wireless speaker.
Date published: 2017-06-09
Rated

5

out of

5
by
Axekeith
from
Quality product
Bought this having heard a friend's one. The sound quality is superb with a warm bass sound but retaining crisp quality at the top end. It is a very solid speaker and feels like it could take a battering which makes it perfect for travelling and using outdoors. Bought from JBL's refurbished dept and was 33% cheaper than a 'new' one. Still guaranteed and looks and sounds immaculate. Great speaker. Would thoroughly recommend it.
Date published: 2017-06-20
Rated

5

out of

5
by
Lucyyy
from
AMAZING
This speaker is AMAZING I bought mine for my uni room and it fills the room with sound and the bass vibrates the room the perfect amount. Recommend to anyone looking for a speaker for their bedroom or kitchen and appreciates GOOD QUALITY SOUND. The ONLY thing is when it's on full volume it does struggle a bit but only a tiny bit. It's so loud you don't even need it on the loudest volume anyway I have mine about half volume and it's sick. WORTH the money
Date published: 2018-04-11
Rated

5

out of

5
by
Charge
from
Big sound from a Small Tube...
I was totally supersized by the range of the Bluetooth. In a direct line of sight I was able to transmit to the Charge3 for approximately 250' from a cheap smartphone. I like that there are several color options. I chose red so I can find it easy. It connects to the smartphone effortlessly, simply push the start button and in less than 7 seconds just push play and you are listening to music. The sound is way better than you might expect from such a small unit. The listening angle could be directed up about 10 degrees however simply roll it so the back of the built in stand and the body rest on the table and then it (in my opinion) is perfect. One feature that would be bonus is to be able to switch tracks or albums. No regrets here. Get one if you love music and enjoy! Charge Out!
Date published: 2018-02-20
Rated

5

out of

5
by
paserade
from
BASS/weatherproof/lightweight/portability/colours
Great choice for bass heavy tracks and house music. Nice portability but with powerful sound (forget about bose toys etc). Great features like waterproof and rugged body. Great bass spread thanks to 2 passive radiators. The only issue I found was the treble doesn't sound so clear, probably cause that waterproof membrane. I bought it for my father in law who listens house music (don't ask me :D) and he loves it and takes it everywhere! I wanted to buy one for me too, but probably I will go with the new Flip 4 (charge 3 is floating on water, Flip 4 sinks - I guess there is no water membrane, the body is waterproof too, but probably the case let the water come to the drivers therefore the sound is clearer but unfortunately doesn't have such a bass punch like charge 3...
Date published: 2017-04-11
Rated

5

out of

5
by
Raymond the great
from
Very impressed all round!
Love the size, the design, how simple it is to operate (a few obvious buttons) and the brilliant battery life! And let's get to the sound: really impressed by the clarity, the volume and bass (you can double it by putting it in an open cupboard or corner etc.). The Bass radiators are a good visual feature too. Was a good price direct and the service was very efficient. I would definitely recommend this speaker to anyone!
Date published: 2017-08-08
Rated

5

out of

5
by
Shari
from
Great speaker for on the go!
This little speaker is so convenient that I found myself bringing it with me where ever I go. I've had it for the summer now and I literally pack it with me on all my trips. Sound is good, ease of use is excellent, and the battery stays charged a long time. Very happy with this speaker and it's a great product for the money too.
Date published: 2017-08-31
Rated

5

out of

5
by
iceman86
from
Want another one!
have had mine for 2 to 3 yrs and its still going. love having it for music when im cleaning or what ever I am doing. for the JBL, priceless for the performance. wonderful sound quality and very durable. the comfort it so nice. anyone looking for a JBL, this is the one for you, unless you want a JBL like this but bigger, then have fun. Every JBL this size I have had from them, works 100% nice. I really love linking this JBL up to my friend JBL Pulse 2 they have.
Date published: 2018-07-06
Rated

5

out of

5
by
Audiophile000999
from
Absolutely stunning!
Lately I've been watching some reviews online about charge 3 and they say it is one of the best!, Well I say it's truly amazing. Powerful bass, quality sound and best features! I'LL definitely recommend this and so affordable compare to other brand of good speakers out there!! Keep it up.
Date published: 2017-03-03
Rated

5

out of

5
by
MusicByTheMasters
from
seems like an endless battery
I have played it for hours. Neither my I phone or Charge 3 have even came close to running out of power. Sound wise I have compared it to two other name brand well known it comes out on top. Not considering price but sound is superior. The distance the sound carriers not just sound but quality lows and highs are very present while out doors. There are more expensive speakers then this and not as good. I feel I have a critical ear since I grew up in a very musical family and I know what sounds good. Folks you can't go wrong with this one.
Date published: 2016-05-19
Rated

5

out of

5
by
Sammy H
from
Awesome! Great Sound Quality!
Easy to use, easy to transport, fits in bag and sounds great! The bass is it's biggest asset but this does not distort the treble or vocal. Not tried it in water, and unlikely to do so, but if it does rain/get dropped in a pool then I'm sure it'll be all good! Fab product and one of the best around for the money!
Date published: 2018-04-03
bvseo_sdk, dw_cartridge, 18.2.0, p_sdk_3.2.0
CLOUD, getReviews, 8ms
reviews, product
Kysymyksiä ja vastauksia
The FAQ on the Charge 3 site references a firmware update available as if 27/9/2017 that upgrades the charge 3 from connect to connect+. I do not see the firmware update in the JBL Connect app. When will it be available?
Check the FAQ on Specs & Support it says the upgrade will be available on October 15, 2017.
Date published: 2021-06-06
My new jbl charge 3 is making a hissing noise when it is ON and whilst playing music in a low volume. Is that normal? The hissing noise not so loud but could hear them when you put close to your ears.
What you are hearing can well possibly be the natural noise of the speakers when cranked. If you are playing audio on the speaker in a set-up wherein the speaker is cranked and the source's (phone/tablet) is low, please try to do the opposite of this – increase the volume on your phone to at least 75% and adjust the volume on the speaker instead. I noticed you are in the United Kingdom. If the noise is still present after adjusting the volumes, please submit a case at http://uk.jbl.com/contactus and our Customer Service team will be more than glad to assist you.
Date published: 2021-06-06
this speaker has a 3.5mm aux input?
Yes it has and you can also connect this wirelessly via bluetooth
Date published: 2021-06-06
Once I update the firmware on my charge 3 to have the Connect +, I will be able to pair more than 2 speakers, correct? I'm looking to purchase another two of the Charge 3, just want to make sure they will all be able to pair.
Yes
Date published: 2021-06-06
Can you please make it possible to set equalizer for the speaker, because it needs a little treble boost. Or do it trough a new firmware. Thanks! Jake
At the moment, no future plans about this are known. However, you can download any music player on your source device that has the EQ function. That way you can toggle Bass and Treble response for the speaker.
Date published: 2021-06-06
I bought a jbl charge 3 on ebay how to know if it is original?
Please submit a request at www.jbl.com/contactus and the Customer Service team will be more than happy to assist you.
Date published: 2021-06-06
Can you skip songs from the speaker itself?
You can skip songs on the charge 3 all you have to do Is double click the play button 
Date published: 2021-06-06
Do you think that pressing on to the passive radiators might of cause my left speaker to break because it was making a weird scratching noise
I don't think that the passive radiators can be damaged by just pressing until you press it hard to destroy. You may try to reset your charge 3 to get rid off the scratching noise. It may help.
Date published: 2021-06-06
I just got my charge 3. Im wondering when is the best time to charge it. Is it okay it to charge when there is still 2 bars? And the fifth light keeps blinking. And when i charge it it doesn't take 2-3 hours it begun to its fifth after 1hour
Yes it is completely safe to charge your CHARGE 3 even if its in-use or not. The battery normally charges from 0 to full in 4.5 hours using the power adapter provided. When full charge has been reached, all the indicators light are constant. In some cases, the fifth light indicator keeps on blinking, but does not light up constantly, no matter how long charging continues. Sometimes it will show a constant blinking light after charging has been stopped. This is normal, caused by tolerances in the circuits, and is no cause for alarm. The battery is charged to the same level.
Date published: 2021-06-06
Does is charge an Iphone?
The CHARGE 3 charges smart phones and tablets via USB. So yes, it charges an iPhone.
Date published: 2021-06-06
Can you use 2 debit cards to pay for one purchase. Someone is going to pay for half of the price to help me but I need to see if 2 cards can be used on 1 transaction?
No. There is no way to use two cards for a single transaction.
Date published: 2021-06-06
Can I connect my jbl xtreme, jbl flip 3 and charge 3 all at once using jbl connect?
The JBL Connect actually only allows up to 2 devices to be connected together for amplified sound. In other words, you may only choose 2 of these 3 devices that you would like to connect together.
Date published: 2021-06-06
Hi, proud owner of a charge 3 here... Only one thing, when connected to my tablet and streaming, Internet speed goes wayyyy down... Bluetooth issues? It only happens with my tablet and the cahrge. Does not happen wen tablet is connected to other BTdevices
The Bluetooth may be causing an interference on your WIFI connection which in effect slows down your internet connection. Here's how you can prevent it Bluetooth and older WiFi routers are designed to work together, but as we add more and more devices into our homes, this isn't as effective as it once was. if none of these options solves your problem, a new 5k router would in most cases do the trick. ·Switch to 5 GHz network, as Bluetooth protocol does not operate at this frequency. Therefore you will not have any issues with BT devices interrupting. Change channel on your router. A router in Europe has from one to 13 frequency channels. Most routers "Auto select" their channel, but if you are in a place where there are a lot of other WiFi routers, then switching channel to a lesser busy channel can help you(see guide in SF for network scan). Move your router to a different location for your important connected devices. Reset your router. After a reset, the router will scan the area for most used channels, and select one that isn't busy (same as manual switching above). The only bad thing about resetting your router is that if you have made some changes on your network, they will be lost now. Limiting your BT/WiFi devices. Turn off BT/WiFi devices that are not used. It will result in a less noisy environment. Use cable. If your device has the option of using RJ-45 cable, then it could be a good idea to use that, instead of WiFi. Enable "Interference Mitigation" if your router has this option/feature. Typically this is under advanced Wireless settings. Interference Mitigation can help prevent interruption from BT/WIFi devices, as it will scan the channels to see if anyone is using them, and in case more users are "joining" the selected channel, it will switch to a different one. · TIP: If Interference Mitigation is enabled, and you do not live in a noisy environment, I would advise switching this off, as it can downgrade your WiFi performance. Can I change something on my device? Yes, the router isn't the only thing you can check or change. · Update your source device (Phone, PC, MAC): Your source driver might be outdated, and it is always good to keep these updated at all times for best performance. Remember this is only a guide on how to improve connection or prevent instability. If none of the tips are working at all, either your router is defective, or the source device has a problem.
Date published: 2021-06-06
Will the JBL Charge 3 Work with the iPhone 5s?
Yes, I have a 5s and my Charge 3 works perfectly with it.
Date published: 2021-06-06
Recently I got Charge 3 and as per your statement, when is plugged into AC power and fully charged it runs on AC power, BUT I saw when I using it, 5th led start blinking, indicating that is charging and happens few times per day. Isnt this bad for battery
Hi, As with all rechargeable batteries, it's never good to always have a device with these batteries connected to AC power. More recent rechargeable batteries, such as the ones we use in our products are of such quality that it's possible to have it connected for a while, but I would advise to every 2-3 weeks you disconnect the Charge 3 from AC power, and play your audio on battery power only, until the battery requires recharging. If you need more information, please dont hesitate to write us on customer.support@harman.com, we will gladly assist with any questions you may have
Date published: 2021-06-06
On the new Charge 3, can you fast forward to next or prior track?  I have a very rusted Charge 2 looking to replace asap- the phone button forwards to the next track but can't go back to prior one.
I'm not 100% sure but if it has the same software as the Jbl Xtreme then it should be able to skip forward and back between songs using the volume up and down buttons.
Date published: 2021-06-06
Are the cords orange on all devices. I ordered the device in pink.
Its should come only with orange charger with orange USB cable
Date published: 2021-06-06
Hi, is it possible to turn off startup and turn off sounds (possibly Bluetooth connection sound too)? They are too loud in my opinion and annoy me.
A firmware update would solve this issue.. please have your team research this as the startup / power down sound is annoying and has a fixed loud volume no matter if you have the volume turned down or not.
Date published: 2021-06-06
I just bought the charge 3 speaker. Can you tell me how I can change the tone of the sound ? I heard there might be an app to download or way to do it online ?  Thanks !  
Hi Danny, I just purchased a charge 3 too. If you are using an iPhone to connect to the Charge 3... Go to Settings -> Music.... Under Playback Turn EQ ON and select a mode. I like Acoustic an incredible difference. Hope this helps... Chip
Date published: 2021-06-06
I'm a group fitness instructor. Can I use a wireless Bluetooth microphone connected at the same time while having my phone plugged in (not set to Bluetooth) playing music. Or is it only one of the other so I would have to buy two?
I'm able to connect the charge 3 and my iPad and Samsung 6 both with Bluetooth and they both will play music on the speaker! I know you can also connect at least one more device. I didn't even use party mode I just connected them both.
Date published: 2021-06-06
I am unable to play any sound with my Charge 3 from my Dell XPS 9343. It pairs correctly but no sound is transmitted to speaker. It was working properly when I first purchased the speaker but suddenly stopped working. It works fine with my android phone.
If I understood you correctly, your Dell XPS 9343 was working okay with the CHARGE 3 and now it's not. If this is the case, please perform the following: 1.Reset the CHARGE 3 by following this step: - In power ON mode press and hold the "Volume +" and "Play/Pause" buttons at the same time for more than 3 seconds it shuts off by itself. 2.Unpair/Forget the CHARGE 3 from your Dell XPS 9343. 3.Turn the Dell XPS 9343 completely OFF. 4.Switch the Dell XPS 9343 back ON. 5.Turn the Dell XPS 9343 completely OFF "AGAIN". (this is important) 6.Switch the Dell XPS 9343 back ON. 7.Pair the CHARGE 3 with the Dell XPS 9343. If this doesn't help, it is possible that your computer does not support or is not setup to support Stereo Audio Bluetooth connection. Your best bet is to go into your control panel and find the Bluetooth setup. This setup usually provides a setup wizard and will take you through the steps to install the drivers needed for Stereo Audio.
Date published: 2021-06-06
I installed the latest update on November 17, 2017. But now it does not pair with the TV and the laptop. it just matches only with the phone. can the old version be reinstalled?
Congratulations on getting it fixed. If the issue persists, please submit a case at www.jbl.com/support-contact.html and our Customer Service team will be glad to assist you.
Date published: 2021-06-06
Does it float when you drop it in water
Thank you for the inquiry. No. This product will not float on water, rather it will sink. Best Regards.
Date published: 2021-06-06
It's says it takes the 'charge 3', 4.5 hours to charge but the Xtreme charges in 3.5 hours, WHY? The 'charge 3' has a smaller battery vs the Xtreme..
The Charge 3 can only be charged via micro USB and the Xtreme has a 19V port like the most laptops have.
Date published: 2021-06-06
How do you pick up an incoming call on Charge 3 speakerphone. Which button on Charge 3 do I press to receive call?
Just press the "Phone" icon button on the CHARGE 3 to answer incoming calls.
Date published: 2021-06-06
jbl flip 3 or jbl charge 3 which one is better? please advice me i can not find any video that flip3 vs charge 3
I was able to compare side by side and the Flip 3 sounds like a nice portable speaker the charge 3 sounds like a compact shelf system. The main difference is in the bass, the charge 3 punches and the flip 3 bottoms out there is no real punch.
Date published: 2021-06-06
I an hear a buzzing sound everytime bass sounds play, how can I fix this?
Hello! We are sorry to hear about this. For a better assistance, you will shortly receive an e-mail from us.
Date published: 2021-06-06
I have the JBL Charge 3 and was wondering, can it charge it self?? My charger is in its on usb port and in its charging slot and it says its charging... will it fully charge?
No. It will not charge fully as you are only recycling the current power inside the unit. It need to be plugged into a wall outlet to be fully charged.
Date published: 2021-06-06
Is it louder than the charge 2?
Yes, the CHARGE 3 has a rated of power of 2 x 10 watts while Charge has 2 x 7.5 watts.
Date published: 2021-06-06
Hi. Is it new or Certified Refurbished?
It's definitely new. You will see if the product is recertified on the product's name (product name) recertified. i.e(JBL Charge 3 recertified)
Date published: 2021-06-06
bvseo_sdk, dw_cartridge, 18.2.0, p_sdk_3.2.0
CLOUD, getContent, 12ms
questions, product