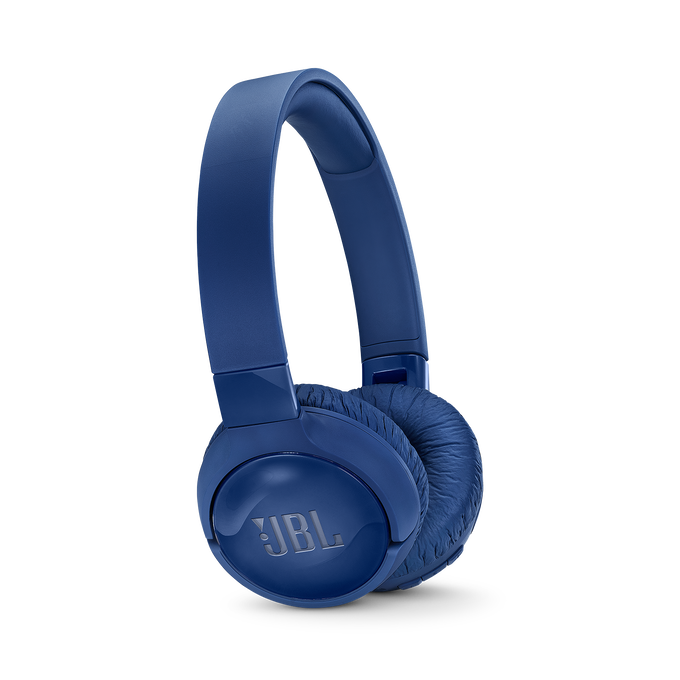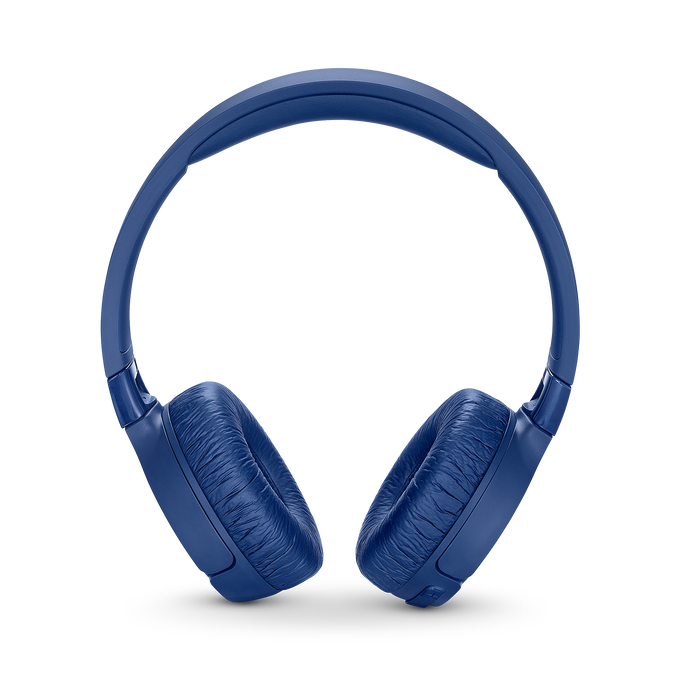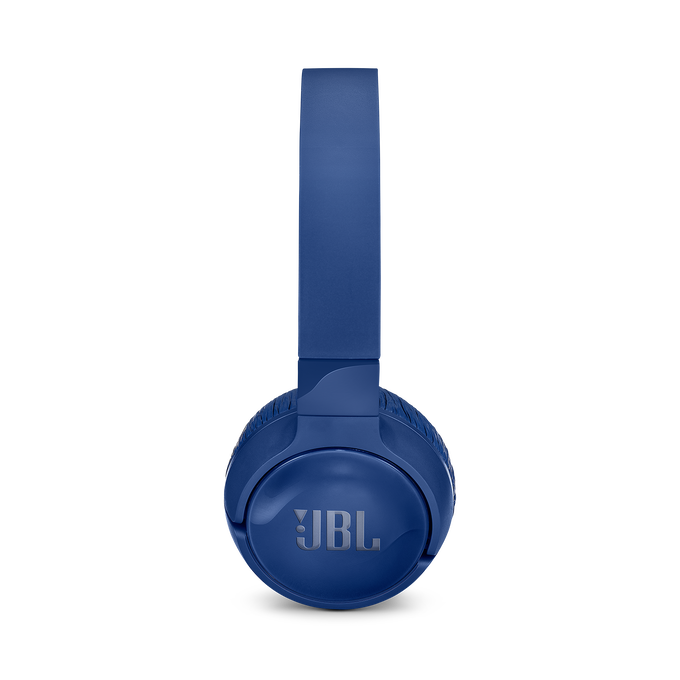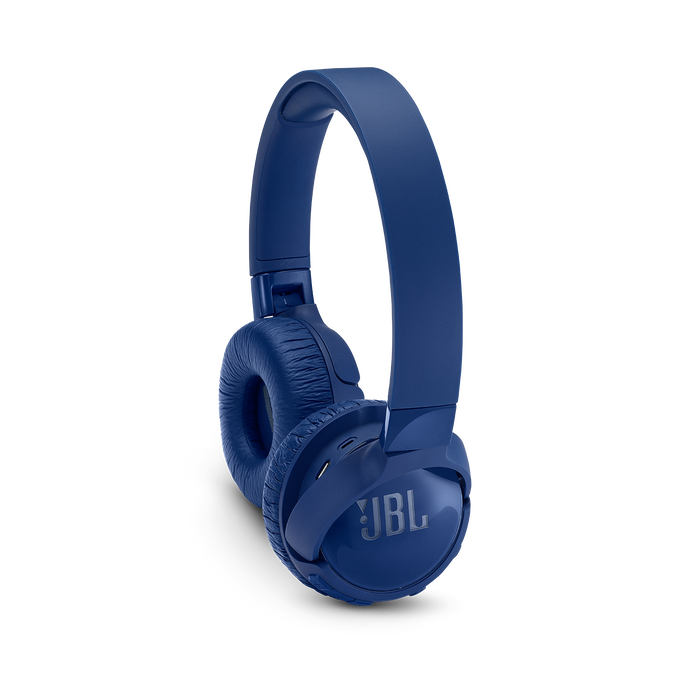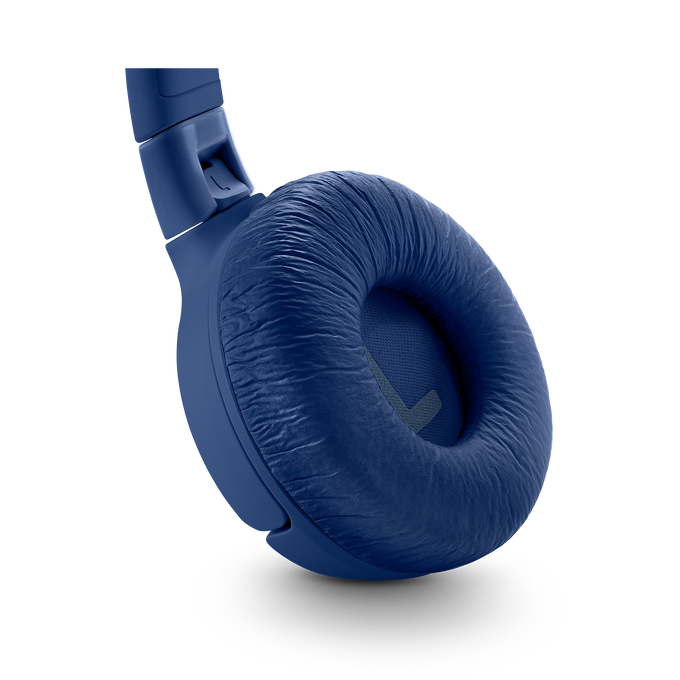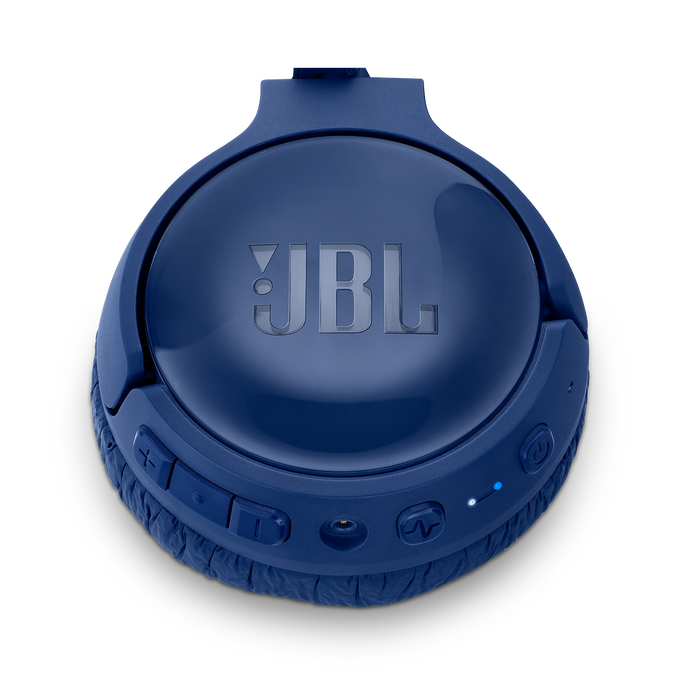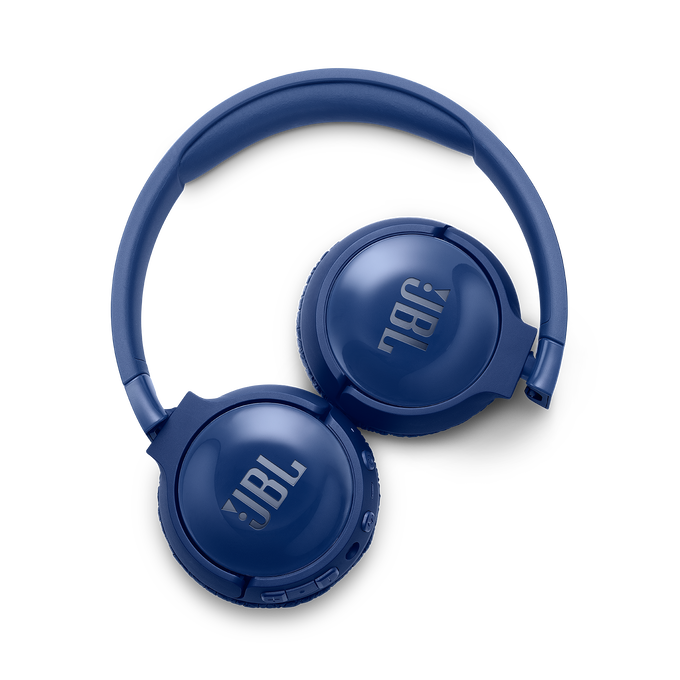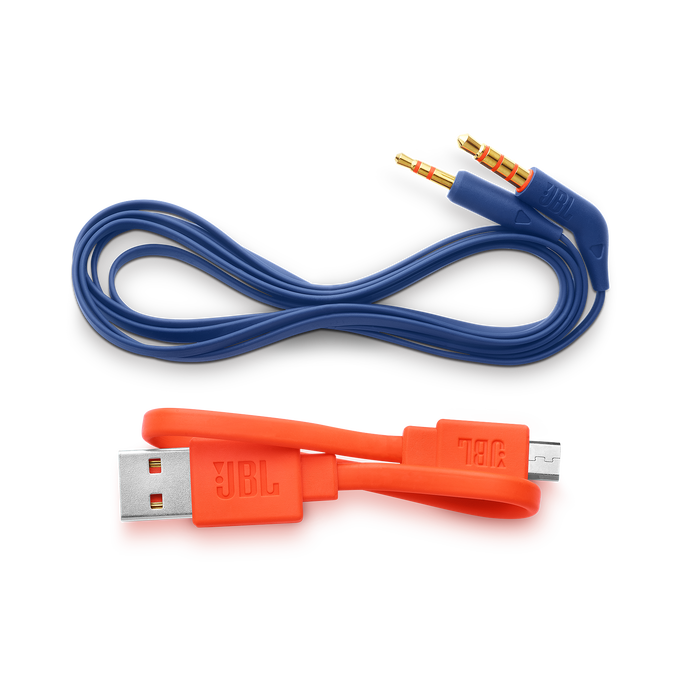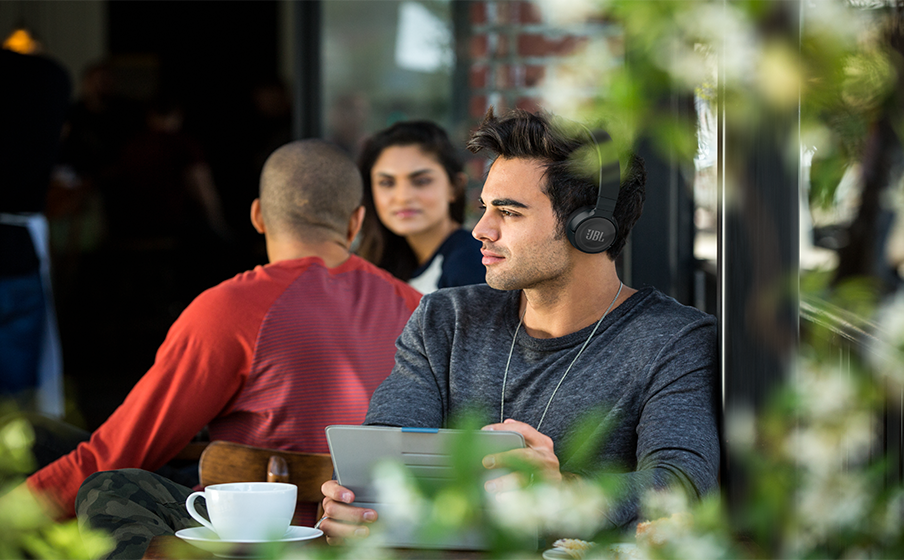 Aktiivinen melunvaimennus
Eristä taustamelu ja nauti musiikista.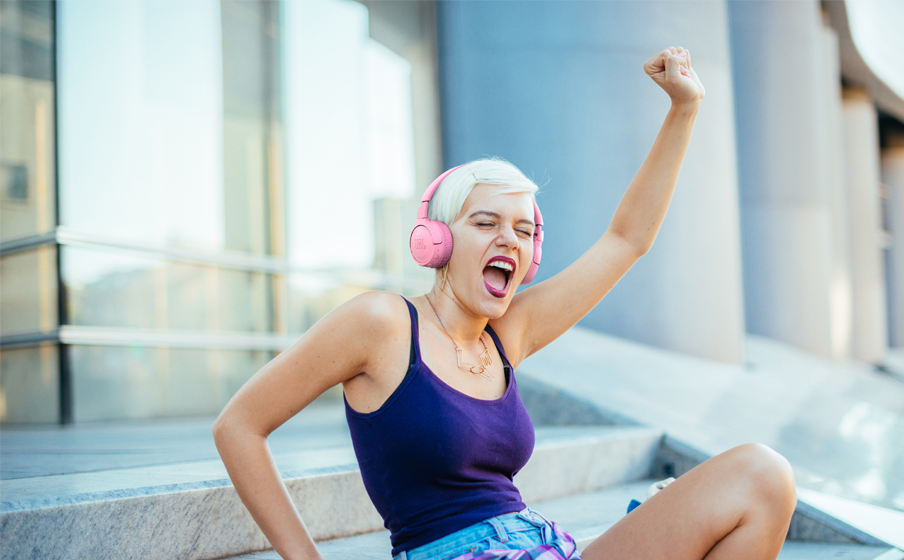 JBL Pure Bass -ääni
Yli 70 vuoden ajan JBL on kehittänyt tarkkoja ja vaikuttavia äänentoistoratkaisuja suuriin tilaisuuksiin ympäri maailmaa. Näillä kuulokkeilla saat tuon saman JBL-äänen, jossa basson tehoa ja syvyyttä ei ole säästelty.
Langaton Bluetooth-suoratoisto
Suoratoista ääntä langattomasti älypuhelimestasi tai tabletistasi ilman johtosotkua.
Ominaisuudet
12 tunnin akkukesto (BT+melunvaimennus)
2 tunnin latausaika

Hands-free-puhelut
Hallitse äänentoistoasi ja puheluitasi helposti kuulokkeiden kolmipainikkeisen kauko-ohjainmikrofonin avulla.

Kevyt ja taittuva rakenne
Kevyet materiaalit tekevät kuulokkeista mukavat, ja kestävä rakenne takaa, että kuulokkeiden taittomekanismi toimii vuosienkin kuluttua.
Tiedot ja lataukset
Item# JBLT600BTNCBLU
Kuvaus
Musiikkisi ilman taustahälyä

Esittelyssä JBL TUNE600BTNC – aktiivisella melunvaimennuksella varustetut langattomat on-ear-kuulokkeet, joissa on taittuva, kevyt ja kompakti rakenne. JBL TUNE600BTNC:ssä on 32 mm:n JBL-elementit, jotka tarjoavat JBL Pure Bass -äänen. Äänentoistosta voi nauttia ilman taustamelua 12 tuntia langattomasti, ja kuulokkeiden akku voidaan ladata täyteen kahdessa tunnissa. Irrotettavan kaapelin ansiosta musiikkia voi toistaa langallisessa tilassa melunvaimennuksella tai ilman. Kestävistä materiaaleista valmistetun ja neljässä raikkaassa värissä myytävän JBL TUNE600BTNC:n kuulokekuppeihin sijoitetut painikkeet mahdollistavat puheluiden ja musiikin helpon hallinnan.
Tuotetiedot
Audiotiedot
Elementin herkkyys @ 1kHz/1mW (dB)

100dB

Dynaaminen taajuusvaste (Hz)

20 Hz - 20 kHz

Impedanssi (ohmia)

32.0

Elementtien määrä per korva

1.0
Mitat
Paino (g)

173.0

Paino (oz)

6.1
Ohjaimet, kytkennät ja liitännät
Bluetooth profiilit

HFP v1.6, HSP v1.2, A2DP v1.2, AVRCP v1.5

Bluetooth-taajuus

2.402GHz-2.48GH

Bluetooth-lähettimen modulaatio

GFSK, /4DQPSK, 8DPSK

Bluetooth-lähettimen teho

0-4 dbm

Bluetooth-versio

4.1
Akku
Latausaika (tuntia, kun akku on tyhjä)

2.0

Maksimi musiikintoistoaika ANC pois päältä (tuntia)

22.0

Maksimi musiikintoistoaika ANC päällä (tuntia)

12.0

Maksimi toistoaika (tuntia)

22.0

Puheaika (tuntia)

22.0
Ominaisuudet
Bluetooth

Kyllä

Aktiivinen melunvaimennus

Kyllä

Sisäänrakennettu mikrofoni

Kyllä

Irrotettava johto

Kyllä

Voidaan taittaa kokoon helppoa säilytystä varten

Kyllä

Hands-free-puhelut

Kyllä

JBL Pure Bass -ääni

Kyllä

On-ear

Kyllä

Ladattava akku

Kyllä

Kauko-ohjain korvakupeissa?

Kyllä

Pikalataus (5 min = 1 tunnin soittoaika)

Ei

Langattomat

Kyllä
Pakkauksen sisältö
1 pari TUNE600BTNC-kuulokkeita
1 x Latauskaapeli
1 x Irrotettava johto
1 x Varoituskortti
1 x Takuukortti
1 x Turvallisuusohje
1 x Pikaopas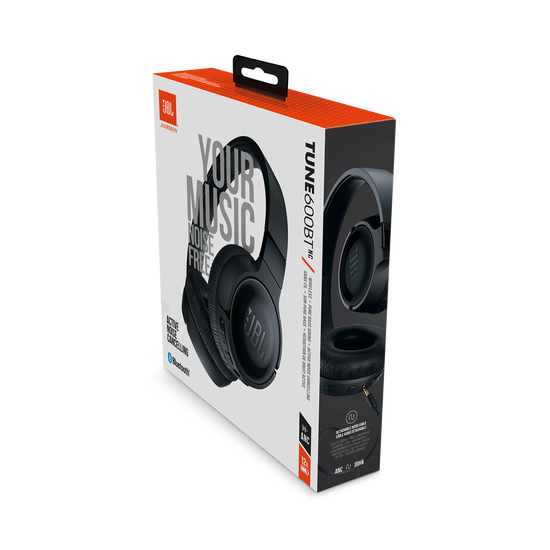 Asiakirjat ja lataukset
Arvostelut ja vastauksia kysymyksiin
Arvostelut
Rated

5

out of

5
by
johnykkey
from
Best in price = performance
I bought them not so long ago. And I'm pretty happy with them. Great sound, long battery life, good noise cancelling! If you a looking for an on-ear headphones, look no further. But there's few things that I'm worried about. 1. Plastic is bit too tight, and after an about hour (or so) of using, ears bit hurting, cause of the pressure. And I don't have such a big head :) 2. There's no case in the packaging, and it's pain to transfer them 3. Last but more with my bad luck. There's some uncut plastic flush underneath the leather cover on right ear (shown in photo) which is slowly cutting that leather cover, so I guess, it will not last more than a month, and I'll have to look for the replace :/
Date published: 2019-08-02
Rated

1

out of

5
by
Concerned Customer
from
Beware headphones do not work correctly on desktop
I purchased this headset 3 days ago on my phone works perfect but when connected to laptop and using Skype or MS Teams I cannot use mic and listen to other people. The sound quality is horrible when you first connect you actually have to disable "handsfree telephony" within properties to experience clear sound. Once that is disable of course you cannot use the mic. I did not expect this from a product like JBL also after calling customer service the rep acted like he did not care or want to help address the issue. First and last headphones I will purchase from this company.
Date published: 2020-10-21
Rated

3

out of

5
by
NeilP
from
Nice noise cancelling headphones
I purchased these headphones because I wanted something relatively inexpensive to use while flying. The earphones are Bluetooth capable (wireless) connection to PC or phone, but they are also supplied with an audio cable so you can plug them into a seat arm on the plane to hear music or watch movies. The sound is excellent, noise cancelling is great. Two shortcomings, IMO. First, the plastic head band is a little tight so pressure on the ears becomes annoying after an hour of use. Over-the-ear could be a little better if they exist. Second, the earphones do not come with a carry bag or carry case. This is inconvenient since they are relatively large, and packing them into a carry bag filled with pens, paper, books, and other electronic components could possibly scratch or do damage to the headphones. JBL should have provided a carry case, preferably zippered.
Date published: 2018-10-03
Rated

5

out of

5
by
Wallace95
from
Perfect All-round Headphones
Ive been using these headphones for just over two now and they are great. At first I found they were slightly heavy in the low end frequencies, but the option to turn the bass boost off is a perfect feature. The overall audio quality is very high, and the difference in audio quality from using Bluetooth to using them as wired headphones is very minimal, which is great. One of the most outstanding features of the TUNE600BTNC headphones is the battery life. I got roughly 21 hours using solely as Bluetooth headphones, so using them for long journeys you won't have to worry about them running out of battery. And another ideal feature is the sound cancelling function. This helps you cut out the outside world when you want to listen to you favourite music, most helpful when on public transport. Overall these headphones are definitely a pair you should consider for general everyday use.
Date published: 2018-05-28
Rated

5

out of

5
by
GarngadSlim
from
Perfect holiday accessory
Have just returned from holiday where I used my JBL Tune600BTNC heaphones every single day. On flight (7.5 hours) and transfer (1 hour) they were in use, the battery life lived up to expectation. The performance and sound quality was excellent and reliable throughout, as it was every day of my holiday after recharging nightly. This enabled me to have music in my ears while relaxing outdoors. I am so impressed by the reliabilty and the distance you can be from source with great performance... easily got to 60 feet with no distortion or loss of connection. The performance of the product I have to rate highly. The noise isolation brings a quality that enables you to immerse yourself in movies/videos with top performing sound. Totally amazing product. Will not let you down
Date published: 2018-05-28
bvseo_sdk, dw_cartridge, 18.2.0, p_sdk_3.2.0
CLOUD, getReviews, 20ms
reviews, product
Kysymyksiä ja vastauksia
Dose the mic still work with the aux cable plugged in for example a xbox controller?
Replacing the flat cable that's provided with a cable that has a built-in mic (plus an adapter to the 2.5mm port on the headphones) is the only way to get a headphone mic function when Bluetooth is off.
Date published: 2021-08-21
How to configure/setup TUNE600BTNC on Windows 10 for using Microphone with MS-Teams, Skype , etc.? When I connect it through Bluetooth, I get very bad sound distortion.
My workaround for 600BTNC: 1. In device settings of Teams select speaker "Headphones (JBL 600BTNC Stereo)". DO NOT select "Headset (JBL 600BTNC Hands-Free AG Audio)" 2. Select any other microphone different to 600BTNC. Default laptop mic will fit., that works fine with teams.
Date published: 2021-12-23
I have just purchased the Tune 600BT headphones. When I make a call on Microsoft Teams or any other App on my laptop, the person answering the call on the other end can hear me clearly, however, when they speak, I hear distorted sounds instead.
Hi Chastine I did what you said and it works when I use the detachable audio cable. There is a clear line. However, this defeats the purpose of having a wireless headphone. Is there no other way of using the headphones without the cables and still not having distortions?
Date published: 2021-06-06
I have the same problem as PcYossi, hands-free with my laptop with win10 makes disgusting noise. Something related to drivers. With my Android phone it works perfectly. Reinstalled all audio drivers to no avail. Please advice.
Hi Chastine, The link that you shared is about pairing. My headset pairs correctly but once paired in my laptop I can configure audio to use the headset in two modes: Stereo and Hands-Free. I must use Hands-Free and not Stereo because I want to use headset´s built in mic. But if I chose that setting the mentioned noise occurs. And I MUST use that mode. Interestingly enough, in the same laptop I´ve paired a cheap LG HBS-730 headset and the hands-free mode with the microphone worked perfectly from the first time. Respectfully... What have you done with your TUNE600BT that causes these problems with Win10 computers? Why don´t you have already a clear solution to this problem in your website?
Date published: 2022-06-21
There's no sound coming out of the right ear of the JBL660BTNC. I only got them at Christmas so they're fairly new. I've tried all the troubleshooting on bluetooth connectivity and even connect with the wire provided but nothing is working?
We'd like to work with you directly and try some troubleshooting steps with your JBL Tune 660BTNC. Please reach out to our Customer Support. We're here to help.
Date published: 2021-06-06
the headset JBL tune600BTNC is working working in zoom! getting sound like robotic!
Why isn´t that marked on the package of the product?!? I really wanted headset for conferenses :(
Date published: 2022-06-21
Since I've been having these headphones, Bluetooth, volume buttons and mic are not working. I can't even reset them. Is there any solution?
no hahahahaha exchange
Date published: 2021-06-06
I am trying to reset my headphones but the blue LED light is not showing after 7-10 seconds
We'd like to know more information about why you're trying to reset your JBL Tune 600BTNC. We're here to help. Please reach out to our Customer Support, and we'll try some troubleshooting steps. Thanks.
Date published: 2021-06-06
bvseo_sdk, dw_cartridge, 18.2.0, p_sdk_3.2.0
CLOUD, getContent, 117ms
questions, product